Maria Milkie is really good at what she does.
At 24, Milkie was working as a line cook at a downtown Madison restaurant that seats more than 200 people. The grill was "massive," she said. The work could be intense.
At first, when the male coworker who worked next to her on the line started pulling "sneaky shit," like grabbing her in the cooler, Milkie tried to handle it quietly.
She made good money, she liked the work and she got along with her other coworkers. She knew staffing was tight — if one cook left, service would be harder on the rest of them.
"It was just constant harassment," Milkie said. "I reported it a couple times but I begged them not to do anything about it. The thing that scared me the most was the repercussions that would have with the rest of the team."
On a Saturday last May, Milkie came into the restaurant after a busy brunch service. Her coworker was there early for an evening shift. They were alone when he grabbed her in the hallway.
"He took my face and kissed my mouth," Milkie said. "It was so gross. And this guy was giant, six inches taller. … I was so shook and struck. I couldn't work."
The restaurant where Milkie worked declined to comment on her specific situation, but Milkie's story is depressingly common.
Nationally, restaurant workers, including dishwashers, cooks, servers and bartenders, report a higher rate of sexual harassment than any other industry, according to the U.S. Equal Employment Opportunity Commission. Coworkers are responsible for the highest rates of sexual harassment overall.
Last December, BuzzFeed News analyzed 20 years worth of data from the U.S. EEOC and found that 83 percent of claims came from women. Out of some 170,000 claims, more than 10,000 — the highest from any industry — came from workers in full-service restaurants, with another 1,000 from related establishments like bars and limited-service restaurants.
In Madison, diners fawn over farm-raised chickens and celebrate forward-thinking chefs. Yet harassment is here, too. A few months ago, the Cap Times began reaching out to cooks, servers, baristas and bartenders, asking them to tell their stories.
The 16 people who responded reflected an industry of hard workers, passionate cooks and servers who care about the work as well as their coworkers. Yet for many, harassment is understood to be part of the job.
That is changing with the #MeToo movement launched last year, which calls out sexual assault and harassment. The Cap Times has granted requests for anonymity in this story due to the sensitive nature of their reports. Alleged perpetrators and the restaurants involved will not be named because no legal action was taken.
"What we're seeing right now is a political movement that is changing the course of this," said Sylvia Johnson, a former State Street barista and current server at Morris Ramen. "The #MeToo campaign has burst open the floodgates and is causing people to question workplace sexism and harassment."
The city of Madison identifies 26 protected classes, including sex, gender identity, race, age and religion. It defines harassment as a form of discrimination, "conduct that is uninvited, unwelcome and creates a hostile environment" that can range from off-color jokes to sexual advances.
Restaurants have long been a breeding ground for such behavior. Anthony Bourdain's 2000 memoir "Kitchen Confidential" revealed the prevalence of a "meathead bro culture" in the kitchen. (Bourdain has since become outspoken against this, saying "meathead culture (has) not been good, particularly for women.")
In the front of the house, a "customer is always right" attitude combined with tipsy diners can be a toxic combination for servers and hosts.  
Even those who would report harassment question whether telling could make the situation worse, especially when harassment comes from someone with the power to fire them. Two-thirds of the women and half the men the Restaurant Opportunities Center United surveyed "experienced some form of sexual harassment directed at them from a restaurant owner, manager or supervisor."
"The #MeToo movement is real, and it should be more present in the restaurant industry," said Zoë Thedens, a pastry chef at Graze and cook/bartender at The Rigby Pub. "A lot of people are afraid to talk about it."
Slowly, things are changing. Jennifer Mirus, an attorney with Boardman & Clark who works with restaurants on employee cases, said she's seen "an increased willingness" to discuss harassment and increased reporting just within the past three months.
"People have been motivated to come forward because of this movement," Mirus said. "They're hoping … that employers will deal with this more seriously, now that everyone is seeing the very serious consequences at the top levels of organizations."
#MadisonToo
Restaurants, as The New York Times' Pete Wells observed, "are like pirate ships. Each has its own code, with distinct values and rules. Some crews are kind, supportive and disciplined, relatively speaking. Others are angry, surly, misogynistic and drunk."
As stories of harassment and worse broke in 2017, the culinary world felt the effects. Giants in the industry like Mario Batali and Ken Friedman were toppled from their restaurant empires by harassment allegations.
When it finally ran, guest judge chef John Besh had been edited out of the episode. Besh, a celebrated New Orleans restaurateur, stepped down from his company after a New Orleans Times-Picayune story reported 25 women alleged pervasive sexual harassment in his restaurant group.
"With the #MeToo movement hitting the press, the restaurant industry has issues with this," Mirus said. "Some very high-profile people in the industry have been called out and fired and lost their businesses because of this."
When the alleged serial harasser is as powerful as Batali or Besh, that story is likely to garner attention. But most restaurants don't have anyone peering behind the scenes. Harassment, discrimination and abuse can continue unchecked for longer in smaller markets and small businesses, especially when staff is hard to come by.
County health department data indicates that since 2008, the city of Madison has had a net gain of 43 restaurants (905 openings and 862 closings). A fired line cook can walk across the Capitol Square and get rehired that same night, while the restaurant that kicked him out may take weeks to replace him.
"Everywhere is hard up for cooks," said Alexandra Kjell, bar manager at Heritage Tavern. "But you can't let that shit go on no matter how much you need people. You need the whole staff.
"If they're harassing or doing something inappropriate, you're still going to be losing someone."
The combination of low wages, odd hours, alcohol, a "boys' club" in the kitchen andperpetual staffing problems creates plenty of room for bad behavior.
Could the chastised customer become more aggressive? Will the boss see you as a troublemaker? Might your coworkers backlash?
That backlash happened to Milkie. After the restaurant fired the line cook who assaulted her, the environment in the kitchen turned toxic. Coworkers Milkie had trusted began stealing things off of her station and hiding them, committing "little microaggressions."
"Everything went belly up within two weeks," Milkie said. "They didn't believe me."
When she went again to a manager, he told her, "If nobody saw it happen, I can't really change it. I can talk to them, but I can't really do anything," Milkie said.
So she quit. She felt she had no choice.
"They essentially gave up on me," Milkie said. "That's what hurt in hindsight."
Harassment is so pervasive in the restaurant industry that for some of those who've made it a career, the treatment almost doesn't register.
The Nation asked industry veterans to describe their experiences with sexual harassment for a recent story. Reporter Bryce Covert wrote that "asking them to talk about it was like asking a fish to describe water."
"It feels like wallpaper: You hardly notice it until someone calls it to your attention," the Chicago Tribune wrote after a conversation with some of that city's top female chefs.
In the Restaurant Opportunities Center United report, 90 percent of women in the food industry reported that they experienced harassment on the job. It's worst for servers working for tips, like bartenders and waiters.
One local woman said she worked at a popular Madison area tavern for eight years from age 17 to 25. She was told to dress "feminine and provocatively."
"A customer was very seriously sexually harassing me — very vulgar and abusive language," she wrote to the Cap Times. "I told the manager on duty and was very upset about it. The manager made me continue to serve this patron and didn't do anything."
Alejandra Perez worked at RED, a sushi restaurant downtown, and had been in the industry locally for a decade. She loved the team at RED, but acknowledges that sexual harassment in her industry is "chronic" and "endless, like this ghost that follows everyone."
"People have to talk about it," Perez said. "Or it's going to go on forever. That 16-year-old girl signing up for a host position, she doesn't know what world she's going to walk into."
It was abuse from customers Perez disliked most. At a busy pizzeria where she worked as a server, a guy leaving grabbed her butt on his way out the door. It happened so fast, Perez barely had time to react.
"You're mostly annoyed by the fact they won't leave you alone," Perez said. "I'm heavily tattooed. I've had people grab my arm to look at it, 'What have you got here?' I've learned to snap my arm back.
"I can't imagine how many female servers stand there because they're afraid to lose their tip or disappoint their boss or restaurant. You don't want to be a burden to the company you love working for."
"No one did anything"
Sexual harassment in restaurants, as with any historically male-dominated industry from politics to the military, is not on the rise. It's not a trend, and it's not new.
The Wisconsin Department of Workforce Development does not separate harassment claims by industry, but there's been no visible uptick in complaints since #MeToo. In 2017, DWD filed 173 sexual harassment complaints, only one more than the previous year.
In 2017, Madison's Department of Civil Rights reported eight cases, the highest number of harassment cases from the food industry in the past five years. They've steadily increased, from just one case in all of 2013 and 2014.
Still, out of 102 harassment cases reported in all industries last year, only two had to do with sexual harassment in the food industry. The majority of incidents are never reported.
"It's been going on a very long time," said attorney Rosemary Fox, director of the Milwaukee office of the federal EEOC. "There's more attention being paid now, but … I haven't seen a real upswing since the #MeToo movement."
Employees who want to file a complaint don't always know where to go, especially when the problem is a superior. One Madison woman said she's worked at more than 30 restaurants, starting when she was a teenager.
When she was 16, a married adult male coworker waited for her at her bus stop, gave her a box of chocolates and tried to follow her into her apartment.
One manager pursued her for months with gifts of chocolate and perfume. Another only called her "beautiful" instead of her name. A restaurant owner tried to kiss her while she was working.
"I couldn't tell you how many times I have been hit on while bartending," the woman said. "The disgusting things men have said to me include commenting on my body parts and smile, inviting me to their hotel and telling me about their dicks. A man threw change at me once after I told him I wouldn't give him my phone number."
Speaking up, she said, hasn't helped.
"In my experience, speaking up about harassment only makes your managers or owners, typically all men, hate you," she said. "You are seen as a nuisance."
Kjell started working as a server at another downtown restaurant the week before her 21st birthday. Her manager at the time was "overtly sexual," Kjell said. He had a girlfriend, but liked to tell stories about the sexual encounters he had with other girls in his basement office.
"He was the only person in charge, the owner wasn't ever there," Kjell recalled.
One night she was finishing a shift after her tables had left, and this manager showed up to the restaurant "hammered." When Kjell went outside to have a smoke, he followed her out.
"He comes outside, and there's no one out there," Kjell said. "He kind of trapped me on the stairwell and kept talking about how I should cut my hair, because it would be so much prettier if it was shorter. It was starting to get awkward, so I got up to get back in and he tried to kiss me."
Kjell went inside and told a couple of her coworkers, but they brushed it off: "That's just how he is."
"The bigger issue is there was no one I could say anything to," she said. "And I didn't even realize that was a problem. It just felt like 'That's just how it is, that's something you deal with.'"
Now in her position at Heritage Tavern, Kjell is the person who handles these things.
"I like being able to put my foot down and make sure it doesn't happen to other people," she said. "There's never an ongoing problem. You nip it in the bud."
Social media has changed the game, especially for millennial workers who grew up with anti-bullying messages and call-out culture.
Sasha Debevec-McKenney, a longtime server in several Madison restaurants, marshalled her social media following after two incidents with friends and the same local chef.
"It was just an open secret, like everyone knew he was like this and no one said anything," said Debevec-McKenney. "I wanted to take care of my friends."
So she took to Facebook. Among other things, she posted, "How many chefs in Madison have sexually assaulted someone and are still in positions of power?"
People began sharing names of people and businesses. Debevec-McKenney knew the posts probably wouldn't have much of an effect on the perpetrators, but she felt a little vindicated.
"I was so angry," Debevec-McKenney said. "I feel like one of the ways I had power in Madison was with my voice. … At least someone will know and I will have said something out loud."
Madison is "pretty progressive," with a community of tough women working in the service industry who look out for each other, Debevec-McKenney said. She's protective not only of her friends, but of "the 17-year-old girl who goes in and applies for a job in the summer, thinking it's going to be a positive experience."
"We can stand up for ourselves," she said.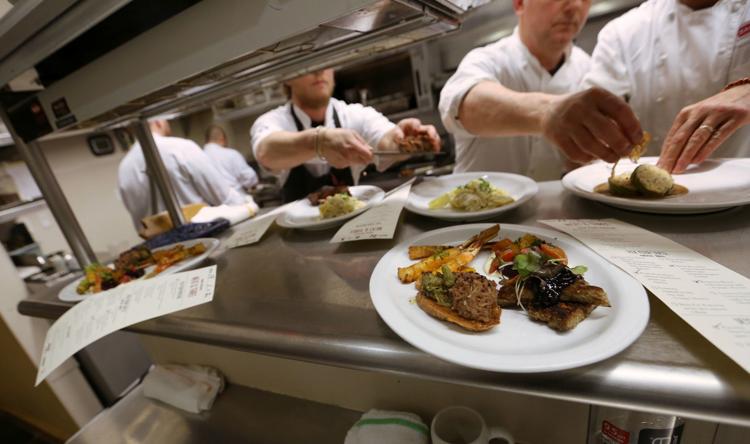 Gray areas
High turnover in Madison's restaurant industry is driven in part by young people who want flexible hours and opportunities for creative mobility. There's a familial connection — when people in traditional 9 to 5 jobs are going home to be with their families, restaurant crews are just getting started. It can foster camaraderie, friendships and romance.
"I really love it," said Debevec-McKenney. "I love how rewarding it is, and challenging … you have to use your brain in a different way than when you're out in the world, figuring out what's important and what's not important and doing it all quickly with a very good memory."
Milkie remembers going out with her team late on Friday nights, coming in worse for wear the next morning but still cranking out dozens of pancakes at 7 a.m. for brunch.
"The unity was there, and when it was there it was good," Milkie said. "The things I have gotten to experience in this industry are so great. It's worth changing."
On a recent Tuesday morning, some 30 representatives of restaurants from Parthenon Gyros to the Nau-ti-Gal and Food Fight Restaurant Group gathered at Porta Bella to learn how to make their harassment policies iron clad and proactive.
"Why is harassment such a tough issue in the restaurant industry?" asked Mirus, the Boardman & Clark attorney who led the session. "Your places are places of entertainment, of leisure, of enjoyment. People come to your place to have fun. There is a more relaxed environment. … Your staff's job is to help them let their guard down, to put people at ease."
With names and details changed from previous cases, Mirus offered examples of what can be classified as legal harassment (a chef saying, "I can't have little girls crying in my kitchen") and what usually isn't (a chef who screams at everyone indiscriminately).
Legally, it doesn't matter whether the person was joking or if their intentions were innocent, Mirus said. It does matter whether management knew, or should have known, about the harassment.
Taking care of things quickly is important, and it's no good just having a harassment policy. Everyone on staff has to know what the policy is. If a manager knows that someone is experiencing harassment, the company legally knows too.
"These are tough calls," Mirus said. "There are PR issues involved, there are coworker issues involved. My job is to do the research, tell you the facts, and then you have to make the decision."
Mirus explained that restaurants are not only liable for harassment by their customers if management doesn't take action. They can also be held liable for harassment that happens at workers' after-hours hangouts if it affects someone's ability to do their job.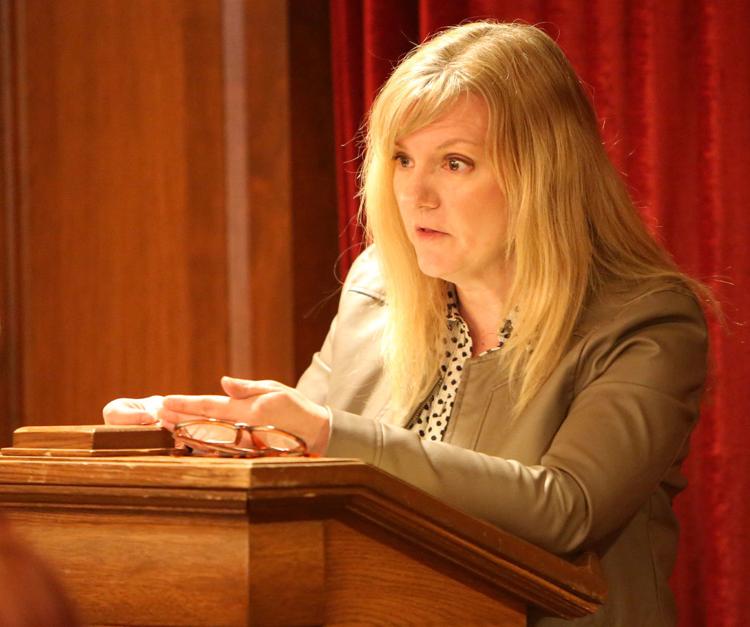 "You absolutely have a moral and legal obligation to not let this behavior go on," Mirus said. "What is a stupid joke one day can escalate very quickly. What is an inappropriate compliment one day can escalate, especially mixed with alcohol, to very serious and criminal behavior in a matter of days or weeks."
Not all harassment is easy to identify. One woman recalled how a café where she worked began to feel hostile after she was promoted to a management position.
"A member of the kitchen staff who had previously been friendly with me ceased to speak to me," she said. "When we worked together, he ignored me and refused to answer my work-related questions.
"At least once he pushed a plate of food at me through the service window so hard I was afraid it was going to fall on the floor. I had to scramble to catch it."
The woman spoke with the kitchen manager about the behavior and was told she was overreacting. She spoke to the restaurant owner and got the same response.
"She told me I was being oversensitive," the woman said. "She did nothing to protect me from him and implied I was weak for having any issues with his behavior. … Abuse of this sort is incredibly common and believed to be just par for the course."
Harassment doesn't only affect women. Pastry chef and former line cook Andrew Carrillo loves his current job at Madison Sourdough. He's been working in the industry since he was 14 and is currently in culinary school.
Last year, Carrillo filed a formal complaint to the owners at his previous job. A dishwasher in a kitchen where he worked would reach behind some of the other men and grab their genitals, but "never when the executive chef was around."
"It was just a very ass-slapping kind of kitchen, a lot of masculine bravado," Carrillo said. The dishwasher never targeted him, but he found it mortifying. He felt unsure how to address things directly, and he wasn't sure if his coworkers would back him up.
"It was a delicate situation," he said. "There was no easy way for me to say what needed to be said and actually make the situation stop. …It was hard enough to be around people acting this way, let alone if I were a woman in this environment.
"That would have been 100 times worse."
Today's special
As the #MeToo movement marches on, the restaurant industry has taken collective notice. Susan Quamm, executive vice president of the Wisconsin Restaurant Association, said the agency has been fielding more questions from restaurateurs.
"We're trying to say, 'You need to do a culture check in your operation,'" Quamm said. "You need to spend time in the back of the house observing, or spending time with employees one on one, so they're not just behaving when you're around.
"How do you become the best employer and make sure this doesn't happen in your kitchen, and the front of house too?"
The restaurant association ran a story in its first quarter 2018 magazine, Wisconsin Restaurateur, which gets distributed to some 10,000 licensed establishments in the state. "Harassment in the Restaurant Industry: It's Time for Honest Conversations" encouraged restaurateurs, "don't panic — help is available."
 "Part of the culture change that needs to happen is more about how do the folks in the back of the house interact with each other in a way that encourages respect," Quamm said, "versus the traditional, old-fashioned, authoritarian (style). You still want to have that 'yes, chef' attitude, but how do you do it in a way that isn't inappropriate for today's society?"
That culture change depends largely on individuals. Tami Lax has owned Harvest on the Capitol Square since 1999 and opened The Old Fashioned in 2005. She said little has changed since she came into the industry, but her own ways of dealing with denigrating behavior have evolved.
"I ended up putting a no tolerance policy in place, not only for sexual harassment but harassment on any level," Lax said. "If I was down to my last line cook and that person became aggressive, I'd let them go."
Still, she doesn't address violations like she used to. Unless it's truly egregious, Lax gives herself time to take a deep breath and walk away before deciding how to respond.
"One of the first couple years I was open, I thought I overheard a waiter saying something about one of our customers and the way the woman was dressed," Lax said. "He came up to the maitre'd stand and made this just outrageous comment about a customer."
Lax's response was instantaneous. She asked the staffer to follow her into the hallway and fired him on the spot.
"I don't handle it like that anymore," Lax said. "It's come with a combination of experience and age. I'm the person in charge, and I can set the rules and enforce them. In my little itty-bitty world, I can make sure it's not happening."
Lax is a member of both Madison Area Chefs Network and Culinary Ladies Collective, the latter of which met privately several weeks ago to talk about sexual harassment in the industry.
About a dozen people came, Lax said. After the women shared some painful stories, the conversation turned to allies, kitchens run by men who are respectful and supportive.
"It's not a male and female thing," Lax said. "The majority of male chefs find that behavior absolutely appalling."
Lax would like to encourage the chefs' network to take a stand, maybe beginning with professionally produced signs that say "Harassment will not be tolerated."
"We can set the bar high on something like this," Lax said. "We can become an example for other cities who take a stand against it. I would love to see us do that."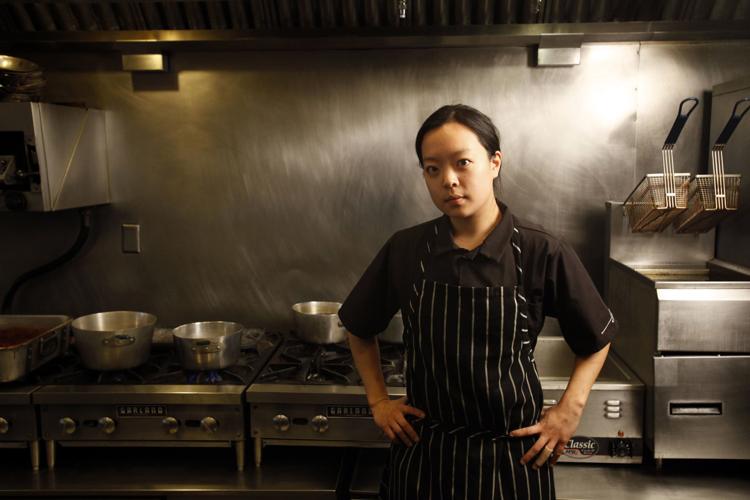 An ounce of prevention
At Morris Ramen, owners Francesca Hong and Matt Morris want to establish a culture where the staff feels like a team, or even better, extended family.
"I am a big advocate of creating a culture of open communication," said Hong, a veteran Madison chef and former server herself. "Because of how small our restaurant is …  it's important to me, if staff feel uncomfortable, that Matt or I can talk through it."
Sylvia Johnson, a transgender server at Morris Ramen, came out while working there. Johnson identifies as nonbinary femme (a distinction often used to designate queer femininity) and felt "welcomed and respected to the best of everyone's ability."
"Customers are going to misgender me, and that's fine," said Johnson, who uses they/them pronouns. "But I need staff to respect my pronouns and be cool with that. I started using my preferred name and no one contested … it was really lovely to see.
"I'm thankful I have a staff that has my back, my coworkers have my back."
"The biggest thing I'm noticing is that people are just listening more," Hong said. "I think a lot of people took for granted how little dialogue there was. There wasn't always someone listening to the issue, because they didn't want to listen.
"I find our male staff maybe saying something and then saying, 'Oh, I shouldn't have said that,'" Hong said. "That's a good start to where this movement can go."
Nearby, downtown restaurants Merchant and Lucille have increased focus on their "zero tolerance" harassment policy, which applies to customers and employees alike.  
"With all these things that are happening now, it has raised awareness even at the hourly level employees," said Tom Dufek, director of beverage and operations for Merchant and Lucille.
"From dishwashers to ownership, people are thinking about it, so having those conversations is easier. Our country is involved in a dialogue about this and we want to be involved in that as well."
Sun Prairie restaurateur Patrick DePula said he rarely gets calls for reference checks on previous employees, something that might cut down on a harasser's ability to continually re-offend.
He would like to see a more open acknowledgment of when harassment is taking place, instead of restaurants that "choose not to deal with it and pretend that problems don't exist. But they do."
"It comes down from the owner or management, whether or not this is implicitly tolerated," said DePula, who owns two locations of Salvatore's Tomato Pies. "There are restaurants out there where this sort of thing happens regularly, but it's not a problem until someone says it's a problem.
"That culture and environment comes from whoever's in charge, and it varies a lot."
 Food Fight Restaurant Group is somewhat unique in Madison, with some 20 establishments in town. Greg Frank, vice president of community relations for Food Fight, said the group is "committed to ensuring that all employees feel safe and respectful in our restaurants."
"Like everyone, we can do better," Frank wrote in an email. "Food Fight isn't perfect; we have made mistakes (and) learned from them."
"We encourage our staff to come to us in confidence when they feel any aspect of their work environment is compromised," wrote CEO Kevin Henry. "We listen, investigate, take action, then follow-up. …We are committed to a safe, harassment-free workplace."
Milkie, the young woman whose kitchen turned against her after an assault, considered leaving the culinary world altogether. After the incident last spring, she did an exit interview with the company she'd been working for, which offered her two weeks paid time off as severance.
"We sat down at a coffee shop, and she was so sympathetic," Milkie said of the HR manager at the time. "She was taking notes, she was like, 'I am going to find a way to make this better for other people.'"
During those weeks off, Milkie started running. She made coffee every morning. She said she felt like a weight had been lifted.
"There was closure and I knew that people cared," she said. "If all hope was lost at the end of it I don't think I could continue cooking. Which is a shame, 'cause I'm good."
Milkie's back in a kitchen now, a smaller one that pays less money. It annoys her when her male coworkers call her sensitive, but she feels challenged, and the atmosphere is generally playful.
In summer, she's been working with a colleague on a traveling wood-fired pizza business. She could see herself doing that long-term.
"It's so freeing," she said. "I never knew I could have passion for something this deeply. Sometimes you get dragged in the mud … (but) we're pushing forward, that's all that matters. It's noble work.
"Ladies in the kitchen are coming up everywhere."