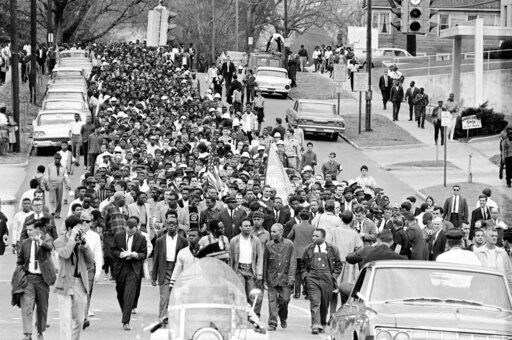 It's unfortunate, but not many remember the damning report about America's racial problems we were all warned about more than 50 years ago.
After months of hearings and testimony, a high-powered commission appointed by President Lyndon Johnson and chaired by Otto Kerner, then governor of Illinois, concluded that we have two Americas — one white and one black.
That 1968 report bluntly declared that the racial unrest gripping the country in the 1960s, which had recently culminated in a brutal police response to the riots in Los Angeles' Watts neighborhood, was a direct result of white racism.
"White racism is essentially responsible for the explosive mixture which has been accumulating in our cities since the end of World War II," the report declared, eliciting both praise and outrage from government officials, commentators and average Americans throughout the country.
"It's the first time whites have said, 'We're racists,'" the head of the Congress of Racial Equality declared.
The Kerner Report sold more copies than the Warren Commission's anxiously awaited report on the assassination of John F. Kennedy a few years before. Politicians, corporate and business leaders, educational institutions, community activists all pledged reforms and promised changes to address the huge inequities that existed back then in everything from jobs to health care, from housing to banking.
And then it largely went away.
I was reminded of all that — I was a 28-year-old reporter at the time — by a powerful letter Madison's Kaleem Caire shared with a group of us last week and by Jill Lepore's piece in a recent issue of the New Yorker.
Caire, the former Madison Urban League CEO and now president of the innovative charter school One City, said it succinctly:
"I am so sick of the racism that permeates this country and America's slow crawl to justice when it comes to Black people. While White Americans have had decades of opportunity to build wealth through home equity and life insurance policies, and financial support to start and grow businesses, and then leave these assets to their children and grandchildren most Black people in America have been limited to passing down rent payments, outstanding debt and Go-Fund-Me campaigns to pay for their funeral expenses," he wrote.
LePore described the momentum that was building after the Kerner report opened the nation's eyes that nothing had really changed since the end of the Civil War more than a century before. Then came the assassination of Martin Luther King Jr., the killing of Bobby Kennedy, the Vietnam War protests, and soon the Kerner report was on the back shelf.
She pooh-poohed Ohio Republican Sen. Rob Portman's proposal that we need to form a new commission today, perhaps led by former Presidents Barack Obama and George W. Bush.
"The United States does not need one more commission, or one more report," she added. "A strong moral message? That message is being delivered by protesters every day ... Stop killing us."
Indeed, we know what's wrong. Our politicians have ignored the plight of this nation's poor forever. They can't find the wherewithal to invest in struggling neighborhoods, to open doors for education and jobs, to make sure all have health care. They can't even raise a laughable minimum wage, for heaven's sake.
Add to that the racism that still permeates so much of our lives and we know that little has changed. We're still two Americas — one White and one Black.
Dave Zweifel is editor emeritus of The Capital Times. dzweifel@madison.com, 608-252-6410 and on Twitter @DaveZweifel.  
Share your opinion on this topic by sending a letter to the editor to tctvoice@madison.com. Include your full name, hometown and phone number. Your name and town will be published. The phone number is for verification purposes only. Please keep your letter to 250 words or less.
Be the first to know
Get local news delivered to your inbox!