James Cortada, the author of the new book "IBM: The Rise and Fall and Reinvention of a Global Icon," has always had one foot in business and another in research.
Years before the Madison resident became a senior research fellow at the Charles Babbage Institute at the University of Minnesota, Cortada worked at IBM for 38 years. During that time, he took advantage of his access to IBM's archives — a trove of documents from newspaper articles to product blueprints — to write a series of books on the history of information technology.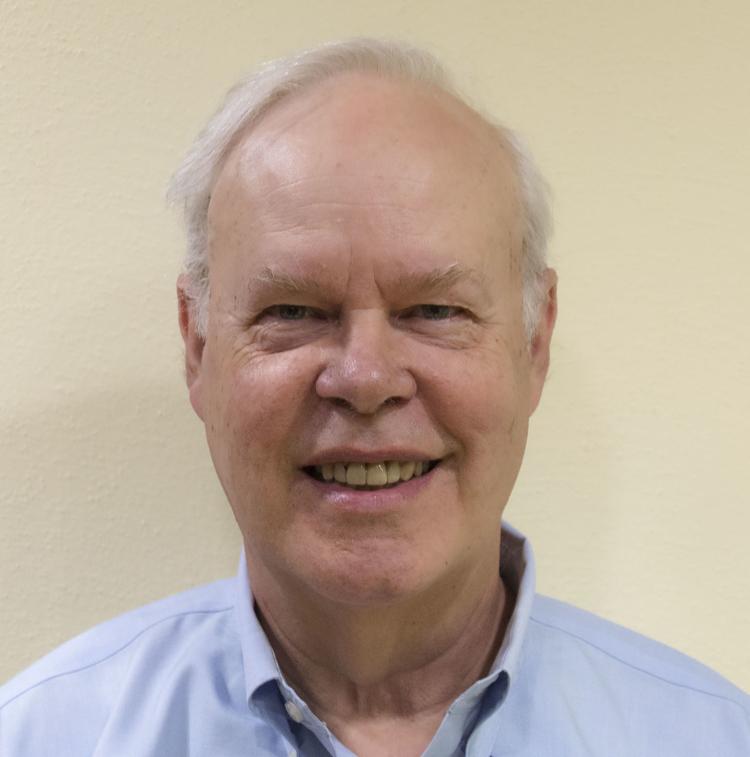 Once he left the company, he decided it only made sense to write a comprehensive history of the massive 107-year-old multinational firm, known for its "Think" slogan and its Jeopardy-winning artificial intelligence. In his new book, Cortada writes about the company from its early years in the 20th century, when it manufactured meat slicers and coffee grinders, to its development of some of the world's first supercomputers, to its role today advancing cloud computing and artificial intelligence.
In the book, Cortada describes a company that has long been overlooked in the American zeitgeist, despite being one of the most prolific and influential tech companies in the world.
You describe IBM as the "elephant in the room" in the computing industry. Tell me what you mean by that.
What's interesting is that most people don't know a lot about what IBM does. IBM people aren't in retail. They aren't like Apple or Netflix. They hang out in conference rooms and data centers. You don't see these fellas. They build what I call the digital plumbing of modern society. You don't see the pipes in your house, or the digital wiring. You just see a switch or a faucet.
But IBM was the largest player in the industry. In some countries, 70 to 80 percent of all computers in the 1960s, '70s and '80s came from IBM. You can write about (companies like) Intel, and Apple and Google, but the big elephant of the room was always IBM. That story hasn't been told, and it needed to be told.
So what is the company, exactly? I find it's tough to describe IBM, just because it seems like they do so much stuff — they make artificial intelligence, they do automation, they're in cybersecurity.
It's a company that's always been in the business of helping people manage data, which turned out to be the hot new topic or technology of the 20th century. It was never the atomic bomb, or airplanes. You just couldn't run large enterprises without information.
They spent their first 50, 60 years selling punch card equipment. These were electromechanical devices made with Queen Anne legs and wrought iron. Then they spent the next 50, 60 years riding the computer wave. And then the last 25, 30 years, in addition to some of that, they're also doing software, artificial intelligence and IT services.
But what do all those things do? It's still processing data. They're doing it for large enterprises and government agencies around the world.
You point out that the company has played a major role in American and global innovation — their technology played a role in everything from the moon landing to the mapping of the human genome.
Absolutely. My argument in this book is that IBM created an ecosystem. Think of an ecosystem like a jungle, where you have plants and weather and animals of different sizes and they're all kind of co-dependent on each other. Well, IBM consciously created that ecosystem starting in the 1920s.
It formed user groups. They hosted conferences. If there was a standards committee, they were on it. You couldn't go to an IT conference anywhere in the world without IBM employees presenting or being there. And they published tons of stuff — books, manuals, scholarly journals, techie magazines.
It created an ecosystem that had a lock on how people saw the world from an IT point of view. It wasn't until the advent of the PC in the 1980s that there were alternatives that developed. But even today, if IBM does something, others pay attention.
Your argument in the book is that IBM has been successful because of its corporate culture.
I think the sales culture, as opposed to a technology-driven culture, made the difference. It was always asking, "What does the customer want?" There was always that philosophy of service, service, service.
There was a core set of beliefs — they called them base beliefs. There was respect for the individual. It meant you took care of your employees. You treated them well. And to do that, you had to hire the best you could find. The second was high quality customer service. And third, execute things well.
In the last 25 years, we've had a problem ... with respect for the individual. It has become common in large corporations to lay off people, and you've got a lot of ex-employees who are running around, who are angry at IBM. The company violated part of the trinity.
You paint IBM as a major actor in geopolitics. What is its role there?
IBM does not broadcast the influence it has in conference rooms in the Pentagon, in the NSA, or the EU, but it's there. Trust me, they are there in those rooms.
Here's what you need to understand about IBM: It's an international corporation. It must figure out how to operate politically and economically, in ways that are socially acceptable in 178 to 180 countries.
It does this in two ways: One is, in every country the vast majority of the employees of the company are local nationals, right up to the top of the house. You go to France, 99 percent of the folks with IBM there are French. They're a product of the culture. Second thing is, IBM has always paid attention to regulators and legislators, since really the 1920s or earlier. When I ran the local sales office in Madison, part of my job was to make sure that I had a good working relationship with our local congressman.
So the implication is that IBM is tied up in various countries' national interests, and plays a role in their own cybersecurity and cyberwarfare strategies?
Absolutely. And what I worry about is, history teaches me that if you're in the country that's at war with somebody else, the loyalty of the company is forced to be with the country. If you're a Chinese IBM employee, and we got into a problem with China, I think they would be loyal to the Chinese government. And we'd have Americans in the U.S. loyal to the U.S.
Your conclusion is that IBM has been a net positive for the world. Why?
Without data processing, you would not have a railroad network in the U.S., a banking system, large companies — you just couldn't have done it. To the degree that you develop data processing tools, you contribute to the creation of ... higher standards of living. If you think that's a good thing — bringing billions out of poverty — you've got to give credit to the IT world. And the biggest member of that, for the longest period of time, was IBM.
IBM people will tell you is that its greatest gift to the world were its people — smart, well-educated, successful. And there have been about a million people who have worked at IBM throughout its history. Like me. I'm doing what IBM people do. I'm writing books, I'm president of my neighborhood association. I mentor startups. I know this sounds arrogant, but you see what I mean? We participate.