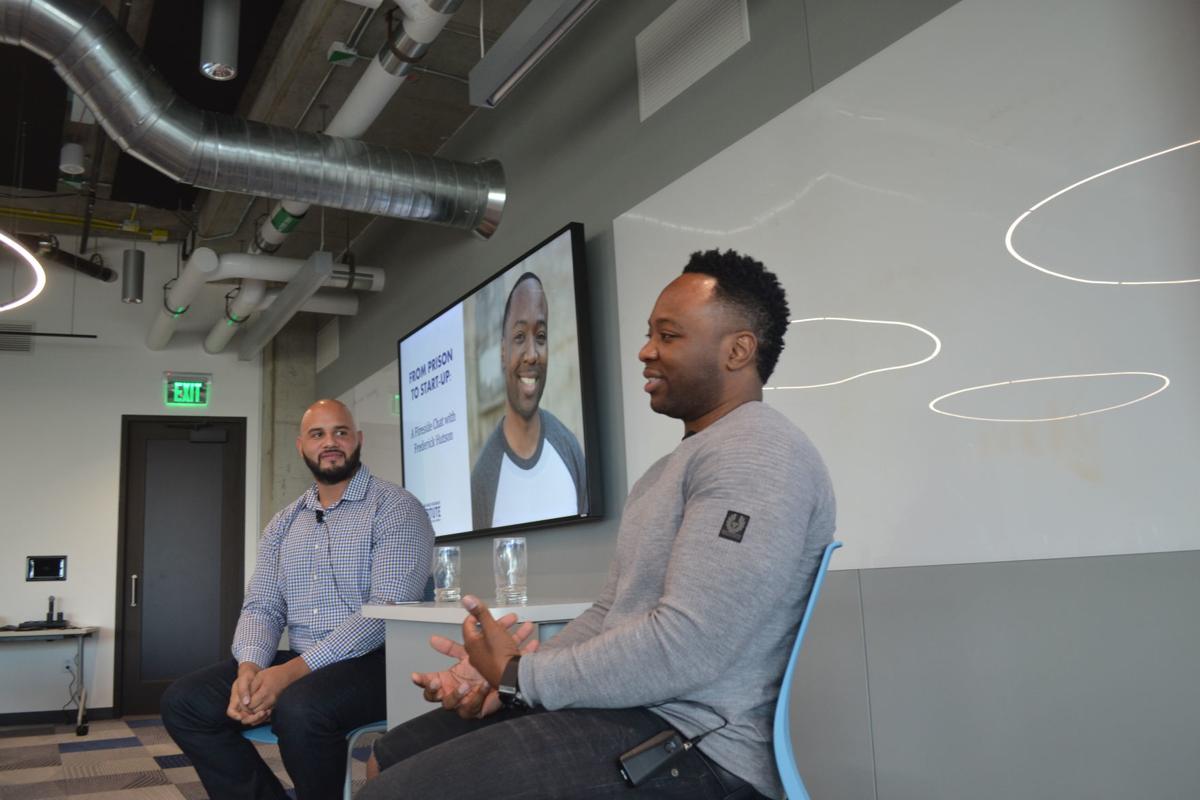 When Frederick Hutson went to prison in 2007 for selling marijuana — "lots and lots and lots of marijuana," as he'll tell you — it became clear to him that staying in touch with loved ones in prison was prohibitively expensive. A 15-minute phone call using the established telecommunications network could cost up to $15.
"When you interface with the criminal justice system, it's something that blindsides you," the Las Vegas-based tech CEO told a small crowd of entrepreneurs at a talk he delivered at American Family Insurance's new Spark building at 821 E. Washington Ave. on Wednesday. "People don't know how to connect with loved ones."
The Air Force veteran decided to do something about it. As soon as Hutson got out of prison, he launched a startup: Pigeonly, a digital communications platform that helps people stay in touch with people in prison, undercutting what Hutson describes as a "predatory" prison telecommunications industry.
Hutson talked about the company, his story and the relationship between entrepreneurship and social good at the Spark for its official grand opening this week. It was the inaugural event for a new AmFam initiative as well: the Institute for Corporate and Social Impact, a center based on the eighth floor of the Spark that the company says will be a center for forging private-public partnerships to pursue social good.
Hutson said that his company is a prime example of how a successful venture can simultaneously make social change.
"Doing good and doing well aren't mutually exclusive," he said.
The five-year-old company already has customers in 88 countries, he said, and has raised $5.1 million in venture capital financing. The company has also received considerable media attention: NPR, the New York Times and Vice  have published stories on Pigeonly.
Pigeonly offers a simple system that doesn't replace the telecommunications infrastructure that prisons already use, but rather creates a new way of interfacing with it. The software uses voice over Internet Protocol technology, the same tool that underpins Skype or Google Hangouts, and connects using a phone number local to the prison's area to avoid high rates. Call rates for Pigeonly users, said Hutson, are a fraction of what they'd pay otherwise.
That pricing, said Hutson, is the key part of his company's business model.
"You can only be my customer if I can create value for you through saving money," he said.
That pricing is also core to the social good component of the venture. By creating an alternative communications option for needy families, Hutson hopes that more prisoners are able to talk to loved ones — something that some research has found lowers recidivism rates.
The software also features an inmate lookup directory, and simplified systems for other highly regulated methods of communicating with inmates, like sending postcards and letters.
Hutson said that he receives criticism from prison reform advocates and prison abolitionists, who question whether corporate action is a viable route to social change, or who suggest that letting the current telecommunications system flounder is best in the long term.
"It's better for us not to be involved, for it to be horrible, so that it's so bad that it eventually has to change," said Hutson, describing the viewpoint of some of his critics.
Hutson said that he believes in the potential for for-profit companies to do good in a way that's more sustainable than not-for-profit ventures. He also believes the current telecommunications companies are too entrenched and powerful to change through inaction.
Hutson said it only made sense that he'd become an entrepreneur after prison: "Obviously, I already had an extremely high tolerance for risk," he said.
He started seriously developing his company at a halfway house that, he jokes, he used as an accelerator. He grew a team, raised funding from friends and family, and building out an initial product. He quickly drew the attention of the West Coast tech scene, and in 2015 earned his way into the venerable Y Combinator startup accelerator program.
He said that his identity as a black man and an ex-con has shaped his experience in the world of high-growth tech companies. Talking with investors who are disproportionately white and affluent can be tricky.
"It's just that we don't connect," he said. "They'll say, I don't understand the problem you're solving."
He said that dynamic changes when he focuses strictly on the business pitch, sharing metrics about, say, the large and often overlooked market of families with incarcerated loved ones.
He added that he tends to connect with investors who also value his social mission.
"They do want a return. But they also want to see what kind of impact you're making," he said. "We are a for-profit company. But those investors tend to be a little more patient."
Meanwhile, Hutson said his focus is on continuing to scale his company, and taking on more investment.