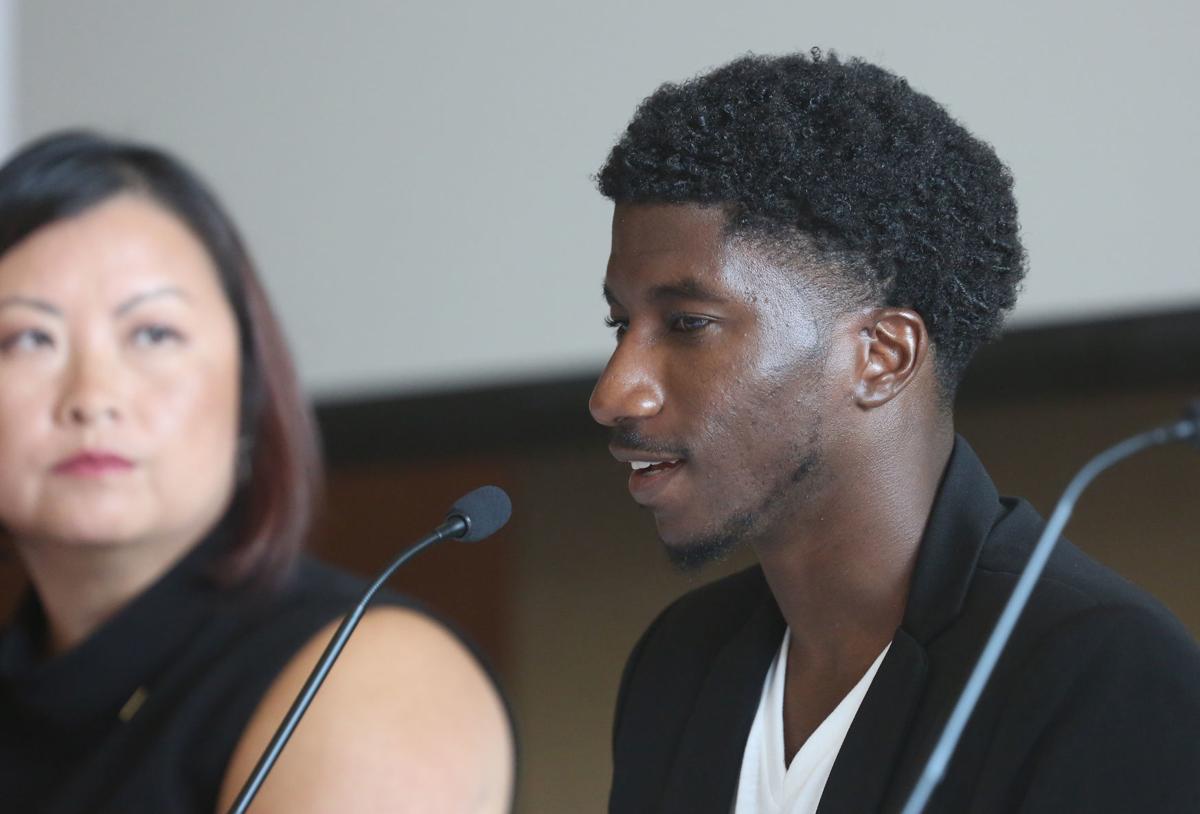 Gregory St. Fort is stepping down from his leadership role at a downtown nonprofit that provides shared workspaces and resources for startups, freelancers, artists and remote workers.
St. Fort, who has played a prominent role within the city's growing tech and startup community, announced that he would step down as 100state's executive director at a community meeting for the nonprofit earlier this week. Claudia Seidenberg, who currently oversees operations with the group, will take over 100state leadership after St. Fort leaves on June 30.
St. Fort said that after three years serving as executive director, 100state is "in a good place." The 32-year-old entrepreneur who originally hails from New York City now has his sights set on other projects. While he wouldn't go into much detail about his plans, he said he hoped to develop an online course on coding and entrepreneurship.
He also said he plans on globe-trekking for an indefinite period of time, although he said he would eventually return to Madison.
"A lot of my mentors are still there in Madison," he said. "I want to stay connected."
St. Fort oversaw three years of dramatic change at 100state, a local hive of startup and tech activity that claims to be the largest coworking space in the state in terms of membership. Chandra Miller Fienen, the acting director of the Madison startup center StartingBlock, said that his work made a huge impact on not just 100state, but the city of Madison.
"From startups to creative thinkers to youth entrepreneurship programs, his contributions have been really fantastic," said Miller Fienen.
Under St. Fort's leadership, 100state moved from a relatively small office space overlooking the Capitol Square to a much larger, polished headquarters on the sixth floor of the former AT&T Building on West Washington Avenue. Its membership grew from approximately 200 to 300 members. It served as an incubator for some of the city's most promising startups, like the health care software service Redox and the artificial intelligence-meets-fashion company Markable.
St. Fort said that he is especially proud of how 100state has diversified its membership and programming, and helped create opportunities for youth and others who historically have had less access to the city's growing tech and startup scene. He pointed to relationships he helped establish between 100state and groups like Big Brothers Big Sisters, the Latino Chamber of Commerce, and the media outlet Madison365.
Miller Fienen and Seidenberg said St. Fort's focus on openness and inclusivity is a major facet of his legacy.
"He's made a community that's available to people regardless of age, race, background," said Miller Fienen.
"He opened up the space to people who never ever thought they could be entrepreneurs," said Seidenberg. "He sees the potential, the scope and the bigger picture and the possibility in everyone."
St. Fort has also been credited with shoring up sources of funding and income for the space at a time when its finances were insecure.
"Not to be dramatic, but he kept 100state alive," said Seidenberg.
Meanwhile, Seidenberg, a recent graduate of the University of Wisconsin-Madison, said her goals as 100state's new executive director will be to continue to grow the nonprofit's membership and to build on its history of spurring innovation. She added that 100state's executive leadership team, comprised of herself and the space's new community director Meg Brewer, would be 100 percent female, something she was excited about.
"She's vivacious and outgoing, and she's another community-builder," said Miller Fienen, of Seidenberg. "I hope she'll be great."
The business news you need
With a weekly newsletter looking back at local history.