In 1998, University of Wisconsin-Madison researchers made waves in the worlds of biology and medicine, revealing they had five examples of human embryonic stem cells  — biological building blocks at the foundation of cellular development — successfully isolated and growing on laboratory dishes.
Visit the Madison-based stem cell bank WiCell today, and you'll find a library of 1,364 different lines of stem cell cultures, an indicator of how far the field has come since that breakthrough 20 years ago.
Enter the secure room in WiCell's home in University Research Park, and you'll find five-foot-tall metal tanks, each storing 47,000 vials full of stem cells floating in a nutrient-rich liquid medium. Staff unseal the tanks, unleashing plumes of liquid nitrogen vapor, and place the vials in large R2-D2-like cylinders that ship to teams of scientists and pharmaceutical companies in Madison and around the globe for research projects, clinical trials and biotechnology products.
WiCell has made more than 7,000 shipments to 45 countries across six continents since its founding in 1999, according to its director Tenneille Ludwig. Thanks to the proliferation of stem cells and the training of researchers to work with them, two things that WiCell has helped enable, Ludwig said there have been about 13,000 academic papers on stem cells published over the past 19 years.
"If you think of each of those publications as a piece of knowledge that didn't exist in the collection of what we knew scientifically before, that's pretty amazing," she said.
About 635 scientists and students at the University of Wisconsin-Madison are advancing the field with stem cell-related projects. Academics have also taken their findings into the private sector, filing patents and launching stem cell-based companies that have helped forge a small cluster of economic activity in the Madison area.
That activity has earned Wisconsin a status as a stem cell hotspot, along with states like California and Massachusetts.
"If you look at stem cells, you think of certain states … Wisconsin is one," said Paul Knoepfler, a University of California-Davis stem cell scholar and the author of "Stem Cells: An Insider's Guide."
Not all of those promises of stem cell research, from ending Parkinson's Disease to growing entire organs in vitro, have been realized. Still, those in the field acknowledge for a discipline 20 years old, stem cell research has advanced at a rapid pace.
"We've made incredible progress over the last 20 years," said Tim Kamp, a cardiologist and the director of the UW-Madison's Stem Cell and Regenerative Medicine Center. "But each disease, each organ system — the devil's in the details."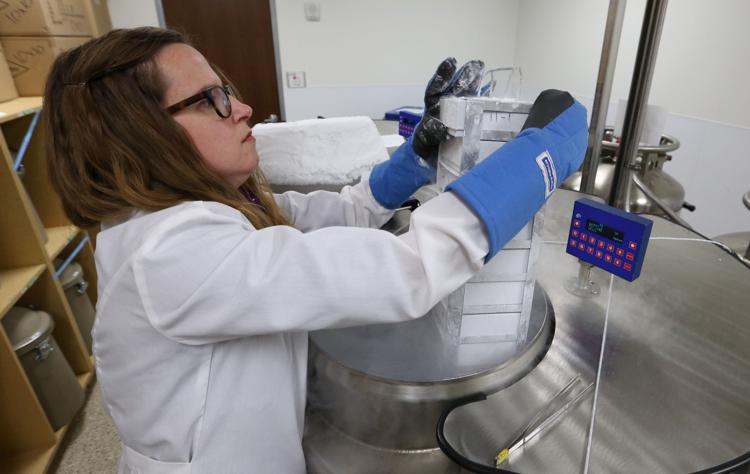 Breakthrough
Vivienne Marshall still remembers a day when the biologist James Thomson called her over to examine a blastocyst — an embryo in one of its earliest stages of development — under a microscope, months prior to the November 1998 announcement.
"He asked me to come and give my opinion on whether or not today was the day," said Marshall, a biologist who now directs clinical research at CHRISTUS Santa Rosa Health System in San Antonio, Texas. She was a co-author of the report on isolating human embryonic stem cells. "The day" in question would be when a mass of embryonic stem cells would be ready for extraction from the blastocyst.
Thomson was a primatologist who had already established himself as a leader in the realm of stem cell science: Three years prior, he isolated embryonic stem cells from rhesus monkeys. Now, he was trying to do the same with humans.
The implications were considerable for the future of medicine and biology. Stem cells are among the first to form in an embryo, and comprise a foundation for human cellular development. They transform into other specialized cells and tissue, from heart to skin to brain, a process known as differentiation.
Isolating the cells would give scientists the keys to all sorts of doors to discovery. There would be new insights into how humans develop in utero, and new insights into fertility and genetic disease. The ability to transform a stem cell into another specialized type could help researchers test new drugs or screening procedures.
The cells would also pave the way for regenerative medicine, a field involving the regrowth or replacement of cells or tissue in a human body. Someone at risk of heart failure could get new vascular tissue, or a patient with Parkinson's could be treated with an injection of dopamine cells.
To isolate stem cells for the first time, the team of UW-Madison scientists needed to let an embryo develop in a culture dish until an inner cell mass containing the stem cells was mature enough to remove using microsurgical techniques. Then, it would be a question of sustaining those cells in laboratory conditions, without them spontaneously differentiating in a way the researchers couldn't control.
In her memory, Marshall recalls looking into the microscope after Thomson called her over to provide confirmation. Soon, the team had derived cell cultures from five separate embryos.
Marshall said it was an exciting and nerve-wracking time.
"I was actually saying it to my children the other day – there aren't many people who get the chance to be involved in a landmark paper in the sciences," she said.
Thomson declined an interview request for this story. Colleagues said that the researcher is a private person who didn't particularly relish his time in the media spotlight.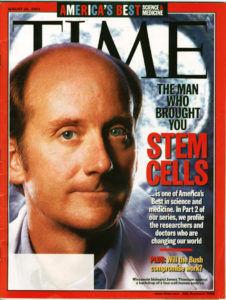 "He doesn't like to go out on the talking circuit," said Kamp, a cardiologist who was working for the university at the time of Thomson's breakthrough. "He's happier in his lab, it's safe to say."
Colleagues also describe him as incredibly focused and smart, and someone keenly aware of the significance of spreading awareness of the discovery.
They also say he was someone who deeply appreciated the degree to which there would be an ethical debate over the cells. Isolating embryonic stem cells gave rise to a number of ethical issues, the most prominent of which was their derivation: The process required the donation of a human embryo, and its subsequent destruction.
Alta Charo, a bioethics and law professor at the UW-Madison who would go on to help create official ethical guidelines for stem cell research through the National Academy of Sciences, recalled meeting with Thomson prior to the 1998 announcement to review the ethical issues at hand. She said Thomson displayed a commitment to exploring the ethical dimensions of his research to the fullest extent. His goal was to proceed "so carefully...with such attention to not doing anything unnecessary, to where you can say, 'You may not agree with this, but you can't disagree that I've been as responsible as possible in the way that it's been done,'" said Charo.
The announcement spurred a political fracas. Carl Gulbrandsen — formerly the managing director of the Wisconsin Alumni Research Foundation, which patented Thomson's lines of stem cells — recalled that WARF and the university received pushback from people affiliated with the pro-life movement and the religious right.
"It was one of the more complicated things that we've ever worked on, with the political (pushback)," he said.
At the federal level, George W. Bush's administration restricted federal funding for any stem cell research requiring use of an embryo, although it allowed research using existing stem cell cultures to continue. That research ban was later lifted under President Barack Obama.
Stem cell research has weathered the political firestorm thus far, which may have to do with the very nature of the cells. They self-replicate indefinitely, meaning that in theory there would never be a shortage for researchers to access, even without the destruction of new blastocysts.
Ludwig with WiCell said Thomson's five original stem cell lines remain the most popular at the bank.
"They're kind of like the Energizer Bunnies of stem cells. They just keep going and going and going," said Ludwig.
Another factor was a second scientific breakthrough in 2006, once again courtesy of Thomson as well as the Japanese scientist Shinya Yamanaka: the first successful induced pluripotent stem cell, or iPSC. These were cells that didn't require the destruction of a blastocyst. Instead, these were cells taken elsewhere from an adult, like the skin, and then coerced into returning to an embryonic-like stem cell status.
Today, public polling suggests that a majority of Americans see merit in conducting research using embryonic stem cells. Charo thinks attitudes may have changed due to a growing understanding of how stem cell therapies could change lives, similar to how people came to embrace in vitro fertilization since it first arose in the late 1970s.
"There are too many people who are grandparents only because their daughters used IVF," said Charo. "And once they're used to IVF, they can get used to embryonic stem cells."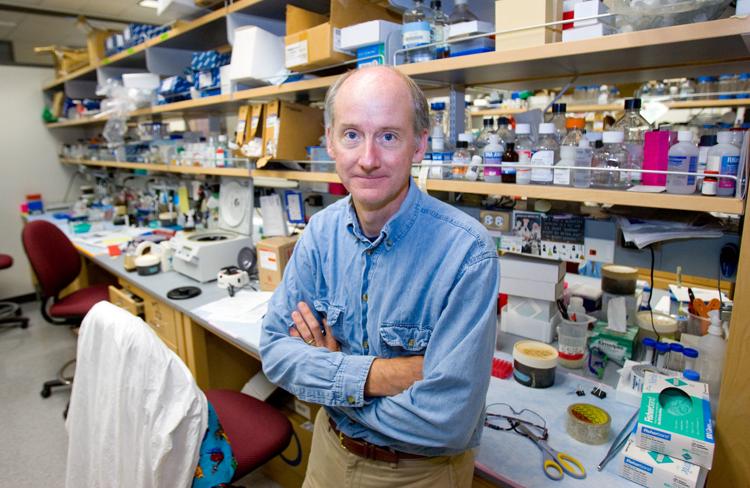 'Trial and error'
Today, the field has come a long way since those early breakthroughs.
For one, researchers have been able to figure out how to coax stem cells into becoming a wide variety of adult cell types. Many of those differentiation breakthroughs came through at the university, including for neural, vascular and retinal tissue.
According to Dave Vereide, a research fellow with the Morgridge Institute for Research, inciting that cellular differentiation has often been a process of trial and error, with researchers trying out different mixtures of proteins, molecules and culture conditions.
"We had no cookbook. It was all trial and error. But now, the cookbook is being filled in very quickly," said Vereide.
He also noted that the basic processes and tools researchers use when working with stem cells have improved too.
"When Jamie first isolated embryonic stem cells, the conditions they were in worked, but just barely. The cells were prone to spontaneous differentiation...it was an inelegant system," he said.
"Now, the cells grow so beautifully, so cleanly. It's all defined, so we know every last component that's in there. It's just like, amazing."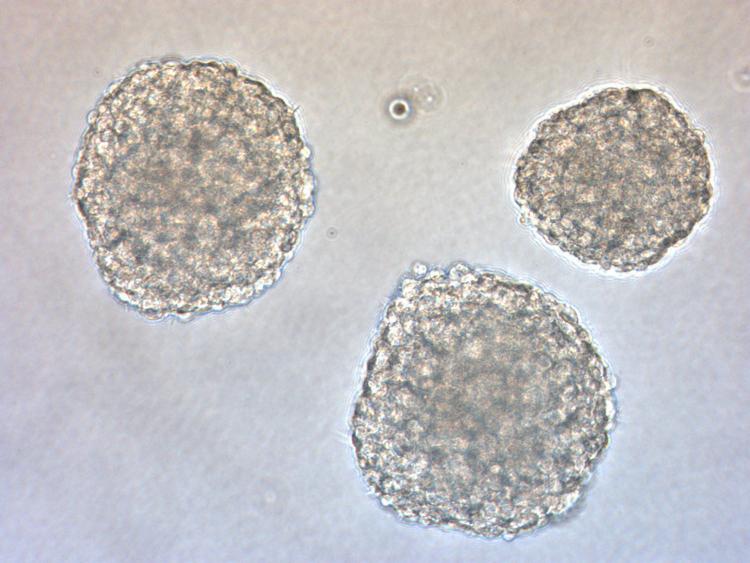 Vereide leads a regnenerative biology team under James Thomson at the Morgridge Institute. The team is working on developing vascular tissue from stem cells — an important area of research, Vereide said, considering how prevalent and deadly cardiovascular diseases are in the U.S.
Other UW researchers have developed masses of tissue that aren't quite a full organ, but nevertheless large enough to transplant. Kamp, the SCRMC director, is part of a research project to develop three-dimensional patches of tissue that could be used to fix diseased or damaged hearts. Kamp and his fellow researchers will bioengineer the patches and test them out on pig subjects, paving the way for human trials in the future.
Kamp explained that a challenge of developing tissue and organs will be figuring out how to transplant them safely, with minimal risk of issues like a negative immunological response.
"People are looking at … how to get cell products accepted by a body, with minimal risk," he said.
Complementing researchers like Kamp are clinicians conducting actual trials.
"The way regenerative medicine works is we've had people like Dr. Kamp try to understand the mechanisms behind how these therapies could work," said Amish Raval, a UW-Madison cardiologist. "Now, there's someone like me, who's more of a clinical translational scientist."
Raval is in the middle of a five-year clinical trial at UW Hospital for a stem cell therapy that addresses heart failure called CardiAMP. The treatment involves the injection of adult bone marrow cells into patients' hearts.
Raval said that the therapy is akin to the Ford Model T. In years to come, he said, it will be replaced with far more advanced treatments.
"It's mature enough to where we're close to a revolutionary pathway forward," he said.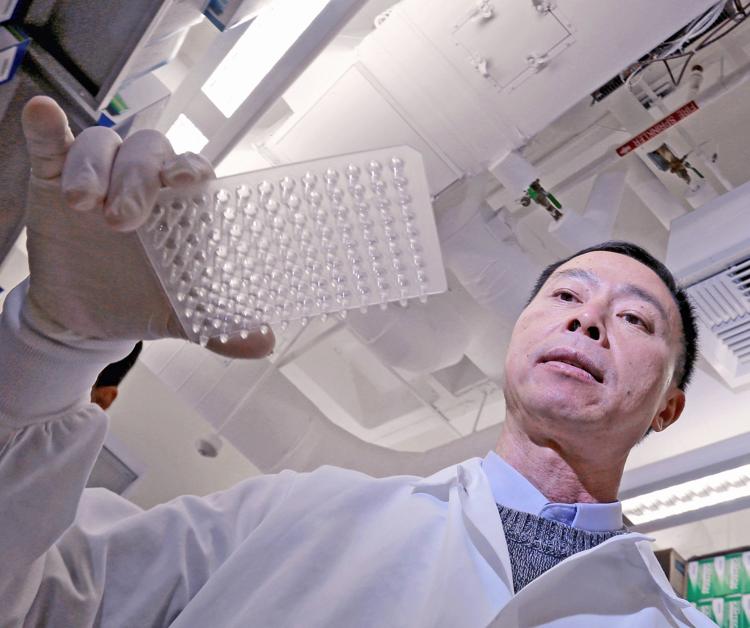 From public to private
Many of the same researchers working in the field aren't just scholars: They're also entrepreneurs.
Just down the street from WiCell in University Research Park is Fujifilm Cellular Dynamics International, a biotechnology company with a local workforce of over 100 people. Kamp and Thomson co-founded CDI in 2004, along with three colleagues. The company sells dozens of products involving differentiated stem cells, from heart cells to neurons to assays that can be used in disease screening protocols.
Kamp and the original co-founders no longer have formal ties to the company, after Fujifilm bought it in 2015 for approximately $307 million.
Then there are newer entrants to the market like BrainXell, a company that sells stem cell-derived neural cells to pharmaceutical companies. The company was co-founded in 2016 by a team of researchers at the UW-Madison — including Su-Chun Zhang, a professor of neuroscience and neurology at the Waisman Center on the UW–Madison campus, and a pioneer of differentiating brain cells from stem cells. The company has a relatively humble lab suite in a University Research Park building, with eight employees.
 "The goal — and this is not an exaggeration — is to be the world's leading provider of stem cells and glia," said Michael Hendrickson, project manager for the company.
The UW has identified at least 10 companies that have commercialized on-campus stem cell research. Economic leaders say those companies have helped forge a small economic cluster.
"More and more people say that branding is the new economic development. It's the story that's told about your region," said Zach Brandon, the president of the Greater Madison Chamber of Commerce."That matters more than tax incentives or anything else you can do. It's how people perceive it, and what they believe about you. Stem cells define Madison as one of the most dominant stem cell-based cities in America."
Kamp and others who have entered the private sector say that creating a biotechnology company isn't just about making money. Given limited funding for research in academia, it's sometimes necessary to turn to commerce to realize the potential of stem cells.
"The research isn't to just have fun in the lab. You want to get this to a meaningful impact to people, and to the population as a whole," he said. "Some of that is hard to realize in academic settings."
Raval, a co-founder of the stem cell therapy technology company Cellular Logistics, agrees.
"We're in an era when there are only so many places that the NIH can take us to," he said. "We need industry for dissemination."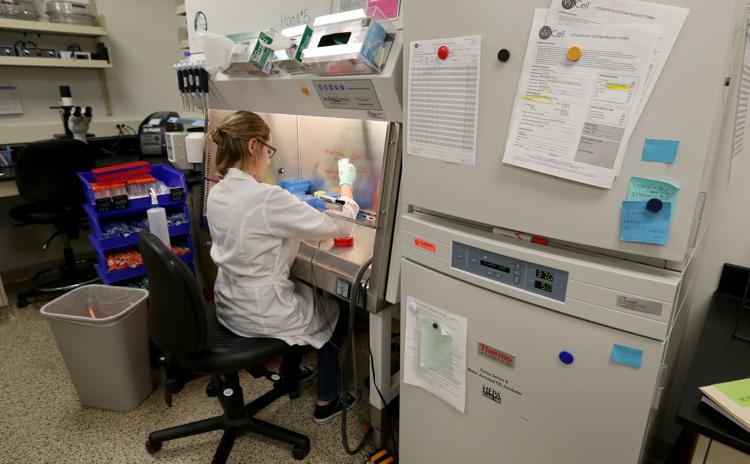 'The hype and the hope'
While many researchers praise the role of industry, they also point to the challenge of some bad actors among clinics. According to observers and regulators, hundreds of for-profit clinics around the U.S. are selling stem cell therapies that have not been approved by the Food and Drug Administration, or that have insufficient evidence backing their effectiveness.
Knoepfler, the UC-Davis stem cell scholar, counted 353 clinics, including two in Wisconsin, for a 2016 report. The clinics market stem cell therapies for everything from arthritis to spinal conditions. Knoepfler said it's not atypical for such companies to make misleading statements in their marketing materials, such as overpromising when it comes to safety.
"Be as skeptical as you'd be when trying to buy a used car," he advised those seeking treatment at stem cell clinics.
Critics of the clinics point to cautionary tales of procedures that have gone awry over the past few years. For example, the New England Journal of Medicine reported last year that three women went blind after receiving macular degeneration therapy at a Florida clinic.
Kamp noted that the clinics have their share of defenders within the "right to try" movement. However, he said that even if patients want a last-ditch risky procedure, the clinics offering them should at the very least be collecting data.
Charo, the bioethicist, has a more blunt take: "It's not even right to try. It's just outright fraud," she said.
She added: "There was always a right to try these things. Nobody ever denied someone a right to try. It's more, deny a company the right to sell something before it had been showed to be effective."
Charo noted that the FDA has taken some initial steps to ramp up oversight of such clinics. Earlier this year, the agency sought to block two clinics from marketing products that lacked FDA approval through a permanent injunction.
Others in the field say that it's not just snake oil that can be a challenge for the field. Sometimes, it's also public perception and expectations.
Ludwig said she often encounters a narrative that stem cells have failed to deliver on their promise, given the dearth of FDA-approved stem cell therapies on the market.
"The hype and the hope kind of got ahead of the science a little bit. People expected there would be material available for transplants tomorrow. That's not how regenerative biology works," she said.
According to Ludwig, for a field to have gone from nothing to advancing clinical trials within 20 years is itself an accomplishment. Plus, she said, there have been many outcomes from stem cell research outside of regenerative medicine: Researchers have a deeper understanding of developmental biology, and pharmaceutical companies have more robust tools for drug discovery.
"They're getting drugs to the market safer, cheaper, faster. Nobody really focuses on that," she said.
Vereide agreed that it's important to temper public expectations. Still, when it comes to regenerative medicine, he anticipates exciting times ahead.
"There will be the first wave (of therapies), where you're delivering one or two cell types to treat a very specific condition," he said. "The next wave will be something more structured, something closer to an organ. That's more complicated. That requires more feats of engineering. But we'll get there."
That's not taking into account the impact of other biological developments that could shape medicine and human genetics. He pointed to gene editing as an example: One day people may receive transplants of cancer-resistant cells to address trauma.
"It's been 20 years, but we're just scratching the surface of these different technologies," he said.
Kamp agreed that the intersection with gene editing is an important one. He also said it's tough to know what's on the horizon for stem cell research and innovation.
"We're just at the beginning of this era of regenerative medicine," he said. "There's still so much to be done."