According to its leaders, and some current and former tenants: So far, so good.
"It's surprisingly close to where we'd expected to be," said Chandra Miller Fienen, who recently became the group's executive director after having served as its acting director since early 2017.
The center, which opened in a high-rise office building at 821 E. Washington Ave. in June, recently shared numbers in a year-end report, touting some of its accomplishments: It has hosted 95 events, and provided a home for 37 companies that have collectively raised $15.3 million in investment.
Miller Fienen said it's not clear to what degree that success is attributable to StartingBlock itself, although she said that StartingBlock conducted an in-house survey indicating that companies feel like they've been well-served.
"We can't take credit for everything that our companies do," she said. "In fact, we can't take credit for most of what our companies do ... but we're seeing our founders that are here, they're telling us that we're making a difference."
Miller Fienen also said that of the companies at StartingBlock, 35 percent are "women-managed" ventures, and 15 percent had racial minorities on their founding team.
A group of business executives and entrepreneurs began working on StartingBlock in 2012, with a goal of catalyzing the growth of Madison's startup scene by establishing a hub where companies, investors and support groups work in a shared environment. The model was partly inspired by other startup centers that had begun opening in metropolitan areas around the country, like Chicago and Austin.
When the center first opened in June, it was inside of a still-under-construction building. Some tenants worked without desks or chairs, while building crews milled throughout the space. 
"It was very much like freshman orientation in college. A lot of excitement, a little bit of chaos," said Miller Fienen.
Today, the center is more polished, and more populated. Walls that were previously whitewashed now pop with murals, art or colorful designs. There are now 30 companies occupying the space, up from the initial 11 on the inaugural roster. 
The enormous "flex space" on the center's second floor, once mostly empty, has filled up with tables and booths. One corner in particular has been carved out for groups in the nonprofit's Social Impact Initiative.
There has also been some turnover. Of the 11 companies on the center's inaugural roster, four are now gone. ImageMoverMD, a medical imaging company, moved to a new office in downtown Madison; Markable, an image recognition technology company, shifted its operations to New York City; Kilter, a physical fitness app, joined an accelerator in Atlanta; WolfFlow, a multi-tasking software developer, shut down entirely.
In addition to WolfFlow, a "digital paper" company called NIZED that worked out of StartingBlock has also closed.
Miller Fienen also said that "churn" — the moving of companies in and out of StartingBlock — is a healthy pattern that signals that companies are growing, and "fledging out of the nest."
Tenants working out of the space report a largely positive experience.
Brio, a company that makes mobile software for making electronic payments in bars and restaurants, has a small team that works out of one of the space's low-profile cubicles on its first floor. The team said that they're happy with their experience so far. While they haven't made connections to the service industry through the space, said the company's CEO Clay Burdelik, the company has received some valuable mentorship from the center's staff.
"Our office isn't huge or anything, but it's all we need right now. We have everything we need right now to grow, but not spend too much money," he said.
"I'm just glad I'm not working out of a bedroom anymore," said Chris Betagole, a user experience and user interface developer on the team.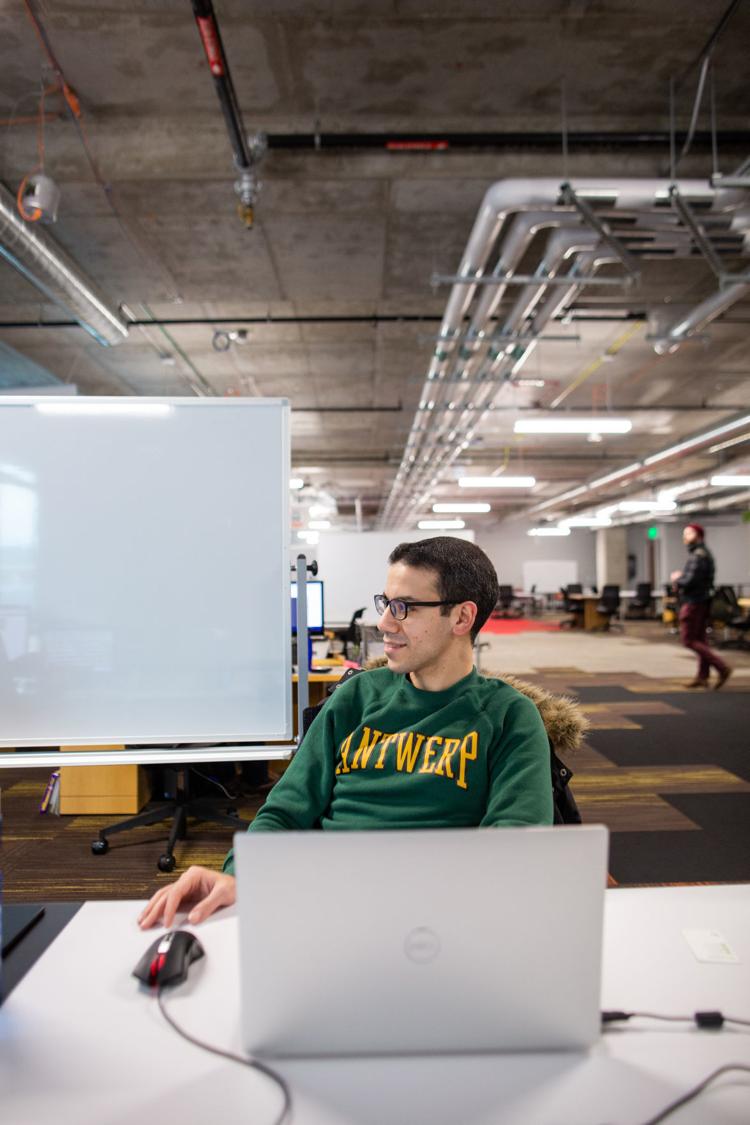 Burdelik added that while the space had been filling up, it was still quiet compared to other startup centers he's visited. 1871 in Chicago, for example, is "like a zoo," he said.
"(StartingBlock) definitely doesn't have that kind of energy yet. But it's only six months old. Just give it time," he said.
Jon Brouchoud is the founder of ArchVirtual, a virtual reality developing firm. He said that he's happy to be able to show off the space to his clients — the modern and polished design is a boon for his brand. He also said that he's appreciated the programming and talks hosted at the center.
"It's almost a caricature of what an effective entrepreneurial space should be like," he said.
Heather Wentler moved her organization, Doyenne, into StartingBlock in October. At the time of StartingBlock's opening, Wentler said she was curious about whether the center would be able to foster an environment for diverse and inclusive entrepreneurship. She says she's happy to see a community that strikes her as reflective of the broader Dane County population.
All in all, she said that StartingBlock has started to "feel like home."
"When we're thinking about the vibe and culture that we've created here, it was a niche that was missing (in Madison)," she said.
Miller Fienen said that in 2019, the primary goal of StartingBlock is to find larger companies to occupy the third floor of the center, and attract more individual members. She also said that the company is committed to learning more about patterns in the startup community in order to better serve tenants. For example, she said she's picked up on a trend of Madison investors not investing in local companies.
"Getting a greater understanding of who's making investments … is something where we'll get more data, and see how we can be more helpful," she said.
Also upcoming for StartingBlock in 2019: The center will host a conference of the Startup Champions Network, which will attract entrepreneurial leaders from around the U.S. into Madison.