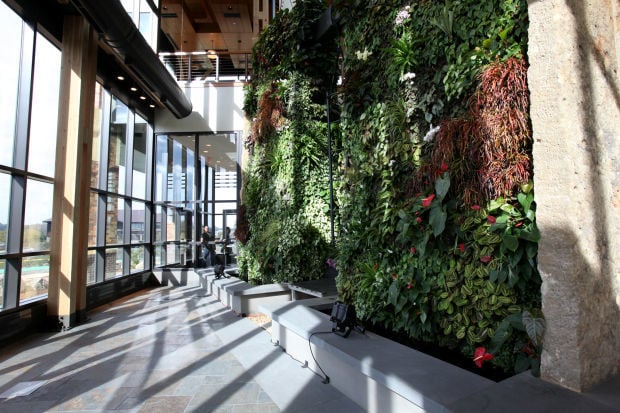 Promega Corp., the Fitchburg biotechnology firm, has had a busy week.
According to the state's job creation agency, the company plans to expand its manufacturing operations in Madison. That announcement comes after Promega broke ground on a $190 million facility in Fitchburg on Wednesday, a 270,000 square foot center next to the company's headquarters.
The Wisconsin Economic Development Corp., a private-public economic development agency, announced on Thursday that it will authorize $185,000 in tax credits to support Promega's plans to move some manufacturing operations from California to Madison, creating 25 new jobs and $750,000 in new capital investments in its existing facilities.
A Promega spokesperson wasn't available to comment on the manufacturing expansion. However, WEDC press officer Mark Maley wrote in an email that the company made the decision because of a desire to locate its manufacturing operations closer to its R&D labs.
"By relocating the instrument manufacturing from California to Madison, (Promega officials) feel the company will be able to development instruments quicker and face less challenges transitioning from concept to design manufacturing," wrote Maley. "ln addition, it will reduce time spent traveling as well as time spent organizing and carrying out communication via conference and video calls."
Promega is one of the anchors of Dane County's sizable biotechnology business cluster, which also includes Exact Sciences, Cellular Dynamics and Illumina. The 40-year-old company makes thousands of different products related to the life sciences, from cellular and DNA analysis tools to laboratory instruments. Last year, Scientist magazine named a protein-tagging system it developed one of the top innovations of 2017.
"By relocating the manufacturing, they will be able to address this cycle more effectively," he wrote.
The expansion builds on Promega's recent history of rapid-fire development and growth. In 2013, it opened the Feynman Center in Fitchburg, a $120 million two-story structure to serve as its headquarters. Just nine months later, the company broke ground on a $30 million manufacturing plant.
Its under-construction R&D facility is the most expensive development project in Fitchburg's history, and will house over 100 new employees. Fitchburg approved a new tax-increment financing plan to help finance up to $14.8 million of the project
The development and expansion comes as its CEO and founder Bill Linton wages an intense legal battle with two of its longtime shareholders, who have alleged that Linton used bullying and coercive tactics to deny them returns on their equity in the company. Linton in turn has accused the shareholders of conspiring to take over the company, although a county judge dismissed his counter-suit alleging as much in March.
The business news you need
With a weekly newsletter looking back at local history.