Jacquelyn Hunt has a vision of a five-to-six bedroom house in Madison where black families at risk of separation by Child Protective Services could live. There, they'd learn life skills, from cooking to communication to parenting strategies, that could keep them together.
"These strategies are critical, and they work. I've been doing this for 20 years," said Hunt, a family counselor and the founder of the House of Mary Experience, speaking to a packed room at the Madison Public Library's central branch on Thursday. "If we do this, we'll have safe, thriving black families."
Hunt was one of seven people who shared their ideas for making Madison a better place — from a rental fleet of electric cars to a mental health services agency to a movie production studio focused on telling authentic stories about women and people of color — at the fifth annual Social Good Summit. The event kicked off this year's Forward Festival, an eight-day celebration of entrepreneurship.
All those who gave five-minute pitches at the summit are part of the Social Good Accelerator, a project to provide training and support to entrepreneurs with a mission of social good. The summit represented a chance for the participants to showcase their work since joining the accelerator in May, and also to get support they need: After the pitches, the room broke out into groups where attendees discussed ways they could help the entrepreneurs, whether that meant helping them build a website or figuring out a marketing strategy.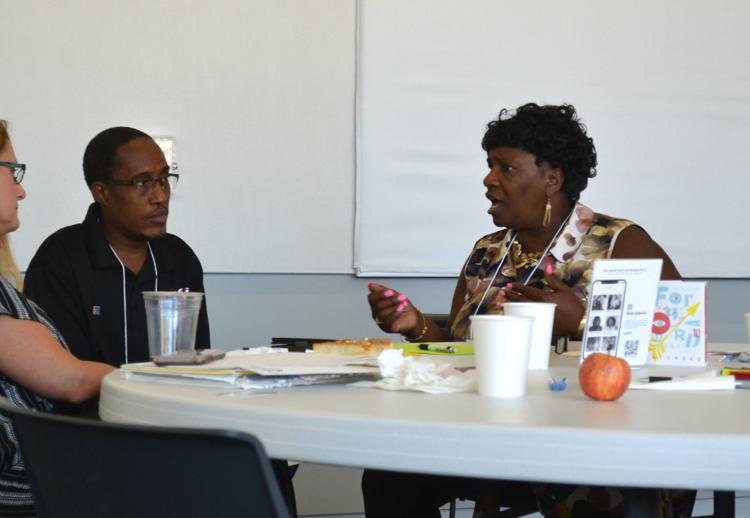 Alnisa Allgood is the founder of the Collaboration for Good, the organization behind the Social Good Accelerator and summit. She said this year's cohort of 25 accelerator participants stand out for their focus on trauma-informed care and interventions, but also for their deep backgrounds in their respective areas of focus. In years past, she said that wasn't always the case.
"There was more of a (pattern) of people just starting up programs they were interested in," she said. "Like, 'We want more girls of color in STEM.' But it wasn't like they'd already been spending 15 years already working with girls of color in STEM … I think this year, there a lot of people who are very much in the trenches."
Rita Johnson brings 31 years of nursing care experience to RMS Global Care, the agency she's launching to help people get their long-term care needs met at home, instead of in the hospital. She said too many people with long-term care needs struggle with long-term hospitalization.
"They're becoming isolated. They are giving up. They're just becoming invisible. This is not okay," she said.
Wanda Smith started her enterprise, the Peace Network, in 2009. The mental health services agency provides individual counseling and community workshops, with a specific focus on people whose stresses may be amplified due to their identity.
"There's a great racial disparity in mental health care here," said Smith.
Allgood said the breakout sessions offer a valuable opportunity for time-strapped financiers, consultants or others invested in social good to carve out a few hours to helping social entrepreneurs. She also noted that the sessions have also resulted in some longer-term help — some entrepreneurs ended up finding board members for their enterprise through the summit.
The summit is just one facet of Collaboration For Good's contributions to the Forward Festival. On Saturday, an event called "Code.forGood()" will bring together programmers to help entrepreneurs develop software to support their mission. On Monday, the Data for Impact conference brings together data scientists with nonprofits, social entrepreneurs and others to explore how to use data in meaningful and responsible ways.
The events are part of a trend within Forward Festival toward more social good-related programming, something that Allgood has pushed for since she first got involved with the fest in 2010. On top of Collaboration for Good's programming, the fest features talks on social change in the private sector, roadblocks for racial minorities and women when it comes to raising funding, and a workshop on making social media that's accessible for people with visual impairments.
The trick these days, said Allgood, is making sure that the programming reflects authentic social good, and not just a form of corporate lip service.
"Even corporations are figuring out that they need to do something for social good, to keep their employees happy," Allgood said. "Our job now is to make sure that it's an authentic social good."
A full schedule of Forward Fest events is available online.