On July 4, a 6.4-magnitude earthquake struck southern California. Thanks to software made in Madison, some building administrators in the Los Angeles area knew that it was coming 50 seconds before it struck.
The emergency alert they received came through Singlewire's InformaCast software. The pings did not give them enough time for a full-scale evacuation of their buildings, according to Singlewire, but it was enough to switch off utilities or shut down elevators — or in the case of some Los Angeles fire fighters, move trucks out of their stations.
The earthquake is just one example Singleware shares to demonstrate that its software saves lives. The InformaCast product is designed to help corporations, schools and government institutions manage all kinds of emergencies — not just earthquakes but tornadoes, active shooter situations, fires, missing persons, or power outages as well.
Singlewire, which recently marked its 10-year anniversary, has built a massive company that employs a team of about 100 in an office off of Deming Way. Its client base numbers in the thousands, ranging from Bridgestone to British Airways to the Middleton-Cross Plains School District. Its leaders were previously executives with Berbee Information Networks, an erstwhile Madison company that consulted clients on information technology issues.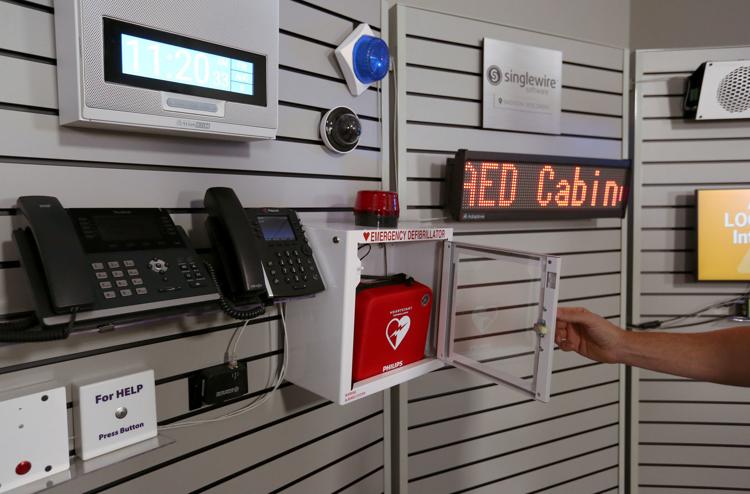 InformaCast's purpose is fairly straightforward. It discerns when there's an emergency in a building, alerts people who need to know, and then monitors the situation.
To actually do that, however, is a complex problem. The company taps into a wide array of inputs and outputs to figure out if an emergency is happening, and to communicate news of an emergency.
Inputs include buttons on landline phones, buttons on the InformaCast app, the opening of a defibrillator case, something popping up by a camera system, or alerts sent out by the National Weather Service. In the case of earthquakes, the company has partnered with a Santa Monica-based startup called Early Warning Labs to monitor seismological waves in the earth.
"There might be a panic button that says someone who's here who isn't supposed to be here. A door that's open that isn't supposed to open," said Ken Bywaters, an executive vice president with the company, giving other examples of inputs.
Outputs can include messages on digital signs, pop-ups on desktop computers, announcements over a public address system, the ringing of alarm bells, or automated phone calls. InformaCast also lets users monitor an emergency — for example, by letting employees signal to others that they're safe on the software.
The company's success stories include an incident at Komatsu Mining Corp. in Milwaukee — previously known as Joy Global — where a worker dialed 911 on the factory floor before collapsing to the ground. Security guards received a ping that 911 had been called from that location, and were able to rush over to save the man's life with a defibrillator.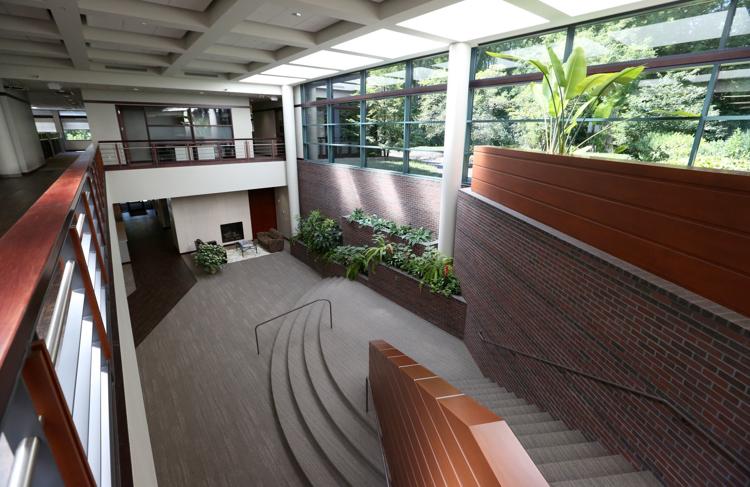 In the case of health care facilities, the company says there are many cases of mental health patients wandering away from where they're supposed to be, or having a violent episode, where InformaCast has played a helping role.
The InformaCast system originated as a Berbee product in the early 2000s. That company partnered with the multinational giant Cisco on a communications software that could be built on using Voice Over Internet Protocol — a technology that would eventually become the fountain for voice communications over the Internet.
"It was crazy to think you could write software that could talk to a phone," Bywaters said.
After Sept. 11, Bywaters said, demand for an emergency notification system using something like voIP were high. Soon, the U.S. Dept. of Commerce, whose offices had been located near the Pentagon, became the very first customer to use what would become InformaCast.
After CDW acquired Berbee in 2006, some core members of the erstwhile company decided to buy the technology behind InformaCast tech and strike out on their own.
"We saw the potential of the piece of software. We felt the time was right to start a business based on this," Paul Shain, president and CEO of Singlewire, said.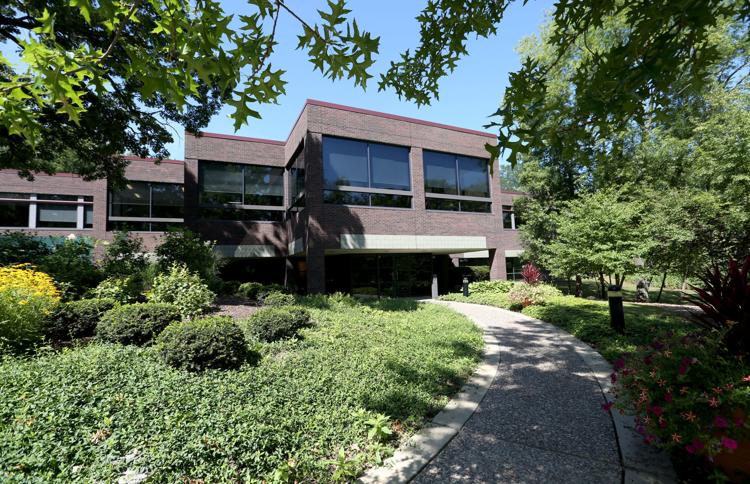 Shain said that the monstrous growth of the company over 10 years is a natural result of the team's reputation they had built at Berbee — as well as a reflection of how building administrators are increasingly cognizant of safety and security issues.
"You've seen an increase in workplace violence," Shain said. "We've got shooter on campus situations, in the educational market. Our healthcare clients are looking at situations where there are mental health patients, where things escalate into certain situations for staff."
Shain noted that the team has also found success because of their ability to keep up with the latest modes of communications technology. Recently, he noted, InformaCast integrated with Microsoft Teams, a group chat software similar to Slack.
"British Airways told me once, they considered it future-proof. You can put anything in it, and have anything come out of it," Bywaters said.
For a company that's had its degree of success, the company has also managed to stay under the radar in Madison's business community.
"We're kind of quiet. It's not a visible consumer product," Shain said. "But we're pleased that our technology is saving lives."
"We're good Wisconsin folk who don't want to call attention to ourselves," Bywaters said.