Exact Sciences, one of Madison's most conspicuous biotechnology companies, has expanded its local footprint with a new facility on Madison's south side.
The molecular diagnostics company held a ribbon-cutting ceremony on Wednesday afternoon for the new laboratory space at 650 Forward Drive, which will be used to process millions of the company's flagship colorectal cancer screening kits. It's the second Exact Sciences building on what the company calls its "Discovery Campus," a parcel of land previously occupied by Spectrum Labs, the Fortune 500 corporation formerly behind the production of Rayovac batteries.
The 695,000-square-foot facility features a massive warehouse and lab spaces for validating, cleaning and analyzing stool samples mailed in as part of the Cologuard screening test. The facility was made with public engagement in mind: Its hallways feature embedded TV monitors playing videos breaking the science behind Cologuard, which involves the analysis of DNA found in stool to flag biomarkers that predict cancer, while large windows give visitors a chance to observe company technicians at work.
The construction firm Findorff & Son completed the project in 20 months, said Scott Larivee, Exact Sciences' public relations officer.
"It's a crazy short amount of time," said Larivee. "It's gonna increase our total lab capacity, and help us get more people screened for colorectal cancer, we hope."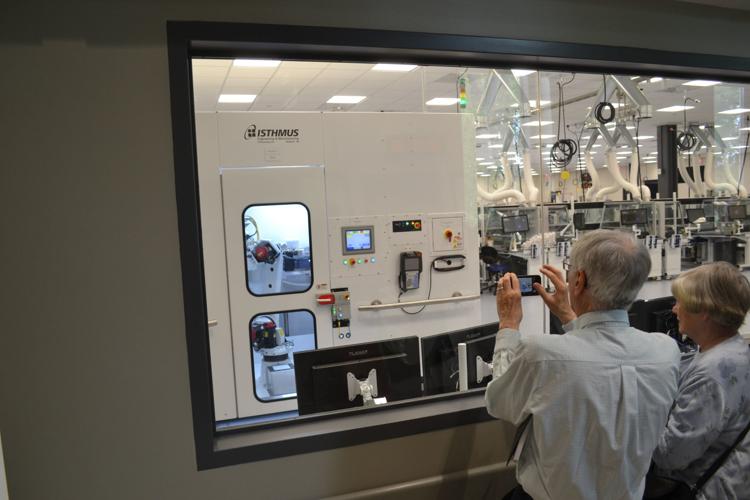 Exact Sciences moved from Boston to Madison in 2009, and committed to developing the Cologuard screening test soon after. Over the past decade, it has emerged as an economic development success story: From its original workforce of 20 people, it now employs 2,300 workers across six different buildings in Madison.
The company received Food and Drug Administration approval for Cologuard in 2014. Since then, it says it has processed more than 2 million Cologuard kits at its original laboratory facility on Badger Road, with 1 million processed in the last year. When the new facility comes online, the company says it will have the capacity to process 7 million units per year.
"We were like, 'Wow, a million. Will we ever get to one million?' Then 'Wow, we need to get to a million and a half.' And then guess what? We need another lab. We've just been going like the little engine that could. And here we are," said Ana Hooker, the company's senior vice president of operations, speaking before a large crowd of business and civic leaders gathered at the new building for the opening ceremony.
Kevin Conroy, Exact Sciences' CEO, also spoke at the event. He highlighted the VIPs in attendance -- including former governor Jim Doyle -- and shared stories of patients who detected cancer early thanks to Cologuard. He also reflected on the company's history, from the initial decision to develop Cologuard to a pivotal partnership the company forged with the Mayo Clinic during the product's clinical trials.
"That partnership, and hopefully this facility, will help fuel the early detection of cancers other than colon cancer," said Conroy, hinting at the possibility of Exact Sciences introducing new products in the future.
Exact Sciences has committed to hiring locally for a portion of the 1,500 jobs it says could work out of the Discovery Campus. It's partnering with the Urban League of Greater Madison on a job-training program, which has so far resulted in 26 hires at the company.
"We are trying our best to make this the best place to work in Madison," said Hooker.
While the building is complete, actual processing of kits at the facility won't start until later in the year, according to Larivee.
Meanwhile, an Exact Sciences employee parking garage with 970 stalls is slated to open just down the road within a few weeks. Construction of a facilities building, which will include things like a cafeteria and workout space, is slated for a 2020 opening.
Findorff is also still working on Exact Sciences' corporate headquarters at University Research Park. Larivee anticipates that project will be complete by early 2020.