TECH
Delivering on its potential: How EatStreet is changing the way Madison gets dinner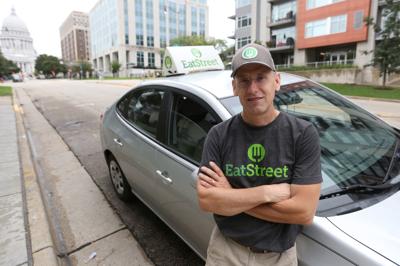 Dennis Brower used to criss-cross the country driving cargo vans for a living. These days, he criss-crosses Madison in his silver Hyundai Elantra, delivering food for restaurants.
"It's a simple job," said the lanky, affable 52-year-old Waunakee resident. "And it's a little humbling. Like, 'Oh, I deliver food.' But I love it. I don't care."
"It's fun watching the city grow, you know?" he added. "And in Christmastime, you see all the different neighborhoods, all the different light shows in town."
Brower is also an unofficial brand ambassador for his employer, the Madison startup EatStreet. Emblazoned on his car, T-shirt, baseball cap and the insulated food bag he carries is the green-and-white fork logo of the online delivery service. Brower and the 90 other employees who drive the branded cars in the Madison area have made EatStreet's presence loud and clear.
"They're the face of the company," said Matt Howard, EatStreet's CEO. "They're our best marketing opportunity of anything we've ever spent money on."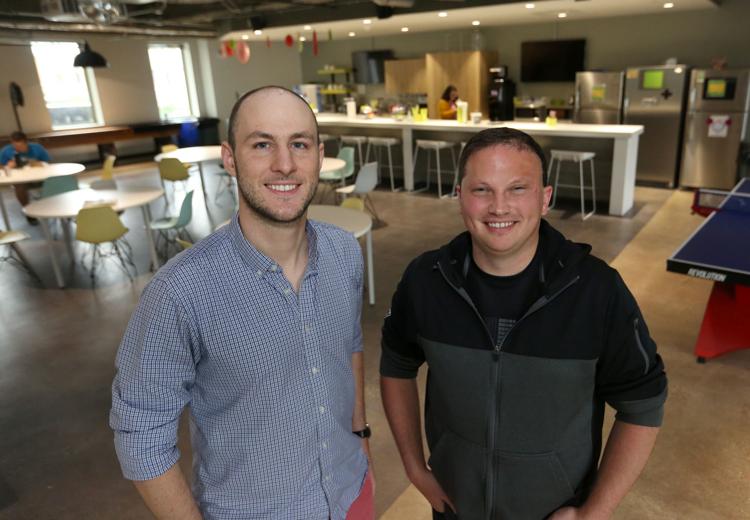 EatStreet's presence isn't felt just on Madison's streets, but also in its restaurants and in its burgeoning community of startups.
The 8-year-old company has found success with its business model: operating an online marketplace for ordering takeout and delivery from restaurants, and managing a fleet of drivers to get those orders into customers' hands. The company — along with its numerous competitors — is part of a trend that is changing the way restaurants connect with customers.
"The dining world is changing to self-service," said Nate Warnke,  the owner of the Rockhound Brewing Company. "It's something that we have to embrace more and more. People have busier and busier lives."
EatStreet has also emerged as a leader in Madison's tech scene. It doesn't disclose sales figures, but other metrics speak to its clout. It has raised $37 million in venture capital, has 1.8 million active users and employs a local workforce of 150 office employees, along with close to 1,000 drivers nationwide. Its corporate partners include Yelp, Facebook and Instagram.
Some local startup leaders describe the company as a beacon, showing entrepreneurs and investors both locally and nationally what Madison is capable of.
"It shows the potential that the Madison ecosystem had in 2010, and only has even more today," said Chandra Miller Fienen, the acting director of StartingBlock, a Madison entrepreneurship center.
"They're punching way above their weight class," said Troy Vosseller, a co-founder of the startup mentorship program gener8tor.
A slice of the pie
It has foosball, shuffleboard and ping-pong tables on its second floor, next to a cafeteria that serves kombucha and cold-brew coffee on tap. Downstairs, employees take breaks by playing Fortnite and Super Smash Bros.
Howard, the company's CEO, often walks the halls of the company trailed by one of his two dogs, a French bulldog named Lily and a boxer named Jordy.
"Whenever I have both of them, my French bulldog and my boxer, it's chaos. They just play all day. So I try to just bring one in at a time," said Howard.
"There were quite a large number of restaurants at the time (of EatStreet's founding), and still today, that don't have sophisticated IT services they can provide," he said.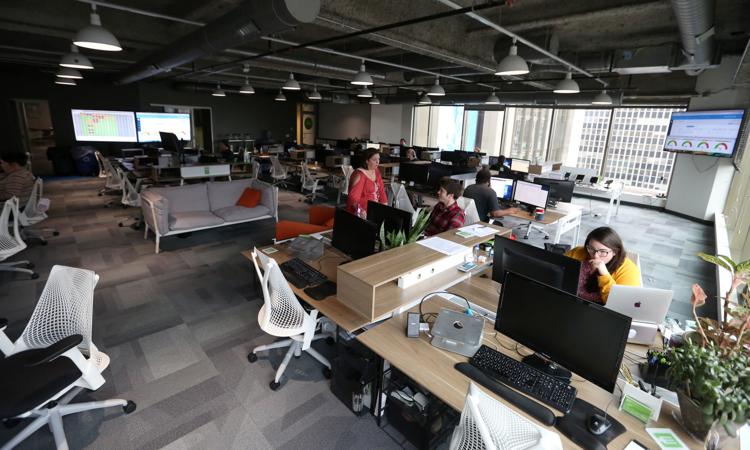 The idea for the company came in 2010, suitably enough, between bites of a delivered sub sandwich.
Co-founders Alex Wyler and Eric Martell were high school friends who ended up studying computer science at the University of Wisconsin-Madison. In the summer of 2010, Martell ordered a sub from Silver Mine Subs through CampusFood, one of EatStreet's predecessors.
The Silver Mine employee who dropped off the sandwich gave him a tip: CampusFood had begun charging a 75-cent service fee, making it best to stick to ordering food the old-fashioned way, over the phone.
Martell decided at that moment he could make a better online food delivery service, according to Wyler, who was there when the delivery went down.
"I was pretty sure the sub was in his mouth when he was coming up with the idea — he was talking to me while eating," said Wyler, who became the company's chief technology officer.
Wyler and Martell deputized Howard, a friend of theirs, to sign up restaurants while the two of them built the technology. Howard was a natural choice to pitch to restaurants: In high school, he had worked as a used car salesman.
"We didn't set out to build a massive company," said Howard. "We just wanted to make it easier for college students to connect with local restaurants in Madison."
The company, then called UConnect, quickly became profitable after launching in Madison. By the time Howard graduated in 2011, the company had about $15,000 in its bank account.
That same year, the company won a Wisconsin School of Business business plan competition, putting another $10,000 in its coffers. Howard said it was a pivotal moment.
"To me, that was the moment that we actually are a real business — that we were on to something," he said.
After that, the company entered a period of rapid growth. It expanded to nearby markets like Milwaukee and Oshkosh, hired staff and took on investors. By early 2013, the company reported that it offered food from 700 restaurants in 20 markets. By 2014, that count was up to 5,500 in 75 cities.
Today, the company says there are 15,000 restaurants using EatStreet, and 271 cities are on its platform.
The linchpin of EatStreet is its app and website. Customers sign in, and based on their geographic location, get a list of restaurants within a delivery radius of seven miles. In Madison, depending on where they sign in, local residents can peruse a marketplace of a few dozen to well over 200 options, from fast-food and casual locations like Applebee's to higher-end sushi joints like RED.
After customers check off the menu items they want, enter their payment information and send in their order, restaurant kitchens are pinged on an EatStreet-supplied tablet, or get an email or fax.
The restaurants then prepare the food and figure out delivery themselves, or, if it is in a market where EatStreet offers delivery — as is the case in Madison — they use their tablet to flag a nearby driver.
Food delivery is a new arena for EatStreet. In early 2017, it bought the Philadelphia company Zoomer, which specialized in facilitating online delivery for restaurants. With the acquisition came some about 1,000 drivers across 10 cities, along with some proprietary software.
direct the traffic of drivers in Madison to get food from point A to point B. According to the company's chief technological officer and co-founder Wyler, orchestrating a network of delivery drivers is a surprisingly complex problem that computers are well-suited to solve.
"We're having to deal with, which drivers should be assigned to which order? Should they pick up two orders, and then have them drop off?" he said. "From a bird's-eye view, moving this driver here might cause this driver to go over here, might cause this order to be sitting out for a little bit longer, might cause this food to go cold."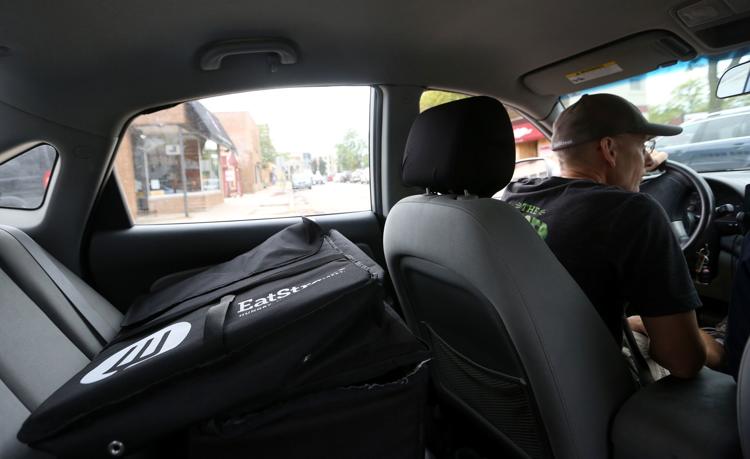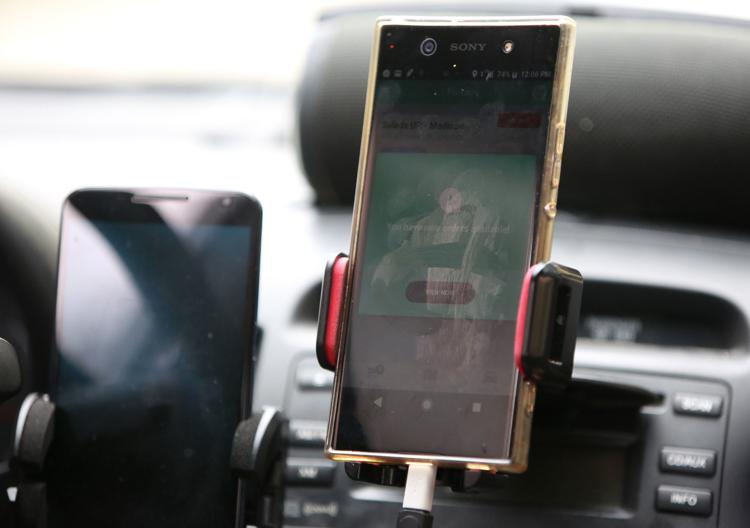 EatStreet is hardly the first company to try its hand at an online food delivery system. The idea was first realized in 1995, when a northern California company called WorldWideWaiter gave it a whirl.
Today, EatStreet faces a swarm of competitors. The largest are Grubhub — a $4 billion publicly traded Chicago company that dwarfs EatStreet's operations with its 85,000 restaurants in 1,600 U.S. markets — and Uber Eats, a secondary service for the ridesharing company Uber. Among the others in the mix are DoorDash, Postmates, Menufy and Mr. Delivery.
The global market research firm McKinsey has predicted that in 2019, online delivery orders could surpass orders made over the phone in the U.S. Being able to carve out any slice of the marketplace is good news for EatStreet, said Wyler.
"That pie is getting so big, so fast, that if we secure ourselves a piece of it ... if we're going to be a part of this huge massive shift in the way people are ordering food, we're going to be successful for our investors and our employees and our diners," he said.
EatStreet's slice of the pie is in smaller cities, say its leaders. Howard said that the company forges deep partnerships in places like Berkeley, California, or Ann Arbor, Michigan, instead of focusing on major metros where Grubhub and Uber are dominant.
Eckhardt, the entrepreneurship researcher, said it's to EatStreet's credit that the company has done as well as it has in such a fiercely competitive market.
"I think investors and policymakers can forget ... that it's not about being the first," he said. "It's about being the best."
The Madison marketplace
Today, 292 restaurants are on the local EatStreet marketplace. Ask local restaurateurs about what they make of the rise of EatStreet and online delivery, and reactions are tepidly positive. Most acknowledge the value of the service, although some have lingering reservations.
Jassim Al Bahadli owns Campus Biryani & Gyros, a small hole-in-the-wall Middle Eastern restaurant on Regent Street. He bought it earlier this year, and has been treating it as a fixer-upper — he's overhauling the interior, the service, and a lot of the menu. He may even change the name of the shop altogether.
"It wasn't a good environment for the customer," he said of the business he bought. "It was a little nasty."
The one thing Al Bahadli is retaining from the old business is the partnerships with online delivery companies. More than half of his orders come from those online platforms.
"Without them, you are not worth anything. You will lose your business," he said.
Al Bahadli said that among the services he uses, including Uber Eats and Grubhub, EatStreet stands out.
"It's the best one. People in the downtown area, students — always they order through EatStreet," he said.
Al Bahadli also intermittently drives for EatStreet, which he described as a rewarding job.
Casetta Kitchen and Counter, a downtown deli, is another Eatstreet client. The co-owner, James Juedes, said that he's been happy with the service, and said he appreciates that it's a local company. He said the shop briefly considered trying its own hand at delivery, but that ultimately it made sense to outsource to a company that specializes in it.
Salvatore's Tomato Pies on East Johnson Street has an exclusive partnership with EatStreet for its delivery. General manager Andrew Park said that before signing up for the service, there had been lots of pressure for the restaurant to do delivery.
"If you're a pizza place, people assume you're doing delivery," he said.
Like Casetta, Park said Sal's considered going its own way on delivery but that logistics were formidable.
"We don't have the space or the parking capabilities to really staff drivers," he said. "EatStreet made it easier for us. We don't have to worry about the staffing end of it."
Yet there are concerns for restaurants when it comes to adopting third-party delivery services. A big one is cost.
For every order on its platform, EatStreet charges a flat fee to a restaurant. The restaurant can pay the fee itself, have the customer pay it in the form of a delivery fee or split the difference.
EatStreet also takes a cut of the order's subtotal. EatStreet doesn't disclose the size of those "commission fees," which they said can vary depending on the relationship they have with a restaurant — for example, if they provide delivery for them. Restaurants interviewed for this story described fees ranging from 7 to 20 percent of an order subtotal.
Warnke of Rockhound Brewing hasn't signed up his restaurant on EatStreet, although he said he hasn't ruled out doing so. The question of cost is a major factor.
"Do I want to increase volume, knowing that that volume's going to come with a lower margin because of those fees? If I still get lots of people in-house….at the end of the day, I do believe it makes sense," he said.
Park said that Salvatore's initially refused to partner with EatStreet when it first called to woo them because of the cost. However, he said the company "heavily pursued" them and they eventually negotiated a lower fee.
"Grubhub has approached us," he added. "Their fees are just too much. We said, 'No thanks.'"
EatStreet's Howard said cost is probably the biggest concern he fields from restaurants. He acknowledged that it's "a change of mindset to be paying someone a percentage of your sales." He posited that having delivery as a stream of revenue at all makes the service worth it.
Another concern from restaurateurs is one of reputability and brand control: Some restaurateurs express wariness over handing off their food to a third party. If EatStreet messes up delivering an order, it's their business that could get the blame.
That's partly why Francesca Hong of Morris Ramen said that she has not signed up for the service.
"It's our name on the food, regardless of who you're ordering it from," she said.
Park said that EatStreet errors aren't frequent, but that when they do occur, "their problems are pretty big." He said he's also had problems sorting out those mistakes with EatStreet's support team — sometimes, he feels like he knows more about what's going on with the platform than they do.
It's not enough to make him consider dropping the service, he said. However, it has been a point of frustration when he gets calls from unhappy customers.
"I think (EatStreet) is really useful, and it makes it easier on restaurants. But at the same time … they definitely need to figure some stuff out," he said.
Howard acknowledged that especially on high-volume days, there will be unhappy customers: "Come football Saturday, there are going to be rough patches … There are going to be hard days."
He said that 90 to 95 percent of delivery orders get to customers in under 55 minutes. He also said that the company's in-house support and dispatch staff work hard to resolve problems when they do arise.
"We always do our best to work with the restaurant directly on an outcome that works for all three (parties) — EatStreet, the restaurant, and the customer. There's always … tricky situations. One of the hardest things we have to do is to be the intermediary between the parties," he said.
Meanwhile, some restaurants have refused to sign up for third-party delivery not due to a lack of trust in the product, but because they feel delivery is not the right fit for them.
Hong is in that camp: Ramen, she said, does not deliver well.
Warnke echoed that sentiment when it comes to the pub food his kitchen makes: "Like a barbecue chicken sandwich. If you eat it right away, it's great. If you put it in a bag and it sits for 15 minutes, then the bun's all sloppy."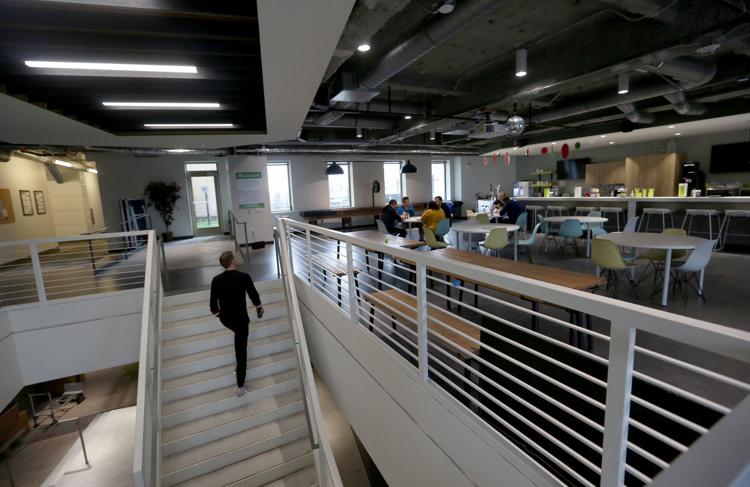 Lighting a beacon
Among Madison's tech leaders, EatStreet gets the most enthusiastic reviews: In terms of venture capital raised and employee headcount, the company is one of the city's largest startups.
"They're creating a beacon that attracts other people to the city," said Eckhardt.
Eckhardt is currently in the middle of a three-year research project on what entrepreneurship looks like on college campuses. He said that EatStreet — along with Epic Systems, another company founded by a UW alum — was partly the inspiration for that research.
"What (EatStreet) showed is, very young, hard-working people with the right resources around them can accomplish amazing things," he said.
EatStreet was among the first companies to sign up for gener8tor, the Wisconsin accelerator program that mentors startups and connects them with funding, in 2012. Vosseller said that he was always struck by the company's "nose-to-the-grindstone" mentality. He noticed that its leaders would typically be the first to arrive and the last to leave the office.
He said that that work ethic is something he tries to instill in other companies, along with EatStreet's penchant for salesmanship. He recalls that Howard would go to the cities he was trying to expand EatStreet to, often living out of hotels.
"Of all the founders we worked with, (Matt Howard) was the ultimate salesman," said Vosseller. "And for so many millennials in general, salesmanship is a dying art."
StartingBlock's Miller Fienen said she's grateful to see the company's involvement with the tech community. She noted that EatStreet was an organizer of a charitable tech gala at the Edgewater Hotel last December that raised funds for the United Way and for the local makerspace Sector67. She also said that the group has taken time to mentor and partner with other young tech companies in the food and restaurant space.
"Madison has a lot of existing companies that have always been really generous with the resources and riches following in that same awesome culture," said Miller Fienen.
The leaders of EatStreet have said they're proud to offer a slice of Silicon Valley in the Midwest for computer engineers or those looking for a job in tech, who don't necessarily want to move to the coast.
"It's hugely beneficial to be offering a coastal technology experience here," said Wyler. "You're getting people who, for whatever reason, don't want to move away, or to move back to the coast. We're providing another option."
Meanwhile, EatStreet leaders said the company still has an eye on expansion. More so than adding new cities and restaurants, Howard said is adding delivery services into markets where they already have the online platform.
EatStreet also wants to change the very culture of delivery driving. Recently, it converted its drivers to W2 employees, instead of independently contracting with them as Uber and Grubhub do with their drivers. Benefits include health insurance and matching 401(k) contributions.
Howard said he wants EatStreet to be a place that attracts the best drivers, and rewards them for their work.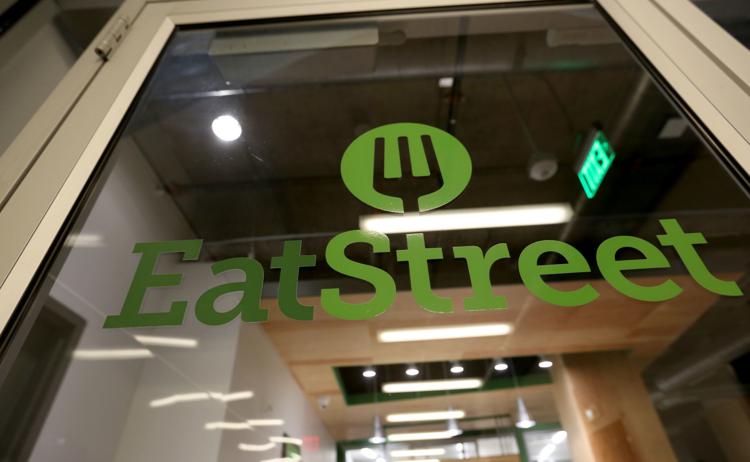 "I think that's where some of our competitors in this space (are like), 'Hey, you need extra income? Come drive for us," he said. "I would love to be like, hey, you looking for a great job with great benefits? Come drive for us full-time."
Brower, for his part, said that he's stopped driving for other companies like Uber and GrubHub. EatStreet is by far the best-paying gig of the bunch. He works full-time — 50 hours a week — for them now, and earns about $1,600 every two weeks in take home pay, including tips.
Brower also appreciates other perks of the job. He gets to visit the company's headquarters and eat at its cafeteria. When he drives around, he listens to audiobooks and takes online classes.
"I'm learning about the stock market," he said. "I've never traded before. I'm watching all kinds of videos on the stock market. How to trade. Different theories of trading. Swing trading, day trading."
He said he's not sure about driving full-time for EatStreet forever. He hopes work for a Catholic ministry one day. However, in the here and now, he said he's happy.
As for EatStreet's future, Miller Fienen said that she hopes EatStreet's growth continues. She said Madison needs more companies that could potentially make big exits — in other words, get bought out or go public — to infuse the local startup economy with capital.
She added that while the company is a small part of the national food delivery conversation today, much of the "EatStreet story" has yet to be written.
"We don't know where EatStreet is going to go," she said. "They could continue to innovate and evolve and take up more and more market share, and through more acquisitions, become the big fish."