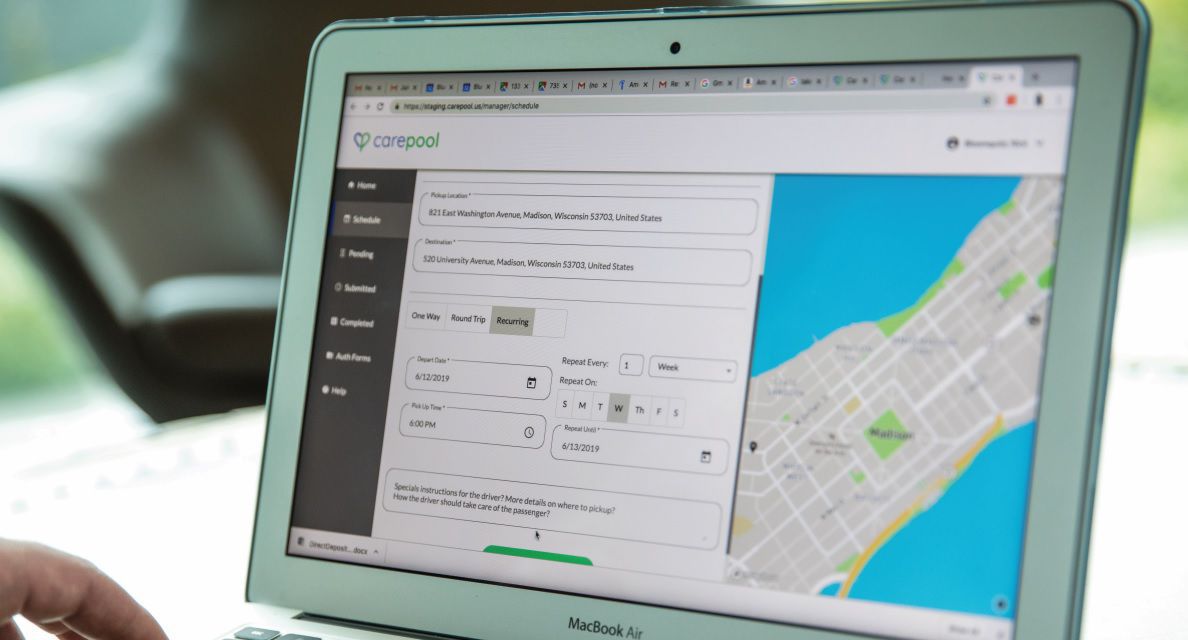 The entrepreneur Josh Massey used to run the Madison-based startup Alfred, a ridesharing service that catered to people who wanted to be chauffeured about town in luxury Mercedes-Benzes and SUVs.
But in late 2017, the company made a drastic pivot. Alfred became Carepool, a ridesharing platform designed to help people with specialized transportation needs.
"I guess the easiest way to say it is, it's Uber for people with disabilities and the aging population," said Massey, the company's CEO.
Today, Carepool is operating in La Crosse, Dane, Eau Claire and Waukesha counties, with 60 drivers in the fleet. The company is a 2017 graduate of gBeta — an accelerator program focused on helping early-stage companies grow — and this summer, it received $150,000 in seed funding from a Nashville, Tennessee-based health care venture capital fund called JumpStart.
Most importantly, according to Massey, the company is connecting riders — many of whom are enrolled in long-term care programs or managed care organizations, and many of whom live in tough-to-reach rural areas — with drivers who can help them travel efficiently and comfortably in ways a taxi or bus may not.
Massey said that Carepool began after he got a call from Dane County transportation specialists who were brainstorming some technological paratransit solutions, including one for a digital ridesharing system. Massey, who said that he had long been interested in paratransit networks, said he was eager to jump in and help out.
Eventually, he realized that while Alfred had been a fine entrypoint into ridesharing, helping paratransit riders would be a more meaningful pursuit.
"And as soon as I did ride along with some (paratransit users), and understood what they were going through, I understood it was an important problem to solve," Massey said.
The solution involved building a new platform from scratch, and recruiting a new fleet of drivers. The result is a browser-based app that lets end users, family members or caretakers schedule rides with a local driver, either on a recurring basis or for one-time trips. The system lets users specify needs — for example, a rider with sensitivity to sound may request having the radio turned off, or someone with mobility issues can ask for door-to-door assistance. It also strives to connect the rider with the same driver for future rides if the match is a good one.
The system will also texts to caretakers, family members and employers to notify them when the rider gets picked up and dropped off.
Massey said that since the network's backbone is a booking system, not a real-time dispatching system that's reliant on GPS data, it becomes accessible for users in rural communities, and not just in high-density areas. Without something like Carepool, Massey said, those rural riders would have to rely on taxi services, or inefficient bus systems.
"It might take an entire day for a one-hour appointment. And people aren't up for that a lot of the time," he said.
Massey said that a major component of building out the company has been recruiting drivers — typically people with downtime looking for supplemental income, many of whom have worked with elderly or disabled people in the past. 
"The sweet spot is someone who is partly retired, but who wants to stay active," he said.
Most of the drivers are independent contractors, although Massey said three of them are full-time W2 salaried employees, with more potentially making the transition in the near future. He noted that right now, the network only includes vehicles that cater to ambulatory riders, although getting wheelchair-accessible vehicles into the network is a major goal for 2020.
Massey said that he's been getting good feedback from riders and their families. He said during the early days of the platform, he got a call from the mother of one rider, a man on the autism spectrum who needed help getting to work. She told him that her son was feeling happier since he began getting Carepool rides with a driver who had a background working with autistic people. He also had more time to himself thanks to timely pickups and dropoffs.
"That was what really launched things into me thinking, wow, this is really going to change peoples' lives," he said.
In the meantime, Massey said the goal is to launch in four more Wisconsin markets soon. Further down the line, he wants to take the company nationwide.
"We're out of stealth mode," he said. "It's time to find other markets that fit. We want to grow here and fill in gaps here first, but we're still in the process of (expanding to) other states."
The company currently has seven employees who work out of StartingBlock, an entrepreneurship center on Madison's east side.
The business news you need
With a weekly newsletter looking back at local history.