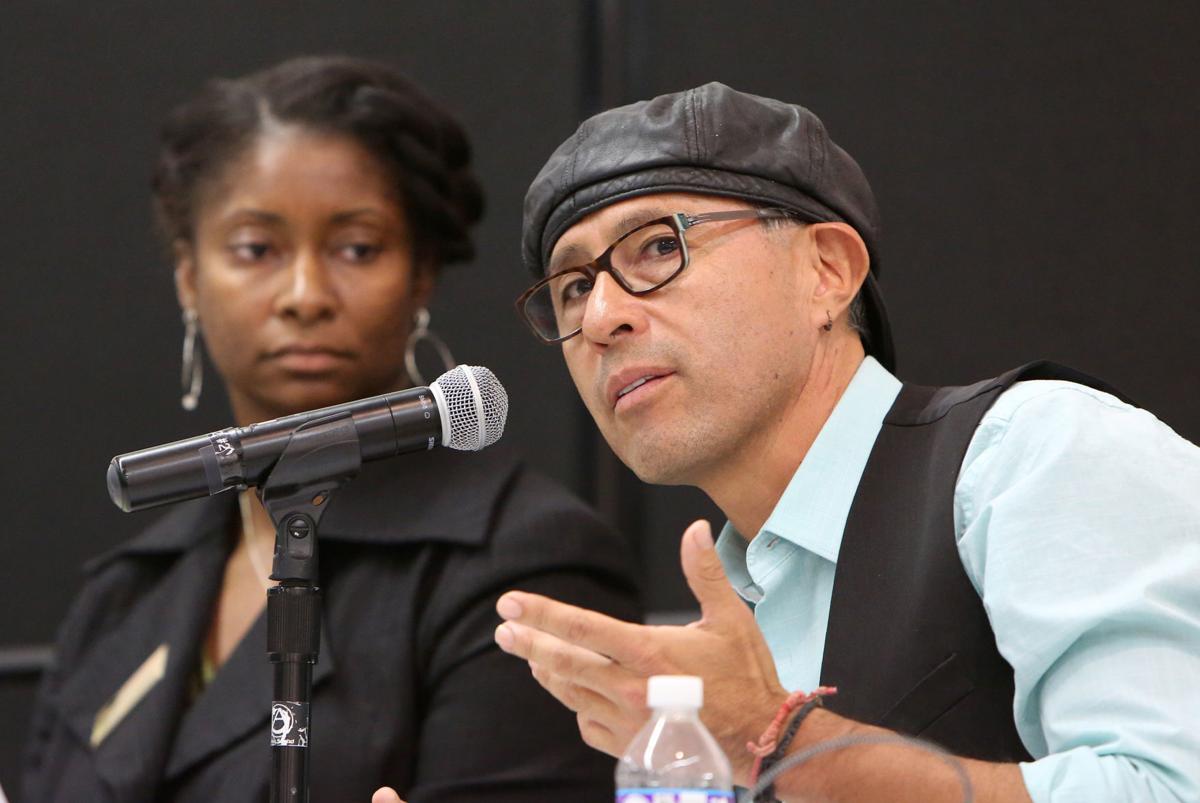 Madison's tech sector is booming. But not everyone's seeing the benefits.
"Is Madison a tech hub? Yes," said IT professor Christina Outlay. "A great place to get a tech job? Yes. For techies of color? Maybe, leaning toward no, not yet."
Outlay was among four local tech leaders of color participating in Wednesday's Cap Times Talk at the Madison Central Library about the lack of diversity in the local tech scene. The session was moderated by Cap Times reporter Amber Walker, an education reporter and former teacher who has reported on the city's racial achievement gap, which has a direct impact on the ability for minorities to succeed in the tech workplace.
All four of the panelists have an interest in developing local talent to make the tech scene a little less white and a little less male: Outlay, who lives in Sun Prairie but works at UW-Whitewater, also founded Colorcoded, which aims to get girls and minority and low-income kids involved in computing. She also runs the UW-Whitewater CyberGirlz camp for middle schoolers. Rasheid Atlas, a longtime web developer, works with the YWCA's YWeb Career Academy to bridge the racial and gender gap in the local tech sector. Nhi Le is director of the startup accelerator gBETA. And Dante Viscarra, CEO of the tech innovation company Fu2ra, founded La Communidad newspaper and the Latino Chamber of Commerce.
All four pointed to problems that make the local tech culture unfriendly to minorities.
"It's a difficult place to build a network if you're going to surround yourself with people of similar cultures and race," said Outlay. "I've actually had students of color come here to take tech jobs and they've struggled. And it's been less about struggling with the job and more about struggling with the environment they were in."
Viscarra said minority talent coming from UW's tech programs have little incentive to stay.
"What I hear from them is, 'I can't wait to finish my degree and get out of here,'" he said. "'I can't wait to go to Chicago or New York. I feel alone.' There's a long way to go in terms of what our city has to do to welcome our talent."
Atlas, who is not from Madison, was recruited to work here, which he said is quite common.
"Companies are more than willing to bring someone in, not as willing to invest in people who are born and raised and live locally here," he said. "So the work I do, specifically I try to address that."
He said Madison is a tech hub, but "I don't consider Madison a tech hub for Madisonians."
Le said the city has a lot of opportunity, but access to it is limited.
"We have so many startups, but we are overwhelmingly white and male," she said.
But she pointed to a positive aspect of being a minority. She described herself as a "big fish in a little bowl," often sought for her input as an Asian woman.
"You're not just another face in the crowd, because in this crowd you're the only face with any pigment," she said.
The panelists suggested a variety of strategies that could make the tech scene more diverse.
Viscarra said that creating a pipeline from the schools is key. He said he's talked to students at La Follette High on the east side who are interested in gaming, not only playing but developing.
"What they're lacking is the math skill," he said. "By the time they get to high school they don't have the know-how. If you're trying to improve the ecosystem here, volunteer to go into those high schools to teach them some basic math and algebra. In programming, math is a very important piece. If you want to go further, do it in middle school."
Le said local companies could do more by widening their recruiting pool.
"Stop only thinking of UW as the source for talent," she said.
Casting a net at UW, she said, eliminates a lot of talent that either can't afford the university or doesn't feel comfortable there because of the culture.
"Look to Madison College, look to Edgewood, look to YWCA," she said. "Those are all places where there is a lot of talent, where you will meet a lot of people of color, a lot of women, a lot of people with disabilities, people who are a little bit older."
But while the panel addressed the local lack of diversity, Outlay stressed that it's not unique to Madison.
"The shortage of women and the shortage of people of color in the tech industry is an industrywide issue," she said. "I'm from Chicago. If I were to move back to Chicago I'd be in Chicago working to bring more people of color to information technology."
Share your opinion on this topic by sending a letter to the editor to tctvoice@madison.com. Include your full name, hometown and phone number. Your name and town will be published. The phone number is for verification purposes only. Please keep your letter to 250 words or less.