When you walk into local product development firm bb7, 5407 Fen Oak Drive, you're offered some "flair": a magnetic bee pin to clip to your lapel.
The gold bottlecap pin is harbinger of what's to come — a steady hum of activity (some of it from heavy machinery) and a slew of employees plugging away at very disparate tasks.
Some are building product models out of foam, others looking at mock-ups in PowerPoint or sketching complicated mathematical equations on white boards, but the whole place is undeniably buzzing.
Bb7's offices are an expanse of winding hallways lined with their products, including glasses dentists wear to illuminate and magnify patient's mouths and a medical device that delivers nitric oxide to patients. Those hallways lead to cubicles, cavernous work rooms and quirky shared workspaces.
The product development firm, which has about 100 full-time employees, was formed in 2010 when two area firms, Bjorksten Research Laboratories, a wide-ranging product development firm, merged with BIT 7, a firm that specialized in electrical and mechanical engineering.
In September, the company was named to the "Inc. 5000," Inc. magazine's annual list of the fastest-growing private companies in the country, clocking in at number 3,378.
Though employees often have their nose to the grindstone doing serious work (there are "confidential" blankets strewn over a variety of products throughout the space), they make some time for fun, said Maggie Graham, marketing manager for the company.
The Bjorktones, a seven-piece band comprised of employees, perform at office events ("Because why not have a company band?" Graham said). There are also chili cook-offs and big wheel races. The prize for the latter is a life-sized, gold-painted big wheel.
Company employees, who have done things like work on subatomic particle testing equipment in Antarctica, also recently rebuilt a 1960 Studebaker as an electric truck. They did the work in their spare and after hours, geeking out on the ability to transform a retro-classic into a modern machine.
Walking the line between work and play, the company debuted a wireless beehive monitor for their on-site bees last month. Called "WiHive," the monitor provides web access to real-time data about bb7's beehives, including information on temperature, humidity and an audio feed.
"We have lost previous colonies to the increasing phenomenon of colony collapse. This is an epidemic that threatens global ecology and food supply. Our hope is that WiHive's data may give insight into this scientific mystery and help lead to a remedy," said Matt Blue, vice president of sales and marketing at bb7, in a statement released for the product debut.
The company has also released Bee Werx, a rye beer brewed with honey from bb7 bees.
The spirit of whimsy evident in these products is clear even when walking through the most serious of workspaces at bb7. The cubicles that house engineers are often draped with yellow caution tape, Graham said, to signify that occupants who work therein really, really shouldn't be disturbed.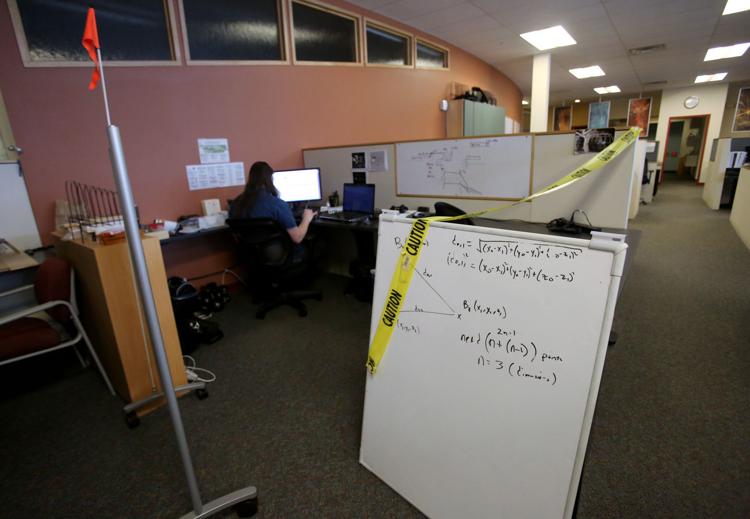 (Graham oftens credits various employees with "saving the world.")
After passing through the caution tape area, one ends up in the creative team's portion of the building.
That space features model airplanes, piloted by flyaway-haired Barbies (visible if one stands on tip-toe). There are also a pair of vintage Mobil gas pumps decorating the space, and a massive, rusting hotel sign suspended in midair.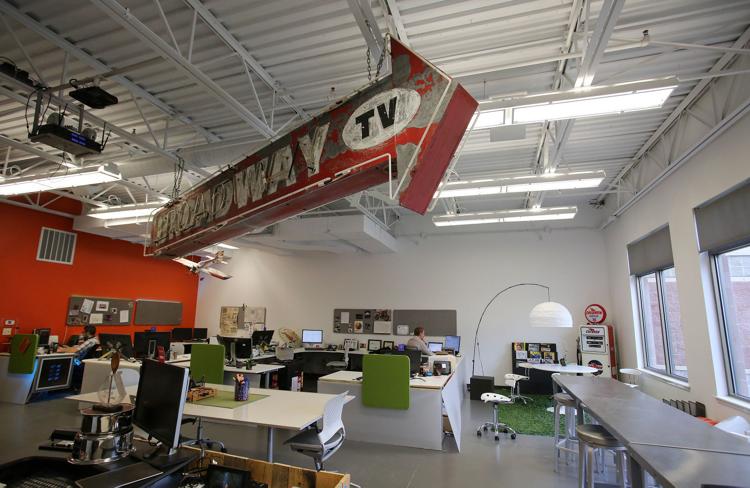 The arrow-shaped hotel sign was "pilfered — as it should have been," after being abandoned and discovered by bb7 staff, Graham joked.
"Pilfered" sign or not, it's clear the bb7 team doesn't need to steal much. Their 'cool workspace' is brimming over with homegrown character, from bee "flair" to the WiHive and beyond.