In a studio tucked in the corner of a Mount Horeb strip mall, a seven-and-a-half foot tall ogre swung his ax down on a lanky human warrior, who deftly blocked the strike with a bow staff.
Or so actors Aaron Koller and Sydney Martin pantomimed on a recent July morning at Mad Marker Studios, a new video production company striving to make a name for itself as the sole independent studio in the Midwest doing motion capture.
Motion capture, or mo-cap, is a means of bringing digitized, often fantastical characters to life on-screen by capturing real-life movement and marrying it with animation. The animation technique brought the world characters like Gollum from "Lord of the Rings," the skeletal crew of the Black Pearl from "Pirates of the Caribbean," and the blue aliens of "Avatar." It's also behind almost every 3D video game franchise with humanoid characters, from "Halo" to "Grand Theft Auto."
Koller and Martin were performing their ogre-human battle for the studio's first demo reel. Dressed toe to tip in black body suits peppered with reflective markers, the two martial artists sparred in the middle of a rectangular dojo-like stage composed of a anti-reflective mats. Surrounded the stage were 24 cameras mounted on trussing, capturing every fall, jump and ax-swing as data points in three-dimensional space.
Monitors throughout the studio showed onlookers what was being "filmed" in real time: Computerized figures resembling crash test dummies grappled on-screen, mimicking every move the actors made.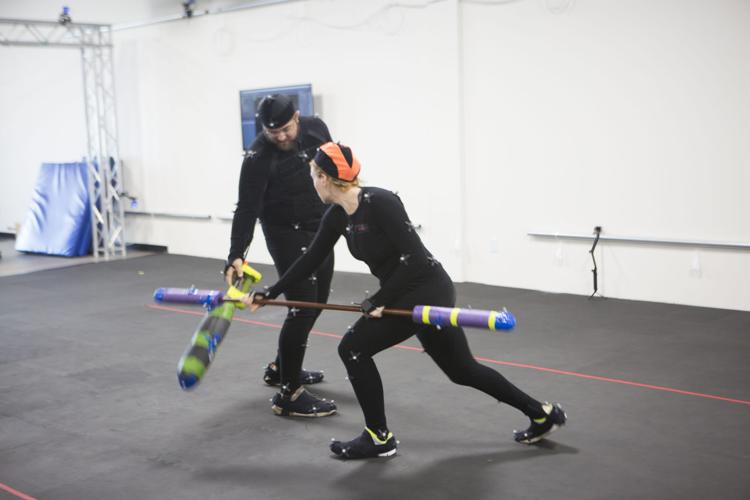 Later, that data would be mapped onto the 3D models of the ogre and the warrior, turning the vision of the fantastical duel into actual video.
It was the first time Martin, a video production student at the Madison Multimedia Institute, had ever done motion capture acting before. She was playing the human.
"I end up kicking (the ogre) off a bridge," explained Martin, during a break in the shooting.  "But he kind of climbs back — and that's how it ends."
Martin has long been a student of Taekwondo, so performing a fight routine was nothing new. Still, mo-cap presented interesting challenges.
"With the suit, going to the bathroom is the hardest," she laughed, adding: "Just the repetitiveness of doing the falls and stuff, your shoulder ends up getting a little sore."
As Koller and Martin sparred, studio president and company founder Bobby Duncanson flitted about, watching the proceedings carefully. His task was to keep things running smoothly. If a camera needed adjusting, he was on it. When an actor needed a new "weapon" — typically a foam prop with reflectors — he was the first to jump into the supply closet to locate one.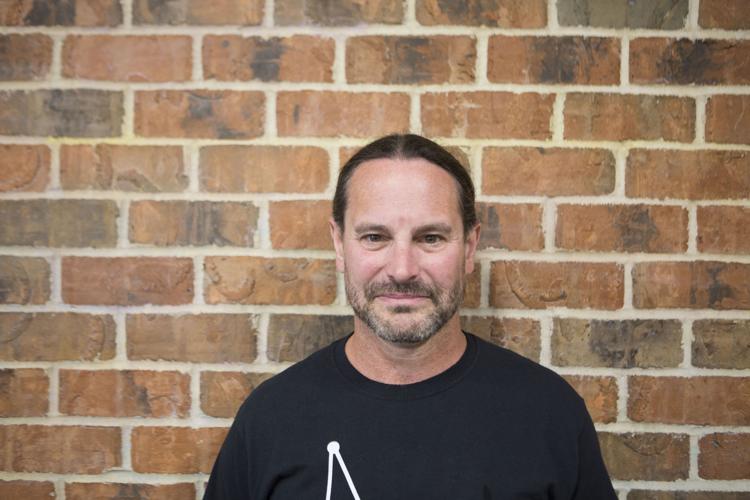 Duncanson said that the brunt of his work comes during setup, helping ensure the cameras are calibrated and that there are enough reflectors on the actors. After that, he steps back and lets the creative minds take over. In the case of the demo reel, he had hired Gary Dunham, a retired Hollywood cameraman living in the area whose past credits include "Air Force One" and "The X-Files."
"I leave the artistic stuff to the people who are better at it than I am," he said.
Duncanson has long worked in computer animation in the Madison area. In 1997, he joined Middleton's Raven Software, which would become one of the video game developers behind the blockbuster "Call of Duty" franchise. In 2004, he was charged by studio head Brian Raffel to take charge of the studio's brand-new motion capture system. Duncanson said he had never worked with anything like it before, but quickly fell in love.
"I just found it pretty cool. Not many people were doing it," he said. "The whole process of it was something new."
Duncanson left Raven in 2009 to join the Madison Media Institute as an instructor in game art and animation, and later became the game design program chair. But soon after, leadership at the for-profit school began making decisions he didn't agree with — for example, eliminating the two-year degree for his program.
Duncanson decided it was time to bail and pursue his dream of opening his own studio. In May, he officially left the school and launched Mad Marker with other MMI instructors.
Duncanson claims his space is one of a kind. Studios like Raven have in-house setups, and educational institutions like the University of Wisconsin-Madison have mo-cap facilities as educational resources. But no other independent Midwestern studios have a business model focused on for-hire mo-cap services, said Duncanson. 
Duncanson's focus is now on getting the word out to video game developers — not just those in the region, but studios on the coast looking to do mo-cap for lower rates than what a company in San Francisco or New York City might charge.
If he's successful, Duncanson said that Mad Marker could play a role in attracting developers to the area.
"If they see us, they can think, 'Hey maybe we can put our butts here in Dane County,'" he said.
Later, he said, he hopes to attract filmmakers as well.
The Mad Marker team has already landed contracts for some animation and 3D-modeling work for other video game companies. The ultimate goal, said Duncanson, is to make enough money through mo-cap to finance the making of a video game of their own.
For now, he's just thrilled to have gotten the studio off the ground.
"I heard a stat a few years ago, that only about five percent of the population likes what they do. Most people can't stand their jobs," he said. "We're the lucky ones."