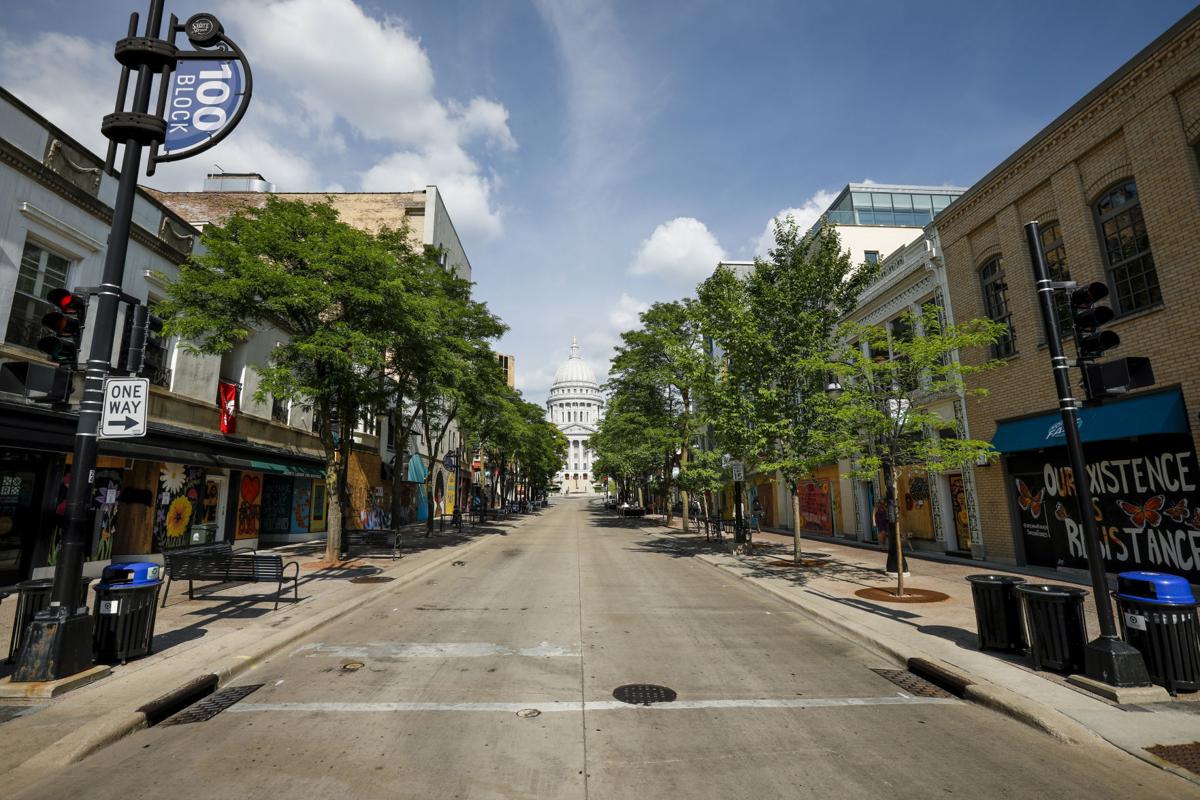 Two city proposals to create new downtown opportunities and attractions for Madisonians of color are a step closer to reality after the city's Economic Development Committee recommended approval on Wednesday. Both proposals aim to draw more people to State Street following a year of tumult and recession. 
The first proposal would begin the process of creating a city-leased "pop-up shop" where nascent retailers could sell their products without major overhead costs or long-term leases. The idea of pop-up retail was among those discussed by council members when they approved the Small Business Equity and Recovery program. 
"This is ideal for new or smaller businesses because of the lower cost and risk, which can help open doors for historically marginalized entrepreneurs," said Mayor Satya Rhodes-Conway in a Tuesday news release, "Pop-up shops bring in new foot traffic and can help current brick and mortar retail in the area as well."
Under the proposal, the council would allocate $100,000 from the fund to the Community Development Authority to manage the Madison Pop-Up Shop Program. The Community Development Authority, which manages the city's public housing as well as the Village on Park shopping center, has the real estate experience needed for this project, said Economic Development Director Matt Mikolajewski. 
The city would work with the Community Development Authority and community organizations to recruit a group of vendors, each of whom would sell within a section of the market-like space. Mikolajewski anticipated that each vendor would commit to use the space for a minimum of three months and a maximum of a year. They would likely pay a modest rent designed not to create significant barriers to entry, he said. 
"Hopefully we're going to have more demand for locating in the space than we have space available, so we want to make sure that the retailers that are selected are serious about trying out the space," he said.
Already, the city has its eye on a possible home for the retail program. Property management company JD McCormick Properties has offered to lease its storefronts at 440 and 444 State Street to the Community Development Authority at a discounted rate — $21 per square foot instead of the $37 per square foot it was previously charging. The company plans to eventually demolish the building and redevelop the site, but it would lease the two storefronts to the agency for a year — at a cost of around $40,000 — and for $3,300 on a month-to-month basis after that. The first tenants might begin using the space around August or September, Mikolajewski said.
The remainder of the funds would be used to pay for staff time, incidental costs like furnishing the space, and possibly to provide financial support to partner organizations assisting in the effort. 
If the retail program is successful, it could grow in the future. "We hope that, in the years ahead, we can identify other sites elsewhere throughout the city that we can have similar pop-up shops," Mikolajewski said.
A second proposal, also recommended for approval, would provide a $20,000 grant to hip hop-focused nonprofit Urban Community Arts Network, Ltd. to organize a series of free performances and art shows on the 100 block of State Street. The funds would come from the Small Business Equity and Recovery program, which the city created last September. 
The "MadLit" events, which would take place from 8 p.m. to midnight on alternating Fridays from June to October, are designed to provide performance opportunities for artists of color. They'd feature DJs, solo musicians and bands playing a variety of genres of music and catering to a diverse audience, according to the proposal. In addition to music, each event would include a visual art exhibit in Philosopher's Grove, and a rotating handful of businesses owned by people of color would be invited to sell each time.
Though the committee unanimously recommended both proposals for City Council approval, committee members encouraged city staff and organizers to cast a wide net in their search for vendors and partner organizations, match vendors with mentors and develop a blind scoring process for selecting vendors to participate.
Jason Ilstrup, president of advocacy group Downtown Madison, Inc., expressed enthusiasm about both proposals. His organization's "Downtown Group," which includes representatives from businesses, city government, nonprofits, and other community groups, has been working for months to identify ways to make downtown Madison a more inclusive, equitable and welcoming space, he said. 
They quickly seized upon pop-up retail as one way to "diversify the business mix and create more reasons for our whole community to come downtown," Ilstrup said. To make the case, they researched pop-up shop programs adopted in places like Memphis, Denver and Atlanta. Viroqua has also found success with such an initiative, inspiring other Wisconsin towns to try the same to revive their flagging Main Streets. 
"I'm really excited to see the city stepping up to help on many different levels," he said.
The proposals are anticipated to go before City Council for a vote in the coming weeks.
Share your opinion on this topic by sending a letter to the editor to tctvoice@madison.com. Include your full name, hometown and phone number. Your name and town will be published. The phone number is for verification purposes only. Please keep your letter to 250 words or less.