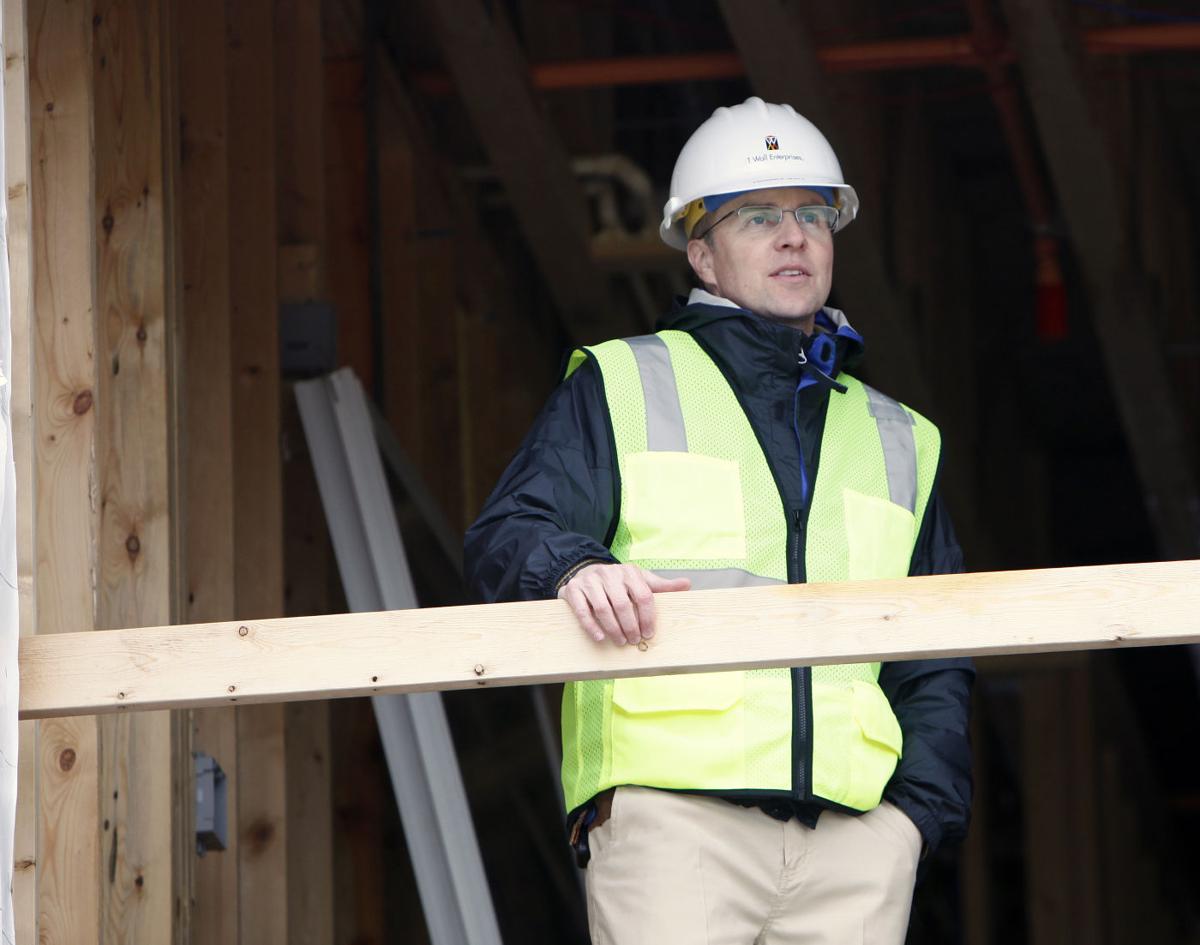 Before the Great Recession threw his world into a tailspin, Madison developer Terrence Wall was sitting atop the largest collection of office space in Wisconsin.
The company that carried his name, T. Wall Properties, had amassed some 2.5 million square feet of commercial real estate in 40 buildings from High Crossing on Madison's east side to the Greenway Center in Middleton.
Among the most visible: the TDS Building at 525 Junction Road in Madison, the Wisconsin Trade Center at 8401 Greenway Boulevard in Middleton and the former GE Lunar building at 726 Heartland Trail now occupied by Catalent Pharma Solutions.
To finance his growing empire, Wall had attracted investments from some 200 local individuals who were pitched double-digit annual returns and stable long-term growth. Most significantly, he secured $110 million from Almanac Realty, a New York-based real estate investment fund.
Then the bubble burst, climaxing with the bankruptcy of Wall Street investment bank Lehman Brothers in 2008 that helped ignite the subprime mortgage-fueled global financial crisis. While Wisconsin avoided the worst of the damage, Wall and his investors did not emerge unscathed.
Following some nasty infighting, Wall in 2012 was ousted as CEO by the board of the firm he founded in 1989. Randy Guenther was installed as new CEO, with the name officially changed in 2014 to Vanta Commercial Properties in an effort to rebrand the company. With a loan due this year to Almanac, Vanta has now put its entire $400 million portfolio on the market.
Wall is also facing a $2.74 million money judgment as part of a stalled office development in Mesa, Arizona, one of Wall's only ventures outside of Wisconsin. In that case, lender Wells Fargo has demanded additional equity capital from a real estate group headed by Wall as the value of those holdings had fallen by 30 percent.
Then there was the failed 2010 run for U.S. Senate, where Wall was first blasted by Democrats as a "multi-millionaire real estate magnate" and later dropped out after the Republican Party establishment endorsed Ron Johnson.
At one point, Wall had even listed his lakefront home in Maple Bluff for sale for $3.45 million, saying he was looking to downsize and move closer to his office in Middleton.
Given all that, few would have blamed Wall, 50, for taking a breather and spending more time with his family, which includes wife, Helen, and their two children. But the unflappable Wall has shaken off any setbacks and jumped headlong into the latest real estate trend: luxury apartments aimed at young professionals and empty nesters.
His new firm, T. Wall Enterprises, in just four years has completed three mixed-use projects in the Madison area, has two more under construction and is pursuing another on the former Bancroft Dairy site on South Park Street. The company also has a new residential project open in Green Bay and was just denied a permit to build a 260-unit apartment in downtown Waukesha near Carroll University.
"Terrence is a very strategic thinker and not one to give up easily even after the real estate crash," said college classmate and business associate Mike Hershberger. "He identified a demand for luxury apartments and is now delivering them at a competitive price."
Wall has never shied from the spotlight. For years, he wrote a regular column for In Business magazine that routinely took jabs at the liberal establishment. He claimed Madison was foolishly driving development to the suburbs with its anti-business attitudes and a City Council full of lefties clueless about financial matters when it came to addressing issues like affordable housing or urban sprawl.
"Every developer I know, including me, is looking outside the city of Madison for new opportunities," Wall wrote in 2005.
A decade later, however, Wall is finding the city much more attractive with its Epic Systems-driven market for rental housing, low vacancy rates and thriving downtown nightlife. He credits Mayor Paul Soglin for bringing sanity back to City Hall and working with the private sector rather than against it.
"The last four years, they have been doing things right," Wall said.
City officials echo the positive relationship with Wall, who is expected to seek tax increment financing for the Park Street project if approvals can be secured to meet a June deadline. The developer said he needs to meet that schedule to open in time for the fall 2016 rental season.
"Terrence has been very easy to work with," said Katherine Cornwell, director of the city planning division. "We're glad he's choosing to make investments in the city of Madison."
Those investments include the Wingra Point Apartments, a 67-unit project opened last year on Fish Hatchery Road; the 80-unit, six-story Watermark Lofts under construction off of John Nolen Drive; the 189-unit Veritas apartments recently approved for the 700 block of East Mifflin Street and the proposed 164-unit mixed-use apartment and commercial project on South Park Street.
While the Tenney-Lapham Neighborhood Association was largely supportive of the Veritas project, those living near the Park Street project are asking more questions. The 1.6 acre site has been vacant since 2004 and residents realize a large apartment project there will have a major impact on their lives — whether positively by providing the density to support more retail business or negatively by sending traffic spilling onto quiet tree-lined streets.
Bay Creek neighborhood homeowner Carrie Rothburd, a native New Yorker who attended graduate school at the University of Wisconsin-Madison in the 1980s and then left before returning three years ago, said Wall has been "congenial" in holding neighborhood meetings about the Park Street project over the past months.
"But he is a developer," Rothburd said. "His job is to get things built."
Wall has been interested in development since earning an economics degree from UW-Madison in 1987. He then completed a master's degree in real estate appraisal/investment analysis where he studied under Professor James Graaskamp, considered a leader in the field of urban land economics and risk management.
Even as a kid growing up in Maple Bluff as the second youngest of 11 children, Wall was known as a go-getter, delivering newspapers and becoming an Eagle Scout before graduating from Edgewood High School. After college he bought his first property, the dilapidated 48-unit Nut Tree apartments behind East Towne, out of bankruptcy for $1 million.
It didn't hurt that Wall's father, John, transformed sleepy Demco Inc. into the nation's leading library supply company and provided early financial backing. While Terrence Wall has long maintained his father only played a small role in his success, Democrats were quick to criticize his family wealth during the Senate run. Opponents also produced records showing Wall had avoided paying income taxes to Wisconsin in nine of 10 years, in part by incorporating his business in Delaware.
Wall has shaken off his stab at politics, calling it a great learning experience but not something he'd consider again.
"I enjoyed going around the state meeting people, but honestly I feel like I can do more for the community doing what I am doing now," he said.
But Wall found himself back in the political spotlight again last fall when he was among four bidders on a $200 million state project to redevelop the Hill Farms State Office Building site on Sheboygan Avenue. A year earlier, Wall had written a letter to Gov. Scott Walker saying he was interested in buying up any surplus property from the state.
Campaign finance reports also showed Wall had donated the maximum $10,000 to Walker just days before the Hill Farms bidding deadline. When another developer was later selected for the project, Wall claimed it was due to overzealous media coverage of his campaign activities.
"News flash: Republican donates to a Republican," Wall joked.
Wall is similarly unfazed when talking about losing control of T. Wall Properties or the problems in Arizona. He notes he's never filed for bankruptcy and claims that Wells Fargo made math errors in calling the loan on the Superstition Commerce Park, a 16-acre industrial project in Mesa.
"Look, we came through a huge recession," he said. "There wasn't any asset class that didn't take a hit."
The Arizona case remains on appeal, with Wall maintaining the court found in his favor but issued a judgment because there was no official record of the borrower offering to refinance. He is adamant the case will be settled.
"It was not a case of a developer not being able to pay," said Wall. "We had five years of cash sitting in the bank and could have kept paying, but they wanted to foreclose. The court records all show that."
Milwaukee attorney Darrell Zall, who handled the case here for Wells Fargo, offers a different take, saying the judgment against Wall and the Terrence R. Wall Revocable Trust speaks for itself.
"There is still a money judgment out there," said Zall. "We would hope Mr. Wall would pay it."
In terms of losing control of T. Wall Properties, Wall calls it a difference of opinion between himself and the board, chaired by Almanac Realty director John McGurk. Wall said he wanted to pursue residential projects, like the purchase of the Bishops Bay development from the late Sam Jacobson, founder of PDQ convenience stores. But his New York partners were not interested in speculating on vacant land. Wall now heads Bishops Bay under a separate ownership group.
"It was a disagreement on direction," he said of the dispute with Almanac.
Officials with Almanac declined to comment for this report but Curt Brink, a current Vanta board member, credits Wall with being willing to listen to others.
"He's about as responsive to what a board is saying as anybody I have seen," said Brink, who has experienced his own ups and downs as a real estate developer.
The former T. Wall Properties, now Vanta, is registered as a real estate holding company, which is similar to a real estate investment trust. But while most REITs are publicly traded and required to distribute 95 percent of their income to investors, private real estate groups aren't required to make distributions or file public financial statements.
Before the market soured, Wall raised money from those with at least $50,000 to invest, reportedly promising a 12 percent annual return. In 2006, more than 160 people turned out for the annual meeting of T. Wall Properties, where the company announced record earnings and a 70 percent growth in its core business as a result of the Greenway Center acquisition, which included the flashy 11-story green glass office building.
Those same investors are now waiting to see what will happen if and when the Vanta properties are liquidated. Vanta is under pressure to sell at least some of the properties as quickly as possible with a deadline looming for repayment to Almanac, which is first in line among creditors.
At one point the portfolio was valued at $400 million but it's unknown how much debt is outstanding or how much might be left for the smaller investors. Dividend payments were suspended in 2010.
"I'm not counting on anything," said one local investor who did not want to be named.
Brink is more optimistic, saying that once the dust settles, things will become clearer.
"Nobody has come through this unscathed, but hopefully everybody is going to get their money back," he said.
Nationally, scores of other real estate groups are facing uncertainties as they try to sell off properties now that the market has stabilized. The Wall Street Journal in a recent story carried the headline "Zombie REITs" and talked about investors having to wait patiently for liquidations so they can cash out.
Hershberger, who remains an investor both with Vanta and in Bishops Bay, isn't making any financial predictions, but stuck with Wall through the worst of the downturn.
"At the end of the day, Terrence is going to be successful because that is just the way he is," said Hershberger, who now works in the insurance business. "He's a very competitive guy."
While investors in T. Wall Properties await the final outcome, Wall's new company T. Wall Enterprises has been grabbing up land wherever it can to take advantage of the insatiable demand for rental units in the Madison area. Vacancy rates here are running at just 2.3 percent, according to figures from Madison Gas & Electric.
The Waterfront Lofts at 960 John Nolen Drive are rising quickly on the site of the former Causeway office building destroyed by fire in April 2012. Meanwhile, the Veritas is planned for the former Reynolds Transfer and Storage lot on East Mifflin Street and Wingra Point II is proposed for the last piece of the old Bancroft Dairy site at the intersection of Park Street and Fish Hatchery Road.
In the case of the Park Street proposal, Wall is facing an engaged and increasingly vocal Bay Creek Neighborhood Association concerned about the future direction of the busy corridor.
When the dairy plant closed in 2004, the city and neighborhood began work on the Wingra Build Plan, which laid out a vision for the corridor and called for higher density, mid-rise housing at the dairy site, similar to what has been developed in the Bassett, Atwood and downtown neighborhoods. Target densities were 30 to 50 dwelling units per acre.
The 3.3 acre parcel sat vacant until the Ghidorzi Companies of Wausau teamed with UW Health on a new clinic on the southern half of the property which opened in 2013. While a clinic didn't exactly meet the plan, most agreed it was an improvement over a blighted vacant industrial plant.
Now, the question is what to do with the rest of the triangular site, which was rezoned in 2011 as part of the initial redevelopment to allow buildings up to seven stories tall.
That change in zoning came as a surprise to Bay Creek residents like Steve Davis, an Edgewood College professor who had worked on the original Wingra Build Plan.
Davis maintains there has been a shift in city attitudes away from supporting smaller scale projects and a more pedestrian-friendly Park Street to something that can support more development. The current Wall proposal calls for over 100 units per acre, more than twice what was recommended in the land use plan.
"I see a change in how the city is thinking about Park Street," he said. "There used to be an interest in trying to tame it a little bit but that has shifted into a high speed urban corridor that is right up against a very pleasant, single family neighborhood."
So far city planners have been generally supportive of the T. Wall proposal for Wingra Point II, although the city Urban Design Commission has urged a more dramatic treatment of the flatiron corner of the site at Fish Hatchery and Park.
"The T. Wall proposal for Wingra Point should contribute favorably to the ongoing reinvestment being experienced in the Park Street corridor over the last decade," said city planning staffer Tim Parks. "But the design of the project continues to evolve and planning staff has not formed the final recommendations on the project it will share with the Urban Design Commission and Plan Commission next month."
Wall has tweaked the design a few times, with the latest plan showing 164 apartment units in a mix of building heights from three to five stories with 9,000 square feet of retail space on the bottom floors. One parking space per unit is provided in a structure in the middle of the site, with access off of Park Street.
Newly elected District 13 Ald. Sara Eskrich has yet to take an official position on the project, which she says was the most talked about issue during her April campaign against Zach Madden. Eskrich grabbed 57 percent of the vote in her victory.
Still, Eskrich is encouraged that the Bay Creek Neighborhood Association has put together a development committee to assess projects as they come forward.
"We know something is going in there eventually, but there is a wide range of opinion, from those who want it to stay a vacant lot to those who want a bigger building," she said.
Rothburd, who with Davis is co-chairing the Bay Creek development steering committee, fears the neighborhood will lose its unique feel if Park Street becomes a tunnel of large apartment buildings.
"I moved back here because I liked the community and the smaller scale compared to New York," she said.
Rothburd sees her role as providing information to the neighborhood but is concerned that the new zoning code is tilted toward developers. She said it has been difficult just to get accurate information from both Wall and city officials.
"This lack of transparency on the part of the city and its processes and the developer and his needs is part of what has made this whole process so challenging, stumbling and perhaps ultimately unyielding to neighborhood and residential concerns," she said.
For his part, Wall has met with the neighborhood on several occasions and maintains he is flexible on working toward a project that can garner support from the alder, the city and most, if not all, residents.
"If this goes forward, you are going to see all those vacant storefronts on Park Street filling up," he said.
Wall is also getting some blowback from new homeowners in Bishops Bay who claim they were misled about the number of apartments planned for the 800-acre development north of Lake Mendota off of County M.
Bishops Bay is envisioned as housing up to 6,000 people in seven neighborhoods over the next decade. Planned amenities include a lake, a school, a church, parks and a town center.
"We bought into the New Community of Bishops Bay early on and were sold on this awesome plan," said Rachel O'Neill, whose home is now up for sale. "Later, we find out we are getting tons of apartment buildings and (Wall) hasn't pulled through on anything promised."
On a broader scale, Wall remains bullish on Wisconsin's future – although he says Republicans may have gone too far in pushing their agenda after gaining control of both the Legislature and governor's office.
"I think they've got us on the right track but the key is getting the rest of the state to share in what Madison has," he said.
That's a different tune for a developer who once had little good to say about his hometown but has now pegged his business to it.
Share your opinion on this topic by sending a letter to the editor to tctvoice@madison.com. Include your full name, hometown and phone number. Your name and town will be published. The phone number is for verification purposes only. Please keep your letter to 250 words or less.