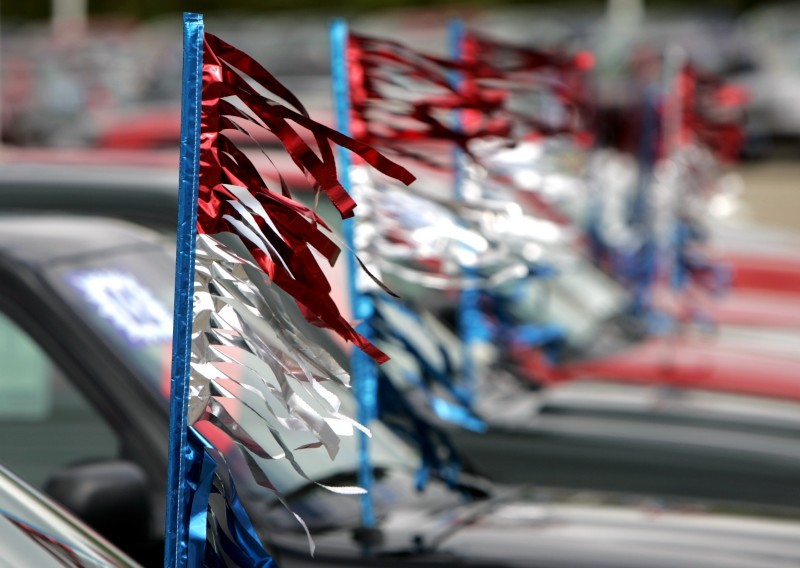 A year ago, new car sales got a boost from the federal government's "Cash for Clunkers" program.
Now, with the incentive expired, the auto industry is reporting a new phenomenon: a shortage of older model used cars.
Under the 2009 program, buyers got $4,500 toward the purchase of new, more energy-efficient vehicles in exchange for their existing vehicle. The used cars were then demolished, which critics say has drastically cut the supply of decent pre-owned vehicles.
"What they did was basically take a million cars out of the market," says Patrick Rogalla, sales manager at Schoepp Motors in Middleton.
The average price for a used car in the U.S. has jumped 10.3 percent in the past year, according to auto industry analyst Edmunds.com. The average price for some used SUVs has skyrocketed 30 percent, the company reports.
"Inventory is at a remarkably low level," says Edmunds.com senior analyst Jessica Caldwell in a statement. "It now takes about 50 days to sell the average (used) vehicle after it arrives at a dealership, where last summer it took more than 70 days to turn."
Between July 2009 and July 2010, the average price for a used car jumped from $17,448 to $19,248, according to Edmunds. Cadillac Escalade, Chevrolet Suburban, Dodge Grand Caravan and BMW X5 led the pack with jumps of 33 percent or higher.
Schoepp, which bills itself as the largest independent used car dealer in the Midwest, is reporting sales up from a year ago. Rogalla says that's because cash-strapped consumers are looking for a better deal.
"Buyers today are realizing the wisdom of not having to borrow money to buy a vehicle," he says.
Rogalla says the average used car price has skewed higher over the past year since there are so few vehicles available in the $4,000 to $5,000 range.
Nationally, auto industry officials are saying SUVs, in particular, are more attractive to buyers now that gas prices have fallen since the record highs of summer 2008.
Atlanta-based AutoTrader.com says 11 of the 20 top used-vehicle searches on the company's website during the second quarter of 2010 were for SUVs or trucks.
"You're seeing the impact value has on used-car shoppers," says AutoTrader.com CEO Chip Perry in a statement. "Even with gas prices moderating, the used-car shopper is still researching vehicles with a little more intensity."
Others are flatly blaming the Obama administration's Cash for Clunkers program for the rising price of used cars.
"Cash for Clunkers was a deplorable exercise in budgetary wastefulness, asset destruction, environmental irrelevance and economic idiocy," Jacoby wrote. "Other than that, it was a screaming success."
Rogalla at Schoepp says it pained him last year to see the number of quality used vehicles sitting in new car dealers' lots waiting to be destroyed under Cash for Clunkers. He says it would have made sense to have a second incentive program to offer those later model used vehicles to drivers with even older cars.
Instead, Rogalla says, there is a shortage of good used cars newer than 2003, the last model year that qualified for the $4,500 incentive.
"You could have sold that 2003 Dodge Caravan to the guy driving the 1991 Caravan and gotten a real old or unsafe car off the road," he says.
Allen Foster of Smart Motors says its used car sales are also up, especially for the higher end "Certified Pre-Owned" vehicles.
Foster also notes fewer trade-ins over the last three years as consumers have held onto their existing vehicles. The result is that many used car dealers are forced to purchase vehicles at auction where they are competing for a limited supply of vehicles.
 "Fewer new vehicle sales and fewer lease returns mean lower available used vehicle inventory which results in higher used vehicle prices," he says.
 Meanwhile, sales of new cars have remained sluggish in Dane County. Through the first half of 2010, sales were up by 6.6 percent over 2009. But they fell here in June by another 4.5 percent, according to Reg-Trak, a Waterloo-based automotive research company. Similar to national trends, sales of trucks and SUVs are also outpacing passenger cars.