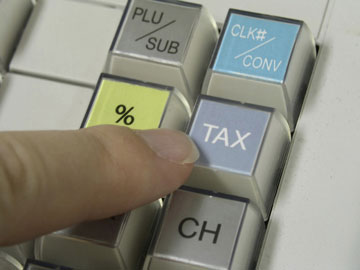 A key member of Gov.-elect Scott Walker's transition team is floating an increase in Wisconsin's sales tax as a way to stimulate the economy and create jobs.
Former state budget director Rick Chandler says hiking the sales tax from 5 percent to 7 or 7.5 percent would allow the state to reduce income and property taxes, which rank among the highest in the nation.
"The idea here is to shift the burden to taxes that are less hated," Chandler told a Monday breakfast gathering hosted by the conservative-leaning Wisconsin Policy Research Institute.
Chandler -- who emphasized he was speaking for himself and not Walker -- noted that Wisconsin has made some progress on the tax front over the past two decades.
Wisconsin has gone from the third-highest-taxed state in 1986 to 13th today, according to U.S. Census figures. That ranking is based on state and local tax burden measured against per capita income.
But despite that improvement, Chandler says the state is still regarded as a "tax hell" -- even though total taxes here now run just 5 percent above the U.S. average. He says Wisconsin's reputation, fair or not, is sending business owners, recent college graduates and high-wealth individuals to other states.
"Taxes aren't the only factor .... but they are a key factor," he says.
Chandler says shifting some of the burden  from income and property tax could result in 10,000 new jobs, more than $1.3 billion in new investment and a $410 increase in per capita income.
 Those figures were based on an analysis by the Beacon Hill Institute, although Chandler admitted later to a questioner the jobs estimate "is a somewhat hypothetical number."
 California has the highest sales tax in the U.S. at 8.25 percent. Several states have a 7 percent rate, including Indiana and Tennessee. Minnesota is at 6.875 percent and Illinois at 6.25 percent, although Illinois also levies 1 percent tax on food purchases.
But any talk of a sales tax hike drew a negative response from Robert Kraig, executive director of Citizen Action of Wisconsin, a liberal advocacy group.
Kraig called the sales tax "the most regressive" of all the taxes since it's not based on an individual's wealth, income or property holdings.
"Sales taxes hit low- and middle-income people the hardest," says Kraig.
Chandler addressed the regressivity issue during his presentation, noting that essentials like food and prescription drugs are exempt from sales tax in Wisconsin.
But Kraig says the business community's constant complaining has contributed to Wisconsin's reputation as a high-tax state. In reality, he says, the state is middle of the pack in terms of government spending and overall tax burden.
"Conservatives are oversold in general on the idea that lower taxes mean more jobs," says Kraig. "I think the failure of the Bush tax cuts shows that."
Also Monday, WPRI released a new poll that found 52 percent of respondents opposing the $810 million high-speed rail project between Madison and Milwaukee, with just 35 percent supporting it.
 The poll conducted by UW-Madison political science professor Ken Goldstein also found that four in 10 Wisconsin residents want state aid to elementary and secondary schools protected from spending cuts, but most don't realize school aid is the biggest expense in the state budget.