Grace Wang, a 2012 Memorial High School grad, was living her California dream when she decided last year to move back in with her parents.
Eight years earlier, she'd moved out to Los Angeles to attend the Fashion Institute of Design and Marketing and later landed a retail marketing job with entertainment company Live Nation. But, inspired by her parents, who owned a Cold Stone Creamery where she worked as a teen, she'd long dreamed of starting her own business.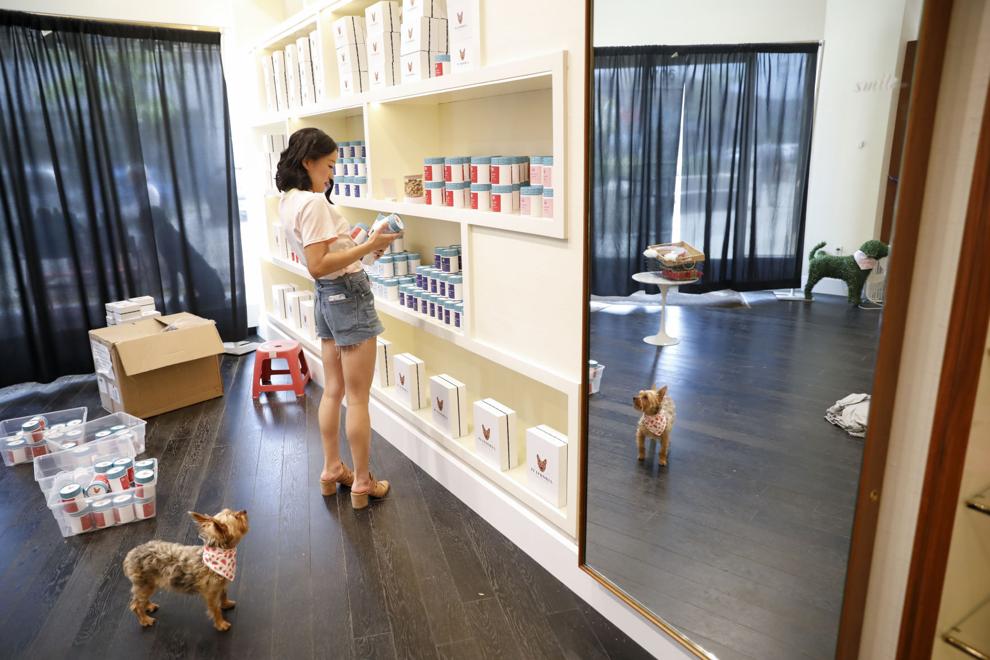 So, around this time last year, she quit her job and traded her L.A. apartment for her parents' basement, knowing she'd need to save every dollar she could for her new endeavor.
"I made that leap, which is probably the scariest thing I've ever done," Wang said.
But she didn't leap alone. Joining her on the journey was Beni, the 7-year-old Yorkie that a friend had given her when he was so small he fit in her palm. For years, Beni had been her constant companion, helping her cope with anxiety and ADHD. Now, he would be the inspiration for her company-to-be: a luxury dog treat business called Petphoria.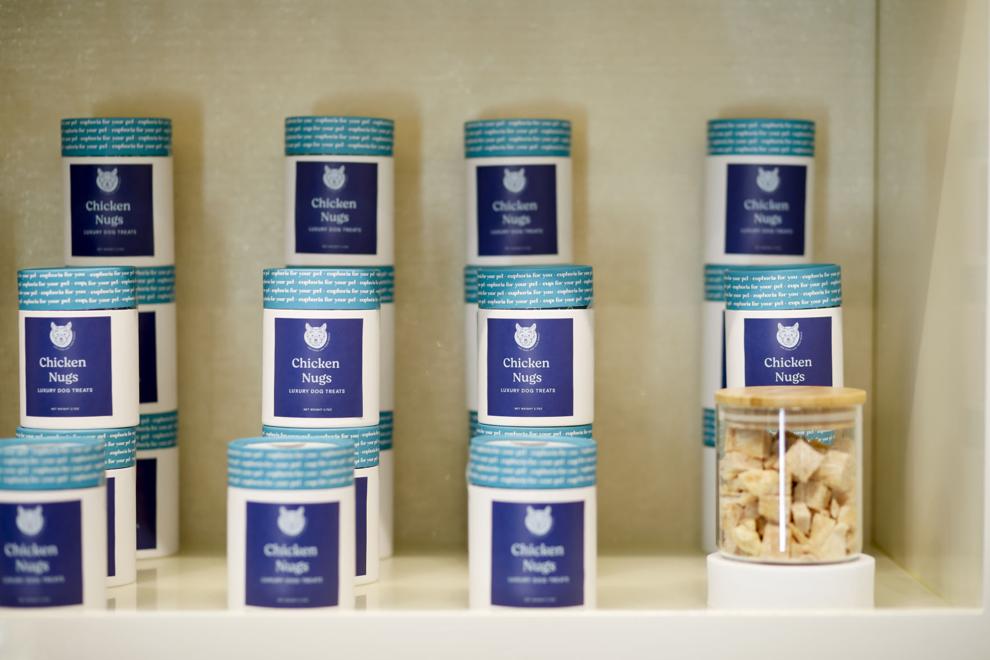 Wang got the idea after she and Beni attended a slew of dog-centered events, "anything from barkday parties to bark mitzvahs to yappy hours." The norms are the same as with children's parties, she explained: Guests arrive with gifts and leave with goodie bags. But when she headed to the pet store to pick out a gift, she found the treat aisle full of "elevated Ziploc bags."
"It's nothing luxurious, nothing ready to gift," Wang said. "That's when I was like, 'Well, I'm gonna make it happen.'"
She'd never made dog treats herself — and, she notes, she still hasn't — but she set out to create something with beautiful packaging and quality ingredients. She designed flavors like Carrot Crunchies, Peanut Barker and Pawfect Stew that even dogs like Beni, with sensitive stomachs, could enjoy. 
She launched the company on Dec. 7, 2020 — or as she calls it, "Beni's golden barkday" — with a Kickstarter campaign that raised more than $3,500. Soon, she was selling elegant paper tubes of the bone-shaped treats on her own website and in boutiques across the country.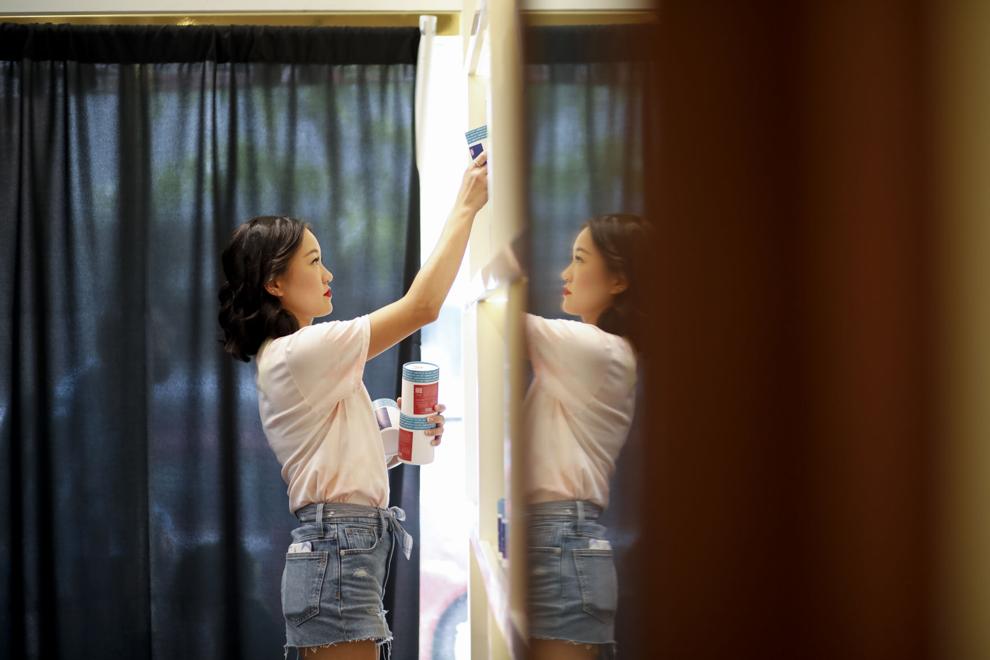 Now, just half a year after embarking on this venture, she's opening a brick-and-mortar shop in one of Madison's most in-demand retail sites: Hilldale Shopping Center.
"When I tell people that I am six months old and I'm opening up a store in Hilldale — which, if you're in the Madison area, that's where you want to go, that's where you want to be seen — people are shocked," Wang said.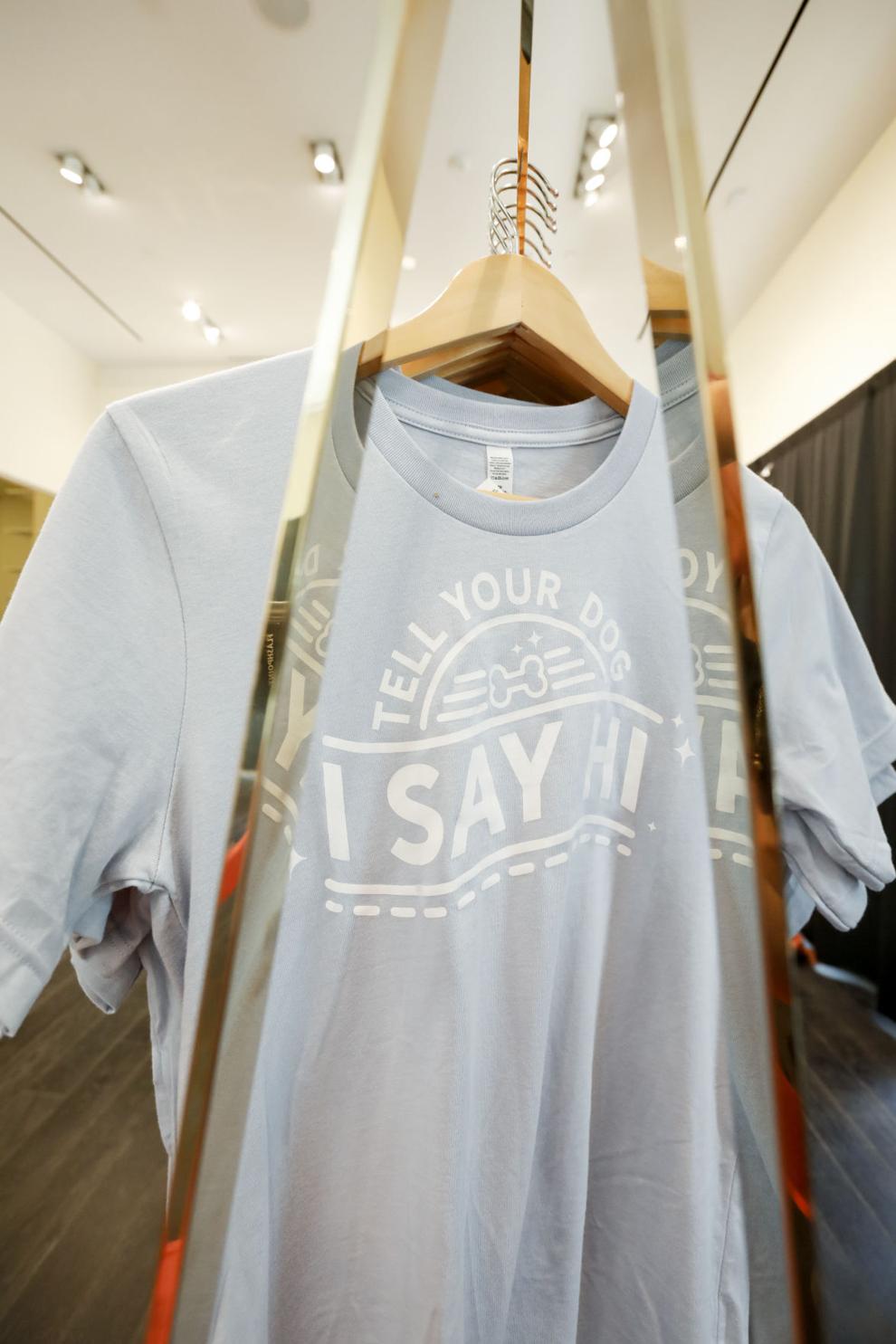 The shop, set to open next Wednesday, will feature Petphoria's treats, as well its line of sometimes-explicit apparel, printed by Wang and her dad on-site. Customers can also choose from the dog apparel and toys that Wang stocks, including the "Lik-or Cabinet" collection of bottle-shaped stuffed toys like "Puptron Tequila" and "Arfsolut Vodka." Well-behaved dogs will be welcome to browse and sample the goods. 
Already, she's looking toward what's next. She'd like to expand her offerings and hire employees who can host pop-up shops around town or in other cities. That, and she'd like to make Forbes' "30 Under 30" list. 
For now, though, she's feeling quite accomplished.
"The new store is a dream come true," Wang said. "I open the doors every day and I'm like, 'Oh my gosh, should I just break down and cry right now?' I cannot wait to open the doors for the public because I think that it's just going to be the best summer ever."
The four questions 
What are the most important values driving your work?
Integrity, being true to yourself and doing what's right.
How are you creating the kind of community that you want to live in?
Manifesting it and taking action. Figuring out what kind of community you want to be surrounded by and attracting the people that you want in your tribe. (For me, that's) dog lovers, obviously, and positive people, people that are doing impactful things with their lives and really loving living life. People who aren't scared to make mistakes or do things that scare them.
What advice do you have for other would-be entrepreneurs?
Do it. There will always be a reason not to, but you have to just do it. And it will be hard.
I am. I need a sales associate for this awesome pop-up. So if you love dogs and want to have a fun summer at a cool boss, I'm hiring.
Share your opinion on this topic by sending a letter to the editor to tctvoice@madison.com. Include your full name, hometown and phone number. Your name and town will be published. The phone number is for verification purposes only. Please keep your letter to 250 words or less.