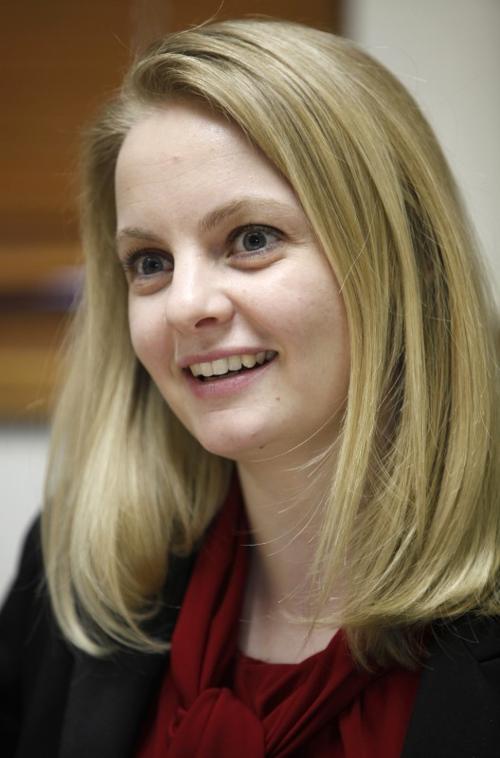 People are starting to pay attention to Ciara Matthews, Gov. Scott Walker's campaign spokeswoman. She's a hard-core Republican, has worked on high-profile GOP campaigns, and is a strident foe of abortion.
And now the news is spreading through the Internet that she's a former Hooters girl, along with a picture that displays a side of her you aren't likely to see during the campaign.
"Are you guys doing a story on this, really?" she asked Friday when asked to confirm the rumor.
But to the direct question: Were you a Hooters girl? She said, "I was."
Matthews said she waited tables for the popular restaurant chain -- which features tasty chicken wings and waitresses in short shorts and low-cut tops –- while attending college at the University of Nevada-Las Vegas.
"So you guys want to write a story that I waited tables in college," she said. "I'm confused as to why that's a story."
Well, she may have a point. What makes news is not always easy to pinpoint. But as we say in the biz: You know it when you see it. And with a recall election looming in which she will often be front-and-center as Walker battles to keep his job, details that might otherwise be ignored become interesting.
Matthews, on the other hand, isn't convinced.
"If you guys decide to go with this tabloid rumor as a legitimate news story when Wisconsin is in the middle of a recall election, I guess I would just say that's disappointing to hear that this is news when there are so many other big issues happening in the state today."
Asked if Walker was aware of the part of her resume that included Hooters when he hired her last year, she says, "I don't know."
Matthews is seen as a rising Republican operative. She has served as communications director for the Susan B. Anthony List, a group that works to elect anti-abortion-rights women to office, as communications director for the Nevada Republican Party and also worked for Nevada Right to Life.
The Jezebel.com website that posted her photo questions how Matthews can square her work for an organization that clearly markets sexuality with her longtime war on Planned Parenthood and, well, all those traditional Republican values.
"What is the connection between my being pro-life and working at Hooters?" she retorted. "Is there a hypocritical angle here that I'm not aware of? Is Hooters performing abortions?"
Interestingly, another GOP figure credits a former job at Hooters with her success. Freshman Tennessee state Rep. Julia Hurley says her college job at the restaurant gave her a drive to succeed.
"I have taken quite a bit of flack from the public at large during my run for State House in Tennessee for being a Hooters Girl," Hurley is quoted in a People magazine story. "But I know that without that time in my life, I would not be as strong-willed and eager to become successful."
Matthews previously served as deputy communications director for Nevada U.S. Senate candidate Sharron Angle in 2010, during which Angle snatched defeat from the jaws of victory by blowing a huge lead over Senate Majority Leader Harry Reid.
Here is a video of Matthews in action during that campaign.
She was recently featured, with Department of Administration spokeswoman Jocelyn Webster, in a story on AlterNet headlined "Meet Gov. Scott Walker's New Political Hit Women."
Be the first to know
Get local news delivered to your inbox!