Eight months after the Wisconsin Army National Guard finished its investigations into 1st Lt. Megan Plunkett's sexual assault claims, they tried to kick her out.
They did so even though Plunkett was already making her own way out. She was going through a medical discharge for post-traumatic stress disorder connected to alleged sexual assaults by two different men in two different units she served in.
She was not actively training at that time but was having a consensual relationship with an enlisted soldier in her unit. After the relationship ended, Plunkett said that man also sexually assaulted her. As it did in the first two cases, the Guard said her allegations were unsubstantiated, but they went one step further than that, finding Plunkett guilty of "fraternization." In the military, officers are forbidden to have sexual relationships with enlisted soldiers.
"I was like, 'I'm out, I just want to be left alone.' I don't want to cause more problems and then he came at me with fraternization. Are you ... kidding me?" she said. "He… assaulted me and how dare they accuse me of fraternization without asking me what happened?"
The Guard reprimanded her and later tried to revoke her status as a military officer and her post-retirement medical benefits because of the relationship. It also later alleged that Plunkett posted nude photos of herself online to solicit sex.
Plunkett denied those accusations and said the Guard's move to revoke her status and benefits was retaliation for reporting past assaults and filing complaints. Her attorney and a Washington D.C.-based advocate for women's veterans share that view. The Guard said it cannot comment because of provisions in the federal Privacy Act, a 1974 law that bars some federal agencies from disclosing personnel information.
As of today, Plunkett has won some measure of vindication from other agencies. A panel of out-of-state Army officers ultimately rejected the Guard's attempt to strip her benefits and status, though that ruling is not yet final. Separately, the Veterans Administration awarded her full service-connected disability compensation and medical benefits for PTSD, which they determined was caused by military sexual trauma she experienced in the Wisconsin Army National Guard.  
Despite those victories, Plunkett has continued to try to get information about how the National Guard investigates reports of sexual assault. She has filed complaints with federal and state officials to draw attention to what she sees as systemic injustice, a lack of transparency and a pervasive culture of misogyny.
Those efforts seem to be gaining some traction, though she is not alone in demanding more accountability from the Wisconsin Army and Air National Guard.
After she and others began reporting sexual misconduct there, state Republican and Democratic leaders have begun to question how the Guard handles sexual assault complaints. Last month the National Guard Bureau said it would investigate the Wisconsin Army National Guard at the request of Gov. Tony Evers and U.S. Sen. Tammy Baldwin.  According to Evers' office, National Guard Bureau investigators will start their review later this month and it will take six to nine months. A report is set to be released in early 2020 and Evers intends to make it public.
Accused of soliciting sex
January 2017 was one among many low points in Plunkett's military career. The National Guard found all three of her allegations of sexual assault to be "unsubstantiated." Those decisions relied, in part, on the assertions of colleagues that she lacked credibility, according to records of the investigations that Plunkett gave to the Cap Times. Later that month, Guard officials informed her that she was being investigated for soliciting sex online.
Another soldier in her unit said in a sworn statement that he found photos of Plunkett in a Craigslist ad soliciting sex. He noted that although part of the woman's face and eyes were obscured, he "thought it was her." He said he matched some of the photos in the ad with those he found of Plunkett on her MySpace page.
Plunkett denied posting an ad soliciting sex. She confirmed that years prior she had posed in lingerie as a model for her friend's boudoir photography business, but said she was not nude.
At the time, Guard investigators would not allow her to see the photos. Plunkett eventually saw them after she made numerous requests through her Guard-appointed attorney.
The Cap Times reviewed the ad and the photos, and it appears that someone took Plunkett's boudoir photos from another website and put them into the Craigslist ad along with nude photos of another woman performing sex acts. The woman does not appear to resemble Plunkett and has a different tattoo on her back.
Plunkett was given a "General Officer Memorandum of Reprimand," for the fraternization and photos — a formal rebuke for behavior "unbecoming an officer." A GOMR is more serious than a letter of reprimand and can follow soldiers throughout their military careers, even if they leave the state to serve in other branches of the military.
"I'm not saying that I didn't make bad choices, and that I didn't do things that I shouldn't have done or that I didn't have an intimate relationship with (the enlisted soldier) because I did," Plunkett said. "I will own that and I accept punishment for that, which I already received. I got my GOMR, which was above and beyond the punishment necessary for fraternization."
Ellen Haring agrees with Plunkett's assessment about the severity of the punishment. Haring is a retired Army colonel and CEO of the Women's Service Action Network, an advocacy group based in Washington, D.C., that organizes female veterans and works on policy issues.
She said fraternization has a range of punishments in the military depending on the circumstances and is based on commanders' discretion. She said a GOMR would usually be reserved for something like a case in which the relationship was between an officer and a direct subordinate. Though he was of a lower rank, the enlisted officer Plunkett had a relationship with was not her direct report.
 Plunkett said she remains confused why the Guard would dismiss her allegations of non-consensual sex, but severely reprimand her for consensual sex.
 And still the Guard pursued further punishment.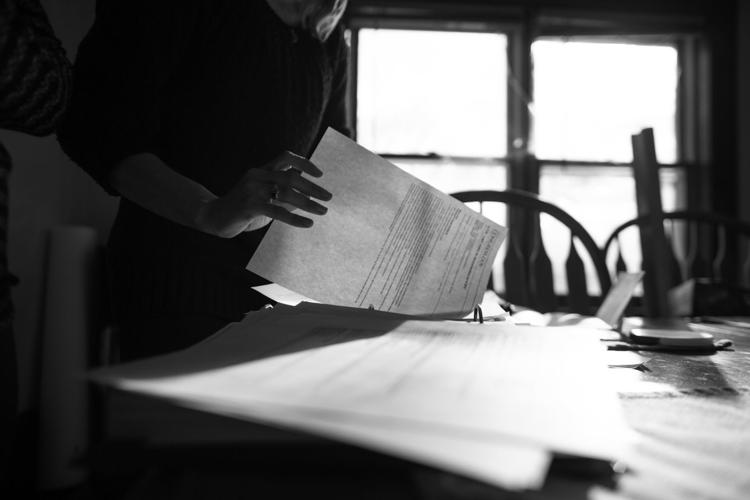 Withdrawal of federal recognition
 More than a year later, in July 2018, Plunkett received final medical discharge orders from the federal government for her PTSD. She was scheduled to leave and be placed on the retired list on Aug. 30, according to the order from the Department of the Army in Arlington, Virginia.
 She wanted out. Her mental health was deteriorating and she was experiencing growing anxiety both on and off duty.
 In her therapy sessions around that time, her therapist wrote that Plunkett struggled with "feelings of not being in control, powerlessness and not (being) good enough," and spoke about the investigations.
After she got her medical discharge from the Department of the Army on July 26, 2018, according to records, the Wisconsin Army National Guard initiated an administrative procedure called a "withdrawal of federal recognition" (WOFR) that would strip away her status as an officer and remove her from the military.
The Guard said Plunkett's fraternization and the alleged dissemination of the photos merited the WOFR, which would be decided by a panel of U.S. Army officers, some of whom came from out of state.
"The WOFR was to determine if I should be separated from the military, which is silly because I was telling the military now for years that I wanted to be separated and I'd given them multiple excuses to just let me go," Plunkett said.
Since she was already medically processing out of the National Guard, the WOFR looks like retaliation, said Haring.
"Why in the world did Wisconsin try to go after her like that? How ridiculous. That's the story right there," she said.
Wisconsin National Guard spokeswoman Jackie Halverson said the federal Privacy Act prevents the Guard from commenting on why they initiated the WOFR.
 Plunkett asked the U.S. Army, which, along with the National Guard Bureau, oversees the Wisconsin Guard, to stop the proceeding.
"I have already gone through a significant amount of progress required for medical separation from the military," Plunkett wrote in a letter to Lt. Gen. Stephen Twitty, then-commander of the U.S. First Army. "The medical conditions at issue … include multiple incidents of military sexual trauma which predate the conduct that is subject to the WOFR.
"These incidents have caused significant mental health issues and have affected every aspect of my life, including work, school and relationships with my family and friends. I sincerely believe that revisiting these incidents in detail through the course of a WOFR board — which I believe would be a necessary part of my defense — could jeopardize my health and well-being."
Her request was denied, and the withdrawal of federal recognition panel was held Oct. 24  in Madison. The proceeding functions much like a trial, with testimony and evidence submitted. It lasted three days.
A Cap Times reporter accompanied Plunkett to the hearing at her and her attorney, Warren Murphy's, request. After identifying herself, the reporter was told she had to leave and was escorted off of the Joint Force Headquarters base.
Halverson said that those proceedings are never open to the public, regardless of whether subjects of the hearing or their attorneys want them to be.
But Murphy, an attorney who has represented soldiers in similar types of cases in Indiana, said other proceedings he has been a part of have been public.
"This has been jacked up from the beginning," he said in an interview, adding that he has seen nothing like it in his 13 years as a National Guard attorney.
He called the Wisconsin Guard's investigations of Plunkett's assault claims "a mess" and added that pursuing the WOFR looks like retaliation considering her pending medical discharge.
"She made some mistakes but the unit she found herself in was a disaster. ... She's been put at the center of all of this and quite honestly has been the scapegoat. It's retaliation," he said. "I have never seen that. That tells me that's a unit where people have looked the other way."
Murphy requested investigations and evidence related to Plunkett's case months before the hearing was scheduled, he said. The Wisconsin Guard gave him the materials days before it started.
"It is highly unusual to go into a significant proceeding and to get substantial information for it in less than four days," he said, noting that if he had more time, he could have called witnesses to support Plunkett's case.
The panel was composed of four officers. Two were women of a similar rank and military occupation from other states, sent to Wisconsin to hear the case.
Plunkett recalled a question from one of the soldiers on the panel: "Oh, you should get a free pass because you have PTSD?'"
"No, that's not what I'm asking for," she said she responded. "I'm asking for some leniency. ... I'm asking for you to understand that under normal conditions, that if I wasn't experiencing the symptoms of PTSD as caused by sexual assault, that that never would have crossed my mind to date an enlisted soldier."
The panel voted in favor of Plunkett, allowing her to keep her medical benefits and separate from the Army, recommending her for a "general" discharge, she and her attorney said. It affirmed that Plunkett has PTSD, that she was sexually assaulted and that she reported that assault through the proper channels. They linked her fraternization misconduct directly to her mental health condition, saying her behavior was a result of her PTSD, according to Plunkett and Murphy.
That decision must be affirmed by senior Army officials. As of today, Plunkett is still awaiting the transcript of the hearing and a final report of the findings.
On July 26, 2018, before the WOFR hearing took place in October, the VA awarded Plunkett a 100 percent service-connected disability payment for PTSD because of military sexual trauma. Because of that she now receives free mental health treatment at any VA facility and is also paid $3,084 each month.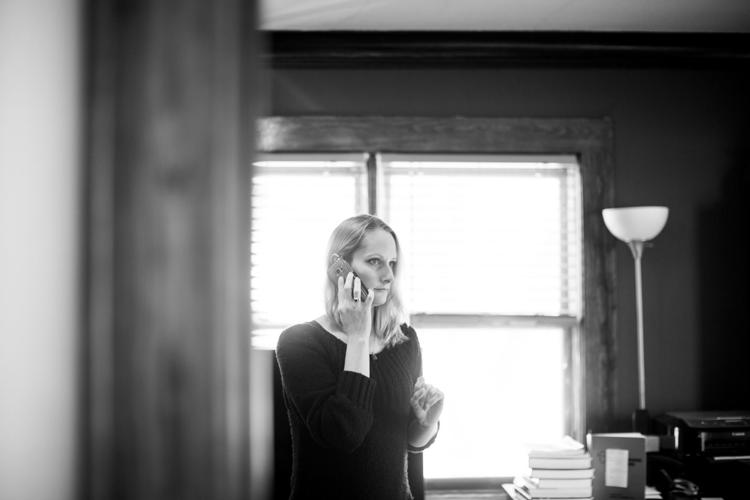 Looking to lawmakers
Over the last year, Plunkett has continued to press elected officials at the state and federal levels to investigate the Wisconsin Army National Guard. She has requested investigations and made whistleblower complaints to the Inspector General of the U.S. Army.
She wants to see systemic changes to how the Guard as a national system investigates allegations of sexual assault, how investigators are trained and how victims are treated. People should have better information and access to mental health resources, she said, and they should be given documents from the investigations that involve them. There should be a proactive approach to battling the culture that exists within the National Guard, rather than a reactive program that helps victims only after they've been hurt, she said.
Last year, when Plunkett wrote and called state and federal politicians about her complaints, they did little to help her or get answers from the Guard, she said. She wanted to draw attention to the issue by telling her story, so she contacted a Cap Times reporter.
She initially contacted former Gov. Scott Walker's staff, U.S. Sens. Baldwin and Ron Johnson and her member of Congress, U.S. Rep. Mike Gallagher. All of them responded and some wrote a series of letters on her behalf, but none of them pushed for an investigation because of her complaint. Johnson's staff helped her with her VA medical claim. Baldwin and Gallagher's office wrote a letter to the Wisconsin Guard. Walker's office referred her to the state Department of Justice, which did not pursue her case, she said.
"The only thing that they do is an inquiry. They say (to the Guard), 'Hey, I've got this service member who said she is having issues. What is going on?'" Plunkett said. "Dunbar says, 'Don't worry, we've got it handled,'" referring to Adjutant General Donald Dunbar, who leads the Wisconsin National Guard.
And that was a far as those efforts took her.
Trying to get another federal agency to look into how the Guard handles sexual assault investigations also sent her in a loop. She asked the U.S. Army Inspector General's Office and the National Guard Bureau to review the Wisconsin's National Guard protocols. Both declined.
At the time, the National Guard Bureau and the Inspector General's Office both told Plunkett that her request for an investigation was not appropriate for their offices and directed her back to Wisconsin National Guard officials.
The U.S. Air Force is also investigating the Wisconsin Air National Guard at Baldwin's request, after several service members came forward alleging a culture of sexual misconduct within its ranks.
The National Guard Bureau investigation beginning this month will examine Guard protocols, its reporting mechanisms, and how it investigates allegations of harassment and assault. The Bureau will do surveys of climate and morale in Guard units, gather data, and will conduct interviews with soldiers and airmen and airwomen.  
Wisconsin Army National Guard spokesman Capt. Joe Trovato said at a media roundtable in April that the Guard "welcomes" the review.  
"We think there is always room for improvement and we strive for continuous improvement," he said. "I think we acknowledge the gravity of what sexual assault means to our organization and we look forward to working with (the National Guard Bureau) to take a look at our program."
Despite complaints about sexual misconduct that date back to 2002, Evers told the Associated Press last month that he is not questioning Adjutant General Dunbar's leadership.
"We are going into this investigation without preconceived notions. We expect a thorough, fair and impartial review from the National Guard Bureau's Office of Complex Investigations," said Evers' spokeswoman Melissa Baldauff.
In February, state Senate Majority Leader Scott Fitzgerald, R-Juneau, also asked the Guard to review its sexual assault and harassment protocols after speaking with soldiers and airmen and women affected by sexual assault. (This does not include Plunkett, who has not spoken to Fitzgerald.)
Dunbar responded one month later with a four-page letter, outlining how it responds to allegations of sexual misconduct. In the letter, Dunbar wrote that the Guard has a "zero tolerance policy" for such behavior and has taken "numerous steps in recent years to protect service members and to prevent assault or harassment from taking place," including working to prevent it in the first place.
"The best way to eliminate sexual assault and sexual harassment is to avoid it and we seek to do that through training and standards. We have the highest standards, which are centered on core values associated with our parent service. The Army's core values are loyalty, duty, respect, selfless service, honor, integrity, and personal courage," Dunbar wrote. "We believe in these values and hold ourselves accountable for them. In addition, we conduct annual training to ensure all personnel are aware of our procedures and expectations."
But Fitzgerald said he still has concerns.
"The stories I have heard from service members and their families have shown this is an issue that must urgently be reviewed … I still have concerns about their standard operating procedures and the enforcement of their policies dealing with sexual assault and sexual harassment," Fitzgerald said in a statement to the Cap Times.
As Plunkett waits for her final discharge paperwork, her focus is her son, who is 8.
"I just want to be there for my son and be the best mom I can be," she said.
Plunkett hopes her story illuminates the complexity of PTSD caused by sexual trauma and the failures of the Wisconsin National Guard's system of justice. She does not want others to go through a similar ordeal.
"When women don't talk because they're revictimized and we're retaliated against and our careers are ended … at some point we have to accept the sacrifice," she said. "If we're willing to sign on the dotted line and die for our country, why are we not willing to sacrifice our military careers and save (other) women from going through the same trauma and horrific nightmares that we endured?"