Paul Fanlund: In a week of political stories, some matter, some don't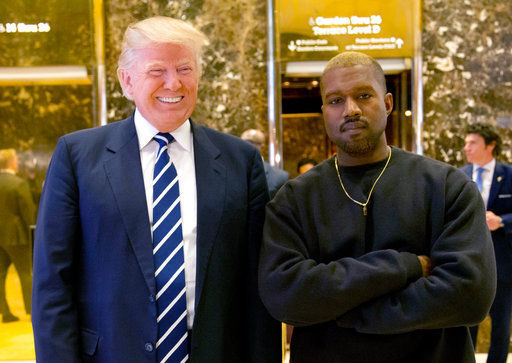 One thing I've noticed about the flood of political stories is how they sort neatly into categories, virtual baskets that can clarify their importance.
This past week was filled with examples of my four chosen categories — silly, strategic, scandalous and substantive.
The first, the silly stories, are ones that are superficial and irrelevant but have a long tail on television talk shows and social media. Think America's Funniest Home Videos, except in politics.
Last week had plenty, starting with the breathless debate about whether comedian Michelle Wolf overstepped with crude language and insults in her monologue at the White House Correspondents' Dinner.
Then there was the folderol over House Speaker Paul Ryan forcing Patrick Conroy, the House chaplain, to resign, then relenting when Conroy rescinded his forced resignation letter. Lots of fuss about that one.
There was also the story of President Trump's former personal doctor, Harold Bornstein, who said Trump aides took the president's medical files from him after he revealed that Trump took a drug to promote hair growth. The topper: Bornstein said Trump personally dictated a pre-election letter signed by Bornstein that said Trump would be "the healthiest individual ever elected to the presidency." (Do me a favor. If you think that's a plausible statement, Google "Trump tennis shorts" and then brace yourself. And this guy criticizes women's looks?)
And let's not forget the fuss around rapper Kanye West's bewildering admiration for Trump, gushing that they share the same "dragon energy." West had previously defined "dragon energy" as describing "natural born leaders, very instinctive, great foresight." Um, OK.
The second subset is strategic stories, often about how Democrats are going to screw up this nascent "blue wave" this year. The Washington Post focused a story on The Intercept, a website devoted to covering divisions within the Democratic Party between populist activists and centrist power players.
The Post said this "family feud is playing into a narrative that Democrats' biggest risk to their goal of capturing the House majority in this year's midterm elections … is themselves. That is, the progressive anti-Trump energy driving the party is leading to a plethora of messy Democratic primaries and some serious differences over how to approach them."
Meanwhile, the focus of most intraparty GOP horse-race stories is the vicious division between Trump's faithful and traditional Republicans, though this past week it detoured into hand-wringing about the strategy of demonizing House Minority Leader Nancy Pelosi. "Some GOP strategists are becoming increasingly worried their party is relying too much on attacking the would-be speaker rather than their own accomplishments," reported the Washington Post.
The third category — the scandalous — is enormous, dominant and fast-moving. One aspect of scandal is that the president is a serial liar, a fact even his supporters seldom bother to dispute.
But the central thread is possible lawbreaking by this administration, a theme spotlighted last week by the bizarre rantings of Rudolph Giuliani, the Trump attorney and former New York City mayor whose unhinged comments on Fox News set off speculative stories and corrective statements linked to the investigation of Trump by special counsel Robert Mueller.
That Trump lies, consorted with and paid off a porn actress and possibly colluded with Russia to get elected does not seem to sway his political base. So the rest of us watch in horror, bewildered, trying to imagine if there is anything he could do or say to lose them.
The last category is the substantive, fact-based stories that contradict a public relations narrative.
But the hope that tax cuts for business would become "rocket fuel" for American investment and growth is not happening, the Times reported: "Corporate spending on buying back stock (helping shareholders) is increasing at a far faster clip" than general reinvestment, "prompting a debate about whether the law is returning money to the overall economy or just rewarding a small segment of investors."
Then there was a Washington Post story in which the reporter could not find a precedent for the plan by Wisconsin Gov. Scott Walker to send $100 checks to parents, a gambit that Democrats call an election-year bribe.
Reports the Post, "To independent economists, it's a mystifying piece of tax policy that has no long-term economic purpose and few, if any, recent comparable examples, given that tax breaks are traditionally incorporated in tax filing season — not the months before an election." And there will be administrative costs, but hey, government spending is not a Walker priority when his re-election prospects are concerned.
One of the most ignored articles of the week was an excerpt from a book by ailing U.S. Sen. John McCain that appeared on Apple News. The former Republican presidential nominee, battling brain cancer at 81, writes eloquently about the need for renewed respect and willingness to compromise in public life.
"Voters who detest Washington because … we never get anything done frequently vote for candidates who are the most adamant in their assurances they will never ever compromise with those bastards in the other party."
McCain muses how an opponent scolded him for being a "champion of compromise," a would-be insult in which he takes pride. McCain sounds not at all like his party's leader in lamenting the decline of truth-telling in politics, in criticizing political gerrymandering and how it exacerbates extremism, and the terrible, outsized impact a few shadowy billionaires can have on elections and in calls for campaign finance reform.
"Very cool," Trump tweeted about McCain's excerpt.
No, actually, he didn't. But Trump did find time to tweet those two words in response to rapper West's remarks on Trump's "dragon energy."
It would be nice to say the week was anomalous. It wasn't. But if more of us would focus attention on news that matters, well, that would be a good step.
Share your opinion on this topic by sending a letter to the editor to tctvoice@madison.com. Include your full name, hometown and phone number. Your name and town will be published. The phone number is for verification purposes only. Please keep your letter to 250 words or less.