Republican lawmakers who control the Wisconsin Legislature have shown little inclination for bipartisanship as they enter a new era of divided government. But despite the fact that he's entering hostile territory, Democratic Gov.-elect Tony Evers has a lot of tools to further his agenda, with or without Republican support.
And if the GOP's track record so far is any indication, it will be without.
In a lame-duck session that garnered national attention, Republicans significantly undercut Evers' powers. They've tied his hands on issues he campaigned on, like withdrawing from a lawsuit against Obamacare and having a say in economic development matters, specifically the $3 billion deal to lure Taiwanese electronics manufacturer Foxconn to the state.
"We don't trust Tony Evers right now in a lot of these areas," declared Senate Majority Leader Scott Fitzgerald, R-Juneau.
Now they're talking about crafting their own budget, an extraordinary move considering that one of the governor's most significant acts is crafting a two-year spending plan.
So much for the honeymoon.
"Before this week it looked like there were a couple of big policy areas where Gov. Evers and Republican legislative leaders might work together," said University of Wisconsin-Madison political science professor Barry Burden shortly after Fitzgerald's Dec. 3 remarks.
In particular, he said, the door was open to find common ground on criminal justice and infrastructure issues, discussions that went nowhere with Republican Gov. Scott Walker, a tough-on-crime conservative who drew a hard no-tax-increase line on transportation funding.
"Those were both areas that didn't move very far under Gov. Walker, and there were a lot of signals during the campaign that Evers and some of the legislative leaders were on the same page and could at least have productive conversations about those areas," Burden said. "But the actions over the last few days may have tainted that relationship right out of the gate."
While Republicans have deprived Evers of his ability to do some things, he still has plenty of power. And his administration can fundamentally change the state's political landscape.
He and his appointees will enact rules and policies that will be at odds with those of his predecessor, and with the GOP majorities in the state Legislature.
"A major authority the governor has is to appoint heads of agencies and many of the units just below the level of secretary," said Dennis Dresang, UW-Madison emeritus political science professor. "For example, Evers can make a major change in the direction and the culture of DNR, transportation and corrections. Even when Senate confirmation is required, an acting appointment can have a major impact."
And his budgets will set the stage for a high-profile battle over the priorities of the state.
Evers is likely to propose big things. He has vowed to expand Medicaid, a move rejected by Republican Gov. Scott Walker. Evers will propose a remedy to the transportation funding standoff. He'll propose a sharp boost to education funding. He'll try to dissolve the Wisconsin Economic Development Corp.
Republicans on the legislative budget committee will no doubt deep-six much of his agenda. But Evers gets the last say with one of the most powerful veto pens in the nation. And Republicans don't have the votes to override a veto.
"The governor does have a strong veto in Wisconsin," said Burden. "So bills that come to him, he'll have some ability to carve up and tailor to his interest."
Republicans have signaled that they see divided government as hardball. But here are a few areas where Evers might be able to find common ground, and others where he can enact change whether Republicans like it or not.
Health care
Of the issues that voters identified as important to them during the election, health care topped the list. And the biggest flashpoint between Evers and Republicans is Walker's 2014 rejection of Medicaid expansion which, according to the nonpartisan Legislative Fiscal Bureau, cost the state $1.1 billion. According to a 2017 Kids Forward report, it also left more than 80,000 additional state residents uninsured.
Evers has vowed to adopt the expansion, but Republicans have threatened to dig in their heels.
"Not gonna happen. No. Never," Assembly Speaker Robin Vos, R-Rochester, said last fall.
But Tom Oliver, a population health sciences professor at the UW School of Medicine and Public Health, thinks Evers has some cards to play.
"Health care is budget policy, and that creates a strong place for some common ground with Republican leaders that the governor might yield some ground on," Oliver said.
As governor, Evers will have the biggest soapbox in the state to communicate his agenda. He plans a statewide tour in 2019 to sell the expansion, which would change eligibility requirements for individuals seeking Medicaid from those earning wages at 100 percent of poverty level to 138 percent.
Oliver said from a fiscal point of view, it's a no-brainer that is likely to resonate with voters who are souring to the idea of paying federal taxes so people in other states can get affordable coverage.
"It's really difficult to continue to justify giving hundreds of millions of Wisconsin taxpayer dollars to other states to cover their people and not do it here," Oliver said.
In addition, Oliver said, it's not all about state expenses. It's about jobs, and the health care field offers lucrative careers with good benefits.
"So you're really missing the opportunity for additional jobs," he said. "All that money goes into paychecks."
If Republicans draw a line in the sand, there will likely be an ugly budget impasse. But Oliver said he thinks Evers will take a conciliatory approach, offering to address some Republican priorities in exchange for support for expansion.
"I think there's a very strong hand to play with a decent proposal that really looks good fiscally," Oliver said. "On top of it you can change the terms of why you're doing it, and that looks a lot more appealing to Republicans, who are presumably quite concerned with balancing the budget."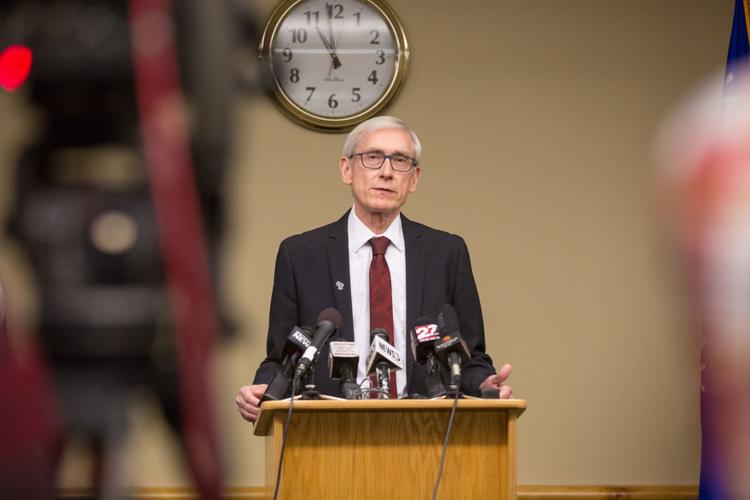 The environment
The Department of Natural Resources has seen dramatic change over the past eight years.
Walker and legislative Republicans have snubbed a science-based approach to policy and regulations. Early in Walker's tenure the DNR scrubbed references to climate change from its website.
Walker's administration laid off several scientists — some federally funded, offering no fiscal rationale — who worked on climate change, chronic wasting disease and other controversial issues. Then Republicans eliminated the agency's science bureau.
In an effort to make the agency more business-friendly, pollution enforcement dropped sharply, destruction of wetlands has increased and lawmakers have mounted a continual effort to chip away at air and water standards.
Evers has vowed to turn that ship around. His pick to lead the DNR, Preston Cole, promised to implement Evers' agenda.
"I'd like to double down on science in the epicenter of natural resources management," Cole said at a press conference last week announcing his appointment.
Cole, the neighborhood services commissioner for the city of Milwaukee, was previously the environmental services superintendent at the city's Department of Public Works. He is a 12-year DNR Board member, serving three of those years as chairman.
He said he'll give voice to disheartened DNR staff who have weathered the last eight years.
"There's certainly been apathy (among staff) about will anyone listen to us," said Cole, a forester by training. "I will represent those natural resource managers, those scientists, to give them the life that they so deserve to add value to the conversation about natural resource management."
George Meyer, who headed the DNR from 1993 to 2001, said he expects Evers to fill all the top spots at the agency with people who have scientific and natural resources management backgrounds.
"That automatically changes the perspective in decision-making," he said. "Their first analysis will be impact on the resource."
Those officials include the secretary, the deputy secretary, the assistant deputy secretary, chief legal counsel, chief information officer, chief legislative liaison and five division administrators. Only the secretary is subject to Senate confirmation. Meyer doesn't anticipate much resistance.
"I really doubt that the Senate will block his appointments unless they are really controversial," he said.
Meyer, now head of the conservation group Wisconsin Wildlife Federation, predicts a renewed focus on climate change, stepped-up enforcement of environment and conservation laws, a renewed effort to contain chronic wasting disease, more wetlands and groundwater protection, and an objective analysis of proposed legislation, which he said has been sorely lacking.
He also thinks having Evers in the East Wing will put a halt to the steady flow of anti-environment legislation during Republican rule.
"There'll be a lot of bad things that won't get introduced," he said. "And that's going to make conservationists' lives a lot easier. They'll be able to work on positive things rather than rear-guard defensive actions."
Corrections
Under former Democratic Gov. Jim Doyle, the state mounted an effort to cut the prison population, seeing some success in the two years preceding Walker's administration.
In 2007, the prison population peaked at 23,236. By 2010 that number was down to 20,015.
Under Walker, who dubbed Doyle's initiative "catch and release," that number increased 18 percent. On Nov. 23, the Department of Corrections reported 23,626 in a system designed to hold 17,821.
Wisconsin now has an incarceration rate well above the national average, higher than neighboring states, and nearly twice that of Minnesota.
To handle the overload, Walker's administration was studying adding another prison, which would be a significant addition to a ballooning corrections budget.
Evers has said he wants to cut the prison population in half, in part by reducing the number of people sent back behind bars for minor violations of their supervision, so-called crimeless revocations, which add thousands of inmates every year.
Evers has also vowed to end solitary confinement, a practice that has come under intense scrutiny in recent years because of the psychological damage it can cause.
His pick to head the Department of Corrections, U.S. Marshal Kevin Carr, indicated that he's on board with Evers' plan to reduce the inmate population and take a more progressive approach to corrections.
He vowed to work with unions, advocacy groups, elected officials, community members and "subject matter experts" to come up with a blueprint for change.
"We can make a real difference and change the outcomes we produce and make a positive impact on the lives of not only those involved in the criminal justice system," he said, "but more importantly to the taxpayers of the state of Wisconsin, by being smart on crime."
Ed Wall, who ran Corrections from 2012 to 2016, said Carr is a "natural collaborator" with plenty of experience to do the job.
"He's kind, patient and considerate, which the DOC needs after Walker's eight years of refusing to visit (a prison), let alone address any issues the agency was trying to deal with," he said.
Wall, a Walker critic who backed Evers, said there's a bipartisan desire in the Legislature to reduce the corrections budget and find compromise.
"Wisconsin is in a unique position with a new governor who wants to work collaboratively on corrections issues," he said.
He said there are two ways to reduce corrections spending: reducing the number of inmates, and reducing the number of institutions and staff.
Republicans, he said, are willing to revisit "truth-in-sentencing" laws, adopted in 2001, which have led to longer sentences and longer periods of supervision after release. Walker, then in the state Assembly, sponsored the law.
"The problem was that we had a governor who wrote those laws and refused to consider changes," Wall said.
The 2001 law removed discretion on when inmates can be released. And released inmates who break supervision rules can be ordered to serve out their terms behind bars.
Wall said changing the laws to give corrections officials more discretion to release inmates deemed unlikely to reoffend is something both parties want.
"I don't think you'd even have pushback from Republicans on that," as long as it was done responsibly, he said.
But changes would require some heavy lifting.
"It will involve legislative changes, recalculation of thousands of sentences, making sure programming needs are met and preparing community corrections for the population shift from incarceration to release," he said.
On ending solitary confinement, Evers can work unilaterally.
"Policies dealing with confinement protocols, like segregation, don't need legislative approval beyond administrative rules, and those can be reworked fairly easily," Wall said.
He said solitary confinement could be replaced with alternatives, such as loss of recreational privileges or confinement to a cell. And it could be done cheaply. Wall said the prison system is equipped with programming, counselors and mental health professionals that could facilitate alternatives.
"Solitary confinement alternatives are not typically money issues," he said.
Wall said Evers could also address the prison guard shortage, which has been a chronic problem for decades, but has been highlighted since Walker and Republican lawmakers stripped public employees of the ability to negotiate wages, safety issues, working conditions and benefits.
Unions have complained that the 2011 law increased the exodus of experienced guards, leaving vacancy rates that led to punishing mandatory overtime that costs the state tens of millions a year.
A rule put in place by the Department of Justice under Republican Brad Schimel, who lost the November election to Democrat Josh Kaul, made matters worse, Wall said. The rule allowed guards at state correctional facilities to transfer to county jails without additional training, Wall said. The state's sheriffs, he said, pushed the change.
"By that simple stroke of the pen we were training guys and they would complete their training with us, get certified and leave to go to the counties where many of the counties were paying $3 to $4 (per hour) more than Corrections is," he said. "It was a gut punch to us."
That could be changed administratively, Wall said.
But the core problem is pay. Prison guards in the Wisconsin prison system start at $16 an hour after an 80-cent raise in 2016. That's not enough for an extremely difficult job, Wall said. And Republicans haven't proposed any further increases.
"Those vacancies have to be filled, and you're not going to fill them by paying people what they could make going to Wal-Mart," Wall said. "Those jobs are dangerous, they're stressful, and I'd like to see a legislator go in there and try to live off of a corrections officer's pay for six months while they're getting urine and feces thrown on them."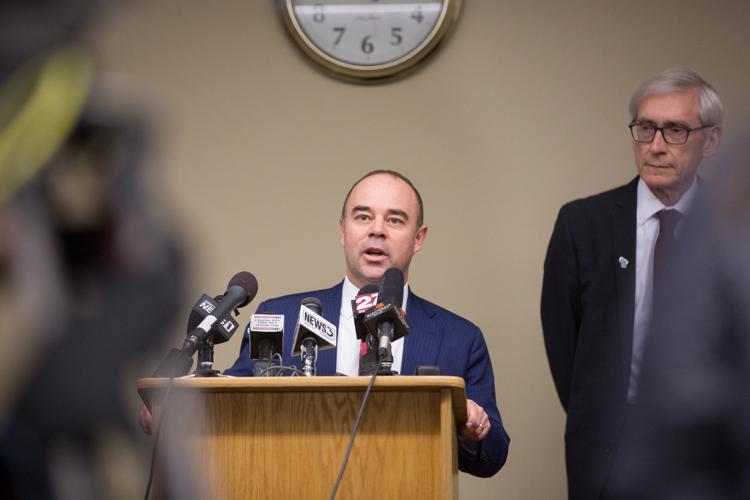 Transportation
More than half of Wisconsin roads are in poor or mediocre condition, according to one major study. Big projects have been interrupted or put on hold. Deficits have been plugged with borrowing rather than revenue. One in five transportation dollars goes toward debt.
Walker refused to consider an increase in the gas tax. And he's been cool to tolling. During the campaign, Evers said everything is on the table.
A UW-Madison transportation expert who has helped other states find transportation solutions said Evers has the opportunity to fundamentally change the direction of the DOT, ending the decades-long chase for money to fund big projects and putting an emphasis on fixing what we have.
"We should for sure put a big emphasis on what is called the 'fix-it-first approach,'" said Eric Sundquist, director of the State Smart Transportation Initiative, which works with 18 states, not including Wisconsin, to enact sustainable transportation policies. Those include states that traditionally vote Republican, which have found that SSTI's recommendations to more thoughtfully prioritize transportation spending has saved money and improved outcomes.
"Before you start adding more and more assets that we've got to manage, figure out how to manage the assets we already have," he said.
To head the Department of Transportation, Evers picked Craig Thompson, executive director of the Transportation Development Association, a powerful influencer of transportation policy with more than 400 business, labor, local governments and other transportation service providers. Thompson has been an outspoken advocate for raising the gas tax and increasing license fees to fund road projects.
Sundquist called the choice unusual in that membership in Thompson's group is heavily weighted toward industry.
"Governors usually don't pick vendors, or vendors' representatives, to lead departments they depend on for business," he said. "The conflict sets up problems when there's a revenue ask, raising the appearance of devoting new taxes to the secretary's own industry."
But he said he's reached out to Evers' transition team and urged the Evers administration to embrace sustainable strategies that SSTI has successfully employed in other states.
One of the states where he said SSTI's initiatives have met with the most success is Virginia. For instance, one toll road not only provides revenue to cover the cost of the road, but tolls rise during peak hours to manage demand.
Sundquist has met with the Evers transition team to discuss a fix-it-first policy, as well as changing the way that the agency selects projects. The change would entail listing potential projects and weighing costs against benefits. That way, for example, a $50,000 bike path with a high cost-benefit ratio would be just as likely to get funded as a $1 billion interchange.
"The $1 billion interchange project better have a ton of benefits or else it's not going to compete," he said.
Key to making those kinds of changes, he said, is appointing a transportation secretary and high-level staffers, unlike road builders and union officials, who don't have a stake in how transportation projects are determined.
"Wisconsin has one of the worst records around in terms of having the vendors in charge of stuff," he said. "What we don't want is those guys calling the shots on what we build and how much we build."
So he said it's imperative that Evers lay out a solid blueprint for a sustainable transportation plan before looking at how to pay for it.
"The need to precede any revenue increases with real reform is even stronger now," he said. "I know the transition team heard that message, so I'm hopeful the administration will proceed that way."
Sundquist is also encouraging Evers to revisit regional transit authorities, which Walker and legislative Republicans banned in 2011, beef up mass transit initiatives and explore intercity rail, which Walker abandoned even though it would have been funded with nearly $1 billion in federal money and the state had to pay $50 million for trains it bought but never used.
But trains and RTAs would require legislative approval, and that would be a tall order with the current majority.
Changing the priorities of the DOT to right-size or forego big projects that lack clear benefits and repair existing roads is something Evers can do administratively, Sundquist said.
"WisDOT proposes and vets projects, and they design them," he said. "All the project development stuff is within their realm. They can also bring a budget to the Legislature that focuses on fix-it-first, focuses on asset maintenance."
REINS Act
While Evers will wield considerable power through his ability to craft administrative rules, which have the force of law, Republicans last year passed a law limiting that power.
Of Tea Party origin, the Regulations from the Executive in Need of Scrutiny Act, known as the REINS Act, gives a legislative committee the authority to put the brakes on any rule that has compliance and implementation costs of $10 million or more. And if the rule costs less, the committee can commission an outside study, which is not detailed under the law, to do an estimate. If the new study varies by 15 percent from the agency's estimate, the new estimate is adopted, and the agency has to pay for the new study.
That, said the Sierra Club's Bill Davis, is a problem.
Because of other measures over the years, it already takes about three years to create and implement an administrative rule.
"You add on the REINS Act, and for anything of any kind of controversy, it's potentially impossible for an agency, not just the DNR but any agency," he said. "It's going to be damn near impossible for them to create administrative rules. But that's how they enforce the law."
Adam Neylan, R-Pewaukee, the Assembly sponsor of the law, said last year that there are few rules that approach the $10 million threshold. But Davis said that's not the case.
For instance, the mining bill Republicans passed a year ago ended a nearly 20-year-old mining moratorium. If a mining company tries to set up shop in Wisconsin, $10 million might not be enough to implement regulations.
"I wouldn't be surprised at all if viewed one way the impact of any rules dealing with mining is going to be more than $10 million in any two-year period," he said. "That potentially is a very big industry and it costs a lot of money and it costs a lot to do stuff, and potentially liabilities are high."
The law could also forestall rules curbing pollution. For instance, a 2010 rule to reduce algae-causing pollution from phosphorus were estimated to cost billions.
"For anything that's at all controversial, it's just not going to happen," Davis said. "I think that's the biggest impact for the incoming administration."