In the Door County village of Egg Harbor, locals want to encourage physical activity — more walking, biking and winter recreation. They also want to improve their main street.
Adams County officials want to focus on education, health and economic development. In Green Bay and across Brown County, a goal is to leverage digital technology.
Officials in La Crosse County want to explore myriad approaches to improving child care, while Wisconsin Rapids would like to work on economic development, its community identity and its embrace of the arts and humanities.
Milwaukee County wants to address its history of racial inequities as well as focus on climate change and how the county compensates its public safety employees, while the tiny village of Marshall in northeastern Dane County wants to study its use of space in public buildings.
What do these seven locations have in common? They would all like advice from students and faculty at the state's flagship public university in Madison.
Each has applied for low-cost assistance from a UW-Madison program created in 2015 called UniverCity Year (get it?) that coordinates help across disciplines on a campus sometimes known for tribal tendencies within its academic fiefdoms.
For the communities, think of it as a corps of low-cost consultants. (Full disclosure: The Evjue Foundation, the charitable arm of the Cap Times, donated $5,000 to the program this year. I am on the foundation's board.)
Before delving more deeply into the program, let's pause for a moment on how cool it is to have UW folks traveling the state to help make the face of UW more than Badger sports.
It is, clearly, the embodiment of the Wisconsin Idea, the 115-year-old philosophy that university research should be applied to solve problems and improve the quality of life for all citizens of the state.
Especially in this decade, the Wisconsin Idea has been under assault, literally and figuratively.
Former Gov. Scott Walker tried in a proposed budget to eliminate Wisconsin Idea language to narrowly focus on workforce development. When called on it, he backed down and blamed others. Figuratively, he and other Republicans have demonized the so-called elites at the flagship university as opposites of the hardworking, commonsense people they represent, helping to foster resentment and political division.
Gavin Luter, executive director of UniverCity Year, says pursuing the Wisconsin Idea is precisely what his program is about.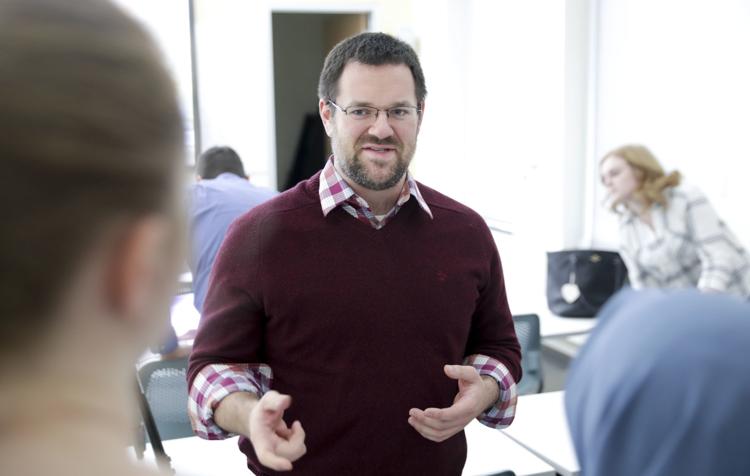 "Basically, the idea is that local government is kind of the smallest, leanest form and oftentimes doesn't have either the bandwidth or the capacity to do what it needs to do," Luter said.
"If you know anything about local government you know how essential the services are that you rely on (it) to provide. Things like school, trash pickup, water quality.
"They basically come to UW-Madison and say: 'We need some expertise here, need some extra hands there. Is there a way that you could be a thought partner with this on some kind of project?'
"So when they apply they list out the issues that they want help on and then we in turn try to make matches with those projects with people at UW-Madison. It could be faculty, staff, and students — really anybody."
Luter said faculty and students have been receptive.
"Mostly, we engage the courses," He said. "We try to get faculty to take these on as class projects. Students have to do projects anyway. Why do hypothetical ones? Let's get them to do real-world ones. So it's as much an initiative for UW-Madison as it is local government."
For example, the program currently has 20 projects in Pepin County in northwestern Wisconsin near Eau Claire. Pepin has only 7,400 residents within its 249 square miles, making it one of Wisconsin's smallest counties. Topics of interest there include economic development and community branding in the city of Durand, the county seat, as well as countywide tourism and economic development initiatives, among others.
I asked Luter about relating to people there. "When you think of going to a place like Pepin, which is somewhat politically divided ... you're walking on eggshells at first. 'Do people really want the university around, what are they thinking?'
"They might think of us as pointy-head people who are disconnected from the real world. In reality, people have been so open to letting our students in, letting them ask questions, letting our faculty be there. There's not this kind of pent-up hostility that I thought we might get."
Luter said he just returned from the Pepin County village of Stockholm on the Mississippi River, population 68. UniverCity Year is helping Stockholm, founded in 1854 by Swedish immigrants, on flooding issues.
They "are excited to have us there," Luter said. "They're like, 'Great work — thank you so much for helping us think through this.' "
He added, "Now, of course we try to watch ourselves. We don't want to get in the middle of any big political controversy.
"I think if we don't acknowledge the fact that that (political environment) is constantly on our minds, the way that we relate with different communities across the state, I'd be lying. That's something that we think about a lot. We don't want to be bad citizens in the state. We want people to see the university as being able to do good things for them at home."
He added: "I think you have a lot of faculty who are interested in that whole concept of the Wisconsin Idea and better relationships with the community. That's part of the reason why I think they're drawn to the university. That's part of our DNA."
The program, Luter says, is no public relations stunt. "It's not like we said we have an image problem, let's do something good. I think really it was also realizing that this campus is incredibly disorganized. We need to try to get some organization.
"So this program helps us do that and also get real-world experiences. We're always thinking about how we better prepare students to enter the workforce and the real world."
And, as a fringe benefit, it gets people outside of their bubbles.
Given the state's sad sense of separateness during this decade, that may be the best deliverable of all.