Editor's note: Cap Times reporters Jessie Opoien and Katelyn Ferral visited communities outside Dane County in August to speak with voters about their backgrounds, worries and priorities in advance of the Nov. 6 election. Last week, in part one of this series, Opoien wrote about young voters in Oshkosh and Eau Claire. 
Maria Abundiz is a voter without a political home.
An immigrant, Abundiz, 32, grew up in a small, rural town south of Mexico City and now lives in Green Bay. Her mother took her and her brother across the border when she was 15 so the family could join her father, a migrant worker. She was sent back to Mexico twice by border patrol officials, but made it to the United States on the third try. She is now a social worker with the city's public school district.
Abundiz was raised Catholic but became more serious about her faith after attending St. Philip the Apostle church in Green Bay. It was there she got more in touch with the Holy Spirit, she said, and learned how to live out her faith.
When she became a citizen and voted for the first time in 2016, she didn't fit with either political party's candidate. Her Catholic convictions guide her opposition to abortion and contraception, but she feels alienated and attacked by the approach to immigration by President Donald Trump and the Republican Party.
Over the last three decades, some of the country's most influential voting blocs have been labeled by the faith that can drive their votes. But not all religious practices predict a voting pattern, some voters say.
Jill Doering, a voter who attends a Wisconsin Evangelical Lutheran Synod church in Lake Mills, put it this way:
"It's easy to put all Christians in a box," she said. "We're all individual voters, so whenever you want to put voters inside of a box, you've taken away their individual concerns and issues they think most strongly about."
Of those who claim a religion in Wisconsin, 70 percent are Christians, including 25 percent who are Catholic, 18 percent who are mainline Protestant, 22 percent who are evangelical, and 4 percent who are historically black Protestants, which include the Missionary Baptists and African Methodist Episcopal denominations.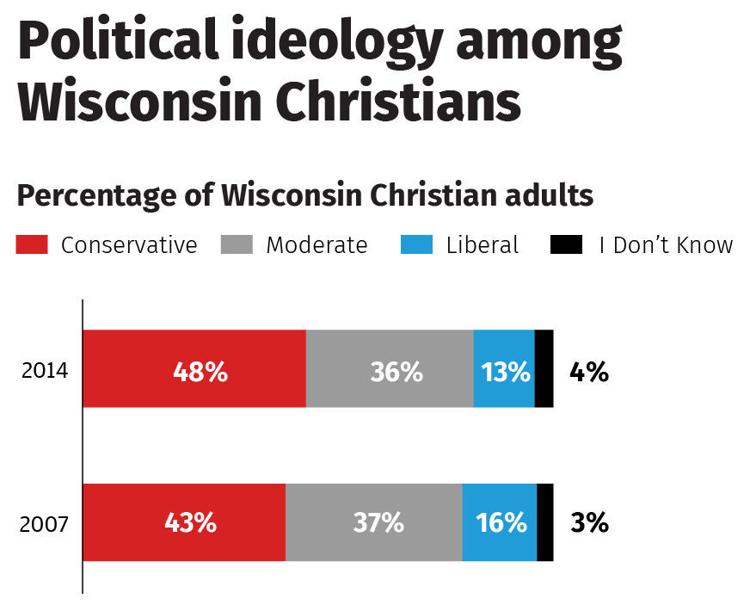 To help readers better understand the dynamics shaping the electorate, the Cap Times spoke with Christian voters throughout the state in an attempt to capture their individual perspectives.
How does one's faith inform how some in Wisconsin engage civically and view political issues? What is it like to be a voter whose religious convictions precludes them from fitting well in either party?
Latino Catholics in Green Bay, faith leaders in some of the oldest predominantly black churches in Racine, and leaders and churchgoers from St. Paul Lutheran Church in Lake Mills, part of the Wisconsin Evangelical Lutheran Synod (WELS), answered some of those questions, offering insight into how voters in these communities use their faith as a lens to engage with politics.
Latino Catholics in Green Bay
For many Latino Catholics, Spanish services are a key connection to their home countries and other immigrant congregants. These parishioners represent 71 percent of the Catholic Church's growth since 1960, according to the United States Conference of Catholic Bishops. The group estimates that by 2020, more than 50 percent of U.S. Catholics will be Hispanic.
Abundiz spoke about her faith earlier this month in the living room of her parents' house, where she lives with her brothers and two nephews. Crucifixes adorn the walls and family photos sit on a TV stand next to portraits of Our Lady of Guadalupe, a Latino Catholic title for Jesus' mother, the Virgin Mary.
Abundiz attends Mass weekly and prays each morning at 6 a.m. in a different chapel near her home before going to work.
"I feel like this is what my faith is, going there talking to God because I know he has been there for me," she said. "I can go there and I am going to feel better."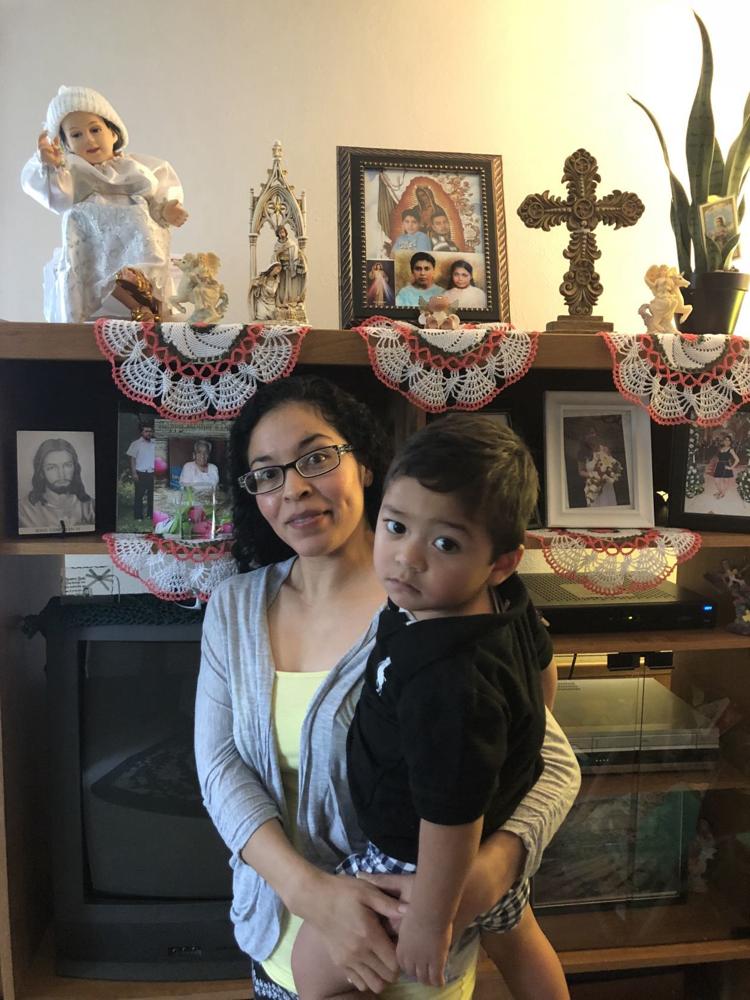 Her neighborhood has been transformed over the last 15 years, largely by Mexican immigrants moving in to work at American Foods Group, one of two main meatpacking facilities in town. These residents are the new Green Bay packers.
Abundiz affectionately calls the area "Little Mexico," with its Mexican bakeries, grocery stores, restaurants, bars, clothing stores, banks and travel agencies.
"I remember when I came to Green Bay in 2000, there were Hispanic people but I didn't see a lot of Mexicans or Hispanic stores or bakeries and every year I was seeing a change," she said.
Maria Rodriguez and her family own one of those Mexican businesses, El Tapatio,  a grocery store and bakery with a restaurant attached, sitting on a small lot directly in front of American Foods Group.
Rodriguez arrived in Green Bay in 1993 with her children and joined their father who was working at the meatpacking plant.
She had six children when she came to the U.S., later having two more. She was raised Catholic and said her faith meant recognizing God as her creator and a source of peace in times of trouble.
When she first moved to Green Bay, she also saw church as the one place to converse in her native language and meet other immigrants. There were far fewer then, she said in Spanish as her son, David Rodriguez, a teacher for the Green Bay public schools, translated.
She attends St. Willebrord's, one of the first Catholic churches in the city to offer Spanish language services. She hears about political issues facing the Latino community from church and said that was where her family was first connected to social services in Green Bay.
"When we weren't well-versed in the community yet, they hooked us up with community services like Paul's Pantry (a food pantry). They were helpful," said David Rodriguez. One year people from the church brought a Christmas tree and food over for the holiday, he said. 
After the 2016 election, as Hispanic congregants saw policy directly affect their communities, the call to prayer and action from the pulpit increased. That has included petitions circulated among
Latino congregants, encouraging them to write letters to their state and federal representatives, Abundiz said.
"Lately I saw it maybe a couple times, 'Let's pray for immigration laws, let's pray for the government, everything about immigration issues,'" she said.  "(Years ago) I didn't see that much, but now I see how the church says, 'Hey what's going on? This is not right …. We know we have faith, everything can change. Let's pray about it.' Before I didn't see that."
Abundiz has signed petitions supporting Deferred Action for Childhood Arrivals, a program that allows undocumented immigrants brought to the U.S. as children to stay in the country. She has also written letters to U.S. Sen. Tammy Baldwin on issues affecting Latino immigrants that she heard about at church.
She said she is often conflicted about which party to align herself with. She doesn't feel Republicans care about Latino issues but says the Democrats do not represent her faith convictions on sexual ethics, LGBTQ issues, abortion and birth control.
She was excited to vote for Hillary Clinton, an avowed Methodist, in 2016 until she learned about her position on abortion. 
"She was supporting abortion and I was like, 'Wait a minute, I am pro-life.' It would be a nice change to have her as president but I'm not going to vote for somebody who has different beliefs. This is so hard because first it is my values, my personal values as a Catholic, but then Donald Trump, he is against my community, my Hispanic community. What do I do?"
Abundiz said she hadn't been following the governor's race, but noticed that local Democratic elected officials have attended events in the Hispanic community.
"This kind of nice that candidates even from Green Bay want to know how the Hispanic population are always feeling about what's going on," she said.
She said she knows several immigrants who have residency papers and are pursuing citizenship so they can vote in the election.
"The main reason they're becoming citizens is they're afraid," she said. "Many think the president will say 'Even though you're a resident, you do this, or you're not a resident anymore.'"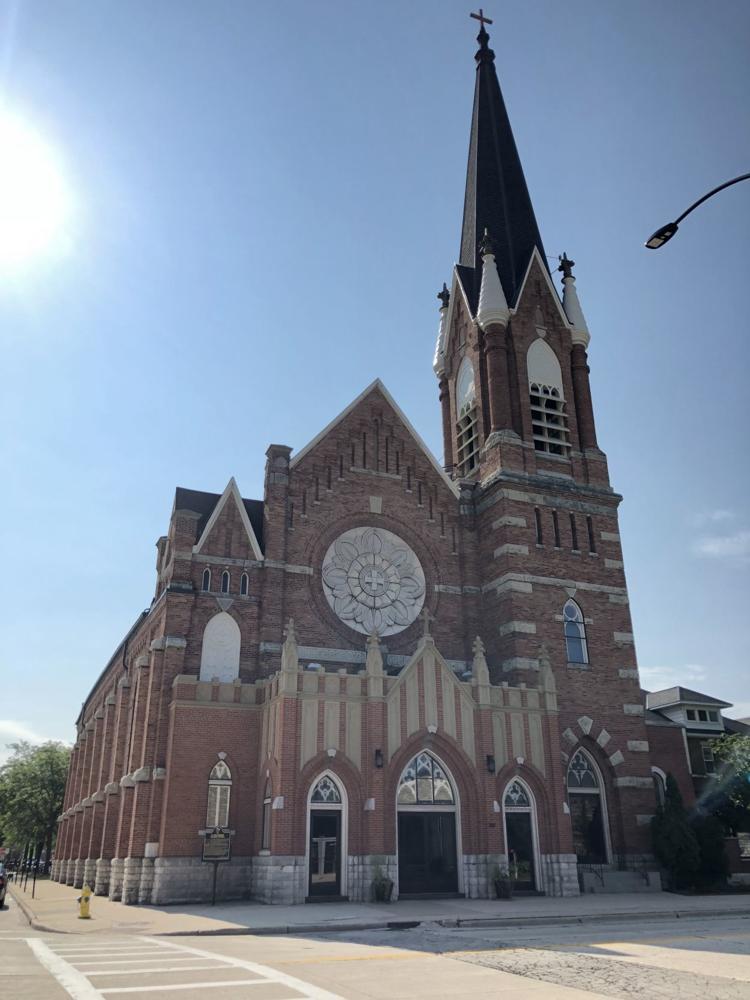 Although she is a citizen, Abundiz said she's afraid, too.
"I know I'm a citizen but I do not feel safe," she said. The federal government could decide it wants all Latino immigrants out of the country, even ones who are naturalized citizens.
"I feel like everybody is like, 'What is going to happen? And sometimes my relatives, my undocumented relatives say, 'Hey, but don't worry about it,' and it's like, 'No, we are a community and it doesn't matter if you're a citizen or not. We are at risk of going back to Mexico. 
"It's really hard what the president is saying about our community so it's not like 'Oh, I'm different, (because I'm a citizen).' It's hurtful," Abundiz said.
Abundiz said her faith informs her work as a social worker, but she also feels conflicted in certain situations.
"Sometimes right now we have teenagers pregnant and as a social worker I need to talk about it, 'Well, do you want to keep the baby?' It's hard," she said. "It's challenging because I have to provide this service and help the students who are my clients and when it comes to the point  with my personal values are different than my work values... it's very hard."
"(But) it's my job and I'm going to listen to them and help them (although) it's something the Catholic Church doesn't talk much about it,' she said.
Black Protestants in Racine
Bishop Lawrence Kirby presides over the oldest predominantly African-American church in the state, St. Paul Missionary Baptist Church in downtown Racine. Kirby is the area's longest serving black pastor with 38 years on the job.
The church was founded in 1857, and at 161 years old, it has nearly 800 members, 300 of whom regularly attend on Sundays. But membership has declined in recent years, he said.
The city of Racine has the highest unemployment rate in the state. Last month, the unemployment rate was 4.8 percent. The state's overall unemployment rate was 2.9 percent last month, according to the U.S. Bureau of Labor Statistics.
African-American unemployment is at 10.7 percent in Racine, more than double that of white unemployment, according to the U.S. Census Bureau.
Kirby and other African-American pastors in Racine preach an active Gospel rooted in the Bible, complemented with social and political activism.
"Our calling is this community," he said. "Most of what we do is community involvement. (How) we probably differ from other churches from Racine is that our commitment seems to be stronger as it relates to outreach in the community."
Kirby calls himself an "agitator" in the denomination and said he is known as the "street pastor" in Racine, in touch with drug dealers and criminals. He said he heard the call from God to minister in the city and said that call, which he understands in the context of the Bible, drives his emphasis on community service and social action.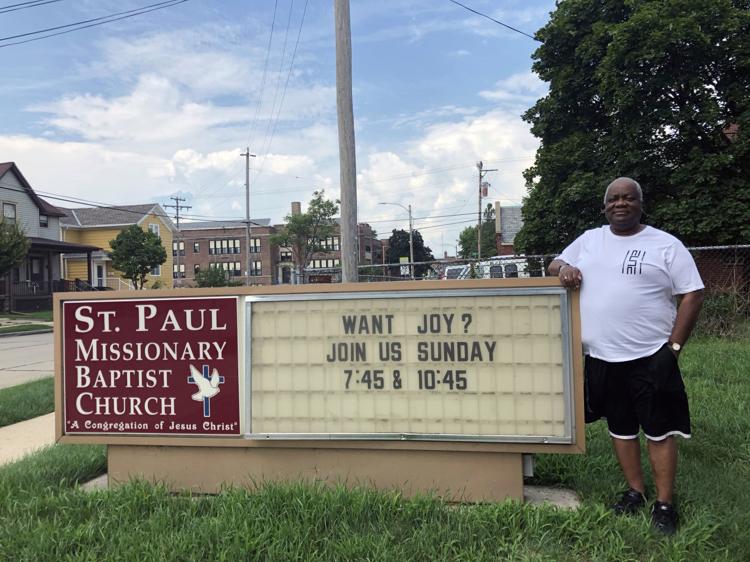 "It is so easy for religious leaders to become satisfied with building and finance and never reach out to help anybody in the community where they are," Kirby said. "We've gotten so religious that we don't do what Jesus did.
"My grandmother used to say, 'You're so heavenly minded that you're no earthly good.'"
"We read the Gospels. The only people Jesus criticized — not the sinners, not the adulterers — the only people Jesus criticizes in the gospel was religious people and we have become, in our day what the Pharisees were in the day of Jesus. Hypocrisy is what dominates religion now. We get religion and we think we're better than the gay, the lesbian, the alcoholic, the drug addict, the prostitute and we set ourselves up as judges and as a result of that we drive people away we need to be drawing closer," Kirby said.
"The call is to do what Jesus did. If Jesus would be visiting the jails and advocating for those people, that's what I ought to be doing," he said.
The church has a food pantry, and ran a day care center for 27 years. It is in the process of developing a program with Racine public schools for students who have been suspended, Kirby said.
In the time he has lived in the city, Kirby said he has seen opportunities narrow and hope diminish. As jobs left Racine, so did the workers who came to the city to pursue them.
"I've watched Racine kind of go on a downward spiral," he said. "It's been heartbreaking to me."
Now, many of the young people Kirby interacts with in Racine are hopeless, he said. Even as officials there look to the impending Foxconn plant to supply more jobs, many people who are unemployed will struggle to get to work because they do not hold a GED or diploma and have criminal records. How political candidates seek to solve that challenge is an issue he is monitoring this election.
"I think Foxconn is going to help but I don't think it's going to fix Racine," he said.
"We're not naive. I think a lot of people know that a lot of people are going to come from outside of the community and not as many as we hope from inside the community, but there are lots of reasons for that," he said.
The pastor said he is working with Racine County officials to start a GED program this fall at the church and plans to engage with nearby residents individually to encourage them to come. 
"There used to be a time in America when people were full of hope and just expected things to get better and that's what kept them working and moving because it's going to get better. That's gone," he said.
"How to minister to a group of hopeless people is a perennial challenge," he said.
To inspire people, he gets in the trenches and works with them, he said.
"They don't want to hear a sermon, they want to see one," Kirby said. "Nearly every drug dealer in Racine knows me …  they know I'll come see about them, I'll go to court with them, I will advocate for them… I think that's what pastors ought to do."
"It is so disappointing to me that so many churches, especially white evangelical churches, will send (money) to Africa, the international mission field, but won't do inner city missions… when America has become the real mission field."  
He opposes politicians who interpret Christianity to be a mandate to promote a specific partisan agenda. 
"Evangelical means, 'I'm willing to take Jesus outside the four walls of the church and take him to the community,'" Kirby said.
But that's not how many evangelical churches work, Kirby said.
"They say, 'Pull themselves up by their bootstraps.' But they ain't got no boots."
At Wayman African Methodist Episcopal Church in Racine, Rev. Ernest N'iA  directly engages his smaller congregation with local politics, directing social action from the pulpit and writing a 16-page worship guide. The bulletin outlines the sermon for the day but also posts job openings, information on health and wellness, managing finances and opportunities to get politically involved.
"I have a Bible in one hand and the newspaper in the other," he said when asked how he decides what to preach on Sundays. "We make no excuse that we are about social issues. None. Some churches say 'No, we are about God and the gospel' and we say, 'So are we, and that's what Jesus did.'"
"If I go to an atheist and help him attain a new job, I don't have to preach a single word to him," Ni'A said. "I've just preached the Gospel, he just saw it."
In the state's U.S. Senate race, he said he is most upset and concerned with immigration issues.
"Sometimes, yes, my (sermon) subject is dealing with current events, such as, how should we respond to children being taken away from their mothers? That's very hard for me ... I think I did more than one sermon on that." 
He has helped create a nonpartisan Racine Political Education Coalition that facilitates debates among candidates and educates voters on what certain political officers do. It hosted candidate forums throughout the summer before the state's primary election earlier this month.
"Part of Jesus' problem was that the religious community rejected Jesus because of his social issues. I guess I can be rejected because of my social issues. I hope someone don't put me on the cross for it," Ni'A said.
WELS Lutherans in Lake Mills
St. Paul Lutheran Church sits on a sweeping lawn at the edge of a cornfield in Lake Mills, 30 miles east of Madison.
It is a Wisconsin Evangelical Lutheran Synod congregation, or WELS, a branch of Lutheranism headquartered in Wisconsin with a network of grade schools, a college and seminary. This Lutheran synod has its roots in Germany and was established in Wisconsin when a missionary came to the state in 1848. 
The WELS are now the third largest Lutheran synod with 1,270 churches and 369,221 baptized members, according to the synod. St. Paul had 1,591 members last year.
Pastors at the church had concerns that a news story about congregants and politics would take a handful of WELS Lutherans and make sweeping statements about all Lutherans or all Christian voters.
The church agreed to talk on the record about how their faith informs their lives and social issues only after some off-record conversations and a promise that they could review a draft of their portion of the story before publication. The pastors assembled a roundtable of 10 people for a one-hour meeting at the church.
WELS Lutherans are known to be more theologically conservative, meaning their faith is wholly centered on the contextual, literal teachings of Jesus in the Bible.
Most people at the table had grown up in the faith and attended church for years. They largely agreed that their faith informed their identity and permeated all aspects of their lives.
But, they emphasized, they realized that living their lives was based more on what they believed Jesus had done for them, rather than what they themselves earned or could achieve through living a certain way or doing certain things.
How that looks varies for those who attend St. Paul. Members emphasized that while there are central tenets of their faith that guide their lives, how that manifests looks different on the ballot and across careers and personal experiences.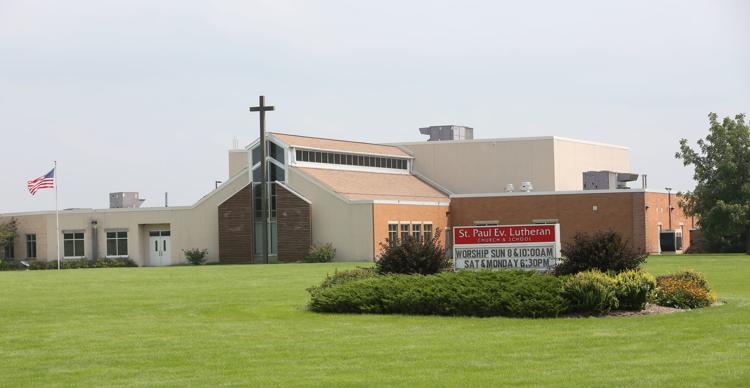 "I think it's extremely individual. I think it's not something that collectively we say but it's all again based on God's word and the truth that we find in God's word," said Julie Schwecke, who works as a public school art teacher in Lake Mills and says she is concerned with public education issues. "Politically, I think we all make our own decisions as far as what our conscience tells us and what we are led to know and believe through God's word."
She said her faith enables her to do her job with a love for all children she interacts with, seeing them as children of God.
The church avoids explicit discussions of politics or specific endorsements, said Timothy Nass, a pastor at St. Paul.
"Our synod has been very careful too to not say, 'Here's how you have to vote' because what unites us is our faith in Jesus Christ and our belief that God's word is true," Nass said. "So what I think you'll find is agreement on what principles are that God has said, but as far as how you apply that then in society and politics, that's something that each of us has to wrestle with in our different places."
Said Bruce McKenney, another pastor at  St. Paul: "I've seen yard signs in member's yards advocating candidates for whom I would not vote but we're still one in the faith. We still worship together."
Matt Doering, a member who works as a social studies teacher at Lakeside Lutheran High School in Lake Mills, said he is concerned both as a private school teacher and a citizen that religious freedom be protected.
"It's important that you can say and you have the right to believe what you believe and teach what you know to be true," he said.  
As far as gubernatorial and U.S. Senate candidates, Matt Doering's wife Jill said she pays attention to how they campaign and engage with the issues.
"I would love it if after August they kept telling me why I should vote for them as opposed to not vote for the other guy...I think it would be refreshing. It would help the ugly rhetoric that is politics in our state " she said.
"I think my faith involves that because we look at positives. Politics doesn't do that. Politics takes one fact and spins it in the worst possible way," she said.
Her husband agreed and said he wants an upfront and honest portrayal of a candidate's platform.
"You don't need to pander to a voter, just tell them what you honestly want to accomplish and what you would do in a certain situation," he said.
St. Paul's pastors and congregants emphasized that though they are not called to direct political action in church, they are encouraged to be involved civically and serve their communities. Congregants view work on social issues as a natural outpouring of their faith.
The government can't legislate morality, said Doug Tomhave, a pastor at St. Paul.
"Laws don't change hearts. Only the good news about Jesus does that. So, bloom where you're planted and the Gospel takes root," he said.
They noted the WELS national prison ministry which, according to the synod, has served 80,000 inmates across 1,300 facilities.
But what about Wisconsin-specific political issues that are being discussed in campaigns? The economy? Roads? Criminal justice?
"The most important thing is we want the people to know what the savior says and what our faith is," said McKenney. "We want you to get informed and we're not going to tell you who to vote for or what issue to get involved with because we all have different things that we're concerned about."
At the end of the interview, the Cap Times asked St. Paul members if they'd like to add anything or clear up any misperceptions of religious voters.
Melissa Ewoldt, who grew up in the WELS faith, spoke up. She said that evangelical is a word that means: We proclaim the gospel. It's not a political platform.
"The term 'evangelical' (is) in the name of our church, but there is a very negative connotation with that," she said. "If you hear the word 'evangelical,' I think maybe the average American or some of them would think we're very conservative, we think certain social issues should be one way or another and if you're not exactly lined up with our beliefs then you're absolutely wrong because we're absolutely right.
"You've heard pretty much everyone here say that's not how we think."