American Transmission Co. is proposing to build a $21 million substation and high-voltage power line in Verona to serve the growing electrical needs of Epic Systems.
The remaining $11 million would be passed on to about 5 million ratepayers in ATC's service territory, which includes the eastern two-thirds of Wisconsin and Michigan's Upper Peninsula.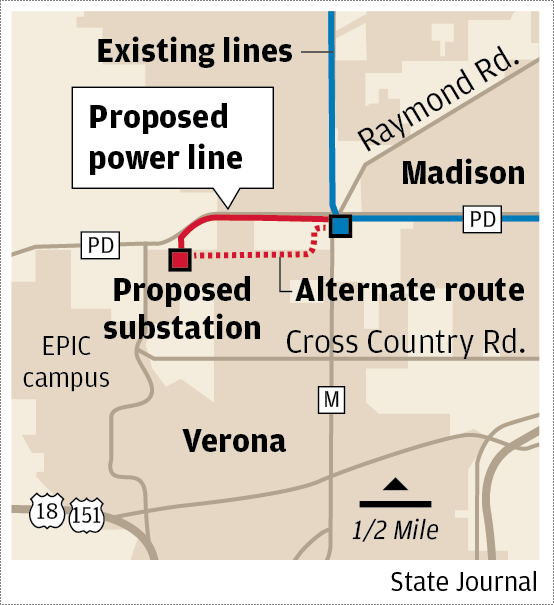 ATC is proposing to bury all but 0.1 miles of the 1.3-mile line, which would parallel Highway PD from an existing substation at the intersection with Highway M to a new substation that would be built on city land near the intersection of Woods Road.
There are 10 homes within 300 feet of the preferred route and none on an alternative route, according to the application.
It will be up to the three-member Public Service Commission to determine if the project is necessary and the most cost-effective solution.
ATC hopes to begin construction next fall and have the line in service by June 2021.
The 138-kilovolt line and substation are needed to provide backup to Epic's campus in case the primary connection fails, according to ATC's application. A company spokeswoman said future growth could result in demand that exceeds the current line's capacity.
Epic anticipates its current 15.5-megawatt peak demand will nearly double over the next decade.
That would put the company on par with the state's largest electric customers, which are mostly manufacturers, said Todd Stuart, executive director of the Wisconsin Industrial Energy Group, which does not include Epic.
Epic is also one of Alliant Energy's largest customers, according to documents filed with the Federal Energy Regulatory Commission.
Epic has 2.2 megawatts of on-site solar panels, one of the largest solar installations in the state. A company-owned wind farm near Waunakee can generate up to 9.6 megawatts of power, but the campus still needs a connection to the grid to meet the demands of computer servers and more than 9,500 employees working on the Verona campus.
Though the company says it's looking at other renewable energy options, ongoing energy conservation efforts won't be enough to offset the growing demand, according to ATC's application.
Founded in 1979, Epic posted revenues of $2.7 billion last year and says more than 230 million people worldwide have their health records stored with its software.
Headquartered in Pewaukee, ATC is a privately held utility that deals exclusively with high-voltage transmission lines. ATC is the lead developer of the $580 million Badger Coulee line between La Crosse and Madison, which is expected to be completed this winter, and the proposed Cardinal-Hickory Creek line between Dubuque, Iowa, and Madison.