William Hakizimana is hunkered down in a tiny sixth floor office at 100state, the coworking space overlooking the capitol Square, tinkering with a platform to help U.S. firms do business overseas. 
His company is called Export Abroad and Hakizimana thinks it's got a chance to take off. The idea is to compile a database of trusted contacts and customers in emerging markets so companies can confidently do business in new territory. 
"Our core mission is to break down the barriers of international expansion and provide companies with the tools to be successful in any market," said Hakizimana, 34, a native of Rwanda who came to the University of Wisconsin-Madison to pursue an advanced degree in information systems.
The city still has a long way to go to be considered a startup hub. Yet there are new signs that Madison could be poised for an entrepreneurial liftoff, given its top-notch research university, the nation's largest electronic health records firm in Epic Systems and no shortage of educated, enthusiastic young people. 
AOL founder Steve Case noted that potential when he brought his "Rise of the Rest" road show to Madison last fall to visit a dozen promising new companies. Excitement over a proposed $10 million incubator in the trendy East Washington Avenue corridor has added to the buzz. 
And now, four Wisconsin-based venture capital groups, each with a different focus but potentially working together, have set up shop at 111 N. Fairchild St. in a sparkling new office building that offers views of the Capitol on one side and the Overture Center on the other. 
"I think more investment money is coming in because there are more opportunities," said Fred Robertson, former CEO at TomoTherapy who heads the Madison office of Baird Capital Partners. "We all believe it's only going to get stronger because of the healthcare IT innovation we are seeing and because of the spinoffs Epic has been spawning." 
Joining Baird at 111 N. Fairchild St. is 4490 Ventures, a $30 million venture fund headed by California transplant Greg Robinson; HealthX Ventures, a fund started by Nordic Consulting founder Mark Bakken; and American Family Ventures, a newly created fund from the Madison property and casualty insurance giant. 
"I'm jokingly calling this building the Sand Hill Building after Sand Hill Road in Silicon Valley," said 4490 Ventures partner James Crawford, referencing the road in Menlo Park, California, home to 40 of the nation's largest venture capital firms.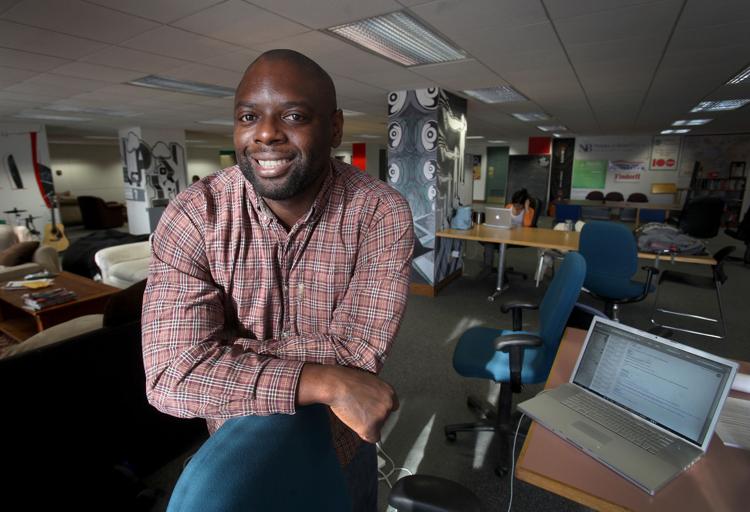 As the Wall Street of the private equity world, Sand Hill Road connects directly to the Stanford University campus. Deals can be cooked up over lunch as entrepreneurs, researchers and investors frequent the same restaurants and social gatherings. 
Madison isn't anywhere close to that level of dealmaking, but there is clearly excitement from having locally managed venture capital firms located around the corner from 100state and walking distance to the UW campus.
"You get a sense there is a lot of great stuff happening," said Megan Orear, 23, a former Epic staffer now serving as community manager at 100state which moved last summer to 30 W. Mifflin St. "I just think it's a lot easier to take risks if you see other people doing the same thing." 
Even the notoriously conservative insurance industry is jumping into the startup scene. American Family Ventures, commands the top floor at 111 N. Fairchild St. with enough space to entertain a bevy of high rollers. 
AmFam Ventures managing director Dan Reed said the fund has a mandate to invest $50 million in early stage companies in areas related to insurance such as home automation, connected vehicles and data and analytics. One of its first investments was with Abodo, the Madison online apartment search marketplace. 
"The fund's goal is to serve our policyholders by engaging with emerging trends, gaining access to new vendors and participating in the development of transformative technologies," Reed said. 
HealthX Ventures is focused on the healthcare space. Managing partner Bakken is a veteran of the local IT scene, founding Goliath Networks in the 1990s, seeing it sold off amid the dotcom bust, and then founding Nordic Consulting, which with over 400 local employees has grown into the largest consulting firm for Epic customers.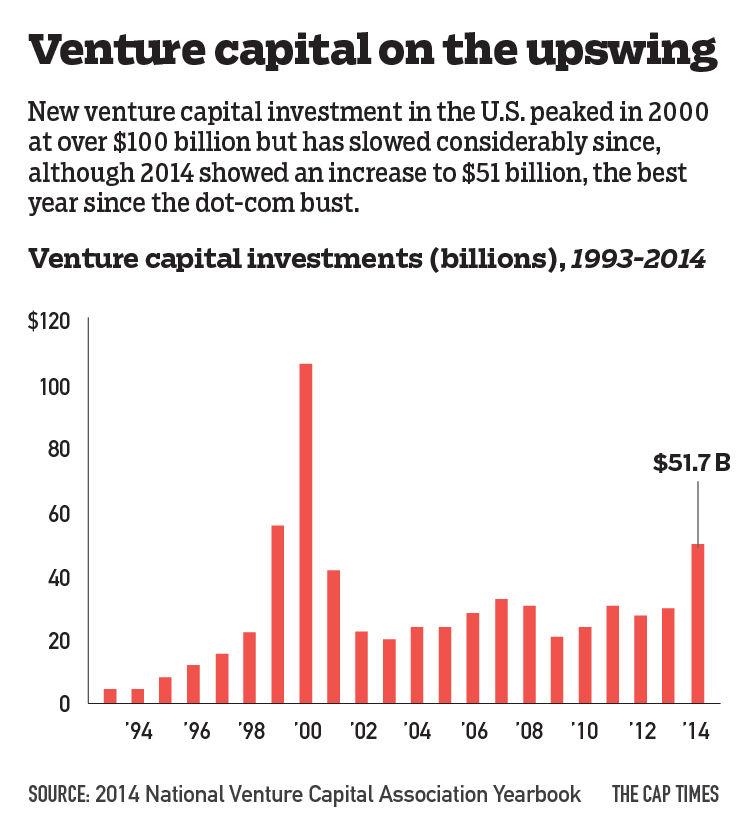 Bakken hopes to put his experience and connections to work helping other healthcare IT companies get off the ground. He said Madison is perfectly positioned to take advantage of what he sees as a key component to the U.S. economic recovery going forward: lowering health care costs.  
So why should Madison care whether entrepreneurs can find investors to help turn their ideas into a real company with a payroll and a tax accountant? It's all about the jobs. 
The fastest growing jobs in Wisconsin are biomedical engineers followed by network systems analysts, financial examiners, medical scientists and biochemists, according to U.S. Census Bureau projections through 2018. Think Epic Systems, GE Medical or Promega Corp. 
By comparison, the fastest declining sectors are pulp and paper mills, basic chemical manufacturing, cutlery and hand tool manufacturing and HVAC or commercial refrigeration manufacturing. All were once backbones of the state economy. 
And new economy jobs aren't just the fastest growing. They also pay a lot better. 
Technology sector workers in Wisconsin earned on average $68,400, according to the most recent figures from the TechAmerica Foundation. That's 70 percent higher than the state's average private sector wage. 
"In the past 25 years, all net new job growth in the U.S. has stemmed from young, high-growth companies," said Ray Leach, chief executive officer of the Cleveland nonprofit JumpStart, which was founded in 2003 to boost entrepreneurial activity in northeast Ohio. 
Leach said Madison has lots going for it but like many other Midwestern cities was late to the game in realizing the potential of its startup sector. He compared the region to where Silicon Valley was in 1975.
"It's going to take some time," he said. "The only way you become more prominent is by having success, which provides more access to capital. If you can't do that, you are never going to build a concentration of successful companies you can grow on."
Indeed, a shortage of early stage investment capital still hangs over the local startup scene. It's one reason the Madison metro area recently ranked 35th in "America's Most Innovative Tech Hubs" by the consumer finance website Nerdwallet.
Of the $192 billion of venture capital under management in the U.S. at the start of 2014, just $334 million, or less than .2 percent, was invested in Wisconsin companies. And a lone firm, Madison-based Venture Investors, accounts for $201 million of the state's VC total.
"It's frustrating because there are tons more good ideas here than funding mechanisms," said Liz Eversoll, a former top executive at Berbee Systems who now heads Solomo Technology, which makes a smartphone app that personalizes the shopping experience and lets marketers track consumer trends.
Eversoll, whose company won a $100,000 investment from Steve Case during his visit, notes that several of the most promising Madison startups have moved their headquarters to New York, Chicago or Silicon Valley where their investors are located. Those who have sought greener pastures recently include SnowShoe, Networked Insights, MdotLabs and StudyBlue.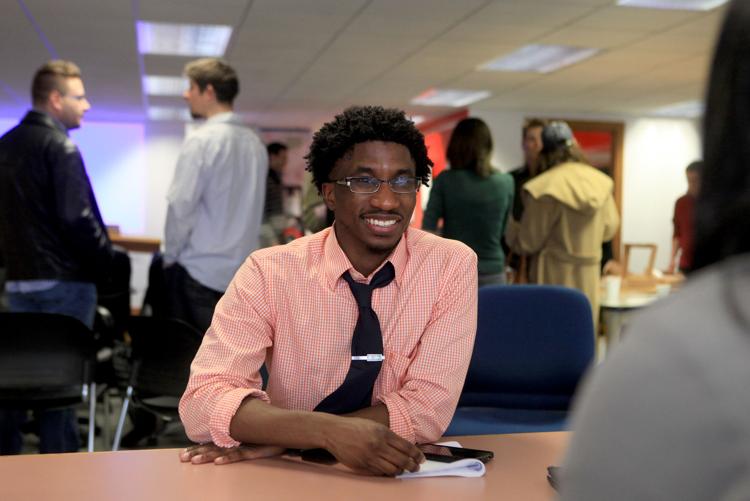 And the biggest venture capital deal in Wisconsin last year, the $14.5 million secured by Madison asthma device maker Propeller Health, was bankrolled by a Philadelphia firm.
"A lot of the pieces are in place but we're just not there yet," said Eversoll, whose company counts 30 employees at its office at 222 W. Washington Ave.
Madison entrepreneur Hakizimana is trying to be patient. He met Export Abroad co-founder Austin Grandt while both worked as baggage handlers at the Dane County Regional Airport. Over the past year, they have tapped friends and family for funding but are at the point where they need more money to hire additional staff.
Grandt is now splitting time between Silicon Valley and the Twin Cities, trying to locate investors and generate sales, while Hakizimana holds down the Madison office. The company has four employees here and one in Palo Alto at Stanford University.
"We had talked about moving to San Francisco but it's a lot less expensive to rent office space here," said Hakizimana. "What we need is more money so we can grow."
When talking about early stage investment or venture capital, it's important to keep in mind it's not a one-size-fits-all proposition.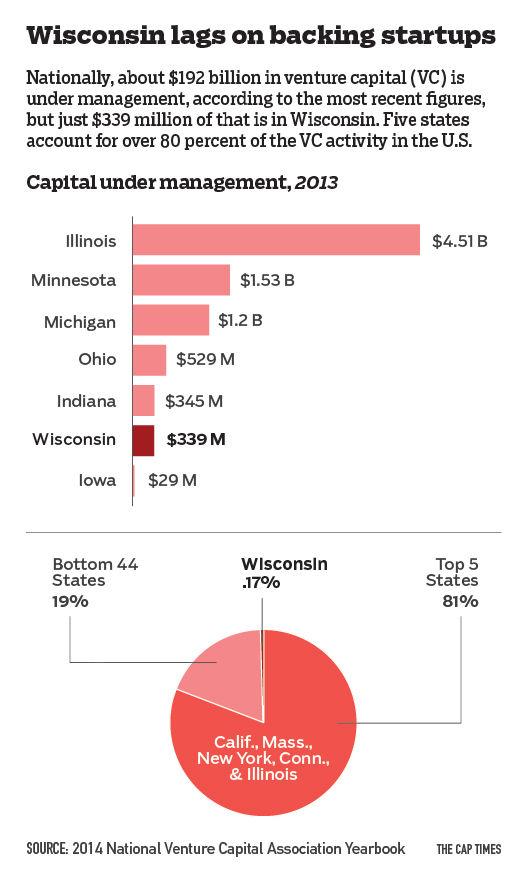 By some measures, Wisconsin is doing a decent job in addressing the capital needs of companies in the earliest stages. Act 255, established with bipartisan support in the Legislature a decade ago, provides tax credits to investors in state-certified new businesses.
As a result, the state has developed a solid network of angel investors, individuals with a few hundred thousand dollars to invest in a startup.
But where the state really lags is on the mid- to later-stage rounds where more established firms need several million to ramp up spending on staffing, equipment or product testing. This is a time when companies will pick and leave to be closer to the money tree.
Venture capitalists, the theory goes, don't like to fly to board meetings and certainly don't like making connecting flights into weather-challenged destinations like the Dane County Regional Airport.
JumpStart's Leach notes that 75 percent of venture investment goes to companies within an hour's drive, highlighting the importance of locally sourced capital.
"Nobody wants to travel for a $4 million investment," he said. "They will just move the company."
Other observers say Wisconsinites are too risk averse and lack the entrepreneurial moxie to try, fail and try again. Insiders lament the lack of successful "exits" that allow investors to cash out and put their profits toward the next big thing.
The Walker administration has focused more on offering tax cuts and credits to the traditional manufacturing sector. Gov. Scott Walker rarely mentions Epic Systems, the most successful tech firm in Wisconsin history, and its 8,000 employees, when touting the state economy.
There are also hurdles due to the type of research being conducted at the UW. Of the roughly $1.1 billion in federal grants coming into the university annually, some $700 million is related to biotechnology or biomedical research – two areas that are expensive to commercialize.
"To get through FDA trials can cost anywhere from $20 to $50 million," said John Neis, managing director of Venture Investors. "You just can't get there with $1 or $2 million investments."
As the largest venture capital firm in Wisconsin, Venture Investors has secured millions from some of the deepest pockets in the state: the State of Wisconsin Investment Board; the Wisconsin Alumni Research Foundation; Madison Gas & Electric and Thrivent Financial, among others. WARF and SWIB are also providing the $30 million to fund 4490 Ventures.
Venture Investors played a central role in funding some of the most successful technology companies in Madison. It invested $42 million in radiation delivery device maker TomoTherapy; $70 million in biotech tools firm NimbleGen Systems and $70 million in Third Wave Technologies, which made diagnostic tests for human papillomavirus and cystic fibrosis.
At the same time, all three have since been acquired by out-of-state interests and have moved their headquarters out of Wisconsin.
NimbleGen Systems was purchased by pharmaceutical giant Roche in 2007 for $272 million and has 75 employees remaining here. Third Wave was sold to Boston's Hologic Inc. in 2008 for $580 million but no longer has any jobs in Madison. In 2011, TomoTherapy was sold to San Diego-based Accuray, a California maker of equipment for radiation surgery, for $277 million.
The upside is that early stage investors can cash out when a local company is sold and then take those proceeds and invest in the next big opportunity. The downside for the city is the loss of jobs and the company nameplate.
TomoTherapy founder Thomas "Rock" Mackie is encouraged, however, that Accuray has maintained its manufacturing operations in Madison and now employs 265 people at 1240 Deming Way. It has been adding staff here over the past year.
Mackie also notes that Exact Sciences CEO Kevin Conroy moved his company from Boston to Madison. The firm, which makes a non-invasive screening test for colon cancer, has been on a hiring binge of late and could reach 500 employees by the end of 2015.
"This is Wisconsin," said Mackie. "We still like to build things here."
Venture Investors' Neis admits he's as frustrated as anyone at the pace of venture capital activity in Wisconsin. In fact, the top five states — California, Massachusetts, New York, Connecticut and Illinois — still hold 81 percent of the total venture capital under management in the U.S., according to the National Venture Capital Association. Wisconsin sits down the list at No. 25.
"(Venture Investors) can't do every deal," said Neis. "If we had three or four other venture funds in that $75 to $100 million range it could be transformative."
Neis said it's always possible to partner with some of the larger VCs, but he said it comes down to bringing enough money to the deal to attract interest from outside the state.
"You can go to the coastal money and say 'I have $30 million and need $15 million more' and you might get some interest," he said. "But if you say 'I have $6 million and need $40 million more,' that's just not going to fly."
Neis and others are now pointing to Michigan as one Rust Belt state that has done a good job building a successful funding model.
Realizing the auto industry was facing major headwinds, Michigan a dozen years ago began leveraging state dollars into a "fund of funds" – where money is distributed to new or existing professionally-managed venture capital entities to make the investment decisions. It has since pumped over $300 million into its startup economy.
Today, Michigan counts $1.6 billion in VC under management with 33 different venture funds operating, compared to nine in Wisconsin. In fact, Michigan has opened its wallet to the point where Venture Investors opened an office in Ann Arbor to take advantage of the available capital.
"Bottom line is Michigan has done a great job through a sustained, public-private effort," said Neis.
By comparison, Wisconsin didn't take the same approach until 2013 when the Legislature finally approved putting $25 million into the Badger Fund of Funds, which is being managed by veteran investor Ken Johnson of Kegonsa Partners.
While a step in the right direction, it's still a small amount of money in the larger scheme of things, said Eversoll.
"Every little bit helps but we're nowhere near where we need to be," she said.
Crawford of 4490 Ventures, who relocated back to the Midwest with his wife from Brooklyn, New York, last year, is more bullish on the local startup scene. He thinks Madison will continue to attract talent and investment dollars as time goes on and word spreads about the opportunities.
In terms of funding startups, Crawford makes the comparison with college football recruiting.
"You need to land everyone in your backyard first," he said. "Then you can work to expand your reach."