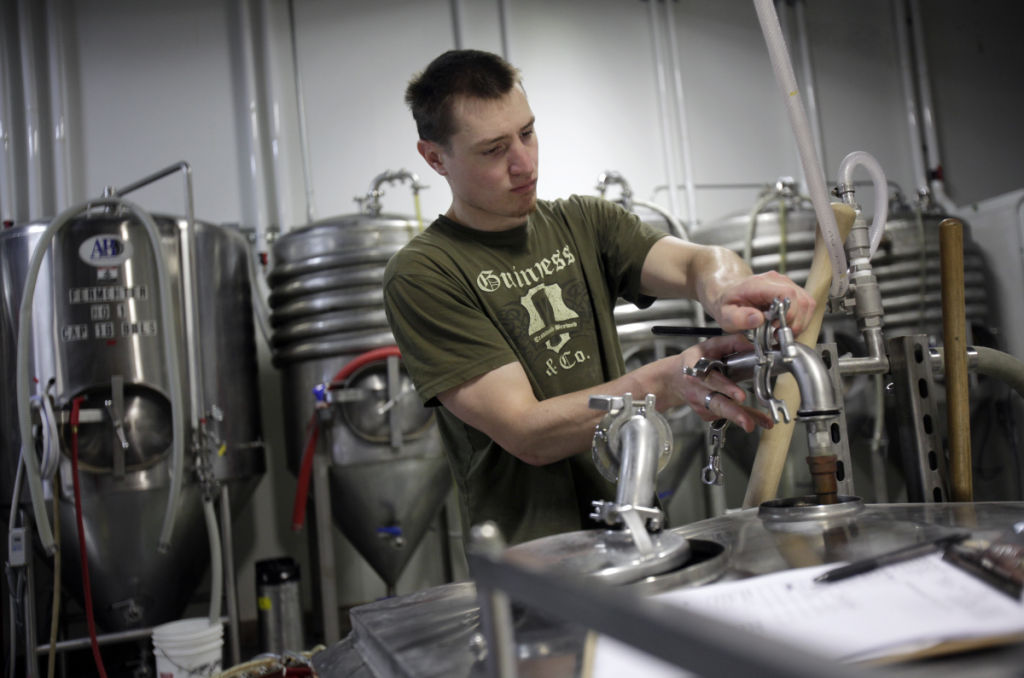 Just three weeks after completing a crowdfunding effort, Madison-based MobCraft Beer has announced that it will remodel a 14,000-square-foot warehouse in Milwaukee into a $2 million brewery.
But the 2-year-old company still has plans for Madison.
Henry Schwartz, one of MobCraft's co-founders and its CEO, said this week he is looking for a spot in Downtown Madison to open a tasting room with a one-barrel brewing system. The facility would likely be similar to that of One Barrel Brewing Co., 2001 Atwood Ave.
"We're working on it right now, but we don't quite have a site selected," Schwartz said. "It's still very much in its infancy. We're working on one project at a time. It's our end goal of how we'd like to be running."
Schwartz said he is looking for a 1,200- to 1,600-square-foot space that would be "smaller and more intimate."
MobCraft was the first company to try Wisconsin's new crowdfunding law, which took effect in 2014. The brewery hoped to draw $250,000 in investments but raised only $68,525 from 48 investors during the three-month campaign that ended in January.
Despite not reaching its fundraising goal, Schwartz said owners were able to leverage more debt and are looking at several revolving loan funds to help finance the Milwaukee project.
The brewery, which also includes a tasting room, still needs zoning approval from the city of Milwaukee. It will be located in the Walker's Point neighborhood, home to the Harley-Davidson Museum, Iron Horse Hotel, the Milwaukee Brewing Co. and a large concentration of restaurants. It's also in the same neighborhood as Clock Shadow Creamery, an urban cheese plant created by Bob Wills, owner of Cedar Grove Cheese in Plain, which opened in 2012.
Since its founding in 2013, MobCraft has brewed its beer on a 10-barrel system at the House of Brews in Madison. The new facility will use a system that allows for 30 barrels of beer to be brewed at a time and include 30- and 60-barrel fermentation tanks.
In 2014, MobCraft, which makes beer based on recommendations from its fans, produced 420 barrels of beer and this year is shooting for 1,600. After the new facility opens in November with seven employees, Schwartz has a goal of producing 3,600 barrels of beer by the end of 2016 and 12,000 by 2020.
The increase will allow further expansion of the brand that is primarily distributed in Madison and Milwaukee but also in Hudson, Wisconsin Dells, Eau Claire, Beloit, Green Bay, Racine and Kenosha.
The facility, that will also include a 16-ounce canning line, allow MobCraft to focus on a line of four flagship beers in addition to seasonal and crowd-selected beers.
"We're excited to get more beer out there, and getting more tap handles in bars with our products," Schwartz said. "It's just more access to good beer."