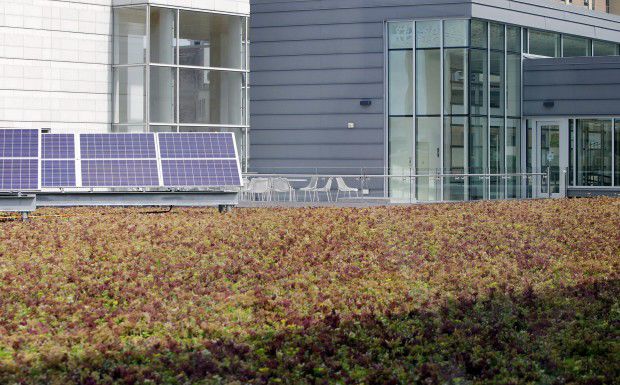 Solar panels could sprout on top of older Madison apartment buildings. The city could provide space for a large solar installation, or begin a pilot project using technology to store sun- or wind-derived energy for later use.
Those proposals and more are part of a plan endorsed by the City Council last week to give tangible paths toward broader goals adopted five years ago.
"We're taking a big step with this work plan," said Raj Shukla, chairman of the Sustainable Madison Committee that chiseled the recommendations.
"We know this is not all going to happen next year," he said. "This provides a road map for issues we would like to work on."
The Energy and Carbon Work Plan approved this week follows the Madison Sustainability Plan the City Council approved in 2011.
It called for reducing carbon-related pollution 80 percent by 2050; using renewable sources for 25 percent of the electricity, heat and transportation energy by 2025; and cutting energy use 50 percent by 2030.
"They were a lot of great ideas with very little by way of solid steps," Shukla said.
"We're very excited that the city of Madison is continuing to show clean energy leadership and putting some actionable steps behind commitments that they had previously made," said Tyler Huebner, executive director of RENEW Wisconsin, a renewable energy advocacy group.
Shukla said one of the top recommendations is to create a city government position on sustainability.
"It's very easy for other priorities to trump environmental concerns. We believe that having an advocate in the city — a high-level position — would focus priorities," Shukla said.
Another important step will be to see if the 2011 goals should be updated, he said.
"Science and technology have advanced since then (while) the severity of the challenges that we see have become more clear and more intense," Shukla said.
Start a PACE (Property Assessed Clean Energy) program to help finance residential energy updates, as Milwaukee has for commercial properties, paid back through property taxes and spread over time.
Develop a plan for LED city street lights.
Analyze the cost of carbon-based pollution from city vehicles and buildings and how to offset it, as companies such as Microsoft and Disney do.
Continue residential group purchases of solar units.
Benchmarking will be an important aspect, said Ald. Ledell Zellers, District 2. She noted the city already has plans for LED street lights on parts of the East Side.
The lone "no" vote from the 20-member City Council came from Ald. David Ahrens, Dist. 15, the only council member on the Sustainable Madison Committee.
Ahrens said the plan lacks substance, except for the PACE financing program, and the city has little authority over energy use by residents and businesses.
Ahrens said he would like Madison to commit to installing another megawatt of solar power and to invest in more hybrid and electric buses. He said if a city sustainability staff member is added, the employee should focus on making city government buildings more energy efficient.
Also this week, the city revived its MadiSUN Group Buy for Rooftop Solar, letting homeowners make joint purchases of solar units to hold down the cost, and offering low-interest loans through Summit Credit Union and the state Focus on Energy program.
It is the first time the group buying program is being used since 2012. The city hesitated, said Madison facilities and sustainability manager Jeanne Hoffman, after Madison Gas & Electric proposed rate revisions in 2014 that would have "decimated" payments to solar-equipped households that send excess power to the grid. The provision was later scrapped.
Working with MGE will be crucial for the city plan's success, Shukla said. He said MGE's 2014 rate proposal, which also called for raising fixed monthly electric charges from $10.50 to $67 by 2017, "did a lot of damage" to MGE's reputation. The proposal was later amended, raising the monthly fixed charge to $19 instead.
MGE, meanwhile, released its own Energy 2030 plan last November. It calls for using renewable sources for 25 percent of retail customers' needs by 2025 and 30 percent by 2030, reducing carbon dioxide emissions and encouraging energy efficiency.
Shukla was not dismayed that MGE and the Sustainable Madison Committee devised separate plans rather than collaborating on a single proposal. "MGE's scope of work goes beyond the city of Madison. Also, what the Sustainable Madison Committee wants to accomplish is not exclusively related to MGE," Shukla said.
MGE registered in support of the city's work plan before the City Council. "MGE staff are looking forward to working with city representatives to determine how we can partner and where we can advance common interests," Chairman and CEO Gary Wolter said in a statement.
Shukla said he expects talks between the Sustainable Madison Committee and MGE to begin by early July.
Shukla said attacking global warming is a matter of social and racial equity. "The people who are most affected, fastest, by pollution and by global warming are typically the poorest, the most vulnerable and often, the brownest," he said. At the same time, he said, expanding green energy can provide jobs.