TOMAH — The whole idea was to share and preserve history, make it accessible and to build community.
That mission remains true for the Ho-Chunk Nation, which in January opened its museum and cultural center in downtown Tomah after decades of dreaming and years of planning.
Only instead of art exhibits and historical displays drawing in tribal members, tourists and others interested in the Nation's deep and rich past, there are now volunteers, conservators and some of the biggest names in historic preservation helping to dry out and save the collection and archives that sustained water and smoke damage from a fire in a neighboring building.
Remarkably, virtually nothing was lost beyond repair. But for the past three weeks woven baskets, bead work, arrowheads, photographs and thousands of documents have been laid out to dry on the gym floor of the Ho-Chunk Youth Center. The work is now focused on cleaning soot from objects, scanning and refiling documents into new acid free folders, preserving photographs and building new containers from specialized but expensive cardboard designed to hold historic items.
COVID-19 closed the museum in March and its director, Josie Lee, was laid off in July. But since the Nov. 29 fire that destroyed the roof of the museum and left more than three feet of water in the basement where most of the collection and archive was stored, Lee has been working long days to make the collection whole again and coordinating those offering help.
"Honestly, we're just so lucky there were so many people that were willing to help to save all of this," Lee said. "I think in everything I've tried to do has been about building community and this is really a fantastic way to extend that in a new way. It's horrible what happened but (the response) has been pretty fantastic."
Among those assisting in the efforts are heavy hitters like the Field Museum in Chicago and the Smithsonian Institution. But there has also been a wave of volunteers from the community along with help from smaller organizations like the La Crosse County Historical Society, Mississippi Valley Archeology Center in La Crosse and the Wisconsin Historical Society.
There have been offerings from conservators in Madison and Milwaukee who specialize in repair and preservation of historical items while an intern from the La Crosse County Historical Society is scheduled to begin work this week. The head of a local archeology group, Ryan Howell, launched a fundraiser earlier this month with a goal of $20,000. As of Saturday, the effort had more than $18,000 in pledges.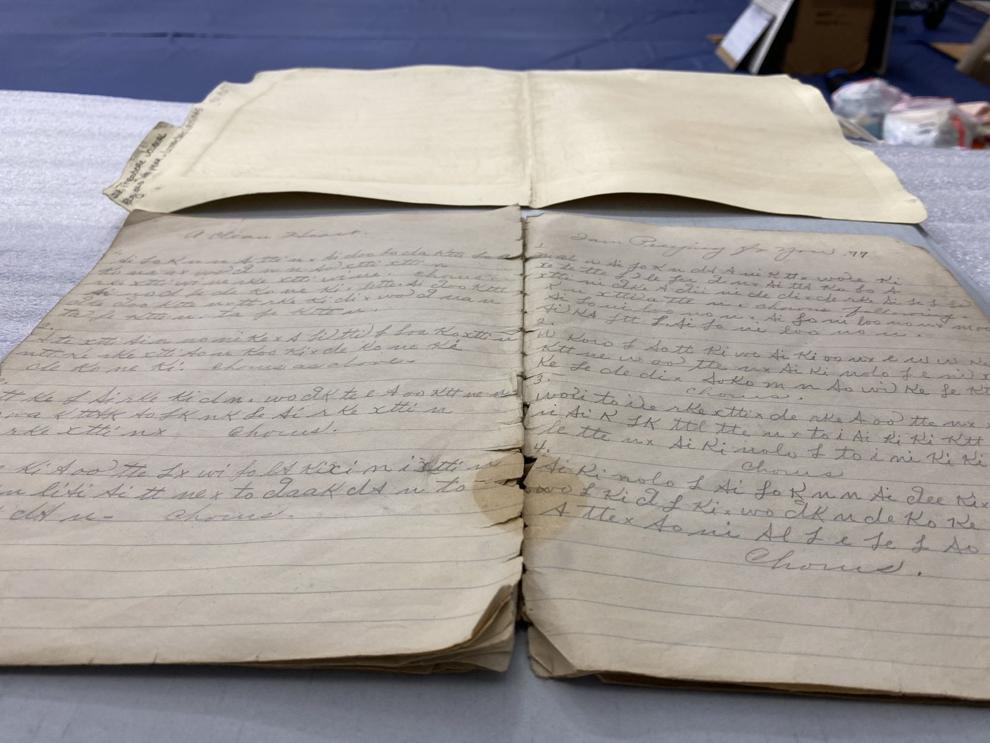 Howell, who lives in Warrens, has worked with the Ho-Chunk Nation on efforts to preserve and identify items found in the area that relate to the Nation's history. The museum and cultural center serve as conduits for educating those unfamiliar with the Ho-Chunk's past.
"I think it's really important that the Ho-Chunk have a place that they tell their history and their story in their own words," said Howell, who runs Wisconsin Archeology Artifacts, a 3,000-friend Facebook page. "To me the museum is a step in the right direction in that effort. And with COVID going on, the tribe has taken a financial hit just like everybody else this year."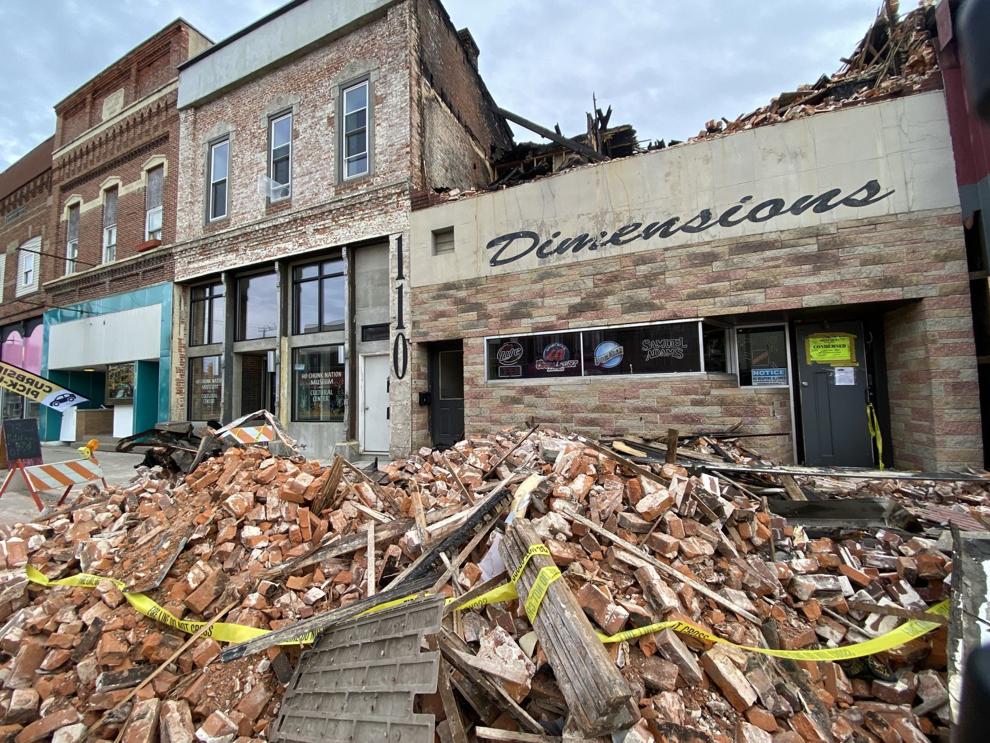 Multiple buildings in the 1100 block of Superior Avenue, the city's main drag, sustained damage from fire, water or smoke or a combination of the three. The blaze, reported at 5 a.m., started in an apartment above Dimensions Bar, ultimately destroying the building and a neighboring building that was home to Artisan Market. One person was rescued and 45 firefighters from Tomah, Sparta, Fort McCoy and Oakdale responded to the scene, according to the La Crosse Tribune.
Later that day, teams of volunteers descended on the museum to pull items from the soaked facility.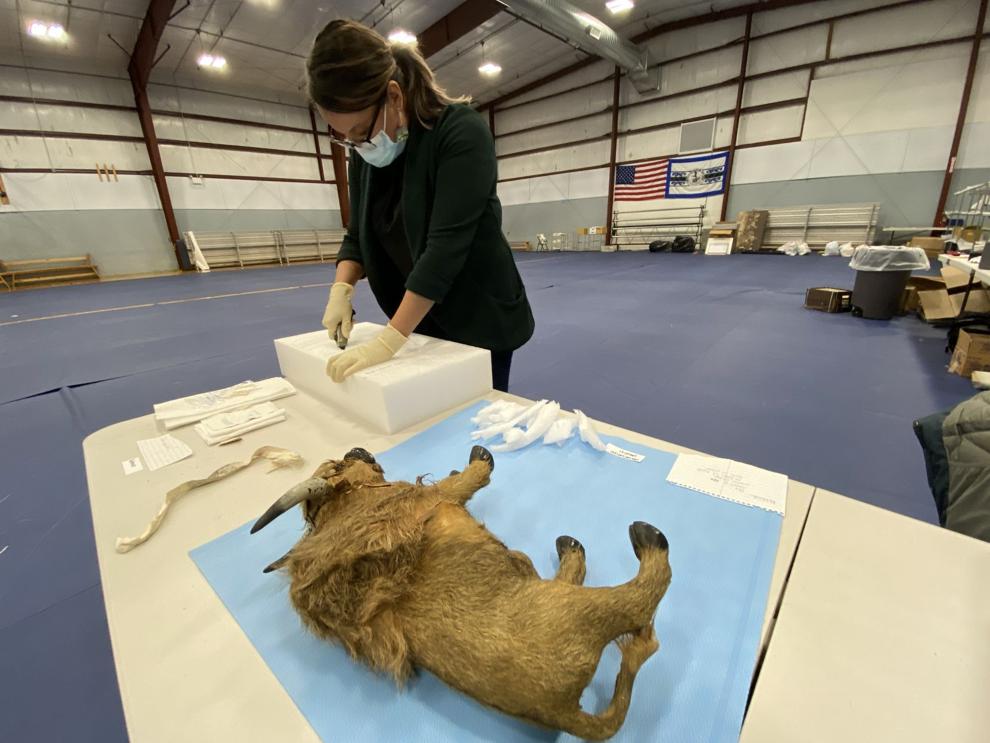 The roof of the Ho-Chunk's building will need to be replaced and the building, the former home of the Tomah Journal, is undergoing a deep clean, projects that could cost more than $250,000, according to Sampson Falcon, executive director of Ho-Chunk Nation's Department of Heritage Preservation, which oversees the museum and cultural center along with divisions of language, veterans affairs, cultural resources and enrollment. It's unclear when the museum and cultural center will reopen and, when it does, if it will be in the same location.
One option being considered would put the collection in storage for a year with the Nation opening a miniature museum until a larger facility can be created, whether it's in the city's downtown or elsewhere, a process that could take three years, Falcon said.
"We're taking it day by day. Right now we're just coming out of the trauma and trying to plan for the future," Falcon said. "But it could have been worse. It could have been way worse."
Preserving a voice
Native to Wisconsin, the Ho-Chunk ("People of the Big Voice") took advantage of the state's fertile landscape for hunting and farming, once presiding over a vast 10.5-million-acre tribal territory from Green Bay to La Crosse and down to northern Illinois.
Formerly referred to as Winnebago, they were relocated to other Midwestern and Plains states numerous times starting in the 1820s when the U.S. government forced them to sell their Wisconsin land at a fraction of its worth. Over time, tribe members migrated back to their native Wisconsin lands, often facing resistance, persecution and disease.
Today, the tribe owns nearly 9,000 acres in 14 Wisconsin counties and is headquartered in Black River Falls.
Their museum and cultural center opened with great fanfare in late January but because the museum had been closed for over eight months at the time of the fire, an exhibit that featured about 20 wildlife paintings of the late Native American artist Clarence Monegar of Black River Falls had been removed from the building.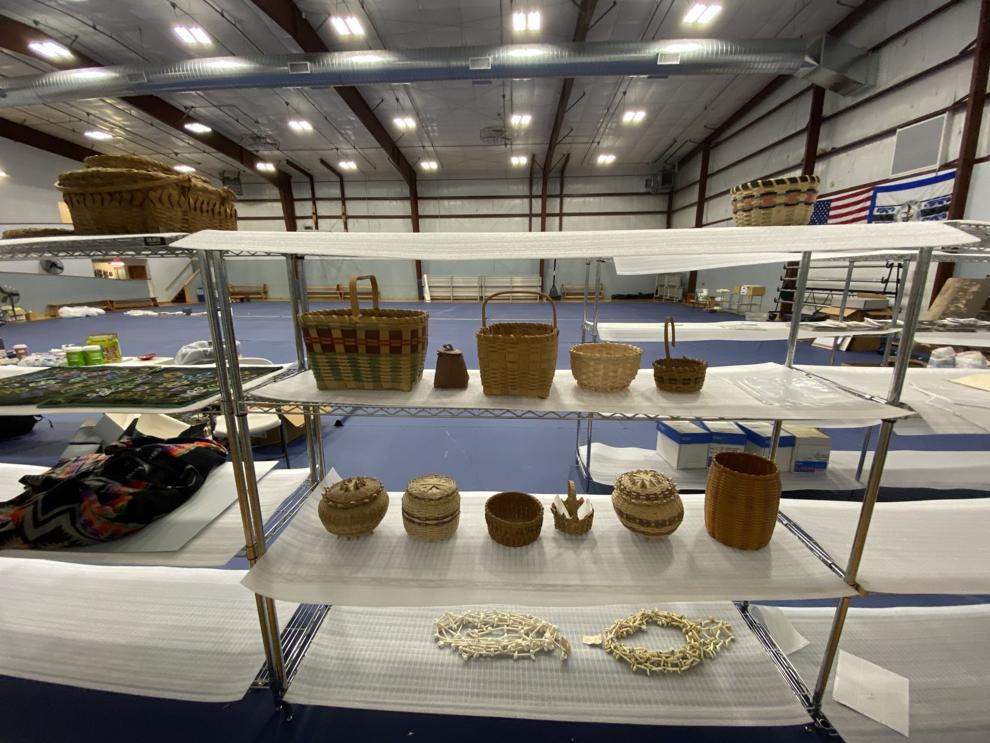 Most things in the museum were in storage in the basement, which is where they became soaked as firefighters sprayed an estimated 600,000 gallons of water on the blaze. A portion of the museum's basket collection was also off-site at the Nation's Language Division in Mauston.
But for now, the gymnasium at the youth center is serving as the work space for Lee and her volunteers. At one point the entire floor was covered with documents and photographs but now only a portion of the floor is covered with photos while most of the dried documents have been stacked on tables.
Portable, temporary shelving holds journals, baskets and beaded clothing while a section of bleachers holds a string of picture slides that have been taken apart to allow the cardboard frames and the film images to dry before they are reassembled and placed into proper storage.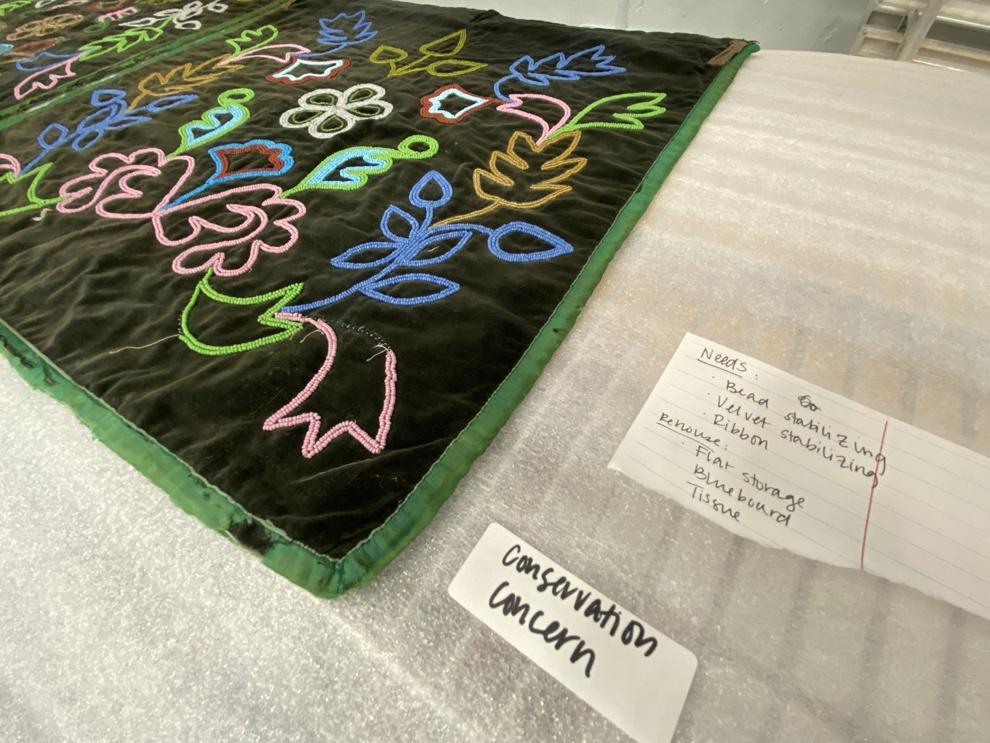 Craig Deller, a Madison conservator and a member since 1982 of the American Institute for Conservation of Historic and Artistic Works that is also assisting the Ho-Chunk, said he and a member of the Field Museum sat down with Lee a few weeks ago and helped her pick out of a catalog supplies she would need to properly store and archive items. It included blue board for photos and for making boxes and sheets of clear, polyester film used to cover and store photographs. The $3,000 price tag was picked up by the Smithsonian.
"Small museums just don't have the funds," Deller said. "There's been some really nice outreach."
Another year to clean
On Tuesday of last week, Lee, who was hired in 2015, was working alone in the gymnasium concentrating on making a housing for a small replica of a buffalo that was covered in soot. Lee, 33, used a box cutter to dig out a space in a block of Styrofoam but also had on her mind her husband and two young girls, ages 3 and 5, and the two papers she's writing so she can complete her first semester in a doctoral program in First Nation education at UW-Green Bay.
The Tomah native already has an undergraduate degree from UW-Madison and a master's degree in museology from the University of Washington.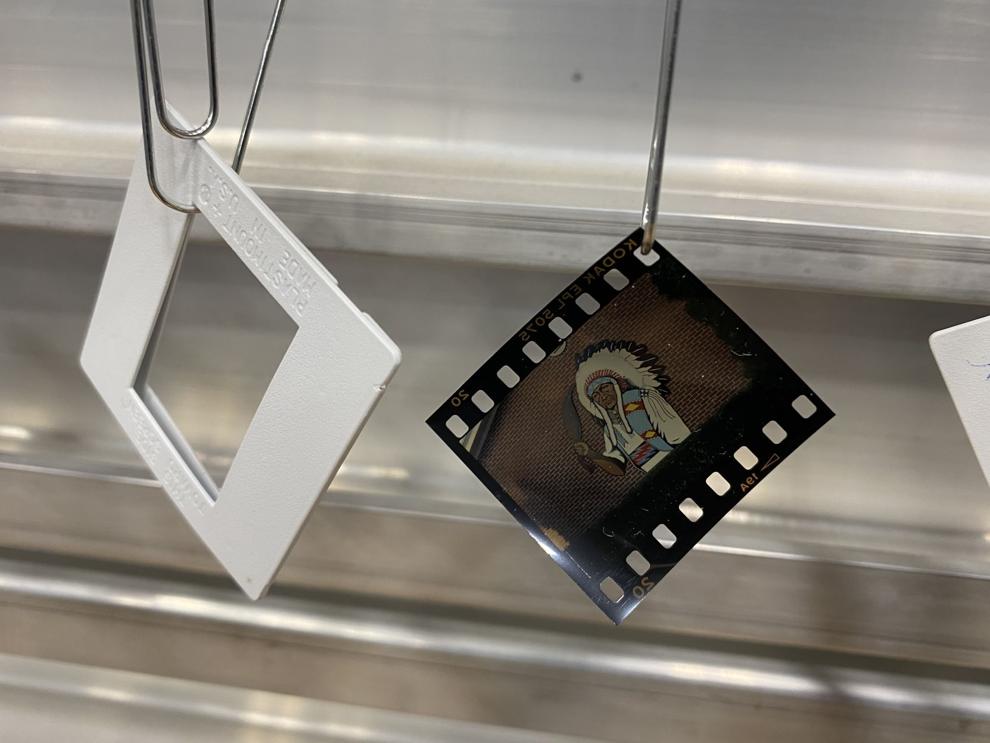 Her work to help establish the museum and cultural center in her hometown came after 50 years of talks and planning but now she finds herself with a major setback, a flood of emotions and trying to balance family and school. She thinks it will take another year before everything is cleaned, conserved and properly stored.
"It's a lot of resignation that some things have to take priority over others," Lee said. "Sometimes my dishes don't get done or we have cereal for supper but we're hanging in there. I'm refusing to process any of this until later."
Photo Gallery: Ho-Chunk Nation Museum and Cultural Center in Tomah recovers
A fire at a neighboring building in the city's downtown flooded the museum with water and has officials now trying to dry out and restore the collection that is spread out over the floor of a gymnasium.