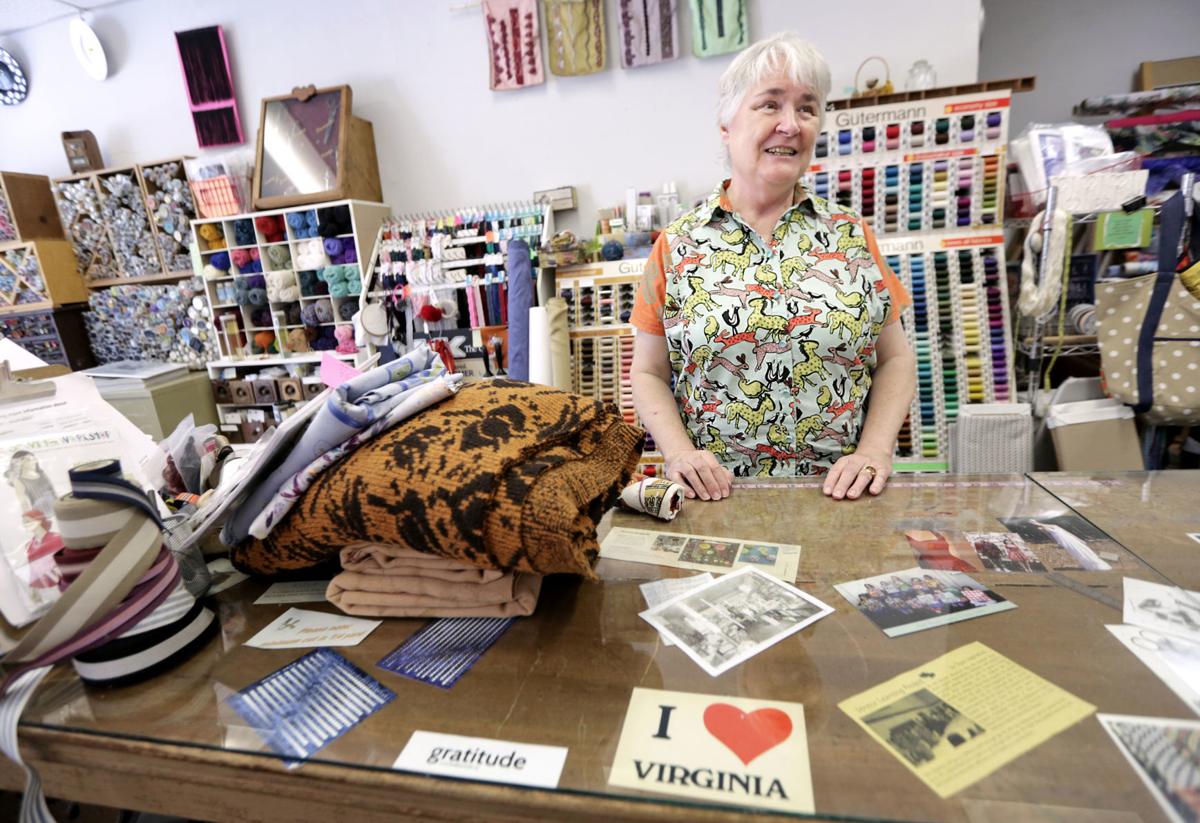 Virginia Lienhard could have sold her bolts of fabric, tubes of buttons, spools of thread and the rest of her business to another owner.
Her Gayfeather Fabrics is located in a historic building at 1521 Williamson St. in a neighborhood filled with those skilled at reading and cutting a pattern, threading a needle and with eye toward design and fashion.
But the 900-square-foot shop less than a block from the rain-swelled Yahara River is about more than just the tangible materials that when combined result in colorful shirts, blouses, costumes and dresses.
Over the last 19 years, Lienhard has created a business that is intertwined with a community of sewing enthusiasts. And she is at its heart.
So instead of selling, Lienhard has chosen to close her business next month and retire. She plans to stay involved in the sewing community and wants to continue to meet every third Wednesday of the month — maybe at a coffee shop or library branch instead of the back of her store — to develop ideas and brainstorm about potential projects with people who are more than just her former customers.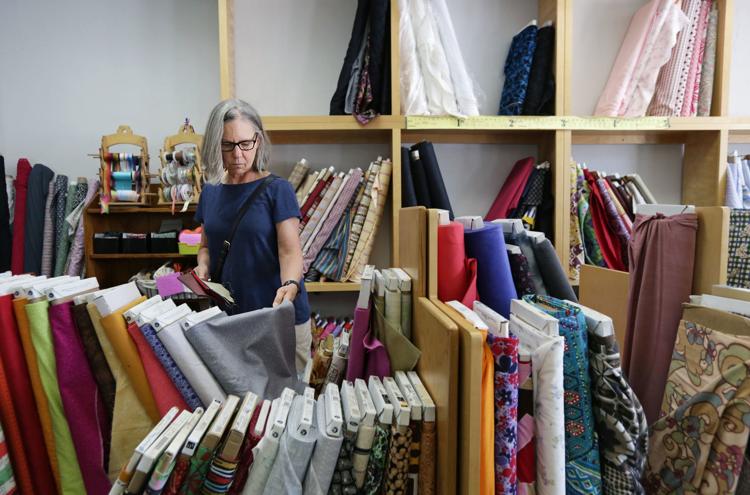 "I think a business like this, that depends a lot on somebody's taste and vision, is best started and maintained by that person who wants to pursue it," said Lienhard, 67. "It's not kitchen ware. It reflects the taste of my customers and my own personal taste. So, I've mixed those, and whatever vision somebody else has for a fabric store, I think, very appropriately, belongs to them. But if someone wanted to open another fabric store I'd certainly help them."
Stocking up for future projects
Lienhard announced Sept. 1 that she is having a sale and plans to close the store by the middle of October. Her goal is to sell all of her inventory, which includes thousands of yards of fabric, quilting supplies, trimmings, boxes of patterns and a small amount of yarn.
The announcement of the store's closing raced across social media over Labor Day weekend. The store's Facebook page was plastered last week with heart-shaped emojis and dozens of comments from customers. They offered a mix of emotions congratulating Lienhard on her decision but also sadness knowing the beloved businesses was closing.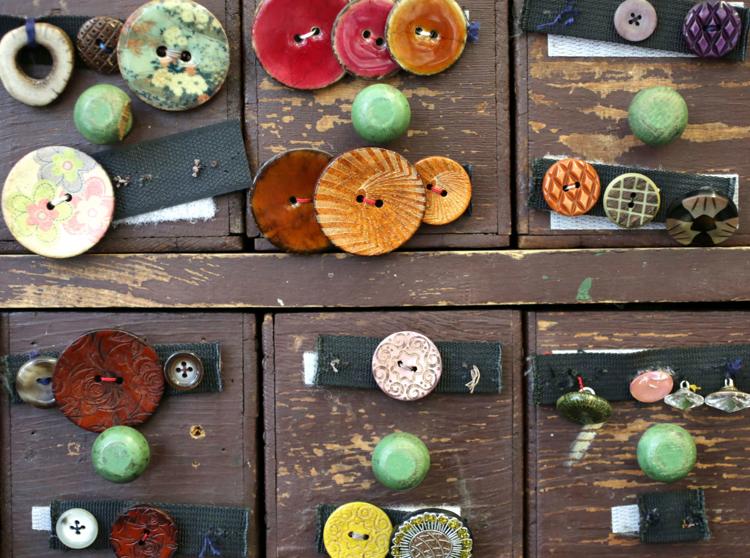 "This will be an adjustment for all of us who love your store and you," wrote Kathy Eidsmoe, a long-time customer from Milwaukee. "You have been our primary source of wonderful fabric for a long, long time. I have always said you are the nicest shop owner ever! Plus, the knowledge you have been willing to share has been invaluable. I totally understand your transition. Just want you to know how valued you are."
On Tuesday, customers scoured the store looking for fabric, some that will be stored and used for projects perhaps years away. Among them was Terese Berceau, who has served in the state Assembly since 1998 representing Madison's Near West Side but who announced earlier this year that she would not seek another term this fall. Berceau was on a break from the State Capitol and by the time she left Gayfeather, had spent nearly $200 on fabric.
"It's sort of (a) place where you come and dream," said Berceau, whose mother sewed and grandmother was a clothing designer. "You get your creativity here. You admire the beauty and quality of the fabrics. And now that I'm retiring from office, I bought enough today that I guess I won't be coming out of my house for a few years."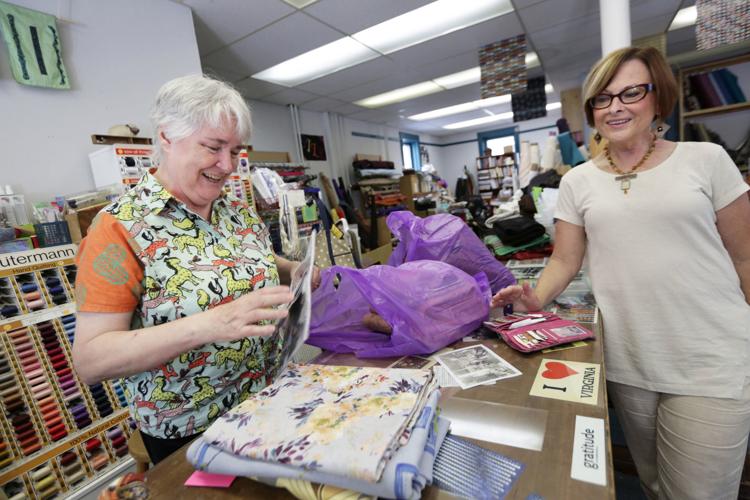 Unique niche
There are few independent sewing shops remaining in the Madison area that cater primarily to those making apparel. There are places like Patches & Petals in Belleville, JJ Stiches in Sun Prairie, Blue Bar Quilts in Middleton and Electric Needle on the Beltline near Seminole Highway. They all offer a variety of services and products but the closing of Gayfeather will eliminate a major player in the independent marketplace and where national chains like JoAnn Fabrics have chipped away at the independents.
Lienhard's customers are primarily women, many of whom grew up with sewing, but the clientele also includes men who design athletic wear, costumes and even kites. Fashion design students from the School of Human Ecology at UW-Madison are also frequent shoppers. And not everyone makes things from scratch. Modifying pieces of clothing, perhaps purchased at a rummage sale or thrift store is growing in popularity and drawing younger people into the art of sewing.
"I don't think (sewing) will become a lost art but like anything it will sort of morph into what is happening at the time," Lienhard said. "I'm pretty confident in loving what I do, and the thing I try to do best is to listen to what other people are doing so I can try and help them out."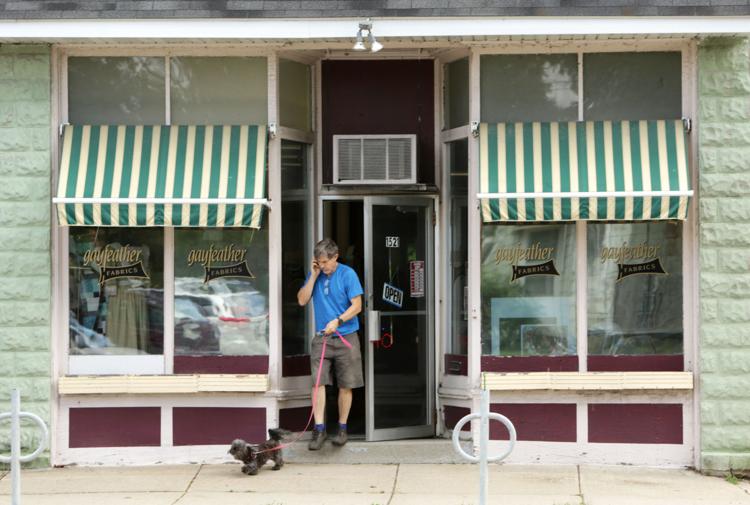 Second act
For Lienhard, the shop was a midlife crisis that turned into a second career.
The Windfield, Illinois, native began sewing at around 9 or 10 years old when she was in 4-H. Beyond that, Lienhard has had no real formal training in sewing. She hogged the family sewing machine from her sisters and made a habit of making prom and wedding dresses. She came to Madison in 1968 to attend UW-Madison but ultimately took a job as a carrier with the U.S. Postal Service with routes near Tenney Park and later in the city's Downtown.
During her 21-year career delivering mail, she also continued her passion for sewing and was a regular customer at Material World, a sewing shop on East Johnson Street that later moved to Henry Street and then closed in 1995.
"It was then that I thought that Madison needed a fabric store, but it took me a couple more years to do my research," Lienhard said. "It took a while but I decided I was going to pursue it until somebody told me no."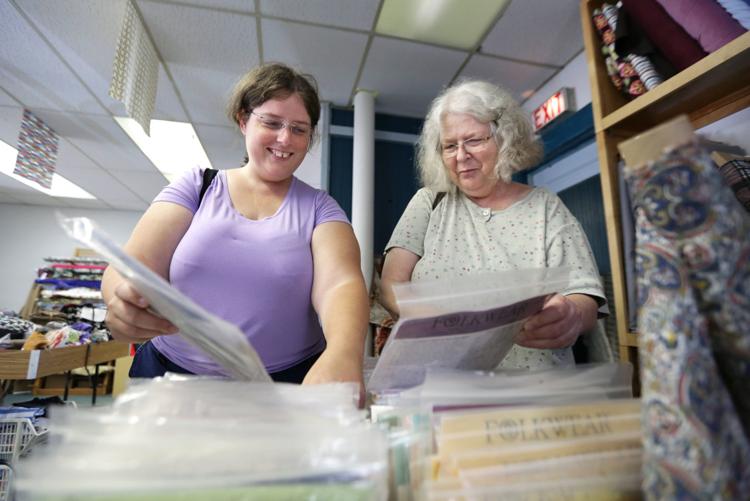 She opened Gayfeather (named after a drought-tolerant plant that produces a purple flower) in 1999 but remained with the Post Office another 15 months as a security measure for her entrepreneurial debut. She chose the location in a building constructed in the early 1900s that over the years had been home to a meat market, grocery store, appliance center and until 1970, Hans' Sewing & Vacuum. But when Lienhard opened her shop in the space, Hans' was located next door, a business that she felt complimented her fabric shop. Hans' closed in 2008 and for a time the building was home to Brew & Grow, a homebrewing and garden supply shop that closed earlier this year and remains vacant.
Today, about 65 percent of Lienhard's sales are from fabric apparel, 25 percent in quilting material and 10 percent in trim, notions and yarn. Despite her exit next month, Lienhard is still bullish on the neighborhood and its retail offerings. The nearby Atwood Avenue corridor is booming as is East Washington Avenue, where thousands of new residents and hundreds of new jobs have been created over the last five years with more on the way.
"It's a walking neighborhood. People still walk to places and do their shopping by walking," Lienhard said. "They pass by places, they check them out and they have a very solid buy-local ethic."
The business news you need
With a weekly newsletter looking back at local history.