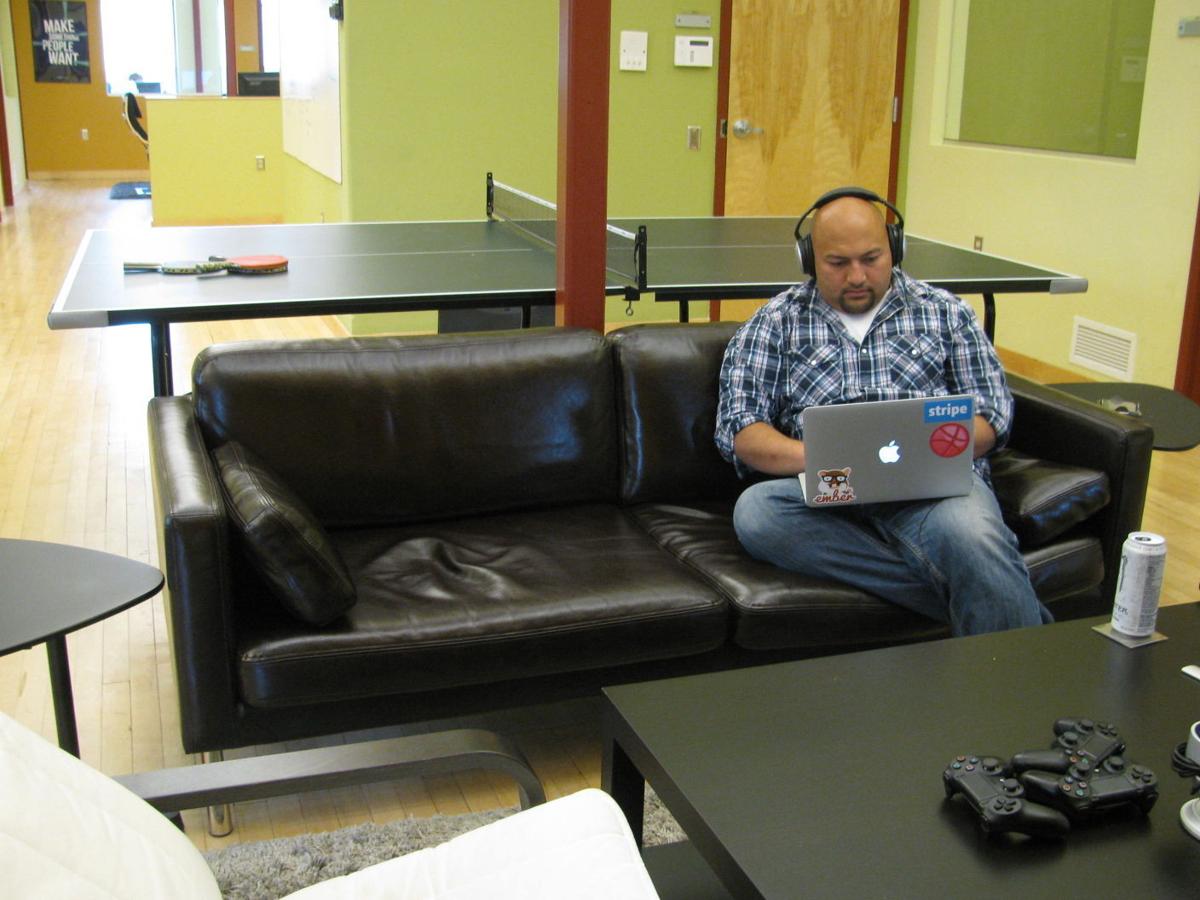 Alec Slocum had big plans to become a lawyer.
Growing up in New Richmond — in northwest Wisconsin, about 40 miles from the Twin Cities — Slocum envisioned a career as a patent attorney in the Midwest.
When he came to UW-Madison, he majored in legal studies and philosophy — the latter, because he'd been told philosophy majors tend to have the highest scores on the LSAT, the law school admission test.
After earning his bachelor's degree, though, Slocum decided to take two years off and spend time in the working world before taking on a few more years of school.
He never went back. A business idea took hold and turned Slocum into an entrepreneur.
Slocum is CEO and co-founder of Abodo, an online business that helps renters find apartments.
Slocum, 27, and New Richmond classmates Adam Olien, 26, and Chad Aldous, 27, started planning the company nearly five years ago in fall 2010 and opened the business in 2012, originally calling it MoveInMadison.
The company is steadily growing. It had five employees a year ago; now there are 17, all but three of them in Madison, at 551 W. Main St. Slocum expects to be up to 20 employees by year's end.
Abodo lists more than 100,000 properties with a focus on 21 cities; a year ago, it offered 2,000 apartments, mostly among five cities. By the end of 2015, Abodo plans to serve more than 30 cities.
Thoughts of law school have disappeared. But Slocum doesn't regret studying philosophy.
"It teaches you to think — very analytical, concise, argument-based. I would not do it differently," he said.Especially Stoicism, a school of philosophy that dates back to early Greco-Roman days.
"I have found that to be extremely useful — controlling your emotions, your thinking. It's about having a clear mind to make the right decisions and taking care of the people around me, the company ... and life," he said.
Abodo's offices — formerly home to Microsoft, satirical newspaper The Onion, and health tech firm Nordic Consulting — are pet friendly and feature play areas such as a ping pong table and Guitar Hero room. Virtually the entire staff gathers to play in a sand volleyball league every week and there is no limit on vacation.
"If you are getting your work done, you can come and go as you please and take as much vacation as you need to," Slocum said. "We want to be very flexible and let people be as productive as they can be."
Q: How did you get the idea for Abodo?
A: The fall after we graduated college (Slocum and Olien also are UW-Madison alums), we found ourselves walking through neighborhoods and looking for those "For Rent" signs. With the efficiency created online on other types of search engines, finding an apartment seemed to be a very, very outdated process.
Discovering which properties are available, seeing updated info, making the process much more human and warm — that was really the motivating factor to get going.
We started planning in fall 2010. We all had full-time jobs; we were doing this on nights and weekends. My co-founders are tech guys. They started building the platform, and I started working with property managers.
We launched the website in 2012 and our goal was to try to solve the problem just for the UW-Madison campus. That first year, 35 percent of the student population at the UW used the site. We started working with more property managers and became a real business.
Then we were chosen to participate in gener8tor (the Madison-Milwaukee business accelerator) and received some outside capital. It went from being a Downtown Madison business to scaling out to a national brand.
A: Oh, yeah. But there are a lot of people who take much larger risks. We didn't have mortgages or kids. When you're an entrepreneur, it's about your company's growth, but if you're leading the company, it's also about your personal growth to be able to do these things.
It involves running a company, finding investors, negotiating with investors, hiring employees and managing people. We chose the route of, we're just going to learn it on the fly. It can be inefficient, but your naivete allows you to think differently. My favorite entrepreneurs always say, "If you're not outside your comfort zone, you're not doing what you should be."
Q: What have you learned?
A: The biggest, most important thing you always learn: How to find and retain the most talented people as well as the kind of people you want to be around every single day. I've heard great CEOs who say that's probably one of the hardest things — finding the right people, putting them in the right positions and empowering them.
Another thing I've learned through some tough lessons: Which investors you work with is important. We've learned the people you work with should find value from each other. It's about all of us succeeding.
Being here in Madison, we assumed we'd have to go out to the West Coast to build the company we wanted. In the last few years, though, we feel we can actually build a big company here. We feel comfortable there's capital surrounding us that will be able to partner with and support us, as well as an amount of talent in the area.
That's one of the things I really like. There's this huge misconception that you can't do it here. At this point, we are dead set that we are going to do it here.
Q: How do you feel you are making Abodo more human than other services?
A: Apartment search, until recently, was driven by pamphlets, or print guides, available on street corners. They're older companies that have been forced to come online, and their online model is not so consumer friendly. And property managers would have to pay a pretty high fee for every property they list, every month.
The opportunity we saw is to really focus on the renter aspect. We wanted to move it from less of an advertising model to more of a service to renters.
The first thing is to give them all the information so they don't have to walk the neighborhood. If I go to Amazon looking for a new pair of shoes, I don't want to see only 1 percent of the shoes. If a renter came online, we didn't want to prevent them from seeing what's available.
Second: Give them an experience that's more in line with what they're used to on the Web. The majority of our traffic now is on mobile devices. We want renters to feel there are people behind this who are obsessing about every detail.
Q: What's your business model?
A: We work directly with property managers. We have an agreement that they will pay us, on a monthly basis, for renters who came to their property from Abodo. They can email or phone directly off the Abodo website.
Q: Is that working for you?
A: It's been a very successful thing for us, so far. That said, mentors have been huge for us. Aaron Everson, a founder of (Madison-based social marketing firm) Shoutlet, has been so helpful for me. The gener8tor guys have stayed very involved with us, even two years later.
Q: When Abodo started, you said your goal was to focus on medium-sized or smaller cities, mainly with university campuses. Have you stuck with that concept?
A: We typically work in towns like Madison, with a large public university. Renters we work with tend to be younger, college students and young professionals. We are one of the first companies to consolidate that young a demographic.
The average renter rents for 10 years. Most companies don't interact with them until year five or six; we get to interact at year one. That way, we build brand loyalty. When they graduate from the UW and go to Chicago, Los Angeles or New York, they stay with Abodo.
Q: What about the competition — sites such as Zillow that operate nationwide?
A: Zillow is a new entry to rentals. Rentals for Zillow is a sidecar, something they do on the side. It's a way to interact with people before they're going to buy a home.
In a market like Madison, we have 40 percent to 50 percent more properties than Zillow. We're more focused on it. We have more neighborhood information for renters, and the website is tailored for the rental market. But they're a company that we think is really interesting.
Q: What are Abodo's revenues? Is it profitable? How much money has the company raised from investors?
A: We could be profitable if we wanted to be. We use the capital to open new cities. We're not disclosing revenues, but they're no longer "insignificant." We have raised just over $1.5 million so far, not counting another funding round that's been put together but is not being released, yet. It's going to let us keep expanding into more cities and investing in our product.
Q: What are your plans for the company's future? And what about your future — is law school still in the picture?
A: We plan to expand to additional cities and innovate our product. We want to grow very rapidly and become a national player. As for me, I won't be going to law school. This type of industry is too exciting, and there's too much to do. I'll be in tech for the rest of my life.