A proposal submitted to the city on Friday would turn a large corner green space near West Towne Mall into a mixture of retail, office and residential buildings.

The proposal by Livesey Co. is part of a larger, five-phase development plan that would add as many as 17 buildings to the property bounded by South Gammon Road, Mineral Point Road, Tree Lane and the Tamarack Condominiums.
The estimated $50 million first phase of the development called West Place would involve construction of five buildings clustered on the corner of Gammon and Mineral Point roads. They would total 106 apartments, nearly 50,500 square feet of retail space and about 23,000 square feet for office space.
The project will seek tax incremental financing from the city, particularly to pay for infrastructure such as parking, said Melissa Huggins, a principal at Urban Assets of Madison who's a consultant for Livesey on the project. She didn't say how much would be sought.
The apartments would be spread among three buildings — two three-story structures facing the corner of Gammon and Mineral Point Roads with ground-floor retail space, and one curved five-story building set farther back.
Two other three-story buildings will have office and retail space. Parking for the apartments and offices would be underground, beneath the buildings.

The buildings would be organized around a large public plaza at the corner and a new private street, Memorial Drive, which will eventually be extended to Tree Lane. The plan also calls for the construction of an additional 12 buildings over the next five to 10 years.
Livesey seeks to break ground on the first phase next summer and open in fall 2018.
The project already has seen a lot of interest from retailers and restaurants, Huggins said, and its mixed uses would create a walkable neighborhood that would be the first to emerge from Madison's new Mixed Commercial Center zoning designation.
"This is really setting the bar for the kind of development that the city would like to see," she said.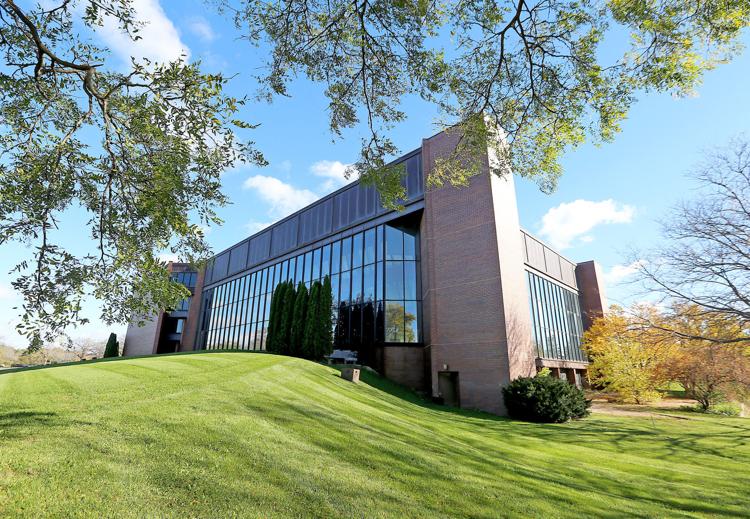 The redevelopment would demolish the 45-year-old office building at 302 S. Gammon Road designed by Madison architect Kenton Peters. The home of Famous Footwear's headquarters for more than a decade, the building is now mostly vacant, said Ald. Paul Skidmore, 9th District.
The building's acute angles at the corners are attractive from an architectural perspective, Skidmore said, but are a poor use of space.
"I would call it functionally obsolete," he said.
The amount of open space on the property, Skidmore said, is a poor use of land that made the building hard to market, especially at a time where more dense development is the norm.
But Skidmore said some people that attended a recent neighborhood listening session like the property's large lawns. They also cited traffic concerns, given how busy Gammon and Mineral Point Roads are.
Livesey is conducting a required traffic study and is looking to add a new stoplight on Gammon Road, between Mineral Point and Tree Lane, to address traffic issues. Huggins said the development wouldn't create any more entrances or exits, instead routing all traffic to those already in place.
"We feel pretty confident that it's going to be fine in terms of the traffic flow," she said.
A neighborhood meeting about the project is planned for Nov. 7 at a time and place to be determined.