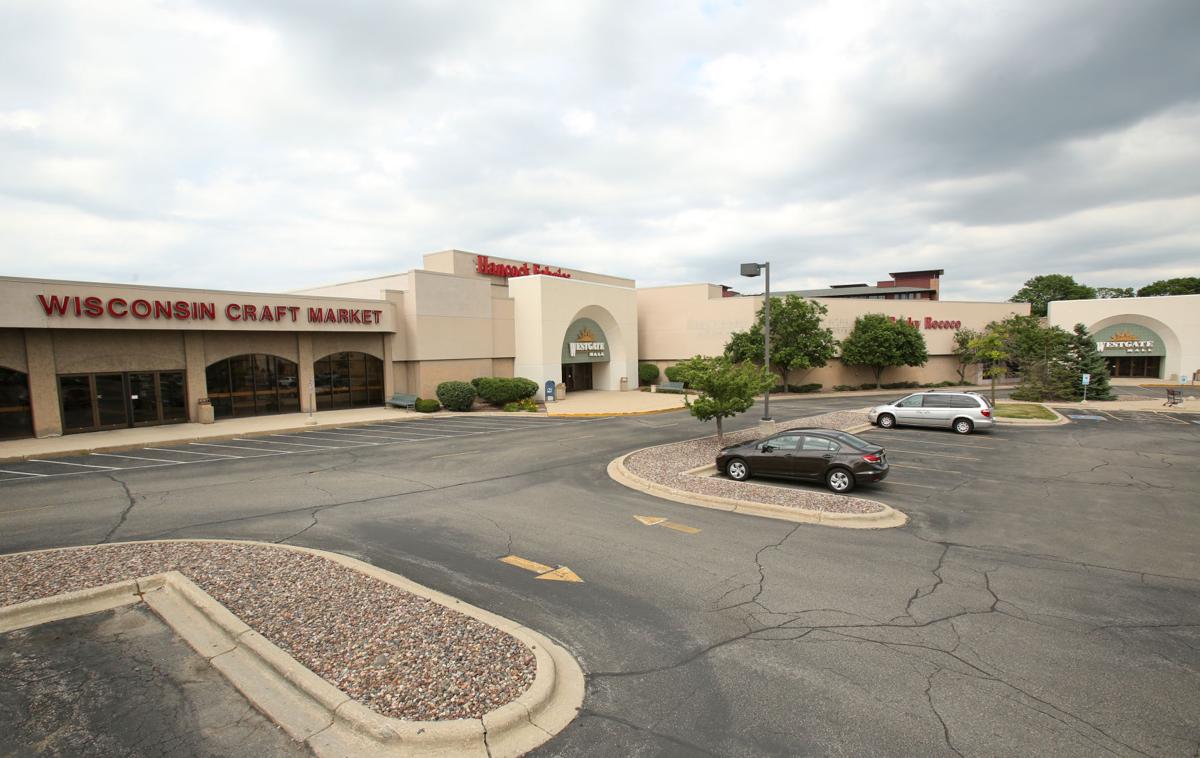 With a dwindling number of stores and outdated designs, the owners of Westgate Mall have firmed up plans for a remake, but some of the mall's oldest tenants say they feel left in the dark.
Representatives from the city's Urban Design Commission, developer R.H. Johnson Co. and local architecture firm Eppstein Uhen Architects will meet Wednesday to discuss potential plans for redeveloping the site along South Whitney Way.

Under a preliminary plan submitted to the city, the mall would be razed and replaced with four smaller buildings with about half the square footage of the current mall. At least 15 storefronts would face a central parking lot. The plan includes a lot reserved for a possible future housing development.
But Terry Gulesserian, who owns Terry's Westgate Barbers, said she's heard little from the mall's owners about concrete renovation plans, although she and other tenants who are on month-to-month leases have known for years that upgrades were coming.
Iowa-based grocery chain Hy-Vee, which opened a store at Westgate in 2013, owns the property, but it's currently under contract with R.H. Johnson.
Bob Johnson, president of Missouri-based R.H. Johnson, said they've been considering options to redevelop the property for the past seven years. He said conversations with the city, and the proposed plan, are all preliminary.
"All we're trying to do now is evaluate how it can be redeveloped and come up with a plan," he said. "We're not asking for any action next week."
He said the company wouldn't be able to show current tenants what spaces would be available at the renovated project because there aren't any set plans in place yet.
"To meet without a plan is sort of a waste of everyone's time," he said.
Gulesserian, who's been a tenant at Westgate since 1988, said upgrades wouldn't really make a difference for her business.
She's had a firsthand view as stores in the mall have dwindled.
"It was pretty booked before, and now we don't have much here at all," she said.
Gulesserian said she would have liked to stay at the location but said moving back into a renovated spot after the upgrades would be a hassle.
Among the few stores that remain are a craft store, baseball card shop and a costume store.
T.J. Maxx, the largest retailer at the property, has a 15-year lease and will have the final say on any redevelopment, Johnson told city officials in the application to the Urban Design Commission.
Johnson said the company has already been negotiating with several retailers and restaurant operators who expressed interest in moving into the redeveloped mall.
The mall has 24 vacant storefronts and is 68 percent occupied, with a significant portion of the property's space occupied by T.J. Maxx.
Westgate Mall was built in the 1950s and later remodeled.
The latest redevelopment began five years ago with the conversion of the south end of the mall to a Hy-Vee store. The proposal to the city includes a plan for a possible future housing project on the north end of the site with about 90 to 125 units and underground parking for residents.
In the application letter, Johnson said developers have looked at different renovation options and have talked with existing tenants and shoppers as well as interested retailers.
"From these meetings, we have developed a plan which has the support of the existing retailers and will provide the trade areas surrounding the property with updated retail stores in which today's consumer enjoys shopping," the letter read.
But some current tenants said they're frustrated with the amount of communication about the property's future.
"How can we support something we know nothing about?" said John Carey, owner of Westgate Pet Clinic.
Carey, like Gulesserian, said he's been renting the space on a month-to-month basis for years. He said he's remained at Westgate because relocating could cost him between $100,000 to $200,000.
Ald. Maurice Cheeks, whose 10th District includes the area, said he'd like to see "a significant amount of neighborhood engagement" when it comes to the renovation plans. He said another priority is improving driver access and pedestrian safety around the site.
"This will be something that the city and the neighbors and myself take very seriously," he said. "This is a really important area of land for the city."