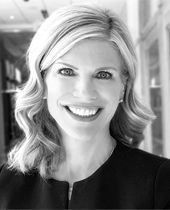 Racine, Wisconsin, April 13, 2018. - Jim Popp, President and CEO of Johnson Financial Group, is pleased to announce Emily Larsen has joined Johnson Financial Group as Chief Marketing Officer. Reporting directly to Popp, Larsen will officially join JFG's executive leadership team in April.
"Emily is a proven brand strategist who will be invaluable as we continue our focus on creating meaningful connections with clients and growing our key markets," says Popp. "Her energy and enthusiasm paired with her expertise will be a great asset to both JFG and our customers."
With more than 20 years of marketing experience, Larsen most recently served as the Senior Vice President within the Media and Marketing Strategy Group for Kohl's Corporation based in Milwaukee. Prior to Kohl's, she spent more than 10 years at Target Corporation in Minneapolis, serving as Vice President, Brand and Storewide Marketing. Larsen brings extensive knowledge of business and brand strategy, media channel optimization, and customer insights.