TOWN OF BELOIT — With construction on a $700 million natural gas plant halfway done, Alliant Energy has shut down one of its largest coal-fired generators.
Friday marked the final day for Edgewater 4, a 49-year-old plant in Sheboygan that last year burned almost 950,000 tons of Wyoming coal, generating enough electricity to power about 200,000 average Wisconsin homes. It's the third coal plant that Alliant has shut down since 2015.
The replacement, a 725-megawatt addition to Alliant's Rock River campus in the town of Beloit, is on track to begin operation in 2020.
West Riverside Energy Center will be the second-largest natural gas generating plant in Wisconsin, with nearly a third more capacity than an existing gas plant at the site.
There are about 700 construction workers on the site who have put in a collective 1.1 million hours. Alliant recently added a second shift of pipefitters and welders who work into the evening.
"We're really accelerating the work," said Bob Newell, project manager for Alliant.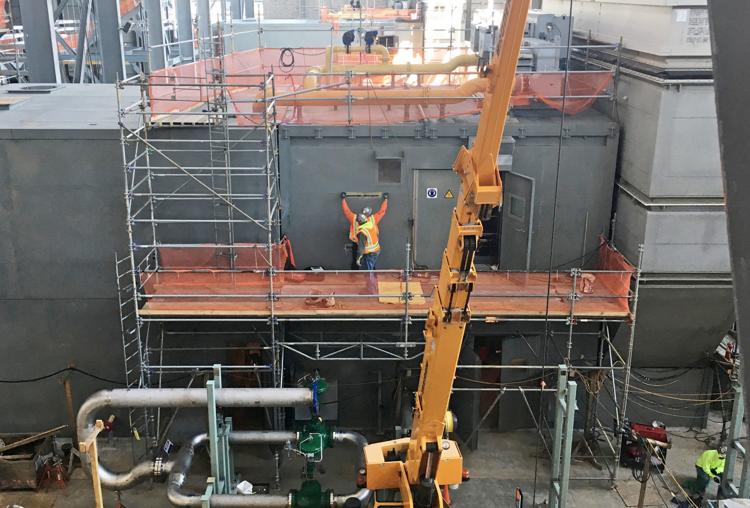 He said bidding for the job shaved $50 million off the original price proposed to regulators. And the 3,560 tons of steel were ordered before 25 percent tariffs took effect.
"We were very lucky," Newell said.
Efficiency, flexibility
The combined-cycle plant will burn natural gas to turn a pair of turbines and use the heat to create steam that will turn a third generator. A $10 million solar garden, planned for 2020, will offset about half of the electricity needed to run the plant.
Alliant says West Riverside will generate about half the carbon dioxide as a similar-sized coal plant, while emitting 99 percent less sulfur and virtually no mercury, pollutants that require expensive equipment to remove.
That will help the Madison-based utility, which serves about 960,000 electric customers in Wisconsin and Iowa, meet its goal of cutting carbon dioxide emissions by 80 percent by 2050.
But Alliant will continue burning coal at the 1,100-megawatt Columbia plant and a newer 400-megawatt generator at Edgewater that was recently fitted with new pollution controls.
"That's going to be around for a while," Newell said.
Thanks to advances in technology, Alliant says West Riverside will outperform even other natural gas plants, including five aging generators scheduled for retirement in 2020.
"It will be one of the most efficient plants in at least Wisconsin, if not the entire Midwest," Newell said .
Because of that efficiency — and the low price of natural gas — Newell anticipates grid operators, who use the lowest-cost source available to meet the region's power needs at any given moment, will keep the plant running at up to 80 percent of its total potential output.
And unlike coal plants, which take days to start up, West Riverside can be up and running in about 2 hours and can ramp up and down at about 80 megawatts per minute.
That makes it a good complement to renewable sources like solar and wind, which make cheaper power but don't produce electricity all the time.
Alliant is working to build a 150-megawatt wind farm in northeast Iowa and says it will add up to 1,200 megawatts of wind energy by the end of 2020.
"That's why we built this plant," Newell said. "Flexibility."
Tax cuts soften impact
Alliant argued to the Public Service Commission that the addition to its existing Rock River campus in the town of Beloit would be the most effective way to replace older, less efficient coal and natural gas generators.
The Citizens Utilities Board, which advocates on behalf of Wisconsin residential and small business customers, agreed with Alliant's assessment that West Riverside would marginally lower wholesale electricity prices in the Midwest.
Alliant said its customers will benefit from the plant's "reliable, cost-effective" electricity, but those customers will still have to foot the construction bill.
The Public Service Commission earlier this year approved a two-year rate freeze for Alliant electricity customers after the utility was able to offset capital expenses with savings from the 2017 federal tax changes, which is expected to save Wisconsin's for-profit utilities nearly $200 million this year.
"The corporate tax rate reduction couldn't have happened at a better time," said Tom Content, executive director of CUB. "This is right when customers would have seen an increase."
Ditching coal
Alliant is not the only utility making the switch from coal to gas.
Dairyland Power Cooperative, which serves rural co-ops and municipal utilities in Wisconsin, Minnesota, Iowa and Illinois, and Minnesota Power have proposed building a jointly owned $700 million natural gas facility in Superior.
And despite efforts by the Trump administration to boost coal, Alliant spokesman Scott Reigstad said the company plans to continue working to reduce carbon emissions.
Reigstad said cost and pressure from investors are the main drivers.
"We have a long-term strategy," Reigstad said. "We've developed that independent of any federal … rules. We're just going to keep moving."
Natural gas surpassed coal in 2016 to become the nation's leading source of electricity , according to the U.S. Energy Information Administration. And last year was the first in at least a decade that no new coal plants were added.
Of all the power generators shut down since 2010, coal-fired plants account for more than half of the total capacity, according to data from the EIA.
In Wisconsin, coal accounts for more than two-thirds of retired capacity, although coal remains the dominant power source in the state.
"The electricity landscape is changing very quickly in Wisconsin, and beyond," said Tyler Huebner, executive director of RENEW Wisconsin, a clean-energy advocacy group.
Utilities have embraced natural gas as a lower-cost fuel that can save fuel costs while lowering their carbon footprint. It also provides a flexible, on-demand power source that the industry says is necessary to enable the use of intermittent renewables like solar and wind.
But some environmental advocates say it doesn't go far enough.
While natural gas burns cleaner than coal, it is still a fossil fuel that brings a host of other environmental problems, said Elizabeth Katt Reinders, who leads the Sierra Club's Beyond Coal campaign in Wisconsin.
Consider the impacts of hydraulic fracturing, which has been linked to groundwater pollution and earthquakes, as well as the inadvertent release of methane, a much more powerful greenhouse gas than carbon dioxide.
The Sierra Club is pushing for a carbon-free electricity sector by 2030, well before West Riverside is expected to shut down.
Katt Reinders would like to see Wisconsin utilities move straight to renewables, while also embracing energy efficiency and other tools to manage demand.
"We need to be making these decisions with the long view," she said.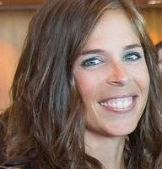 Clean energy advocates point to rapid advances in wind and solar generation that have made those technologies increasingly viable, even in states like Wisconsin.
"Renewables are cheaper," Huebner said.
Factoring for the total expenses to build and operate a plant, the "levelized" cost of electricity from a combined-cycle natural gas plant like West Riverside is now $42 to $78 per megawatt-hour, according to the consulting firm Lazard. Coal is $60 to $143.
But even without subsidies, wind and utility-scale solar can now produce cheaper electricity than natural gas.
But in order to displace traditional baseload generation sources such as coal, nuclear and gas, renewables will need to be paired with batteries or other storage technology so that power is always available to match demand.
The question is whether that will happen before Wisconsin utilities invest heavily in natural gas.
"The battery technology is coming along and the price is coming down very quickly," Huebner said. "This may be the last large-scale natural gas plant to be built in Wisconsin."