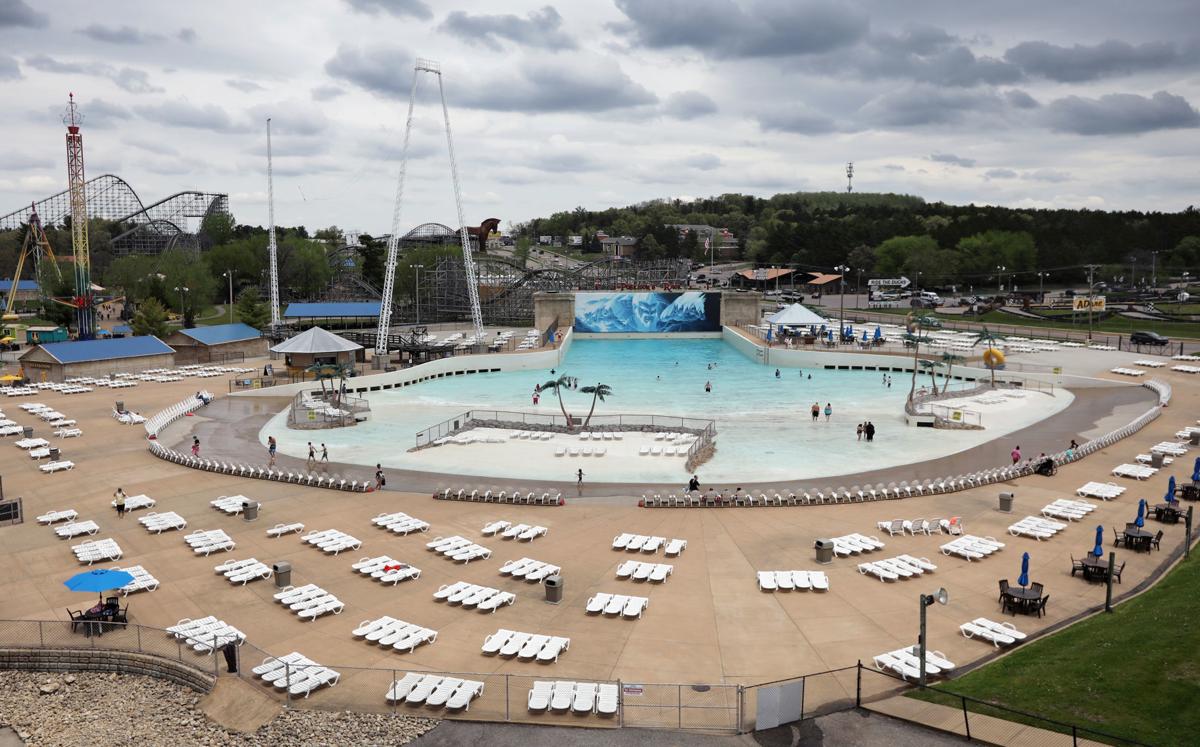 WISCONSIN DELLS — Memorial Day weekend is when this community of Ducks, T-shirt shops, spas, zip lines, restaurants and lazy rivers is normally in full-blown tourist mode.
Most of the businesses in the historic downtown were open Saturday, but there was plenty of parking, the sidewalks had no shoulder-to-shoulder crowds and there was no waiting for a table at lunch.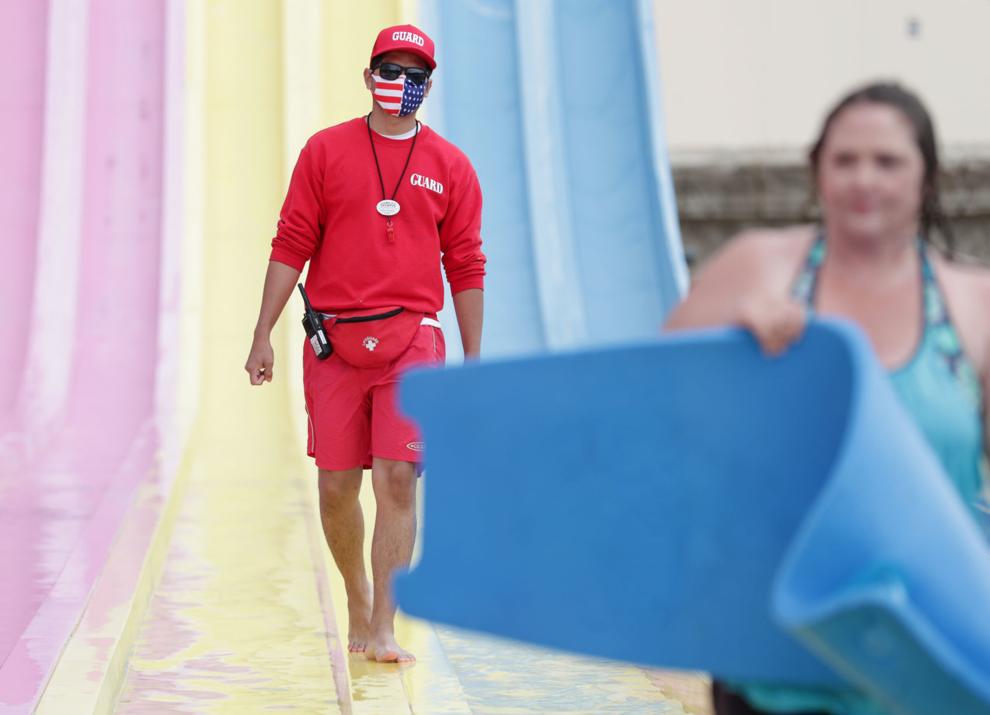 The most dramatic sight, however, may have been at Mt. Olympus. Instead of hundreds of people bobbing up and down in the swells of the water park resort's Poseidon's Rage wave pool, only 25 to 35 people could be seen at any one time. No one scrambled for a white deck chair, and at times it almost seemed as if lifeguards, some wearing protective masks, outnumbered the guests.
Instead of 16,000 people at his resort, Nick Laskaris was expecting about 2,000 guests Saturday. Of his 1,800 rooms, less than 500 were booked. His indoor water park is closed, and only registered hotel guests are allowed into the outdoor water park in an attempt to reduce crowds.
"There's not enough PPP money to keep any business going," Laskaris said, referring to the federal government's Payroll Protection Program. "The only way to stay in business is you've got to to be open."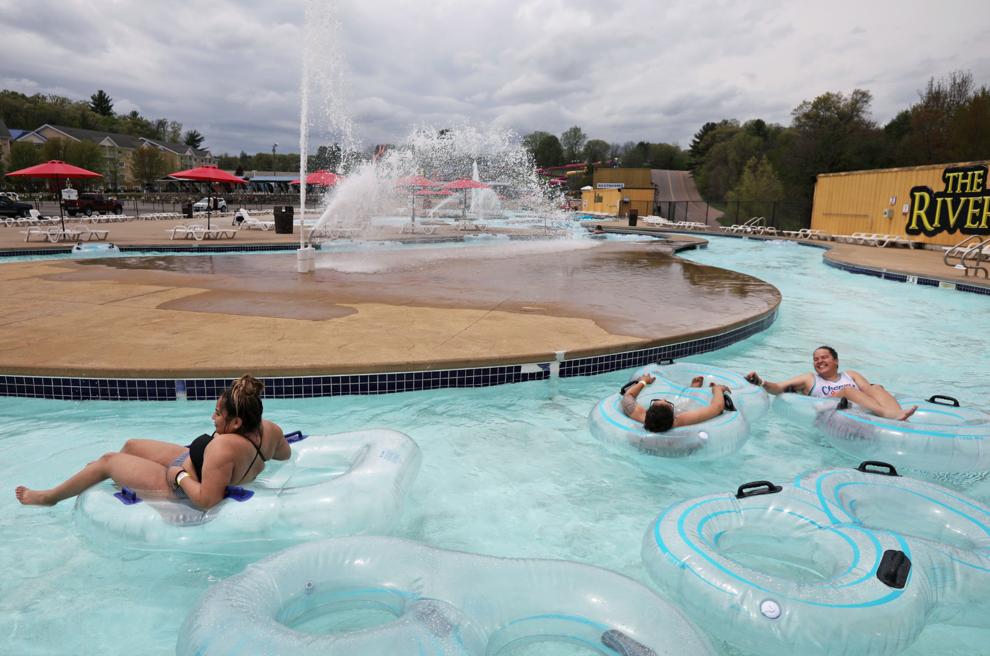 Mt. Olympus is the only major water park open this weekend in the "Waterpark Capital of the World." Kalahari, Wilderness, Chula Vista and Great Wolf Lodge are closed but scheduled to open in the days and weeks to come. Noah's Ark water park is shuttered until mid-June, and the 4,500-seat amphitheater at the Tommy Bartlett Show will be empty all summer.
Every campsite in a Wisconsin state park is vacant this weekend; restaurants are operating at reduced capacity; and tour boat operators in Wisconsin Dells and Lake Geneva have reduced seating for their excursions. Festivals, fairs, sporting events and concerts have been canceled, and masks are now a staple along with sunscreen and mosquito spray.
Meanwhile, the state's tourism head is encouraging people to stick closer to home this summer, forgo longer drives and plan for future vacations.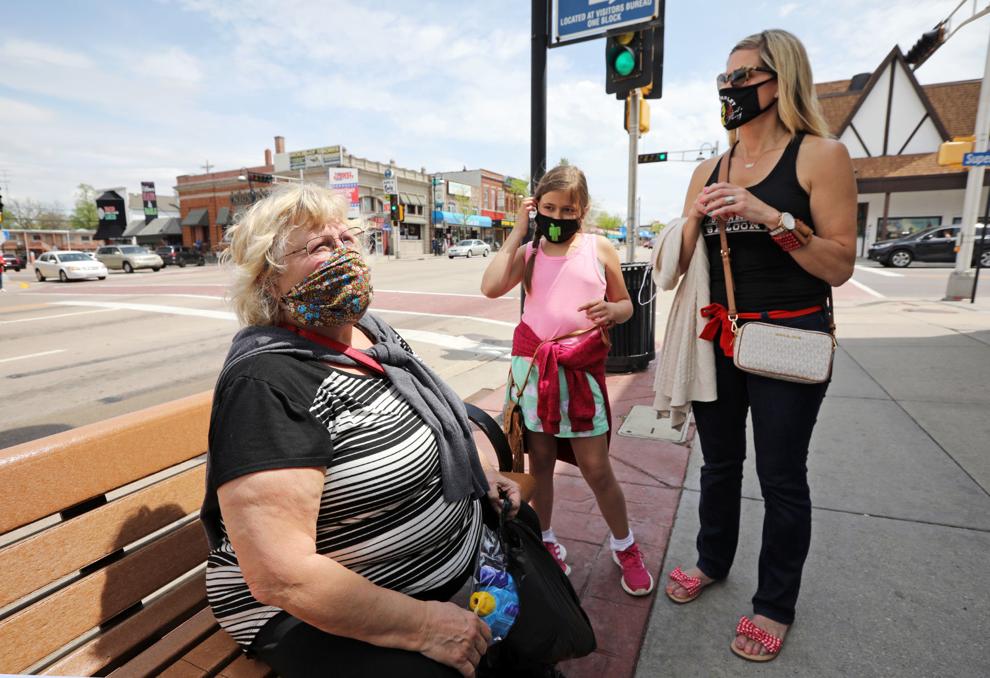 "Unfortunately, this year, no one's plans are going to look the same as they have in previous years," said Department of Tourism secretary-designee Sara Meaney. "Ultimately, it comes down to why we rely on the science that tells us that travel is not advised."
This is not how the summer tourism season normally begins.
Deaths top 500
But the wrath of COVID-19 has dramatically altered the state's tourism industry that has lost an estimated $1.7 billion since mid-March. In 2019, overall spending on tourism was $22 billion but this year it could drop by a stunning $9.9 billion, according to an estimate provided to the state by the U.S. Travelers Association.
On Saturday, the number of COVID-19 deaths reported in Wisconsin topped 500. The state has reported 14,877 COVID-19 cases and 507 deaths.
Many tourists remain apprehensive about travel, and tourism officials throughout Wisconsin have expressed concerns about the return of thousands of seasonal homeowners and millions of tourists but at the same time are trying to balance the economics of it all.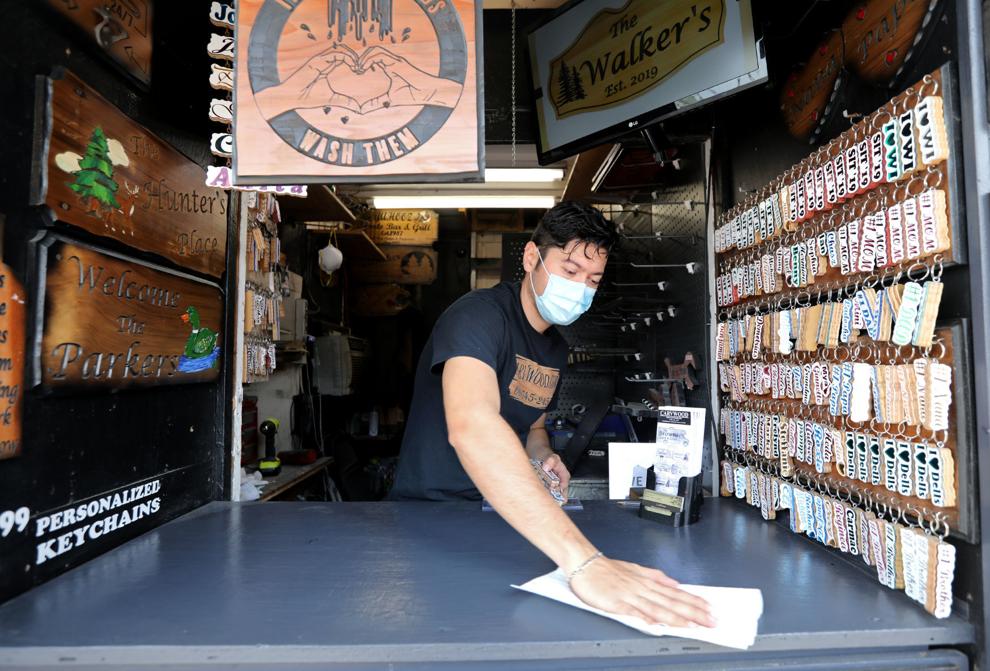 "Our business owners are trying to navigate keeping their stores extra sanitized to protect you and their employees, replenishing their inventory and re-training staff all in a week's time," Let's Minocqua Visitors Bureau + Chamber of Commerce posted on its Facebook page. "Social distancing and observing CDC guidelines is still important to our community."
Cabin fever
Over in Hayward, one of the state's prime fishing destinations, Steve Butchart has owned his 6,000-square-foot Outdoor Ventures for 10 years. He estimates that up to 80% of his sales of outdoor clothing and footwear, kayaks and paddle boards are to tourists and seasonal homeowners.
He's now limiting the number of people in his store and trying to cut back on people using the fitting room. Customers are being asked to use masks and hand sanitizer.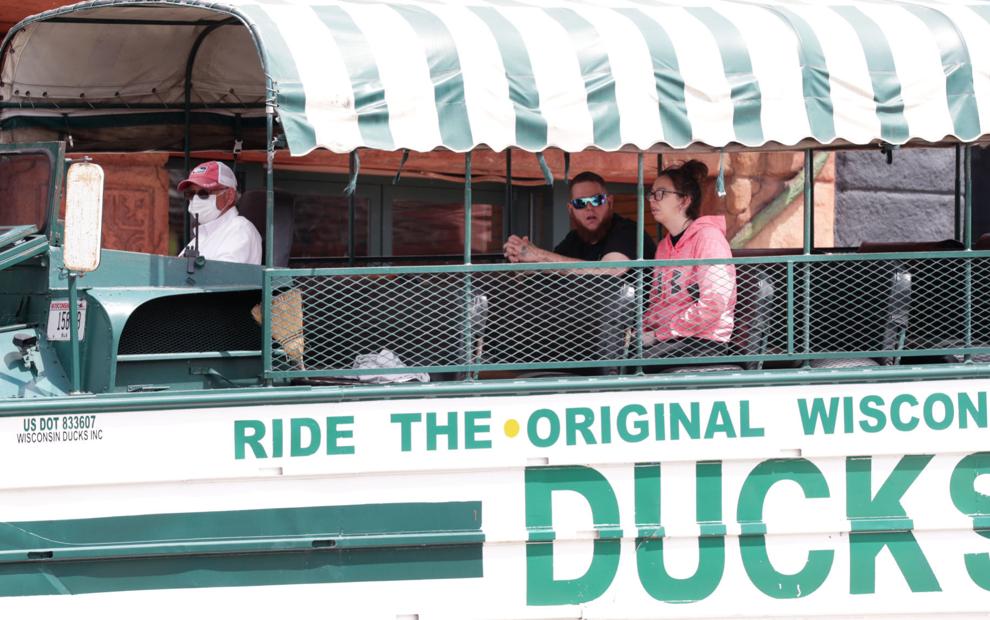 "All of those constraints make it a little more challenging to do normal business," Butchart said. "But I expect a fair amount of traffic. I think people want to get out and explore safely."
A few doors up Main Street, Tremblay's Sweet Shop has been in business since 1963 and on a good summer day can make from scratch 500 pounds of fudge on its two marble slabs. For this year at least, there will be no samples.
"That's sad for us because people love them, but there just wasn't a safe way to do them," said Chelsea Tremblay. Asked about what the summer could hold, Tremblay said, "We're just hopeful. We don't have an expectation. I think Memorial (Day) weekend will be very telling."
For the first time in 20 years, AAA did not issue a travel forecast for the Memorial Day weekend, but said it was expecting a record low number of travelers. Two-thirds of those in a Longwoods International survey submitted to the state said they were hesitant to travel, while one-third favored traveling.
"That's a major divide between the majority and the minority," Meaney said. "The best we can do is make the best choices each of us can. There's no question people who need and own businesses need the revenue and want the revenue."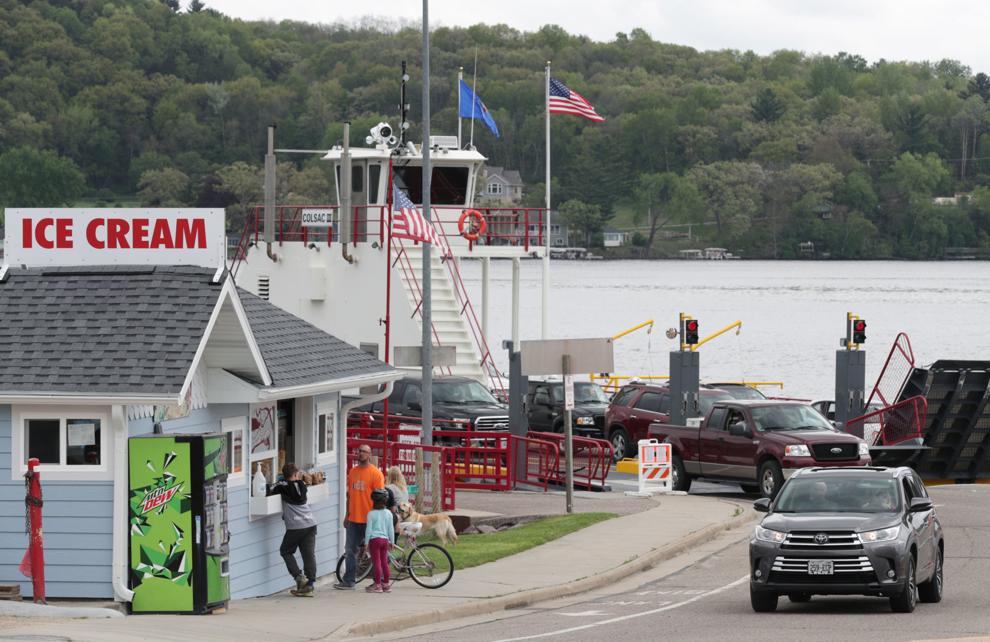 On Friday, Adam Gallus opened his Ferry Landing Concessions for another season of ice cream sales where the Merrimac Ferry crosses Lake Wisconsin. The business has been in his family since the 1940s, and sales were brisk just two hours into his six-month season.
"I really don't know what to expect, but I think everyone's eager to get out," Gallus said as he scooped ice cream from cardboard pails.
'We adapt'
In Walworth County, business isn't back to normal for Bill Gage, owner of Gage Marine — the only boat tour operator on Geneva Lake — and the lakefront restaurant Pier 290 in Williams Bay. A "pod" seating system lets customers sit with their friends and family in both settings, but leaving enough room between groups means fewer customers overall.
"We will lose money if we keep operating at 50%, but you've got to start somewhere, right?" Gage said. "There are thoughtful ways to operate that allow people to come to the restaurant or get out and enjoy some fresh air. That's what Americans do — we adapt."
In Door County, a survey was sent to 233,540 people in Destination Door County's visitor database with 10,432 responses between May 14-18. Nearly 43% said they will travel to Door County as planned this year, 26% said they postponed their plans until later this year and 16% of respondents said they canceled their trip due to COVID-19 concerns.
Door Peninsula Winery, between Egg Harbor and Sturgeon Bay and one of the largest wineries in the state, can see upward of 500 people at a time in its facility where there are multiple tasting bars, a distillery and gift shop. For now, only 20 people at a time will be allowed inside, more events and sales are planned for outside, and tastings will use disposable cups instead of wine glasses.
At Wilson's Restaurant & Ice Cream in Ephraim, there will be no indoor dining and those in line will be asked to stay 6 feet apart. Owner Sarah Martin has spent about $2,000 on extra take-out containers, masks and hand sanitizer. If her business, founded in 1906, could do 50% to 75% of usual sales this summer, Martin would consider it a win.
"If it exceeds that, that would be outstanding," Martin said. "We're optimistic. I have a feeling we'll be busier in the fall as long as this COVID situation continues to decline."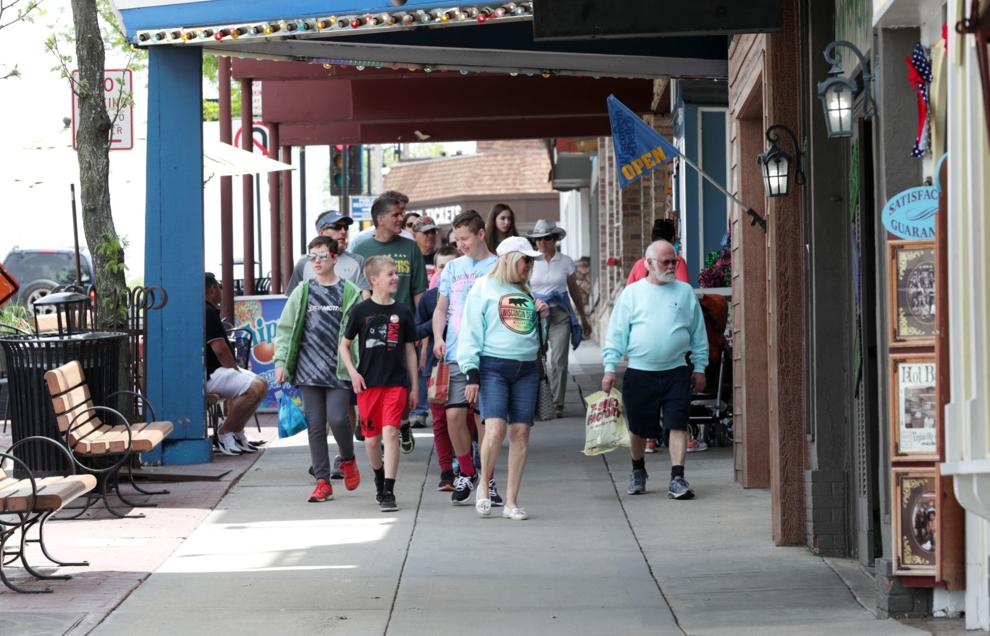 Quiet streets
Back in Wisconsin Dells, most of those walking the sidewalks of the downtown weren't wearing face masks. There were license plates from Wisconsin, Illinois, Minnesota and South Dakota, but traffic on Broadway was significantly down. Dawn and John Wicklacz came from Woodbury, Minnesota, but were staying at a private campground in their 32-foot-long motor home.
"We can't camp in Minnesota," said Dawn, 59. "It's quiet," John, 60, said as he surveyed the downtown. "It's a little eerie."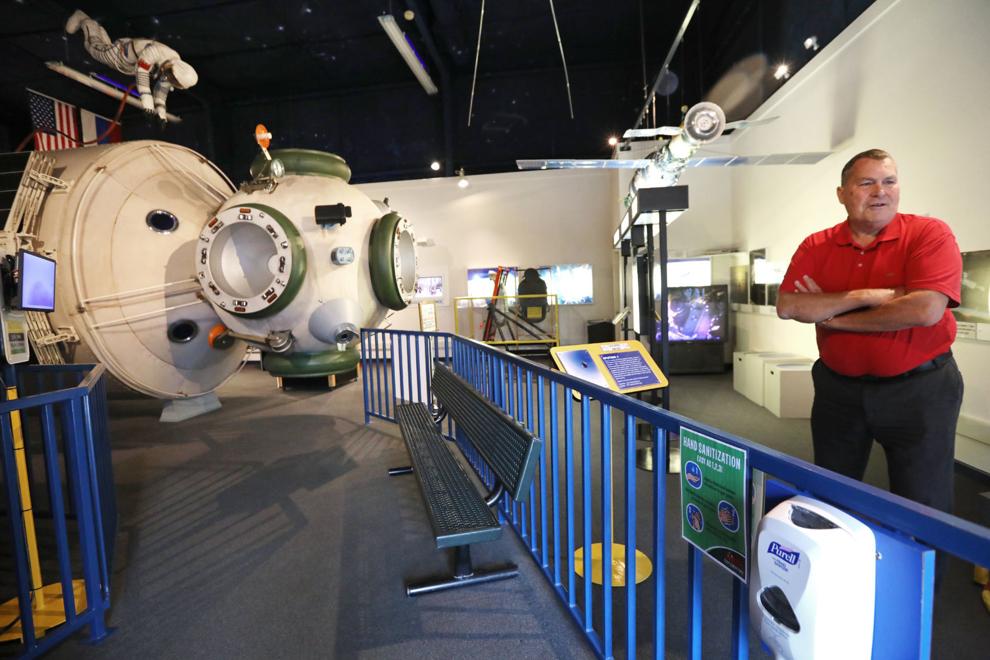 Tom Diehl, co-owner of the Tommy Bartlett Show and the hands-on Exploratory Interactive Science Center, saw Lake Delton drain in June 2008 but he was able to limp through the season by doing stage instead of water ski shows. This season, he's canceled the water ski show for the summer because he couldn't justify opening with limited crowds. Instead, he's focused on trying to get more people into his museum.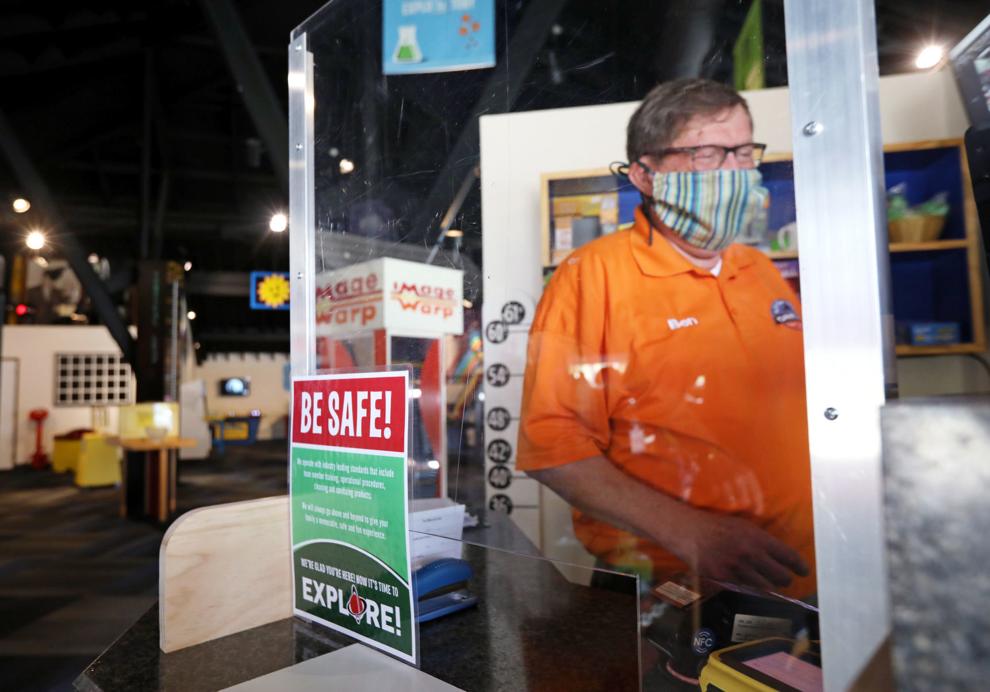 On Thursday he had three customers and on Friday there were 16 guests. An hour after opening on Saturday, he was still waiting for his first customer. Diehl expected Memorial Day weekend business to be down 85% to 90%.
"It's going to be slow and it's going to take time because you need to get consumer confidence built," Diehl said. "There's lots and lots of challenges. If by Fourth of July we're up to 50%, it will be an absolute moral victory."
State Journal reporter Howard Hardee contributed to this report.