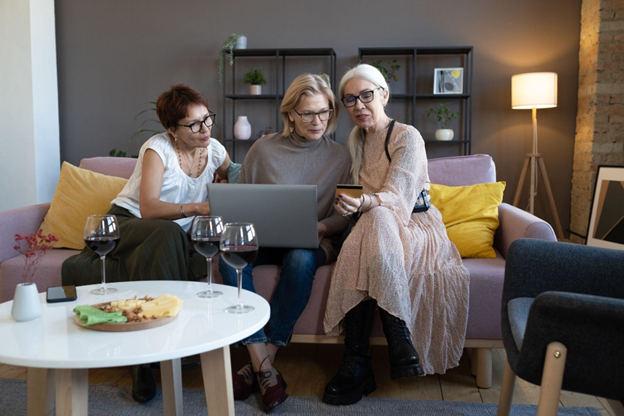 YouTube influencer Erica Miller, known for her channel One Cute Couponer, was initially skeptical of the seemingly too-good-to-be-true low prices offered by the online platform Temu. She said in one of her videos sponsored by Temu on her channel that after learning about their innovative Next-Gen Manufacturing approach, she became a convert, joining a growing number of consumers who are embracing the platform.
"The (low) price scares people at first," said Miller, "but once you know someone who′s using Temu and getting all these bargains, everyone is hooked."
Temu's Next-Gen Manufacturing aims to revolutionize the way products are made and sold, eliminating the wasteful "spray-and-pray" approach prevalent in the retail industry. By sharing real-time insights on consumer shopping and search trends with third-party sellers, Temu enables them to better predict trends, plan production and avoid overproducing or spending heavily to market unwanted items. This results in significant cost savings, which are then passed on to the consumer.
People who tried Temu say "it works"
"People who tried it say it works," Insider reported recently about Temu's low prices. An Insider reporter's first-hand experience with shopping on Temu confirmed that the platform is indeed legitimate, the report said.
But what exactly is Temu and how is it able to garner such attention from media and consumers in just six months?
What is Temu?
Temu is among a new generation of e-commerce platforms using advancements in digital technology to increase the visibility and prediction of demand so that production and supply can be more precisely calibrated and tailored to market needs. The company started operations in 2022 and has since grown rapidly due to its unique approach to manufacturing and retail.
The Temu platform features merchandise across 29 primary product categories and more than 250 sub-categories, making it an online superstore with something for most conceivable needs. It is now available in the U.S., Canada, Australia and New Zealand.
What does Temu mean?
Temu means "Team Up, Price Down" — the company's motto expressing its goal to deliver cost savings by leveraging economies of scale generated on its platform. The name is pronounced "tee-moo," with the emphasis on the first syllable.
How is Temu different from other shopping platforms?
Temu distinguishes itself from other e-commerce platforms by embracing the Next-Gen Manufacturing model. This method allows Temu to offer considerably lower prices while maintaining an enhanced product fit and upholding quality.
A significant contrast between Temu and its rivals is its resolute commitment against dropshipping. This practice, which is frequently linked to poor customer service, inflated costs, protracted shipping periods, and convoluted after-sales return and refund procedures, is strictly prohibited on the Temu platform. Through the exclusion of dropshipping, Temu guarantees a superior customer experience for its users.
Temu's Next-Gen Manufacturing explained
Next-Gen Manufacturing is estimated to have achieved a 50% reduction in costs compared to traditional methods by eliminating hidden expenses and streamlining operations. This innovative approach involves integrating NGM into the design stage to create products that cater to consumer preferences, informed by valuable insights from Temu.
NGM also includes enhancing visibility into demand and supply forecasts, enabling companies to optimize their logistics planning. This results in more efficient transportation of finished products from factories to sorting facilities, and eventually to consumers, as opposed to the protracted, multi-stage routes typically employed in conventional manufacturing. These cost-saving measures and operational improvements are set to revolutionize the industry, ushering in a new era of efficiency and competitiveness.
This combination of quality and affordability is particularly appealing in today's economic climate, where households are grappling with inflation, job security and making ends meet. Temu's popularity is evident in the growing number of users flocking to its app.
"The idea is you can just keep running your credit card because your budget can afford it," Michael Felice, associate partner in the communications, media and technology practice of consulting firm Kearney, told Insider.
Temu expansion plans
Temu's Next-Gen Manufacturing model is now poised to benefit more markets as the company expands internationally. It has already made inroads into Canada, Australia and New Zealand. Media reports have cited plans by Temu to expand into more markets.
As Felice explained to Insider, Temu is shedding light on a "white space" between extremely low-cost production and the higher end costs that are driven up at multiple points along the value chain.
In other words, most manufacturers sell through so many layers of middlemen — each of whom wants their cut — that by the time an item is offered to a consumer, it's loaded up with add-on costs. With Temu, the middlemen are cut out of the process.
The success of Temu's Next-Gen Manufacturing model offers a glimpse into the future of retail, where real-time approaches can help eliminate waste and drive down costs for consumers. By cutting out middlemen and leveraging consumer insights to optimize design, production and transportation, Temu is redefining the way products are made and sold.
Temu's online superstore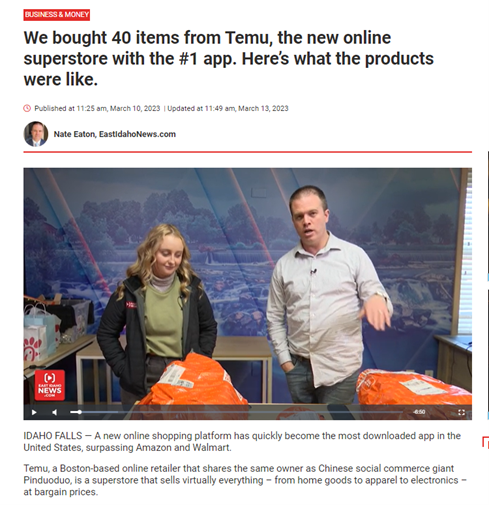 Journalists Kaitlyn Hart and Nate Eaton of EastIdahoNews.com recently ordered 40 items from Temu to try out the site. They decided to do a YouTube review after a story they posted about Temu became the most-read story in East Idaho News history with "millions of people clicking on this story and probably downloading the app," Eaton said on the YouTube video.
"We just wanted to show you a generic idea of what type of stuff they have, some very useful, some might be fun, some a lot cheaper than elsewhere," he said. Hart said she would order again if she needed something really specific. "I think overall the quality is really good and it came really fast."
---
Lee Enterprises newsroom and editorial were not involved in the creation of this content.