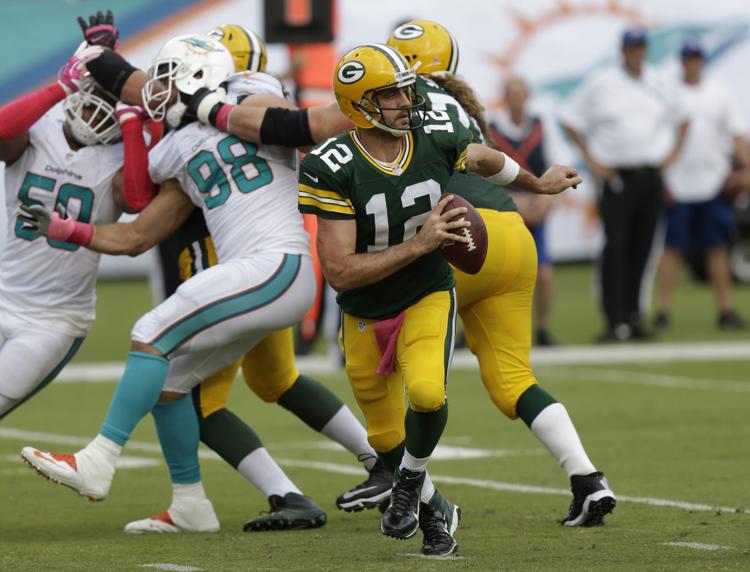 Joe Philbin has been on the other side of one of Rodgers' patented 2-minute drills. Rodgers engineered one the last time the Packers and Dolphins met, in 2014, when Philbin was Miami's head coach and Rodgers directed a 60-yard touchdown drive – complete with a Dan Marino homage on a fake-spike completion to Davante Adams just before game-winning touchdown to tight end Andrew Quarless.
"I don't remember that very well," Philbin said with a laugh.
Since then, Rodgers has been masterful in 2-minute situations, and if this game comes down to another one, the Packers like their chances. The worst part of their loss to the Rams two weeks ago was that now-departed kickoff returner Ty Montgomery's ill-fated fumble took away Rodgers' chance to run his specialty and potentially win the ballgame. Instead, the Packers never got the ball back and lost, 29-27.
What's the secret?
"It's guys being on the same page. It's simple plays or the easy adjustments. It's tempo. And then it's the urgency goes up and we've been able to find the right matchups in those situations," Rodgers explained. "It's using stuff that's worked in the game, or stuff that we have a million reps in. … It (also) takes plays like that to kind of get the drive going. And when you do that the confidence just starts to grow, and once you get past midfield there's an expectation of scoring."