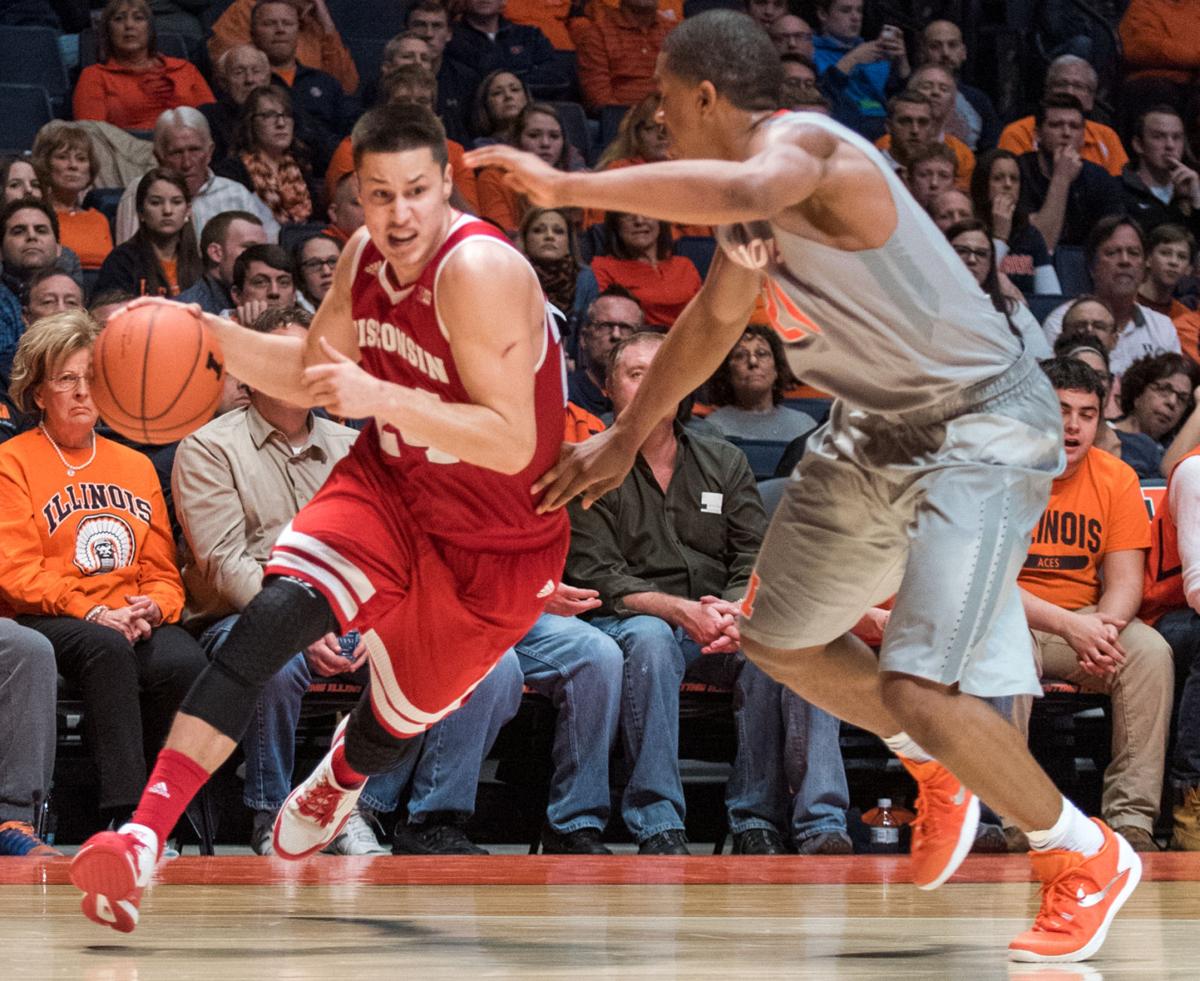 Jan. 31, State Farm Center in Champaign, Illinois
Season record: 13-9 (5-4 Big Ten)
CHAMPAIGN, Ill. — Greg Gard made his way down a staircase following a postgame news conference Sunday night when he came to a fork in the road at the State Farm Center.
The interim coach for the University of Wisconsin men's basketball team chose to turn right, thinking that hallway would lead him back to the locker room. It didn't, and he was quickly informed by security he was going the wrong way.
It was a rookie mistake by Gard, whose previous trips to this venue had been as an assistant coach.
Gard has pushed the right buttons, particularly with his bench, and that was true once again in a victory that moved UW above the .500 mark in Big Ten Conference play for the first time this season.
Freshman swingman Khalil Iverson finished with a career-high 10 points and also had five rebounds, two assists, a steal and a blocked shot to help the Badgers (13-9, 5-4 Big Ten) beat the Fighting Illini for the ninth consecutive time.
Iverson's contributions off the bench continued a trend for the Badgers. Two other reserves, freshman forward Alex Illikainen and sophomore guard Jordan Hill, set career highs in points in recent victories over Penn State and Indiana, respectively.
"It's huge," Gard said. "You never know where it needs to come from. … I told them, 'I don't care if it's 30 minutes or 30 seconds, anytime you can contribute positively, we'll take it.' "
Junior forward Nigel Hayes finished with a team-high 17 points for the Badgers, while junior point guard Bronson Koenig scored 11 points.
But those kinds of contributions are somewhat expected from UW's two best players. What wasn't anticipated — especially by Illinois coach John Groce — was that he'd be talking about Iverson after another loss to the Badgers.
As Groce pointed out afterward, Iverson had scored a total of nine points over the Badgers' first eight Big Ten games. He surpassed that total Sunday while also playing more minutes — a career-high 30 — than he had in his previous five games combined (29).
UW also got a boost from junior forward Vitto Brown, who came off the bench for the first time this season and finished with nine points.
"Those two guys, in a low-possession game where they get 63 (points), 19 of 63 come from Iverson and Brown, which is not typical," Groce said. "But, hey, they did it. They got it done. Those guys stepped up and made plays."