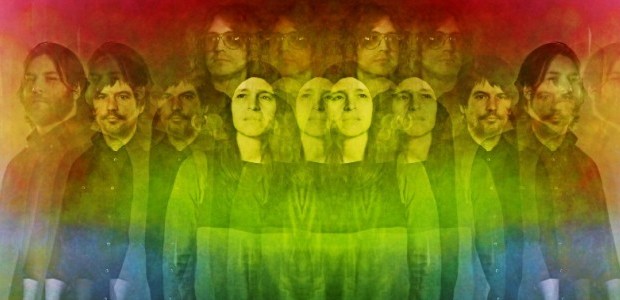 Besnard Lakes' albums, much like John le Carre's 1974 novel "Tinker, Tailor, Soldier, Spy," arrive packed with all manner of espionage and political intrigue.
"Deciphered your lines from the shortwave," Jace Lasek sings on "Like the Ocean, Like the Innocent," the opening track off the Canadian crew's latest album, "The Besnard Lakes are the Roaring Night" (Jagjaguwar). "It said, 'Kill all the swine, young and old.'"
According to Lasek, who shares songwriting and vocal duties in the band with his wife, Olga Gorea, it's an obsession that stems at least in part from his relatively mundane life.
"People are always like, 'Oh wow, did you see that movie?' 'No.' 'Did you catch that art opening downtown?' 'No.' 'Did you watch that TV show?' 'No,'" he said. "Even if I wanted to write about my experience in life it would be, 'Woke up, had some coffee, went to the studio, recorded a band, came home, went to sleep, woke up, had some coffee…' It's always the same, boring routine. I love it, though. I'm definitely not complaining."
Lasek isn't exaggerating his schedule for effect, either. When reached for our interview, he's already hard at work in his Montreal recording studio, meaning the phone call will cause only the slightest hiccup in his usual daily routine ("Had some coffee, went to the studio, recorded a band, chatted on the phone…").
Even as a child, Lasek enjoyed escaping into the shadowy underbelly of Cold War-era spy stories, huddling on the front porch of his parent's home with a shortwave radio to listen to the mysterious, coded words being beamed in from all around the globe.
"I'd be sitting on the front stoop in broad daylight on a hot summer day and I'd still be scared as hell," said Lasek, who brings the Besnard Lakes to High Noon Saloon for a show on Sunday, Oct. 2. "It really resonated with me. The transmissions coming in were really eerie, and it sort of mirrors the music we're making as well. We want it to be eerie and (David) Lynch-ian, where there's this sort of grotesque beauty."
Songs like "Albatross," an icy shoegazer anthem that wouldn't sound out-of-place on a Jesus & Mary Chain album, and the slow-building guitar epic "Land of Living Skies Pt. 2," do contain a horrific sense of beauty. It's a feel further heightened by Lasek and Gorea's gothic Beach Boys harmonies, which twist the usual guy-gal pairing into something unexpected, with Gorea singing in a lower register as Lasek's falsetto flutters high above.
"When I was recording with one of my earlier bands, one of the guys said, 'Yeah, I took it home for my girlfriend and she thought it was a girl singing,'" said Lasek of the more feminine quality of his voice. "My parents split up when I was quite young, and my mum and I are really good friends, so maybe it has something to do with growing up with a real strong, feminine presence in the house."
His parent's split might have had another, unintended consequence on his current band's sound. Often left to his own devices as a child, drugs gradually entered the picture, and Lasek soon found himself immersed in music from acts like Brian Eno and Spiritualized, who, in his words, "could help trigger that acid you're on."
"I listened to a lot of ambient when I was younger, where stuff is just swirling around all the time, and I think that stuck with me," he continued. "I love songs where you get involved in it and it kind of becomes its own little world."
Though he's actually describing his influences, the statement stands as an apt description of Besnard Lakes' haunted sound — a sound the band will continue to develop on their still-untitled next album, which they're currently in the early stages of recording.
"We never come into the studio with a strong plan. We always just have a bunch of mediocre riffs and ideas we develop over time," said Lasek, noting that he'd like to experiment more with mono recording this time around. "A lot of it is just happy accidents and the strange sort of things that happen when we're playing with the gear that's here. It's sort of how we've always done things."