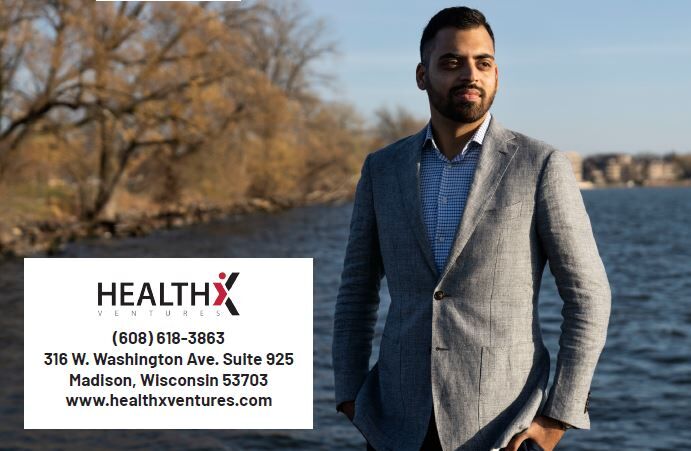 Taha Jangda is a partner at HealthX Ventures, a Madison-based venture capital firm that specializes in funding health care innovation companies.
A medical school dropout turned venture capitalist, Jangda started in the innovation strategy field at the Texas Medical Center (TMC), the world's largest medical center. During his time with TMC, he took part in the creation of its Innovation Institute, which is a large-scale collaboration of entrepreneurs in health care and technology aimed at helping "companies take their products from bench to bed."
Having seen firsthand how a lack of integration hinders patient care, Jangda followed his entrepreneurial spirit and joined Madison-based Redox as its director of strategic partnerships. Jangda spends his free time reading books on leadership development and staying true to his Texas roots — barbecue and football. He's also discovered a fondness for Madison's lakes, something you don't often find in Texas.
What makes Madison such an attractive place for health care IT? Has it all stemmed from Epic Systems?
Madison has all the elements in place for being a health care IT powerhouse, including an incredible quality of life and a great educational system. Almost every health care organization comes to Madison twice a year because of Epic, so there's a level of comfort and conviction that the health care startups that are in Madison are very dependable and innovative. However, it's not just Epic that has put us on the map — you've got several other pioneering companies like Exact Sciences and Promega that are also industry leaders in their own right.
What are the challenges in raising venture capital (VC) in this region? Is that still an issue, or have things improved?
Last quarter, $37 billion in venture capital was raised in the U.S — but Wisconsin only saw $17.29 million of that, whereas our neighbors in Minnesota and Illinois raised $668 million and $703 million respectively. To paint a bigger and more compelling picture of the market we're after, we need to better tell our stories. In Wisconsin alone, there are so many positive success stories with companies yielding positive returns for their investors.
Another major challenge is motivating VCs in our state to double down and prove to investors that we can deliver as solid or even better results than VCs on the coasts. What they don't realize is that VCs in Wisconsin can go toe-to-toe with anyone and our numbers are, in fact, often better. We put a large focus on recruiting investors from Wisconsin because it's important to not only generate more venture activity in the area but also to be able to return more money into this economy.
What attracted you personally to the Madison region?
There is so much great talent and tremendous potential for growth here in the Madison area. We have visionaries like Mark Bakken, Judy Faulkner and Kevin Conroy who not only care about their respective companies and financial metrics, but they are also devoted to their local community and country. These values are harder than ever to find in today's world, and this is why I made the intentional decision to come to Wisconsin and make it my home.
How has the pandemic affected HealthX Ventures?
The COVID-19 pandemic has caused widespread devastation and turmoil across the world from a health care and financial perspective. However, this pandemic has placed a spotlight on the true need for digital health and the wide variety of meaningful, transformative applications that come out of rapid digital health adoption. At HealthX Ventures, there was a distinct shift that took place overnight. We went from working with our current portfolio to secure PPP funding and finding new ways to create cost efficiencies, helping these startups scale rapidly.
For example, hospitals have had to engage patients via telehealth, remote patient monitoring and re-engagement campaigns. Thankfully, many startups in our portfolio have been able to meet and deliver on these needs, ranging from symptom checkers, teletherapy, cancer screenings, and the remote management of our most vulnerable populations.
Last year, you mentioned HealthX was launching Fund II. How is that going?
To date, we've raised over $40 million and invested in five companies in Fund II while also managing our Fund I portfolio. I'm pleased to say that we've had a great deal of local support for Fund I and continue to have support for Fund II. Over half of our portfolio has grown over 400 percent in revenue this year, and we invested in these companies because they're able to fix immediate problems.
Five years ago, we launched our first fund with $21 million, and the companies we have invested in have gone on to raise over $300 million from our initial investments since then. I'm confident that in the next few years we'll be seeing many more venture-backed companies like Redox find their beginnings here.