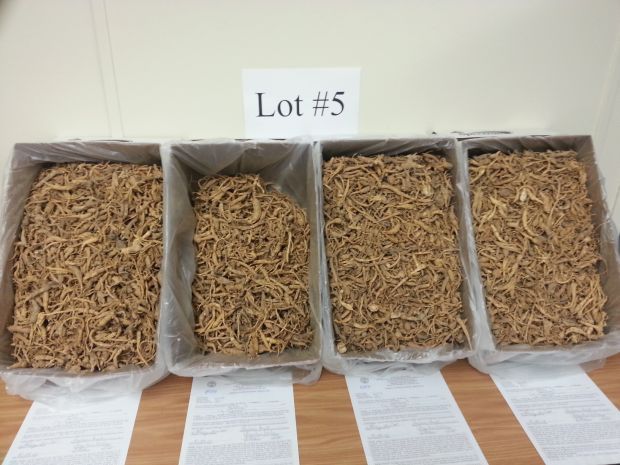 The state sold its wild ginseng stash for nearly $270,000 in an online auction that ended Monday. The treasured medicinal herb roots sold to dealers for an average of $850 a pound.
"We were pleasantly surprised. It was a little older root, and we were not exactly sure what the interest was going to be," said Courtney Ripp, the Department of Natural Resources' wild ginseng specialist. Going into Saturday, the per-pound bid on seven lots of wild ginseng being sold by WisconsinSurplus.com was about $300. The final take after the auction closed Monday was $269,750, an amount that goes to the DNR's related programs.
The 317 pounds of wild ginseng, harvested from seven states including Wisconsin, was confiscated from a dealer more than a year ago as it was being prepared for export.
There are only about a dozen wild ginseng dealers in Wisconsin, most located in Marathon County, where more than 90 percent of the state's cultivated ginseng is grown. Ming Tao Jiang, or "Dr. Ginseng," of Marathon Ginseng International, a buyer here for four years, said Tuesday the $850 per pound was close to the current wholesale price, but still a big increase over 2011 prices of about $550 per pound.
"Quality and age has a lot to do with the price," he said. "The older the ginseng root, the better, and other thing is the shape," he said, adding "there is no scientific basis for that." He said he was among the bidders for the DNR ginseng but did not win any of the lots.
Cultivated ginseng prices, wholesale, right now is about $70 to $80 per pound, he said.
Be the first to know
Get local news delivered to your inbox!