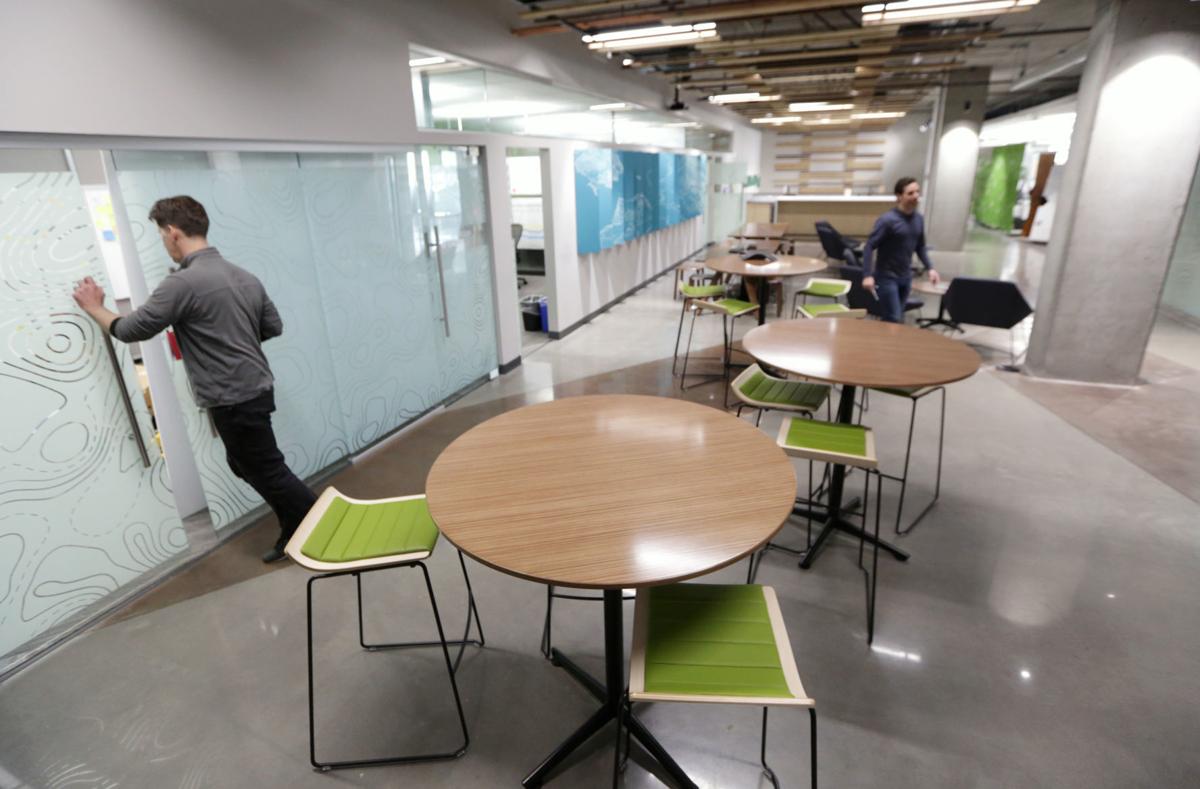 11. Horizon Develop Build Manage
This Madison-based group of companies specializes in integrated development, construction and property management services.
Horizon has more than 30 years of experience assisting clients in developing, constructing and managing many forms of real estate, including senior neighborhoods, multi-family communities, commercial properties, hotels and indoor water resorts.
In addition to a comprehensive benefits package, employees enjoy flexible work schedules, casual attire and pet insurance.
Employee comment: "Everyone pulls their own weight. We help each other out. The environment is fun, but each person works harder than any other job I have ever worked at."
12. Palmer Johnson Power Systems
Palmer Johnson Power Systems services and supplies for heavy-duty, off-highway equipment. The firm has seven service centers across the nation, from the Midwest to California.
Its expertise and products span a range of markets, including oil and gas, construction, agriculture, marine and mining industries. Its leadership emphasizes community service and promotes a strong corporate culture.
The company offers employees free healthy snacks and one-on-one nutritionist access and health coaching as part of a benefits package.
Employee comment: "I am always challenged and as an organization we are always changing and growing."
13. JP Cullen
This fifth-generation, family-owned construction and general contracting firm tackles projects ranging from $1,000 to more than $100 million. JP Cullen works in the education, health care, commercial and industrial sectors in Wisconsin, Illinois and Iowa.
JP Cullen has grown into a $400 million full-service preconstruction and construction firm whose projects range from new construction to additions and renovations to specialized projects.
The firm gives employees paid time off to volunteer at local charities and community benefit events.
Employee comment: "I always feel appreciated and the hours are flexible."
14. Douglas Stewart Co.
The firm is a leading education distributor that specializes in technology, education software and supplies, linking more than 300 manufacturers with more than 4,500 academic resellers in the United States and Canada.
Its wholly-owned United Kingdom subsidiary, Douglas Stewart Edu, is a European leader in the distribution of education technology products and has distribution centers in the UK and the Netherlands.
In addition to conventional employee benefits, the firm offers pet insurance, popcorn Thursdays, legal and identity theft protection and favorite beer Fridays.
Employee comment: "My thoughts and opinions are heard by upper management. I am able to have an amazing work-life balance."
15. ACS Inc.
ACS is an engineering design, construction and management firm that delivers high-performance facility, equipment and controls solutions to a wide range of process industries.
The company's expertise in both research and development and production serves the aerospace, automotive, consumer products, specialty chemical, medical and pharmaceutical laboratory, food and beverage, and national laboratory industries.
Employees there are offered a chance to work longer days Monday through Thursday, allowing them to work a half day on Friday.
Employee comment: "I get to learn on the job. The people I work with are great teachers."
16. Bank of Prairie du Sac
This community bank, founded in 1916, promotes the support of local organizations and employees are involved in a broad range of civic organizations. The bank is also known for its annual Dairy Day, in honor of local farmers.
Employee tenure at the bank ranges from new employees to 50 years of service.
In addition to offering a comprehensive benefit package, the bank's 401(k) program matches 50 cents of every dollar employees contribute up to 10 percent of their salary.
Employee comment: "I feel like I am appreciated, and I feel good when I can help customers and employees through issues."
17. Heartland Credit Union
The credit union says it is committed to its "Go Local" programs, whether it is supporting local farms and producers, locally owned restaurants, non-profits or simply providing financial services to local businesses and families.
Heartland has been one of the top 10 per-capita credit union agriculture lenders in the United States.
Employees there are encouraged to "Tell Me Something Good" on the employee intranet to share the good deeds of their co-workers, who can then be recognized with awards.
Ownership: Cooperative/mutual
Employee comment: "I have the opportunity to help make small differences in people's financial lives that can have a large impact."
18. Heritage Credit Union
Heritage Credit Union – which began as the Oscar Mayer company credit union in the 1930s – today serves more than 28,000 members in Wisconsin and Illinois.
The credit union has also donated more than $70,000 through its Richard J. McGrath Endowment, created in 2007 to honor a former board member, in small grants to local social organizations in communities it serves.
In addition to its benefits packages for full-time employees, part-timers are eligible for Roth or traditional 401(k) programs with a 5 percent match, and a range of other benefits.
Ownership: Cooperative/mutual
Employee comment: "I feel valued and appreciated each and every day."
19. LSM Chiropractic
Founded in 1953, LSM Chiropractic is headquartered in Fitchburg and offers chiropractic services at 16 clinics in southern Wisconsin.
In addition to chiropractic care, LSM offers laser, massage and exercise therapies and an array of other treatments. The firm is the official chiropractor for athletes at Edgewood College, UW-Whitewater, the Madison Mallards and Forward Madison and has a frequent presence at local health fairs and athletic events.
LSM offers a comprehensive benefit package that includes a 401(k)/profit-sharing plan and paid life insurance.
Employee comment: "I have the freedom to suggest improvements where I see fit."
20. pc/nametag
pc/nametag produces a large selection of customized products and services that help planners create events, ranging from weeklong conferences to corporate board meetings to music festivals and community fundraisers.
The firm supplies exclusive meeting registration and event products, as well as a consultative selling approach that have helped planners execute their events.
It offers employees weekly catered luncheons during peak seasons and a year-end company party, including a two-day getaway to a popular destination.
Employee comment: "The managers genuinely care about their employees' well-being."
21. BrightStar Care
BrightStar Care, with nine locations in the Madison area, offers home care, medical staffing and assisted living services throughout southern Wisconsin.
By combining their home care and staffing business with BrightStar Senior Living, it has built an organization that offers a continuum of care from the home to a residential community.
The company offers flexible scheduling and unlimited time off without pay so students and working parents can achieve a work-life balance. Twice a year, it also offers $500 scholarships to employees who work 20 hours a week and attend college.
Employee comment: "I make a difference in the lives of the families we serve. I have adequate time to focus on those that matter to me outside of the office."
22. Design Concepts Inc.
Design Concepts is a full-service product design – including physical and digital products and services – and strategic innovation consultancy.
With offices in Madison, San Francisco and Boston, its designers and strategists have worked for firms including Procter & Gamble, Bissell, Google, the Ritz-Carlton Hotel Company, SC Johnson, Trek Bicycle and many others.
Employees enjoy healthy snacks and meals, regular social lunches, ping-pong and foosball tables and video games.
Employee comment: "I have the freedom to experiment. I am given positive feedback."
23. Temperature Systems Inc.
Founded in 1947 as Wisconsin Furnace Co., Temperature Systems Inc. has evolved into one of the largest heating, ventilation and air conditioning distribution companies in Wisconsin. It also provides services including training, business consulting, system design, and technical support.
In addition to Wisconsin, its service area encompasses northern Illinois, eastern Iowa, and Michigan's upper peninsula. It has full-service distribution centers in Madison and Green Bay, serving contractors and dealers.
The firm is employee owned through an employee stock ownership plan.
Employee comment: "The staff is great to work with and management is caring, flexible and supportive.
24. RenewAire LLC
RenewAire helps improve indoor air quality in buildings of every type with energy recovery ventilation technologies. Its technology aims to optimize energy efficiency and lower capital costs by reducing HVAC loads and operational expenses.
The firm opened a 111,000-square-foot facility in 2017 that is 100 percent wind powered and is on track for LEED Gold certification for green building technology.
In addition to more conventional benefits, the company offers a casual dress code, onsite fitness facility and a $100 stipend toward membership in a Community Supported Agriculture program.
Employee comment: "My work makes a difference for both the company and for the environment.