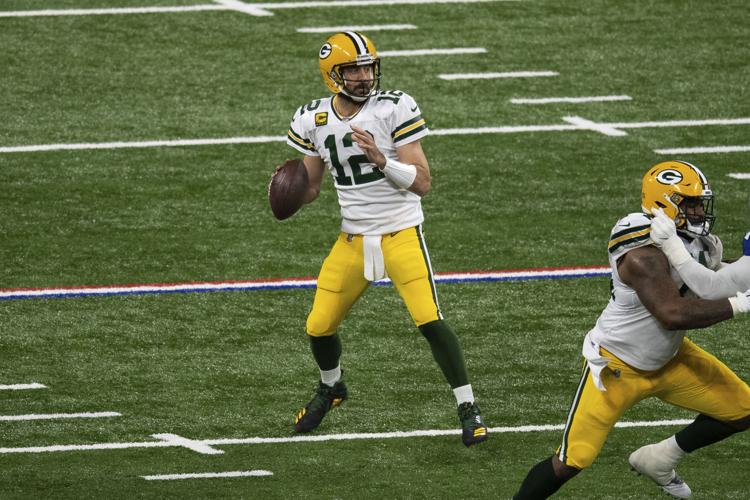 Aaron Rodgers' eyes lit up — much like they do when the Green Bay Packers quarterback sees one of his receivers break into the open downfield on a deep pass.
Rodgers had just been asked by Sports Illustrated's Bill Huber about the Packers' success so far this season on downfield throws. According to Pro Football Focus, no quarterback in the NFL had attempted more deep balls than Rodgers — he and Tampa Bay's Tom Brady had each thrown 58 passes that carried 20 or more yards in the air — and no one has completed more of them (25) for more yardage (980) than Rodgers, who has a 122.5 passer rating and eight touchdowns on such throws.
But it wasn't so much the accomplishment Rodgers was giddy about. It was the pop cultural reference he was about to make: To the 1990s Nike commercial "Chicks Dig the Long Ball," starring Atlanta Braves pitchers Tom Glavine and Greg Maddux (with cameos from St. Louis Cardinals slugger Mark McGwire and actress Heather Locklear).
"I'm so glad you asked that. I've always wanted to say this: 'Chicks dig the long ball' — as we saw and learned from those great commercials back in the day," Rodgers said proudly.
Packers coach Matt LaFleur lauded the offensive line's protection work and the receivers delivering the catches downfield but pointed primarily to Rodgers' deep-ball accuracy. Rodgers, meanwhile, said it has been a focus in recent years to improve in that area, and surely he'll look for downfield opportunities again against the Chicago Bears on "Sunday Night Football" at Lambeau Field.
"It's just something that I've worked on over the years," Rodgers explained. "When I got in the league, I really had Level 1 balls figured out. I'm talking about lasers. I could throw the ball all over the field, but there wasn't a lot of touch at times. So I really had to learn the Level 2 and the Level 3 trajectories. And that's one thing I really worked on hard.
"I still work hard on it, trying to match the muscle memory with the feeling, with the result. And I've felt good about a lot of those throws this year. A lot of it has been some of the work I did in the offseason, some of the things I've picked up in training camp watching some of that old film and then just tying it all together and being markedly more accurate this year."